When you're a guest in my haunted house for Halloween, you are treated as an esteemed visitor. So much so that I will make you your very own tombstone to take home with you. That's how much I love you really. And let's not forget the fact that I am buried beside you ;)
These personalised Tombstone Cookies are fiddly but I must say that I loved the feathering effect of the white icing on the black icing which I came up with purely by accident when I was a bit haphazard with the writing. I preferred the effect from using the Wilton white gel pens as they were more white and ghostly but you do end up using 2-3 of these pens so it's up to you whether you want to use white royal icing or the pen.
But Dear Guest, you have no choice as you will be buried next to me. Muahahahaahaaaa!
Did you make this recipe?
Share your creations by tagging @notquitenigella on Instagram with the hashtag #notquitenigella
Tombstone Cookies
An Original Recipe by Lorraine Elliott
Preparation time: 60 minutes
Cooking time: 8 minutes per tray
Makes 15 tombstone cookies
85 g/3ozs butter, softened

140g/5ozs white caster superfine sugar

1 egg

1 teaspoon vanilla

180g/6ozs  all-purpose flour

1 teaspoon ground cinnamon

Royal icing mixture (see below)
For Royal Icing
1 egg white (30grams/1 oz)

1-2 teaspoons lemon juice

150grams sifted icing sugar

2-3 Wilton Gel pens in white
Step 1 - In a large bowl, cream together butter and sugar until smooth. Beat in egg and vanilla. Stir in the flour and cinnamon. Cover, and chill dough for at least one hour (or overnight).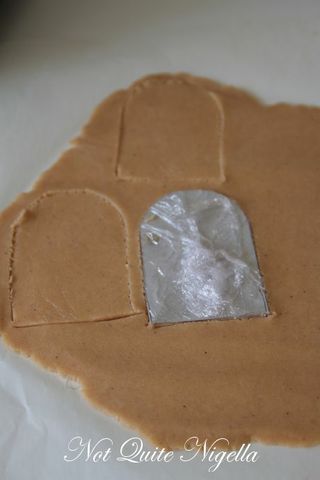 Step 2 - Preheat oven to 400 degrees F (200 degrees C). Roll out dough on floured surface 1/4 to 1/2 inch thick. Cut into shapes with a cookie cutter-I traced out a rough tombstone shape onto cardboard and covered it with cling wrap so it wouldn't stick to the dough). Place cookies 1 inch apart on parchment lined baking trays.  I also made some cookies to stick against the back of the tombstone so they would stand up. Bake for 5 to 8 minutes in preheated oven. Cool completely.
Step 3 - Make Royal Icing by beating egg white with lemon juice until combined on low speed increasing to medium speed. You want two textures for the Royal Icing, a stiff one to pipe the outline and a runnier one to fill in the outline.
Step 4 - Add sifted sugar while beating until desired consistency is reached. You want it a little stiff in order to pipe the outline however, if it is too stiff, add a little warm water. Always cover your Royal Icing with cling wrap as it dries out easily. Make one batch in black (use most of the icing for this) and leave one batch white (to write the words on top) unless you are using the Wilton white pens. Divide the black royal icing into 2 parts: one quarter in a piping bag and leave the remaining three quarters in the bowl covered tightly (it will dry out easily). Draw an outline with the piping bag black  royal icing in black. Once set, add a little water to the bowl of the remaining royal icing and "flood" the outline and use the back of a small spoon to spread the icing to the edges. Allow to set for several hours or overnight.
The tombstones as well as the backs to hold them up
Step 5 - Make up creepy things to say on the tombstones. I made a tombstone for each of my guests. Then take a toothpick and a clean, wet cloth and drag the edges of letters with a toothpick cleaning it against the cloth as you go along. Allow to set.
Step 6 - With the royal icing, sandwich some of the backs to the gravestones to help prop them up. You may need to hold onto each one for a minute or so while they firm up.