I received the funniest comment from a reader the other day. It made me laugh and then worry. It read:
"Hi Lorraine, off-topic – saw you and Mr. NQN at the shops today. I was much too shy to say hello, but I did spy a jar of glucose syrup in your trolley. Can't wait to see what you'll be making with it! Cheers, K".
The first thing I thought of was "Oh dear, what was I wearing? I hope I was dressed appropriately" and then "I hope there was nothing embarrassing in my shopping trolley!" Thankfully if I did reader Kat was too polite to say anything about my casual attire or possibly odd trolley occupant and simply mentioned the glucose syrup.
She might have also seen in my trolley a most unusually cut loaf of bread. Minutes before I had gone to a bakery to ask for bread sliced lengthways. They looked at me slightly skeptically and asked me if I was sure and then confirmed what I wanted done. Now there is a reason why people don't get bread sliced lengthways and put into bags. It falls apart within the bag and so I wrestled with this loaf of bread that kept threatening to come unhinged before ceremoniously placing it in the upper trolley compartment. It was probably good that she hadn't seen me then.
I was going to do my second attempt at making these sandwiches. The first time was a couple of week's before and they only had half loaves which turned out to be too small. I found the recipe for these in Serge Dansereau's new book "French Kitchen" under Ham Mousse Rolls or Rouleaux a la mousse de jambon (doesn't it sound much more sophisticated in French?) and fell in love with the look of them. They are of course just like a regular sandwich but with more filling and more "oooh ahhh" value and I also think that these are the perfect picnic sandwich!
So tell me Dear Reader, do you get dressed up to go to the supermarket?
Spiral Sandwiches
Adapted from "French Kitchen" by Serge Dansereau $59.99 by Harper Collins
1 fresh, large loaf of white or brown bread, sliced thinly lengthways so that you get a long slice
500grams/1 pound smoked ham or tuna or pink salmon-if you use tuna or salmon, I'd suggest substituting the butter or cream cheese with mayonnaise
100grams/3.5 ozs butter or cream cheese, softened
a jar of cornichons (small gherkins)
Buyer's tip: Baker's Delight will slice your bread lengthways
Step 1 - Prepare the fillings. This works best when the bread is very fresh and not dried out. In a food processor, blend the ham or tuna with half of the cream cheese or butter. Set aside. In a bowl mix the remaining softened butter or cream cheese with the mustard.
Spreading the rolled bread with mustard and cream cheese mixture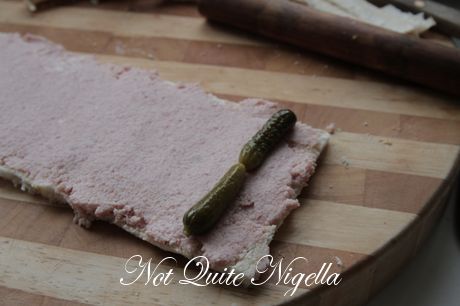 Spreading with the ham mousse and placing cornichons
Step 2 - Cut off the crusts from your bread. Take a rolling pin and gently roll the bread until it is thin and evenly rolled. Spread the bread with the mustard butter/cream cheese and then spread it quite thickly with the ham mix-you want to be able to see the pretty pink colour when you slice it up. Place two cornichons (the fatter ones are best) at one end and roll up the bread. Slice into pieces and serve!