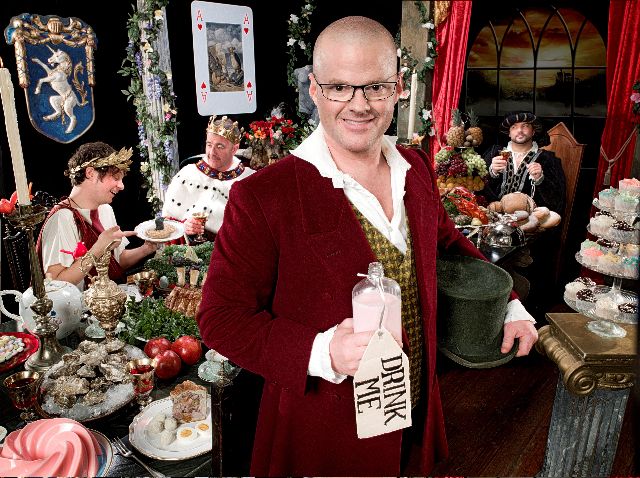 Sadly I wasn't able to make it to the Heston Blumenthal talk in Sydney last week-call it extreme tiredness and jetlag! But everyone's favourite Mad Hatter of a chef really needs no introduction. He is the chef and owner of The Fat Duck, a three-Michelin-starred restaurant in Berkshire, England awarded Best UK Restaurant award in the Good Food Guide in both 2007 and 2009. And he 's also quite mad and extraordinarily creative-in the best way of course!
I'm a person that loves history and and during this series he uses fairytales and bits of history and melds them together. To be a guest at one of these dinners is an item on my bucket list. In the two season box set each episode sees Heston explore a different period of innovation as he recreates lost recipes and rediscovers forgotten flavours and ingredients. There is the Willy Wonka feast, a fairytale feast as well as gothic inspired feasts drawing on iconic works of horror such as Frankenstein, Dracula and Dr Jekyll and Mr Hyde.
Thanks* to Acorn Media, five lucky Not Quite Nigella readers will win a box set with Seasons 1 and 2 of Heston's Feast worth $59.99 each! For a chance to win this all you have to do is tell me about an item on your bucket list! *Simply add your answer as a comment to the story. The competition ends at midnight AEST 23rd of April, 2011. You can enter this  competition once daily and it is open to anyone in Australia.**
*The winners are:
Hana C. of Vic **
Gemma H. of Vic
Gareth C. of NSW
Monique Y. of Vic
Chloe F. of WA
Best of luck!
Lots of love,
Lorraine
xxx