Happy Monday Dear Readers! Are you looking forward to the Easter break as much as I am? In fact it's all that I can think about this week. Five uninterrupted _sanctioned _days of eating chocolate and hot cross buns. Which led me to think of other little things that bring on happiness.
To me, small pieces of happiness can be stolen by:
Putting on a vacation auto responder....and putting it on a day early. I've been known to do that once or twice when work gets too hectic and I'm frantically trying to get things done before I go away. Last Friday I put on a vacation responder that said "I will not have any mobile phone or email coverage while away..." and it was the Best. Feeling. Ever.
When TheOatmeal.com puts up a new cartoon (see below). Love the Man Hug!
From The Oatmeal's "6 Types of Crappy Hugs"
Arriving at a taxi, train station or bus stop and seeing your mode of transport pulling up just in time
Getting several green lights in a row when you're driving and you're in a hurry
Getting rid of the change in your bulky wallet
The first night sleeping on clean sheets
Turning an ordinary Easter bun into a bunny shaped bun and...people actually recognising a bunny in it!
In terms of food, Easter is of course all about hot cross buns and chocolate although let me be totally honest and tell you that chocolate makes a daily appearance in my life  so it's more of an everyday item. Not so much the hot cross buns which start to creep into the shops around a month or two before Easter. Like seasonal fruit and vegetables I like to look forward to something and whilst I could make these every week of the year there's something exciting about eating these at the right time.
I decided to make these mocha flavoured and bunny shaped just because I am a little obsessed with making things into animal shapes. You could of course make these are a regular bun shape if you don't have the will or the way. If you don't want your children drinking coffee you can use decaffeinated coffee or omit it and add in more milk. The shaping of the bunnies proved to be a test of patience. I made all sorts of creatures before I arrived at something that sort of looked like a bunny (my model was Miffy the bunny without the orange dress). I hope it sort of looks like a bunny! The buns are soft with a sweetness and aromatics from the cinnamon and mocha and thoroughly worth making. And dare I say you could get some pint sized labor involved with the promise of one of these.
](http://www.sydneywriterscentre.com.au/bloggingcomp/peopleschoice.html)
And in some very exciting news, I've been nominated for an award at the Sydney Writer's Centre! Thankyou to the wonderful readers that nominated me! I didn't want to nominate myself as that would have felt very strange so thanks to the magical angels out there that nominated me :) There are loads of great blogs that have been nominated so I might need your help with the people's choice award. So if you have a spare minute you can vote here (just click on the big "Vote Here" button on the right and the list is sorted alphabetically by blog name) for the People's Choice award. I'm hot cross bunning my fingers! ;)
So tell me Dear Reader, what gives you small moments of happiness?
Happy Easter! My new Lindt bunny ears
Mocha Cinnamon Chocolate Chip Hot Cross Buns
An original recipe by Not Quite Nigella
Makes 16 bunnies (approximately, it depends on the size of your bunnies)
For the bunnies
2 tablespoons instant dried yeast
2 cups of Hershey's Cinnamon chips (or 2 cups of white chocolate chips melted with 2 teaspoons of ground cinnamon and chopped up)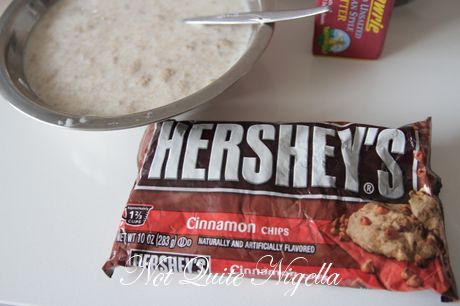 For glaze:
1/4 cup hot espresso coffee
1 teaspoon gelatine or 1/2 gelatine leaf soaked in cold water
For decoration:
75grams/2.6 ozs white chocolate
You will also need a cookie cutter like a candy cane or something that has a long rectangular piece so that you can cut out a section between the ears.
Yeast mixture goes from this...
To this! I helped it along by placing it in a bowl of warm water as it was cold on the day that I baked these.
Step 1 - Mix yeast, sugar and warm milk in a bowl and stir to remove any lumps. Set aside for 15 minutes until it becomes frothy.
Step 2 - In a large bowl, or the bowl of your mixer, sift flour and salt. Make a well in the centre and mix in the yeast mixture, butter, egg, cinnamon and one third of the chocolate chips.
Step 3 - Knead dough for 5 minutes until elastic and place in a greased bowl covered with cling wrap in a warm area (or sit your bowl in a larger bowl of warm water). Leave for 1 hour to 1.5 hours until doubled in size.
Step 4 - Using your fist, punch down the dough and add the remaining cinnamon chocolate chips. Knead lightly and divide into 16 balls. Now comes the time to create the bunnies. I made a rectangular shape and then used a candy cane cookie cutter to cut out a space between the ears. The buns will rise and expand so the ears do need to be carefully stretched again prior to baking. I also used a chopstick to place a small depression in the ears . Place quite close together on a lined or greased baking tray. Allow to rise in a warm place for 20 minutes. Preheat the oven to 200C/400F.
Testing out the new Nespresso Pixie-cute and small but I still prefer the original Citiz as I lost a couple of capsules that just weren't punctured properly.
The mocha glaze
Step 5 - Bake for 20-30 minutes until done. While it is baking, get the glaze ready. For the glaze, simply mix all three ingredients together shortly before the time is up on the buns.
Step 6 - When buns are ready, brush with glaze. I like to do this quite generously and glaze the sides too but this does make them quite sticky to handle.
Step 7 - Melt the two chocolates separately in a microwave proof bowl (I do it at 50% power in 60 second bursts) or do it over a double boiler. Spoon into two piping bags fitted with a small plain nozzle or a cone or parchment paper with a small snip at the end. Pipe white chocolate as eyes and then a smile and then the dark chocolate to finish the eyes. When chocolate has set, serve slathered with butter.