When I told Mr NQN that we were attending a Barilla cooking class he answered "Oh cool, am I teaching it?" You see whenever I go away my darling husband subsists solely on Barilla pasta and sauce. Every night he sticks his hand into the box of goodies that Barilla have kindly supplied him with and picks out a pasta and sauce. So he considers himself a bit of an expert cook as far as pasta cooking is concerned (and yes I know, it's just boiling water and adding pasta and then sauce but let's not ruin the moment for him please? ;) ).
Chef Luca Ciano
We arrive at the Annandale location where pictures of Barilla's chefs line the walls. Each class has a maximum of 16 students with ours having 12. There is antipasto and a glass of Prosecco waiting for us and the class goes for 2.5 hours. Each class has a theme and because Easter is almost upon us, tonight's theme is Easter with dishes such as torta pasquilina (egg pie), pappardelle pasta with goat ragu & chestnuts and colomba with mascarpone & brandy cream.
The chef Luca Ciano who greets everyone with his friendly and personable manner tells us that he will be demonstrating one dish (which we will be eating) and then demonstrating two others which we will then go back to our benches to recreate. He tell us that in Italy, Easter is second only to Christmas in popularity. Eggs and roasted lamb or goat are common elements there (lamb as a symbol of birth and the shepherd) and the official Easter cake is the Eastern Dove or Colomba which represents peace.
Luca who goes back home to Italy twice a year to keep abreast of trends, starts off by showing us how to make a ragu. Now being a Barilla class they do talk about their product but this is actually the only recipe that they give that has Barilla products. And Mr NQN gets a bit nervous as the poor dear honestly thought that we were going to a class where we boiled pasta and put the sauce on top. I know, you can laugh, I did!
Here the two products that they use are the Napoletana sauce which has been cooked down and he tells us is made of 100% Italian tomatoes and the egg pappardelle. He starts off with the soffritto base which is made up of onions, garlic and carrots and provide a base for the sauce. A ragu can cook for hours if you start the sauce from scratch but he tells us that this recipe can be done and dusted within an hour.
He uses an Italian olive oil which is only used at the school and can't be purchased and I have a taste-it's a good drop indeed. Then he adds the goat meat which is finely minced-ordinarily he says that he would use small chunks but for expediency's sake he has specified mince for this recipe. And did you know goat is a healthy meat lower in fat and cholesterol? He then adds the red wine, goat stock (which he has just made using the goat bones from the butcher), juniper berries, bay leaf and rosemary. We then knock the heat back and place the lid slightly offset to allow for a bit of evaporation and attend to the pasta. He adds salt to a large pot of water (3.5 litres for 250grams of pasta).
We return to our benches which we are sharing with Karen who is an NQN reader and her friend Tracy. I'm keen to have Mr NQN learn how to cook a bit more and learn some knife skills so he gets to chop the carrots. Angelo who is helping Luca out shows Mr NQN how to do the "claw". We fry off our soffritto and then add the meat which Angelo tells us to press down on with the wooden spoon to get rid of the lumps.
Torta Pasquilina
Back to the front for a demonstration of the Torta Pasquilina. Eggs are a very symbolic item during Easter in Italy and chocolate eggs rather than bunnies are the symbol for Easter. Many eggs contain a small gift and even engagements occur at Easter with an engagement ring hidden in an egg! He demonstrates making the torta pasquilina in smaller individual tins but a large version can be made too.
He chops up the silverbeet, eggs, milk and freshly grate nutmeg to the ricotta and grana padano and then places the mix in the puff pastry lined baking tray. He then makes a small depression in the filling in which to fit the egg and  cracks some whole eggs into the depressions and then covers the filling with another puff pastry layer. The whole thing is baked in the oven and served warm. And he asks who makes their own puff pastry and he quotes Jamie Oliver that says that anyone that makes their own puff pastry has to "get a life". I sheepishly put my hand up-well I guess I don't have a life!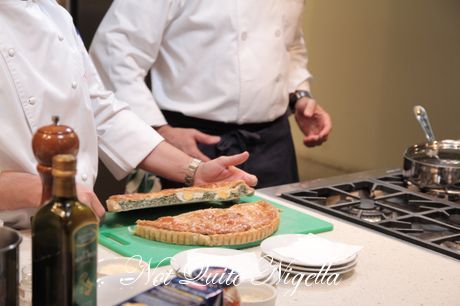 He cuts open an already made large tart and we see the eggs peeking out!
"Now who adds oil to the water?" Luca says holding up a chef's knife. No-one in the class does which is good. The difference between fresh pasta is that they use 00 flour in fresh pasta which has a lower percentage of protein so they use eggs to increase the protein level. For dried pasta there are only two ingredients: durum wheat and water. And a good quality pasta should not leave the water cloudy or foamy.
"Now who drains off the pasta under water?" Luca says holding up a chef's knife again. He explains that the cooking process releases the starches and the starches are what help to combine the sauce and pasta together so the best thing to do if you have a small amount of pasta is pick up the pasta using tongs and then cook it with the sauce in the pan. But before you do, always save a cup of the pasta water to help thin down the sauce if you need it. And how much pasta should you eat? Well Luca says that pasta should be part of a meal but not necessarily the whole meal. A 500g packet of pasta should feed six people (or two Mr NQNs!).
He adds some softly cooked chestnuts to the pan of cooked pasta and sauce and then uses a carving fork and a ladle to shape the pasta into an attractive mound. And with some extra olive oil, reggiano and salt and pepper the pasta dish is done and we return to our benches to try it out. A few brave souls try the tossing in the pan trick including Mr NQN (and why not try it in a kitchen where you don't have to clean the floor afterwards?). Karen is a dab hand at twirling the pasta artfully and with a few sprinkles of the reggiano we sit down to eat.
Not really a dove...
Our last dish is the toasted colomba which somewhat resembles a dove in shape (somewhat!). Luca tells us that every Easter, families end up with many colombas and this is one way to use them all up. Usually quite a dry texture it can appear almost stale, so toasting it in a dry pan refreshes the colomba. And we're adding a heavenly mix of mascarpone and brandy cream and shaved dark chocolate on top.
Egg whites beaten until very stiff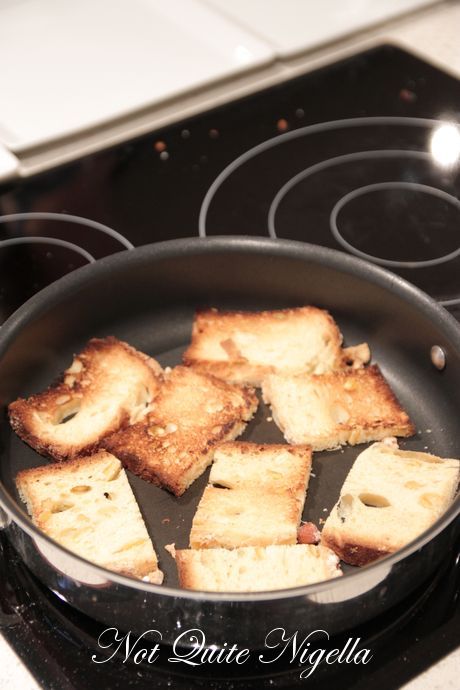 The mascarpone and brandy cream is very similar to a tiramisu filling in that separated eggs are whisked and then combined with the mascarpone, sugar and brandy. This is paired with the toasty orange zesty colomba slices and topped with dark chocolate and we have a deconstructed last minute tiramisu!
With a shot of Zibibbo muscat wine and we're soon digging into our creamy, crunchy toasty dessert. And before we know it it's 8:45pm and the class is over. We say goodbye to our cooking mates and take our goodie bag which contains a jar of the Barilla Napoletana sauce and a packet of the egg papardelle. I wonder if I can get my pasta chef to make me some more of that ragu?
So tell me Dear Reader, which dish would you like someone to make for you?
Torta Pasqualina
Recipe from Barilla Cooking School
Serves: 6 people
Ingredients:
300grams/10.6ozs fresh ricotta
1kg/2 pounds silver beet (or spinach), cooked, drained and chopped
100 grams/3.5ozs. grated Grana Padano
Method:
Step 1 - Preheat oven to 170C/340F. Grease a round (20cm diameter) oven baking tray and insert the puff pastry covering the edges. Mix 3 eggs and milk in a large bowl.  Add the silver beet to the egg and milk, add the ricotta and Grana Padano and nutmeg.
Step 2 - Place the mix into the baking tray and with your hand make 3 small empty holes trough the mix. Crack the 3 remaining eggs and place each one of them in the holes previously made.
Step 3 - Cover the top with a puff pastry sheet. Cook in a pre heated oven at 170 C for 35-40minutes. Allow cooling and serve warm. Enjoy.
Pappardelle pasta with Goat Ragu & Chestnuts
Recipe from Barilla Cooking School
Serves: 4 people
Ingredients:
250gr/8.8ozs Barilla Pappardelle
½ jar Barilla Napoletana sauce
300gr/10.6ozs goats meat, diced into 2cm cubes
400ml/14 fl ozs. beef/chicken/veal stock
½ cup of sliced cooked chestnut
Salt and pepper, for seasoning
Rock salt, for pasta water
50gr of grated Grana Padano
Method:
Step 1 - In a large casserole pot, cook the onions, garlic, carrots and celery in a little oil. Once golden add the meat and sear, then add the wine and allow to evaporate, add then the Barilla Napoletana sauce and the stock.
Step 2 - Add the herbs and spices and bring to simmer. Let meat and spices cook for 30-45 minutes with a lid on until the meat is tender. Season to taste.
Step 3 - Bring 3.5 litres of water to the boil in a large pot. Once boiling add rock salt and then add the pasta. Cook according to the instructions on the packet.
Step 4 - Once the pasta is cooked, drain and toss it with the sauce, add the chestnut and cook for 2 minutes. Remove from the heat, add the Grana Padano and a drizzle of olive oil.
NQN and Mr NQN attended the school as guests of Barilla
Barilla Cooking School
4 Annandale Street, Annandale NSW
Tel: +61 (02) 8585 3911
$90 per person for each class