"Are you embarrassed of me?" I asked Mr NQN on the phone.
He looked at me nervously. "No...why would I be?"
I considered my answer. Of course I knew the reasons; the Morticia Addams appearance, love of Halloween, out of tune singing in public, the happy dances and the OCD behaviour.
I cleared my throat and said brightly "No reason! So why don't I ever get to meet any of your colleagues?" I asked him.
I heard a loud, long sigh and then silence. "Okay fine, come and meet us tonight" he said resignedly.
So that's how I came to be chatting to Mr NQN's work colleagues one evening. One of them, Dave is about as obsessed as your average food blogger and he mentioned his local restaurant in Five Dock which he visits anywhere from three times a week to once a month. And given that we're getting a bit peckish this one evening it seemed like a good time to visit his local.
Filicudi, which is actually an Island near Sicily in Italy is on a nondescript part of Ramsay Road in Five Dock and there's not much there in that small stretch of road apart from a Thai takeaway. The first thing that strikes us as we go in in the chianti bottles on display-just look up and the ceiling is full of them. A picture of Pavarotti sits behind the large landscapes of Filicudi that cover both walls entirely. The restaurant has been around for 35 years under different guises and 20 or so years under the name Filicudi. Dave tells us that they have real Italiana nonnas in the kitchen cooking up classic, traditional dishes.
Service is charming. It could be because we're with a frequent diner but we suspect that you can't turn the charm on and off. It's gently teasing and warm and before long we've arrived at a range of dishes to try. The restaurant is full but as the dishes come out many families leave and the full carpark around the corner quickly empties once it comes to 9pm. And everyone that leaves has the door pulled open for them as a farewell greeting from one of the staff.
Polpi al Sugo $17.50
This is Mr NQN's favourite as he loves spice. The polpi al sugo is soft braised octopus in a tomato based sauce. And the bread that we're given is perfect to mop up the spicy juices. The octopus is so, so tender it just melts in the mouth.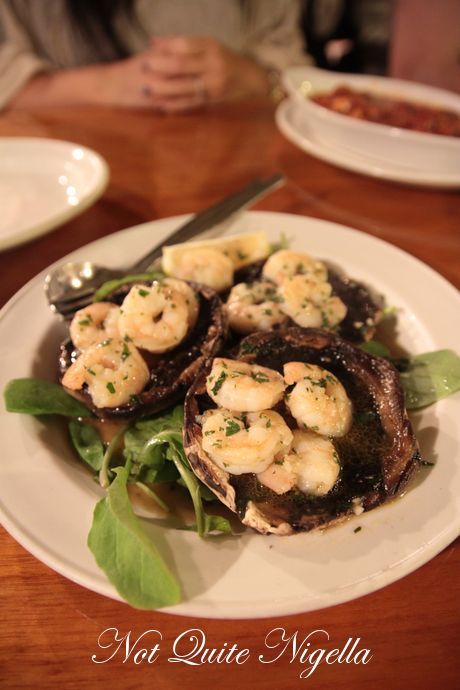 Funghi  della casa $23.50 for 3 mushrooms (usually 2 per serve at $17.90)
We all adored the portobello mushroom topped with garlic prawns. It's a retro dish, to be sure but let's not dismiss this as a suburban slightly retro gem. The mushrooms are meaty and garlicky as are the prawns. Served on peppery watercress we mop up all of the garlicky, lemon juices with our bread.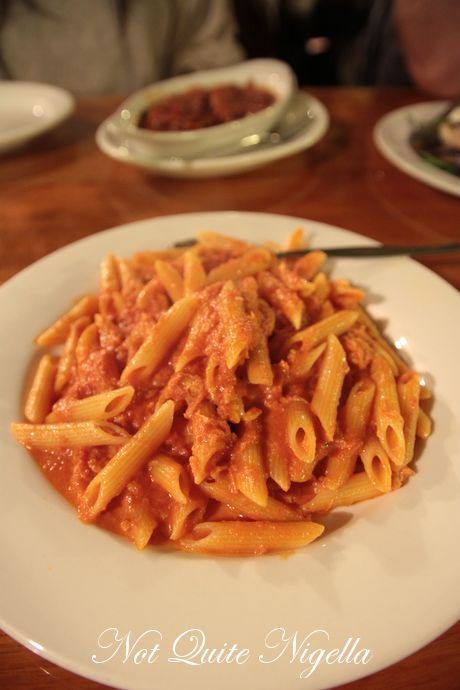 Penne Granchi $24.50 (large serve)
_
_
The penne granchi aka penne with blue swimmer crab is Dave's must have order and  is served either with the shell or outside of the shell. Because we are sharing we have it without shell. The crab which is actually quite plentiful is served in a tomato cream sauce and is quite good although Mr NQN finds the penne too firm for him whereas I like quite al dente in texture. Dave also points out that there is a bit more tomato than usual and that it is usually creamier and better.
Pollo Pavarotti $26.50
I'm all about sauces and I appreciate a sauce more than most. This doesn't look like much on a plate but as it is called Pollo Pavarotti aka chicken Pavarotti after the great tenor whose picture graces the wall we figure it must be good. The flattened chicken is incredibly tender and the sauce is wonderfully moreish. It comprises sun dried tomatoes, capsicum, pine nuts and cream. It is one of those sauces you definitely want to dip the potatoes and bread into and just lick off the plate.
Penne Siciliano $22
It is another penne dish I know but we all love meatballs. The sauce here too is excellent, a very thick and rich tomato sauce that has been cooked down and down so that it is intense with sweet and savoury tomato flavour. The meaty meatballs are a touch on the overcooked side as they are quite dry and there could be a bit more eggplant as that was wonderfully soft and creamy but they are the only things we would change of this dish.
Veal Sorentina $28.50
The veal, pounded thin until very tender is covered with a blanket of thick, rich tomato sauce (oh my, how I'm loving these sauces) and three thin slices of mozzarella that melt into it and a sprig of basil. It's a filling dish and generously portioned with a lovely rich sauce.
Vegetables
All meals come "with roughage to you know" says the waiter gesturing ambiguously. Special mention must be made of the roasted potatoes which are creamy and waxy and very moreish. The broccoli and carrots are steamed.
Mascarpone $9.50
The mascarpone on the menu is a tiramisu and comes in an old fashioned traditional glass. Despite the fact that we feel like we've been eating for Italy, Mr NQN and I finish this off quickly. It has the right balance of coffee saviordi biscuits and lashings of mascarpone cream as well as a blanket of sugared chocolate powder.
Our bill comes and before we open it Dave suggests a game which we plays with friends. Whoever can guess the bill to the closest amount doesn't have to pay their share. We play pretend and Dave answers $132, Mr NQN answers $145 and I answer $160.
I shouldn't have played pretend! ;)
So tell me Dear Reader, do you ever play games with your friends with the bill? And when you eat out do you usually split the bill evenly?
Filicudi
11 Ramsay Rd, Five Dock NSW
Tel: +61 (02) 9713 8733