The recommendation for Clem's Chicken Shop came to me first from a Dear Reader Sandra. She prefaced the recommendation with a worry that it wasn't fancy enough but I told her that that was not an issue. According to Sandra, although it was a takeaway shop, Clem's fried chicken and barbecued chicken was spectacular. The chips came with chicken salt, that magical yellow salt that sprinkles umami dust over chips and it was then that I thought of my friend Florizal, a fellow chicken salt enthusiast and messaged her.
7:56pm Lorraine Elliott
Hey do you want to check out a cheap and quick fried chicken place in Newtown after work one day? x
8:11pm Florizal
Of course! X
8:21pm Lorraine Elliott
Hehe well I've got a photo shoot Friday morning so is Friday night too early?
x
Vanity prevailed and it was only after the photo shoot that we unleashed ourselves at Clem's hemmed in only by the tightest leggings I could find as a failsafe device against going full crazy on fried chicken. On the densely packed restaurant and boutique strip of King Street it was a shop I had walked past hundreds of times paying it no mind. But when we get there it seems like half of Newtown has turned up to pick up their dinner serve of chicken. There are several combinations available of dinner packs as well as a display of salads and hot sides. We decide on a breast quarter of the seasoned barbecue chicken and a three piece serve of fried chicken and even though there's a cast of thousands on the customer side of the counter, our order slides across the counter to us quickly.
Three piece chicken and chips $10.95
The three pieces that we got were two wings and one rib which actually suited me fine as I love wings but I don't know how they would go if you asked for specific pieces. The chicken is buried under a canopy of fries with a distinctly sweet chicken salt seasoning. The chicken is a little cold, I think waiting around for a hotter piece would be good but it's well seasoned with a good amount of coating on it.
1/4 barbecue chicken and sides $11.95
The barbecue chicken is also buried under the sides. Fishing it up, it's quite moist, particularly for the breast piece but the surprise is the baby  potatoes and the pumpkin. They're served with a garlicky cream sauce and just melt when we pop them in our mouths. "How can they stay whole yet be so soft?" Florizal wonders out loud and I'm thinking the same thing.
The roast pumpkin was beautifully sweet and soft and full of flavour. We also had some garlic butter mushrooms, broccoli and cauliflower bake and potato with bacon all buried in the one pack. I know the idea of ordering two almost identical potato dishes is perhaps silly but the latter has bacon and more onion to it and is also garlicky and creamy.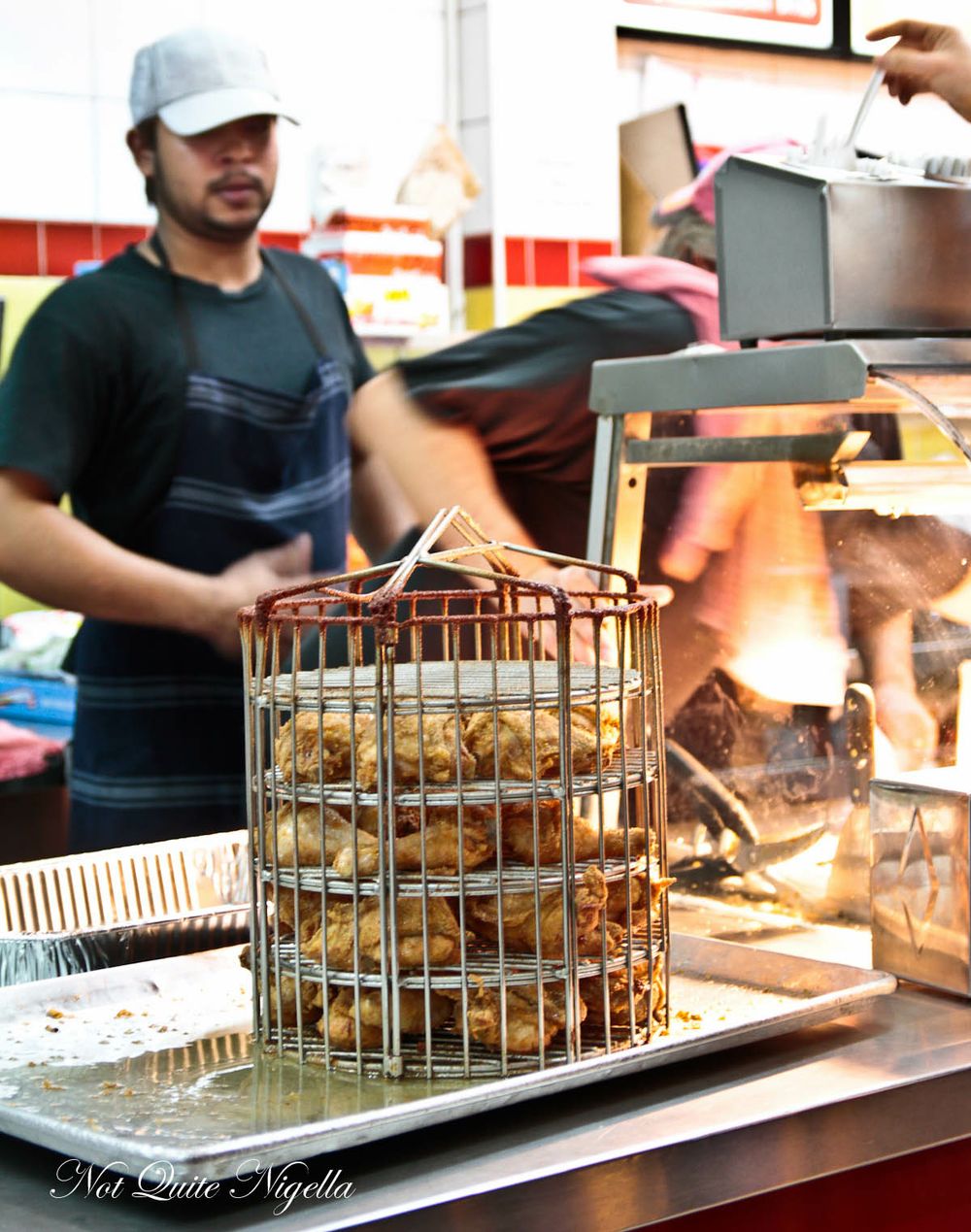 Sitting at the bar watching crowds of people walking home outside the glass window we sip Cherry Coke and water while realising that we are missing the important conclusion to a fried chicken meal-the pre moistened towelette. They're provided quickly with a smile and as we clean our hands and turn to leave to see a fresh queue forming while trays of fried chicken come out of the fryer.
So tell me Dear Reader, do you prefer fried or barbecued chicken? And how often do you get takeaway chicken?
Clem's Chicken Shop
210 King St, Newtown NSW 2042
Tel: +61 (02) 9519 6000