A friend of mine Celia publishes a post every few weeks called In My Kitchen where she talks about all of the new or interesting things that are in her kitchen. I decided to do the same one sunny afternoon.
In my kitchen are:
A pot of freshly made prawn stock
A huge collection of aprons including a beauty with bird cages on it from my lovely friend Christie for my birthday
A bag of frozen raspberries that I bought in Marrickville (tipped off by Celia)
Flowers from my lovely publisher Miss K. who stopped by for an impromptu lunch
My precious stash of organic Australian garlic
Some coasters that I thought were pretty, picked up from a shop on the Sunshine Coast
A collection of fabulous honeys including an intriguing Peppermint Tree honey from the Margaret River Discovery Co. that I cannot wait to break open.
Some old fashioned glass milk bottles with handles which I use for styling, picked up from a little shop in St Kilda
A Babushka tea cosy that was a gift from my parents and sister from a holiday in Russia. She just oozes Winter doesn't she!
A Shun chef's knife that I was sent to test out a few months ago. I'm not quite sure how to review it apart from saying that it is fabulously sharp and makes me feel like an Iron Chef :P
So what do two of these random list of things have in common? Well the prawn stock that I made was was admittedly a very lazy stock where I just boiled up the prawn heads and shells with some garlic and onion and bashed away at the shells with a potato masher in a fit of controlled anger. I used this to make a chowder one day and then used it in the absence of fish stock in a snapper and scallop pie that I was making.
Because I was supposed to be having lunch in Paddington with Miss K. I set out to make this and photograph it by 1pm as it would be too dark to photograph it when I got back. And it was actually very easy indeed and I didn't even have to cut up the snapper and kept the fillets whole. The recipe was one suggested to me by Mr NQN's boss Rod who is a keen home cook. Also a reader Heidi had only just asked me a few weeks before on my facebook page if I had a good snapper pie recipe. Rod suggested the snapper pie recipe from The Boathouse where it is legend. He also suggested adding broccolini and because I can't leave well enough alone I added some scallops because...well I love scallops and the idea of a scallop pie was so decadently good having had a few in Tasmania. I know scallops in a pie are an indulgence but I happened to be shopping for fruit and vegetables at Paddy's markets one Sunday afternoon and they had a good sized tray of scallops for $5 so I snapped them up straight away.
When I pulled the pie out of the oven it smelled delicious and it was around that time that Miss K called. I asked her if she had had lunch (my usual question "Have you eaten?"). When she lamented she hadn't I asked her if she would like to come over for some of the snapper and scallop pie and prefaced it with a warning about the state of untidiness of the apartment and the fact that I was trying to make this pie for the first time.
I didn't quite get the pastry right, I had forgotten to cut the two inches overhang of pastry so the pastry sunk in a little whereas it should have sat up on top. I used the Carême pastry which is a pastry that I use if I haven't had time to make my own (and I have the funds, at $11.49 for a single sheet it isn't cheap but I do love buttery puff pastry). You could of course top this with mashed potato and it would be just divine too.
The snapper underneath was soft and tender as were the scallops which were perfectly cooked. The creamy sauce was plentiful and there was plenty for some bread to soak up. When Miss K. arrived, like an excited child I showed her my home made butter and other things that I had made and we ate the pie while sitting down next to the coffee table since the dining table was too covered in cooking equipment and dishes.
So tell me Dear Reader, do you have any interesting or amusing additions to your kitchen? And do you often invite people over for impromptu meals or are you  a planner?
Snapper & Scallop Pie
Serves 2-3 people
Adapted from a recipe by the Boathouse originally published in Saveur
3 golden eschallots, peeled (or 2 small brown onions)

3 tablespoons olive oil

Truffle salt (or you can use regular salt)

1/2 cup fish stock (I used prawn stock, chicken stock would do too)

3/4 cup heavy cream

Freshly ground white pepper

1 lb. frozen puff pastry, thawed

Flour

500g/1 lb. red snapper fillets

300g/10 ozs. scallops

1 bunch brocollini (about 4 -5 heads)

2 teaspoons white truffle oil

1 egg yolk mixed with 1 teaspoon water for egg glaze
Golden eschallots
Step 1 - Chop 2 of the golden eschallots and set aside. Heat 2 tablespoons of the olive oil in a medium saucepan over medium heat. Add sliced eschallots and a pinch of salt and cook, stirring often, until very soft and golden, 10 minutes. Add stock and reduce by half, about 4 minutes. Add cream, bring just to a boil, then reduce heat to medium-low and simmer until pale golden and thickened, 10–15 minutes. Purée onion mixture in a blender until smooth. Transfer to a medium bowl and set aside.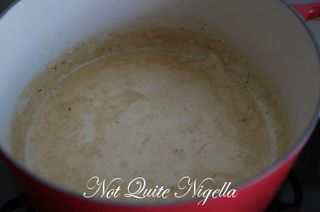 The sauce once the cream is added and cooked
Step 2 - Meanwhile, dice the remaining onion. Heat the remaining 1 tbsp. olive oil in a small skillet over medium heat, add onions, and cook, stirring often, until soft, about 5 minutes. Season to taste with salt and pepper, then add to bowl with purée and set sauce aside.
Cutting out the pastry-don't forget the overhang like I did!
Step 3 - Preheat oven to 220C/425º. Roll out puff pastry on a lightly floured surface to 1/4" thickness. Invert a 4-cup deep oval baking dish lightly onto pastry. Using the tip of a small sharp knife, cut out an oval 2" wider than the dish discarding trimmings (I kept a little to make a fish). Remove dish from pastry and set aside.
Seasoning the red snapper fillets
Adding the snapper and scallops
Then the raw broccolini and the rest of the sauce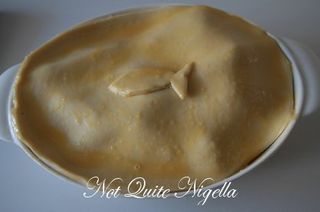 Step 4 - Season fish and scallops with salt and pepper. Put half of the sauce into the baking dish and lay fish, skin side down, on top and scatter the scallops around them. Then add the uncooked broccolini on top (I snapped off the ends like asparagus to get rid of the woody ends). Cover with the remaining sauce and drizzle with truffle oil. Drape puff pastry cover over dish and brush with egg wash. Bake until deep golden brown and puffed, about 25 minutes. To serve, cut puff pastry in half crosswise, lift off each piece and set on the side of two plates, then divide fish and sauce between both plates.