Want to make your very own fish fingers or goujons? Take a white fish fillet and transform it into your favourite childhood food. Panko breadcrumbs give the fish an extra crunch and you can deep fry or bake these too. And pair these with an orange and parsley slaw for a complete meal!
As a child I used to love fish fingers. They were the perfect non fishy tasting crunchy dinner treat. I think I was a strange kid. Back then I loved anything out of a packet and I hated fish. Now I'm the opposite, go figure. And because of this I wanted to make a version with panko breadcrumbs-double toasted ones to make it super crispy and I paired it with super pickly tartare sauce. I wanted to make it a full meal so I paired it with a delicious coleslaw made with orange juice and parsley to give it a fresh hit.
Speaking of fish fingers, the other day I was talking to a new friend N on the phone. By sheer coincidence we were both making fish fingers for dinner. We both had to get off the phone to attend to things after a while. I hung up the phone and went to add in her number into my address book. Except instead of hitting "add" I accidentally called her.
I wasn't sure whether to admit to her that I was so vastly uncoordinated that I had rung her again. So I hung up quickly and then tried to do the same again. It called her again. This time she picked up.
"Sooo it's been ages hasn't it?" I said trying to think of something to say because you maybe shouldn't let people know how clumsy you are until they really get to know you. "How are those fish fingers going?" I stalled.
"You tried to add me to your address book and called me didn't you?" she said laughing, seeing through my ruse immediately.
So tell me Dear Reader, were you a different sort of eater as a child? Did you ever like fish fingers? And have you accidentally rung someone while trying to do something else?
DID YOU MAKE THIS RECIPE? Share your creations by tagging @notquitenigella on Instagram with the hashtag #notquitenigella
Home Made Crunchy Katsu Fish Fingers
Makes 12 fish fingers
An Original Recipe by Lorraine Elliott
Preparation time: 20 minutes
Cooking time: 25 minutes
2 cups panko breadcrumbs
400g/14.1ozs white fish fillets*
1/4 cup plain all purpose flour
1 teaspoon paprika
1 egg, beaten
1/4 cup finely shaved parmesan
Finely grated zest from 1 lemon
1/2 teaspoon salt
4 tablespoons oil (or more if you are deep frying these)
Home made tartare sauce
2/3 cup mayonnaise
1/4 cup finely diced pickles
Salt
Orange and Parsley Slaw
2 cups finely grated cabbage
1 carrot, grated
1/4 cup chopped parsley
1/3 cup finely chopped green shallots
Juice of 1 Orange
1/2 cup mayonnaise
Salt and pepper to season
*It is best to use fillets with even thickness
Step 1 - Preheat oven to 200C/400F and lay the panko breadcrumbs on a baking dish and bake for 5 minutes. Then cool a little and mix with parmesan, salt and lemon zest.
Step 2 - Mix the the flour and paprika in a bowl. Place the beaten egg in another bowl and then have the panko crumbs on a plate in an assembly line. Have a baking tray lined with parchment ready.
Step 3 - Cut the fish into fingers, you should get about a dozen. Then roll them in the flour, dip in the beaten egg covering all sides and then roll in the panko crumbs. Lay apart on the tray and then drizzle with the oil. Bake for 10 minutes, turn over and drizzle with a little more oil and bake for another 10 minutes. You can also deep fry these for extra crunch.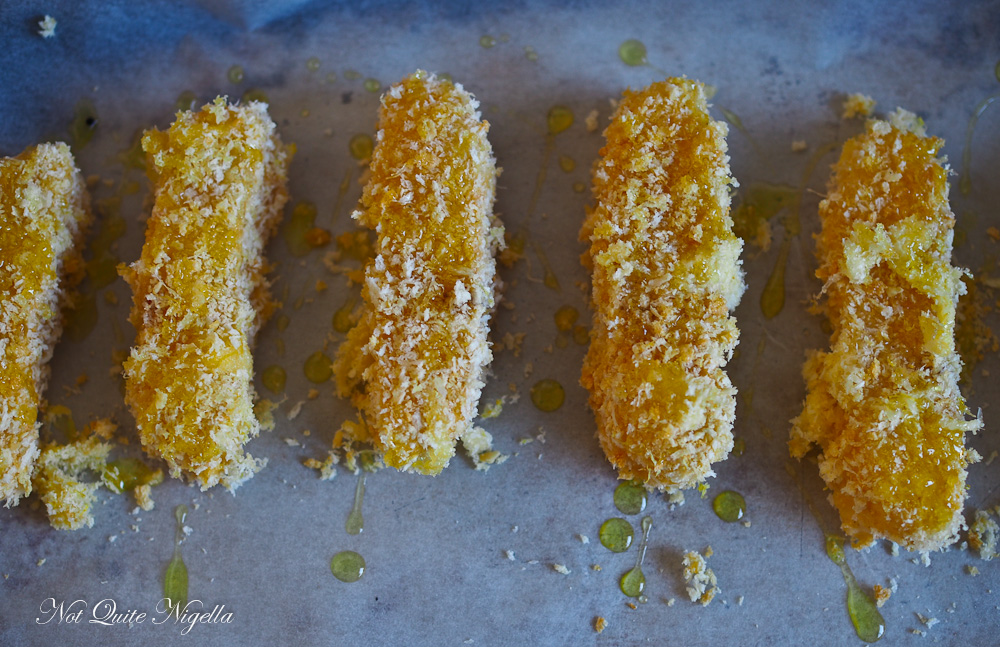 Step 4 - Mix mayonnaise and pickles and add salt to taste if needed. Serve with the tartare sauce.
Step 5 - To make orange parsley slaw mix the cabbage, carrots, parsley and shallots. Whisk the orange juice and mayonnaise together and toss with the vegetables. Season with salt and pepper.