So many of us watched the royal wedding a few months ago. Now that Kate and William have proven themselves unscandal-worthy, the media certainly looks to be trying to make Pippa Middleton (she of the much admired bottom) the next big thing. There is so much debate about her and I'm sure she is fielding offers left, right and centre. There is debate about whether she is hot or not-the general consensus is that among the menfolk she is very hot indeed.
I even saw tips on how to get her bottom. Seriously, what will people who achieved J Lo's bottom now do?  And who wants someone else's bottom really? One thing that I can say for certain is that prior to the wedding P Midd. (a snazzy moniker is surely the next step?) went on a diet. With billions of eyes on her and her sister she had to make sure that she looked as good as possible. Even though I don't stick to a diet as such I do mentally record what I've eaten as if I were a detective surveying a crime scene. And let me be honest, sometimes it is a crime scene...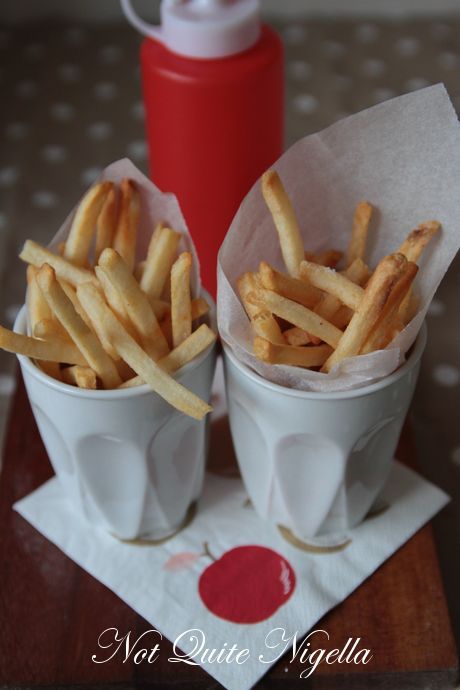 I couldn't even look at a salad nowadays and creamy soups, buttery pastries and rich roasts and gravy are all that I covet. Winter for me isn't about light portions, it is about thick stews and soups and breads (not to mention endless cycles of laundry hung out in the freezing cold morning). The following recipe is for like minded souls who shivered through the past weeks and may or may not have had to slip on a white silk bias cut dress in front of 2 billion people.
I decided to make healthy potato croquettes. Because being given "diet food" is the worst way to eat healthily and ensures that come 3:30pm or 10pm (aka chocolate and crumpet o'clock) you aren't either urgently shaking down a colleague demanding whatever chocolate they might possess (or was that just me?) or standing in front of the microwave thawing out half a dozen crumpets and tapping your foot impatiently. Hmm maybe I should shut up now...my microwave is pinging at me.
To aid my new dietary regime I was given two of the latest low fat air fryers to test out, the Philips AirFryer and the Tefal ActiFry and so I thought I'd test this recipe out in both of them as well as using the oven (my reviews of these two products follow on after the recipe). This recipe is actually from the cookbook that came with the Philips Airfryer-to me the idea of using one of these low fat fryers is to be able to indulge in low fat version of the fabulously naughty deep fried foods that I occasionally love.
Whilst the result isn't quite as crunchy as a deep fried version these were rather good I do have to say. There was a crunch to them and flavour from the parmesan. So whilst I can't promise you P Midd.'s bottom I can promise you that these are rather good!
So tell me Dear Readers, are any of you still eating salads? And do you think Pippa Middleton is hot or not?
Healthy Potato Croquettes
Makes 4 portions or 12 croquettes, 235 cals in each portion approximately
300g starchy potatoes, peeled and cubed
50g/1.7ozs parmesan cheese, finely grated
2 tablespoons chives, finely chopped
salt and pepper to season
Tabasco sauce to serve (or Tabasco mayo)
Note: You can make double the portion and and freeze half of it
Step 1 - Boil the potatoes in salted water for 15 minutes or until soft. Drain the potato and mash them finely with a potato masher or potato ricer. Allow the mashed potatoes to cool.
Step 2 - Add the egg yolk, cheese, flour and chives to the potato puree and mix well. Season to taste with salt, pepper and nutmeg. Have a parchment lined baking tray ready to put your croquettes on. Mix the oil with the breadcrumbs and combine well until all breadcrumbs are coated.
Step 3 - With slightly damp hands, roll the potato mixture into a croquette shape and then roll in the breadcrumb mixture. Repeat until all of the potato mixture is finished and you should have about 12 croquettes (I made a double lot).
Step 4 - Preheat the appliance (oven or fryer) to 200C/400F. Place the croquettes in the oven or fryer. For the airfryer cook six at a time and cook for 4 minutes. In the oven cook them for about 15 minutes. In the Tefal ActiFry this recipe is not recommended.
Why the ActiFry is not recommended for the croquettes-oops!
From top to bottom: the Tefal Actifry ones, the oven baked ones and the Philips Air Fryer ones
Review: The Philips Air Fryer vs the Tefal ActiFry
First of all the two appliances are quite different in look and it seems in functionality. The Philips Air Fryer does not use any oil or liquid at all and the instructions tell us clearly never to add any. And from using it more dries out the food like a giant air conditioning system or blower in a small condensed space. The Tefal ActiFry is more like a non stick pan that also dries out the food with air but the centre paddle moves the food around. I tested both of these appliances using the healthy potato croquettes recipe found in the Philips cookbook so that would have leant a natural advantage to the Philips appliance. The reason why I chose it however was because the reason why I would use one of these appliances is to be able to cut down on oil while enjoying deep fried types of food apart from chips and the Tefal Actifry recipe book didn't have any faux deep fried recipes.
Philips AirFryer $329
**
Pros:
Can cooks low fat versions of deep fried food
Turns itself off after a quick ping to let you know it is finished
Can control cooking temperature
It took 15 minutes to cook 250g of frozen fries (25 minutes in the ActiFry according to book)
Clever hideaway cord (why can't every appliance have one of these?)
More suited to doing low fat substitutes for deep fried foods
Cons:
Heavy (heavy equals sturdy feeling in this case but it was difficult to get out of the box)
I couldn't seem to be able to stop the appliance cooking until I switched it off at the power point (I like on and off switches)
Basket could be hard to clean depending on what you cook
My croquettes looked nothing like the ones in the picture
Tefal ActiFry $349.95
**
**
Pros:
More suited to stews, risottos
Really brief and easy instruction booklet
Cons:
Because it is lighter, it feels less sturdy. I have read that it is flimsier and prone to breakdowns
It takes about 20 minutes to cook 250g worth of frozen fries whereas it took 15 minutes in the AirFryer
It squashed my croquettes. It would be best for stews and risttos as is detailed in their recipe books and things that are designed to be stir fried as that is the action that the paddle takes. But if you have a slow or pressure cooker already then having this won't be that necessary.
A lot of beeping once the cooking has been completed. I am not a fan of excessive beeping. Life is anxiety making enough without your appliances beeping at you.
I made the croquettes and since this was more suited to the AirFryer I thought it was more fair if I tried making frozen potato chips. The Philips AirFryer took less time than the Tefal ActiFry according to the instruction booklet but the chips were overcooked in the  Tefal ActiFryer. The chips tasted very similar overcooking notwithstanding.
I have to say that comparing these to the oven, that I don't actually think either is that necessary a purchase if I were to be completely honest. You can do plenty of these things in an oven or if you use a non stick frypan which most people have nowadays. Or even a slow cooker given some of the recipes. However, I did slightly prefer the Philips AirFryer because my downfall is deep fried food. But if you don't have slow or fast cooker and really want to do stir fries etc without actually having to stir, then the Tefal Actifry might be for you.