This scalloped celeriac and potato gratin is all sorts of cheesy, carby goodness. A normally rich potato gratin is lightened and gets more flavour from the celeriac. This recipe uses a whole celeriac in it!
I cannot describe what a serendipitous exercise this celeriac gratin was. I didn't expect to love it as much as I did but I had to pull myself away from this as I was headed out to lunch just after I pulled this gratin out of the oven.
What is a celeriac? Celeriac is also called celery root whose relatives are celery, parsley and parsnip. Celeriac is a root vegetable that is actually the same plant as celery (apium graveolens) but celeriac is cultivated for the roots while celery is cultivated for its stalks. Celeriac has a mild nutty, celery flavour.
When choosing celeriac, go for one that is firm without any soft spots. Remove the leaves and store it in the crisper of your fridge in a perforated bag for 2 weeks. You can use the leaves to garnish soups or wherever you would use celery leaves.
Celeriac is very versatile and can be eaten raw (eg in celeriac remoulade) or it can be cooked. It is in season from May to August in the Southern Hemisphere or September to April in the Northern Hemisphere. It has plenty of health benefits including being a source of vitamins B6, C and K, fibre, antioxidants and minerals.
Celeriac and potato together? I prefer to use both celeriac and potato rather than all celeriac and this recipe uses one whole large celeriac anyway. Potatoes aren't as watery as celeriac and they provide creamy texture to celeriac's slightly more watery texture.
Can I make this gratin ahead of time? Definitely! This can be made the day before up to step 3. Just cover, take out of the fridge 1 hour or so before baking it and then bake just before you want to serve it. The celeriac might release a bit of water if it sits overnight but it will be fine and will reabsorb after the gratin has been sitting for 20 minutes or so.
How to make cream if you don't have it? I ran out of cream when I was making this so to make 1 cup of cream, mix 1/4 cup of melted butter with 3/4 cup of full cream milk.
I have to admit when I first saw the celeriac I got a bit of veg dread. You know the feeling you get when you get a vegetable you don't know how to cook. I didn't grow up eating celeriac, fennel, turnips or swedes. There aren't a lot of potatoes in Chinese cooking either (although there's one fantastic recipe I will share with you soon).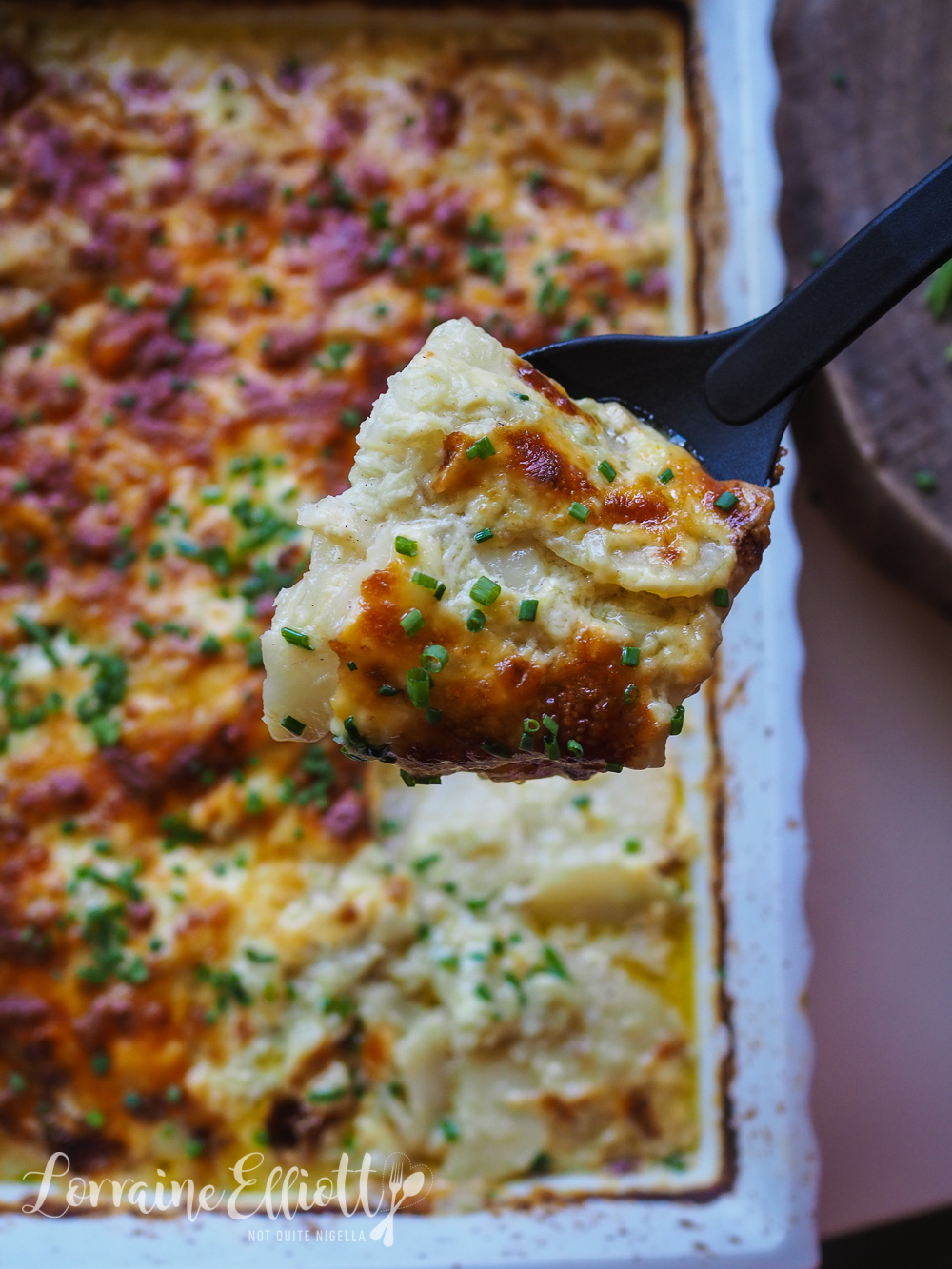 But then I started to read up more about the humble celeriac and started to appreciate how low fuss it was and how versatile it was. I mean what vegetable tastes equally good raw and cooked and actually becomes sweeter when it is cooked (YES!)? I started to look at it in a different light, especially after how delicious this gratin was!
So tell me Dear Reader, do you ever get veg dread? Is there a vegetable that you don't really know how to cook or prepare? Do you like celeriac?
DID YOU MAKE THIS RECIPE? Share your creations by tagging @notquitenigella on Instagram with the hashtag #notquitenigella
Celeriac Potato Gratin
Rated 5.0 out of 5 by 2 readers
An Original Recipe by Lorraine Elliott
Preparation time: 30 minutes
Cooking time: 1.5 hours
50g/1.7ozs butter plus extra for greasing
3 onions, peeled and diced
4 garlic cloves, peeled and diced
375ml/12.7flozs. cream
375ml/12.7flozs. milk
1 teaspoon chicken or vegetable stock powder
1/2 teaspoon ground nutmeg
1 celeriac (around 600g)
400g/14ozs. potatoes, peeled
3 cups cheese (mozzarella and cheddar or tasty)
salt and pepper to season
30g/1oz butter, cubed to dot on top
3 tablespoons freshly chopped chives to sprinkle
Step 1 - Sauté the onion and garlic in the butter on low to medium heat until softened. Add the cream, milk, nutmeg and stock powder and heat through. Season to taste.
Step 2 - Preheat oven to 180C/350F and grease a large lasagne or baking tray. Peel the celeriac well (save the peelings for stock) and slice into thin slices. I used a mandolin on setting #2 (not the thinnest setting). I then cut them in half. Then slice the potatoes.
Step 3 - Layer a third of the onion mixture into the tray and then lay slices of celeriac in a scallop pattern. Add half of the cheese, a little more of the onion cream mixture and then the potatoes. Finish with the remaining onion cream mixture and the rest of the cheese. Dot with the last of the butter.
Step 4 - Bake for 45 minutes. Then cover with foil and bake for another 30 minutes. Cool for 20 minutes. Sprinkle with chives and serve warm.