"Turn left!!" I tell my father from the back seat watching in horror as he turns right into the cross city tunnel taking us in the opposite direction that we want to. We are running late for our date with Chef Kumar the chef and owner of Aki's and Abhi's Indian restaurants. He is going to show my mother and I how to make a curry paste from scratch-or so we thought...
Escaping the tunnel and arriving at Aki's breathless and panting we meet Kumar. "Cooking has to come from here (points to heart) and not here (points to his head)" says Kumar Mahadevan, chef and owner. Aki's has just been given its first chef's hat in the Sydney Morning Herald Good Food Guide Awards and is the only hatted Indian restaurant in Australia while Abhi's, well that remains a perennial Inner West favourite packed every night including Monday nights.
I must admit that I don't often make Indian food at home as I want to stay away from using bottled pastes and sauces as much as possible and yet I don't often have the recipes to make my spice pastes from scratch. I invited my mother along as she is a keen curry maker so I knew that she would be interested in this.
Which brings me to my next point "I don't believe in spice pastes" Kumar says. I look around. Hmm okay, I have come for a lesson on how to make my own Indian spice pastes and he doesn't believe in them? He explains further that most spice pastes are meant for convenience but at his two restaurants, each sauce is made from scratch using different flavour combinations. Unlike say French cuisine where there are five master sauces, Indian cuisine has a multitude of different sauces and even within a huge country such as India, people find themselves as strangers to the cuisine from another area.
South Indian cuisine tends to be  lighter, more watery and spicier whereas North Indian cuisine tends to be richer, creamier with more cream, butter and nut sauces. He explains the origin of the very popular butter chicken. It originated 60-70 years ago in Delhi where a chef had some leftover Tandoori chicken. He made a tomato, butter, cream and garlic sauce and that's how we find ourselves with butter chicken. And check out this vat of butter chicken sauce being made. That's a lot of butter (or buttah!). And Kumar tells us that the best results are achieved with a tandoor oven as that imparts a smokiness to the chicken that is hard to replicate at home.
A pot of butter chicken sauce-now that's a lot of butter!
But now onto the recipes. Today we are making my favourite curry a palak paneer. How long will it take? Once the mise en place is prepared, just 15 minutes. Palak Paneer is a delicious and very healthy curry made up of a spinach puree with cubes of Indian cottage cheese.
The spice drawer
There are three spices used in this only which is astounding: cumin, fenugreek seed and ginger and palak paneer is also divinely healthy as you only need a tiny amount of oil or ghee and the cream at the end is optional. Kumar sprinkles spices from his spice drawers and within 15 minutes, the curry is finished and cooked. I had always thought that Indian curries took a long time to make and required a lot of effort therefore that was why we needed the ready made sauces.
I try the palak paneer and it is flavoursome with a clear spinach flavour and soft cottage cheese cubes. I'm still a little dumbfounded that these only took 15 minutes to make-even the mise en place was quite simple with just chopped garlic and ginger and I watched Kumar slice the tomatoes and chop the spinach in front of me. So the next time you are feeling like adding a quick new dish to your weeknight rotation, give this Indian classic curry a go-and you don't have to battle any of those pesky, unexpected tunnels!
So tell me Dear Reader, do you cook much Indian food at home?
Palak Paneer
Adapted from a recipe by Chef Kumar
Cooking time 15 minutes; Serves 4
Ingredients
Paneer cheese 250 gms, cut into cubes
Spanish Onion 1 large, chopped
Green Chilli 1 (Optional)
Dried Fenugreek Leaves 1 tsp
1 tablespoon cream (optional)
Buyer's tip: paneer cheese and fenugreek leaves can be bought at Indian grocery stores
Method
Step 1 - Wash the spinach well under running water. Chop the spinach into rough sections (you will end up blending it so you don't need to be too precise) and cook the spinach with 100 ml of water for about 5 mins. Strain it through a sieve and then blend it till it becomes a fine paste and set aside.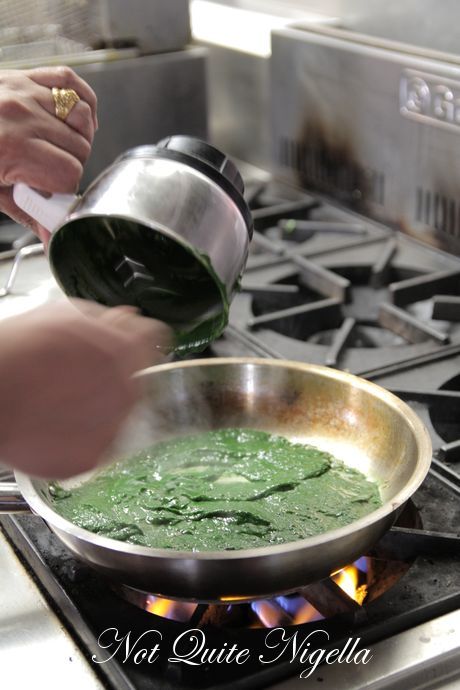 Step 2 - Heat oil in a frying pan and add the cumin seeds. Cook till the seeds turn brown. Add the diced onion, dried fenugreek leaves, fresh ginger, garlic, cherry tomatoes and the cooked spinach paste and add 1/2 cup of water or stock. Cook for a further 4-5 minutes.
Step 3 - Finally add the cubed paneer and cook with the above for 3 minutes. Finish with an optional tablespoon of cream and add salt to taste. Garnish with some ginger julienne and chopped coriander and serve hot with rice.
Kumar's tip:
• Don't overcook the spinach as it will start to lose its colour.
• Keep the dish simple and do not over-spice