Over the years Mr NQN has had to get used to me. When we first started dating he used to say "Do you have to get so dressed up?". He is a country boy after all and there were mutterings of overdressing and I suspect too much makeup (although he was smart enough not to comment on that). There was the singing in public, the fact that I liked biting him because I thought he seemed tasty, the way that I'd enjoy my food a bit too much, the odd food that I'd make and the other strange things that I did that embarrassed him. Until one day he actually said to me
"Oh I like the way you used to dress"
This was of course after I had dressed more casually to try and not embarrass him. I looked at him and I smiled. Did he actually like me being me? Did I no longer embarrass him? Success! I had indoctrinated him into my world and he seemed to like it there (and a good thing because I don't like having to do things any way but my own). Now he is used to shopping adventures where we travel to buy a good free range ham. He is used to buying bottles of root beer and pouring them over said ham. He is used to me inviting people over for food (he is naturally very shy and inviting people over just would not occur to him).
And speaking of that ham, this Christmas we were seeing  our families as we planned a small family dinner combining my family with Mr NQN's. His family were all over the place (their natural state of affairs being chaos), and trying to find a date that suited everyone meant that Christmas was going to be on December 26th. I had to point out that December 26th was no longer technically Christmas so I invited whoever could come over to our place on December 24th for dinner. Christmas Eve is when the Finnish celebrate Christmas and this is when my family celebrates Christmas because quite honestly my sister and I couldn't wait another night to open our presents and our parents just relented and it became tradition.
Aura Lily
Well it turns out that all of the family members could make it on December 24th after all (I guess it was that annual tradition of herding cats preceding Festivus that the Elliotts seem to delight in!). And suddenly our small family celebration burst out to a table for thirteen...around our table that seats 8! But not to worry, we had plenty of food. My ham was a 5 kilo beast-modest enough and covered in a crunchy, moreish breadcrumb crust and then basted in a flavoursome root beer caramel. I had made this many years ago before the blog and before Mr NQN and was so besotted by it that I vowed to make it again when I had a lot of mouths to feed. The ham is easy enough to do and just requires a basting every 30 minutes and then a coating of a breadcrumb crust. It is then baked and basted to glistening perfection before being sliced up with some of the breadcrumb mixture and the sweet, fragrant caramelised syrup.
I have tweaked the recipe so that it is juuust right. It is different from other hams baked in root beer and Coke because it has that crust and to me, the crust is what really makes this ham. I also made the cake the day before as I didn't want any stress. It was from the new Maha cookbook by Shane Delia and I was sold on the name and description. Said to be like a Cherry Ripe cake, it uses dark chocolate and pomegranate molasses and is topped with an intriguing glossy olive oil syrup mixture, pine nuts, mint leaves and redcurrants (in the absence of pomegranate at the shops).
Unfortunately the cake looked nothing like the cake in the picture and it actually made me wonder if it was indeed the same cake that they had used in the book. I must admit a swearing Christmas elf came out at that point! But once we tried the cake we were smitten. I'm still not convinced that the cake in the picture is the one that matches the recipe but it is a divine cake-with a slight tanginess that will appeal to the dark chocolate connoisseur or those that like a little liqueur in their cakes although this cake has no liqueur in it at all, just the delicious tang of pomegranate molasses.
Then, and because you know dessert should always be a multi course affair, there was the amazing Celia's gorgeous chocolate Christmas tree which was her Christmas gift to me along with her divine truffles (sorry Mr NQN scoffed these before I had the chance to photograph them) as well as a multitude of goodies-she's such a generous soul.
Cookies for Santa
There were also Matilda's wonderful Italian biscuits which I hope to receive and look forward to every year. Matilda is one of NQN's longest, most loyal readers and every Christmas she sends me a batch of these divine biscuits. And every year I squeal when I receive the box as they are truly delicious!
And of course some plump, sweet, fat cherries that came from Harris Farm! Another gift that I look forward to and one that the Elliotts just fall into raptures over. I need to keep a little stash for myself as they are plump, juicy and sweet. We managed to squeeze everyone on a table meant for eight and with the exception of a couple of strange incident (of course!) the dinner went off without a hitch. Aura proved an entertaining challenge as she is strong and fast and already making her way across a room within seconds pounding the floor boards with her tie dyed bloomers and tiny, defiant red shoed footsteps. After dinner Secret Santa presents were exchanged and desserts were eaten. And after that not a creature was hungry, not even a mouse!
So tell me Dear Reader, what did you or what will you have for Christmas dinner? And who will you be eating with?
Mr NQN gives Aura Lily a boost
Alas eating and jumping is exhausting work...
Ham in Root Beer
An Original Recipe by Not Quite Nigella
Preparation time: 10 minutes Cooking time:  3.5 hours
5 kg/10 pound boneless ham
1.5 litre bottle of root beer (you can also use sarsparilla or Coca Cola but definitely not Diet anything darlings)
2 cups bread crumbs (the fine, dried variety rather than fresh)
Directions
Step 1 - If you want to eat the rind, leave on, otherwise remove with a sharp knife. Make sure that the ham fits in a roasting pan and that the rungs in your oven are positioned correctly so that the ham can fit. Pour the root beer over the ham to about 1.5 cms depth in the pan-I used about half a 1.5 litre bottle of root beer. Cover with generously oiled foil and then bake at 180ºC/350ºF for 2 and a half hours (30 minutes per kilo), basting with the root beer at the bottom of the baking dish every 30 minutes or so and topping up if you need to.
2. Meanwhile make the breadcrumb crust and set aside. Combine sugar, mustard, butter and bread crumbs in the bowl and then add some root beer so that you can make a thick breadcrumb mix that will adhere to the side of the ham. Pat this breadcrumb mix all over the ham, score diamonds with a sharp knife and stud centres with cloves and pour the remaining root beer into the bottom of the pan.
Before the final coat
Step 3 - Place back in the oven, uncovered, for another 30 more minutes until the crust firms up and starts to become golden in parts. Remove from the oven and carefully baste with the sticky, sweet juice. Return to oven to another 10 minutes. Once done, remove from oven, cool for 20 minutes. Do a final baste to make it glossy (the root beer will have become a deliciously thick sauce). Remove the cloves, slice thinly and serve with the breadcrumb mixture and some of the caramel.
Chocolate Pomegranate Cake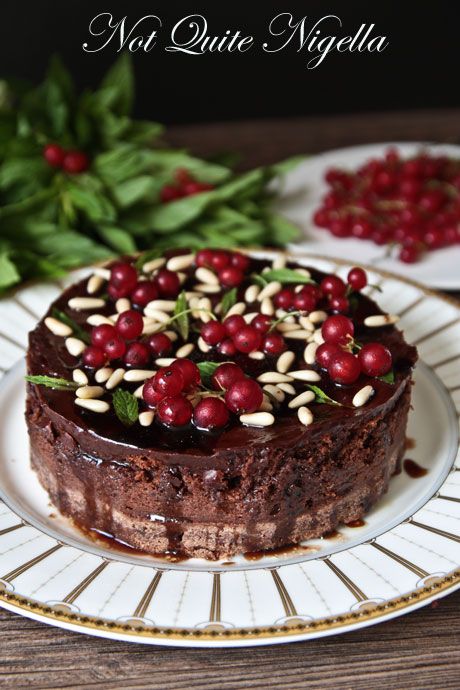 Adapted from Maha by Shane Delia, published by Penguin Lantern Books $49.95Pastry
100g/3.5 ozs butter at room temperature
2 tablespoons cocoa, sifted
2 teaspoons pouring cream
Chocolate mousse filling
135g/4.7ozs dark chocolate
Chocolate Ganache
150g/5 ozs dark chocolate
25ml/1 fl oz thickened cream
25ml/1 fl oz pomegranate molasses
Dressing
50ml/1.7 fl ozs sugar syrup (infused with a pinch of cinnamon, star anise, cardamom and vanilla)
50ml/1.7 fl ozs pomegranate molasses
25ml/1 fl oz extra virgin olive oil
Seeds of 1 pomegranate (I couldn't find these so I bought redcurrants)
50g/1.7 ozs pine nuts, toasted
Step 1 - Line a 20cm springform tin on the base and sides with parchment paper. Make the pastry by placing the butter and sugar into the bowl of an electric mixer with a beater attachment and mix until it forms a paste-it won't take long. Then add the rest of the ingredients and mix until just combined (do not overwork). Press into the base of the springform tin (it will be quite soft) and refrigerate for 1 hour.
Step 2 - Preheat oven to 180ºC/350ºF. Prick pastry all over with a fork and then bake the pastry for 15 minutes. Set aside to cool while you make the mousse filling.
Step 3 - Place the chocolate and butter in a heatproof bowl over a pan of simmering water (making sure that the base doesn't touch the water) and stir until the chocolate is melted. You can also do this in a microwave on 50% in 60 second bursts making sure to stir between each burst. Cool slightly while you do the beat the egg whites. In a clean bowl with a whisk attachment, whisk the egg whites until soft peaks form and then add the sugar and beat it to make it glossy.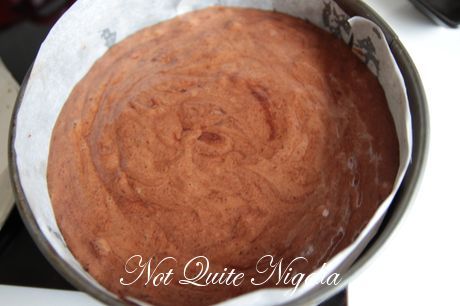 Step 4 - Add the egg yolks to the chocolate mixture and then add half of the egg whites folding the mixture gently so as not to lose any air, then add the rest of the egg whites. Bake for 30-35 minutes until a skewer inserted comes out clean. Cool completely.
Step 5 - Make the ganache by melting the chocolate (same method above) and then adding the cream and molasses.Mix until smooth and then spread over the cooled cake with a palette knife. Place in the fridge to set completely, about 4 hours or overnight. When I took mine out, the sides has sunken in so I cut around it removing the sunken bits to make a smaller cake but with sides that were even-ish.
My cake after refrigeration
The picture in the cookbook-which actually looks like a ganache cake rather than a mousse cake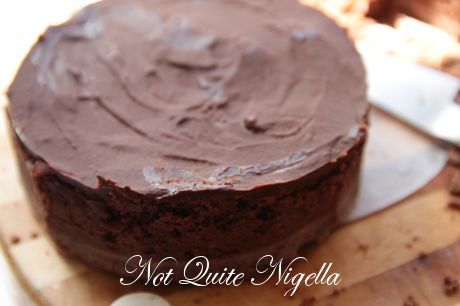 Step 6 - When it comes time to serve, combine the sugar syrup, pomegranate molasses and olive oil and pour over the cake. Dress with pine nuts, mint leaves and redcurrants or pomegranate seeds.