Come and take a peek at Christmas dinner at our place! From an orange, clove and ginger glazed ham, spice rubbed and freekah stuffed spatchcocks to salads like radicchio, fennel, orange & candied walnut salad or roast zucchini, wild rice and cashew cream salad to a giant Pastel de nata or Portuguese custard tart, we have all bases covered! Merry Christmas!
Christmas Dinner is always a time for celebration but I also believe that nobody should be alone for Christmas so every year Christmas dinner tends to be made up of a mix of family and friends. Some have met before, some haven't. This year's Christmas was made up of my parents, Queen Viv and her son Michael and two of her friends from New Zealand Julie and Alistair who joined us for Christmas a couple of years ago.
Radicchio, Fennel, Orange & Candied Walnut Salad
Owing to a family situation (ahem!) Mr NQN's side of the family would not be joining us (it's too long a story but definitely not a boring story, one day I'll tell you all about it but it requires finger puppets ;)). And so we settled on eight for dinner. Then my trainer Nina mentioned that she and her fiance Garth would be alone on Christmas and were none too happy about it. "Well then come over and have Christmas with us!" I said. If someone looks sad at being alone at Christmas, I will just invite them. Mr NQN takes a deep breath and counts the chairs -I am happy to share a chair.
Roast Zucchini, Wild Rice and Cashew Cream Salad
She is not just a trainer so I feel bad saying that she is just my trainer, we get along famously and our sessions are very entertaining. Also like most of my friends, she has different taste in men so I know that if we were ever single and went out, we wouldn't fight over men. In the last session she stopped to show me a video of her biggest actor crush called Terry Crews.
"Look! He has so many muscles!" she said exclaiming excitedly.
"Oh my god Nina, his body looks like a bag of oranges!" I said laughing.
You see dear Nina likes men that can build her stuff and pick her up over their head. I like sweet guys and she calls my crushes, "Pretty boys with too much hair gel." I call her crushes hulks. See? We'd never go for the same kind of guy.
Mango and quinoa salad
I digress, this Christmas everyone brought something-Queen Viv brought a ham that I glazed and warmed. My parents brought seafood and Nina and Garth brought the champagne. Even a few weeks before Christmas I really had no idea what I was going to serve until it hit me when we visited Byron Bay and we had some gorgeously fresh salads.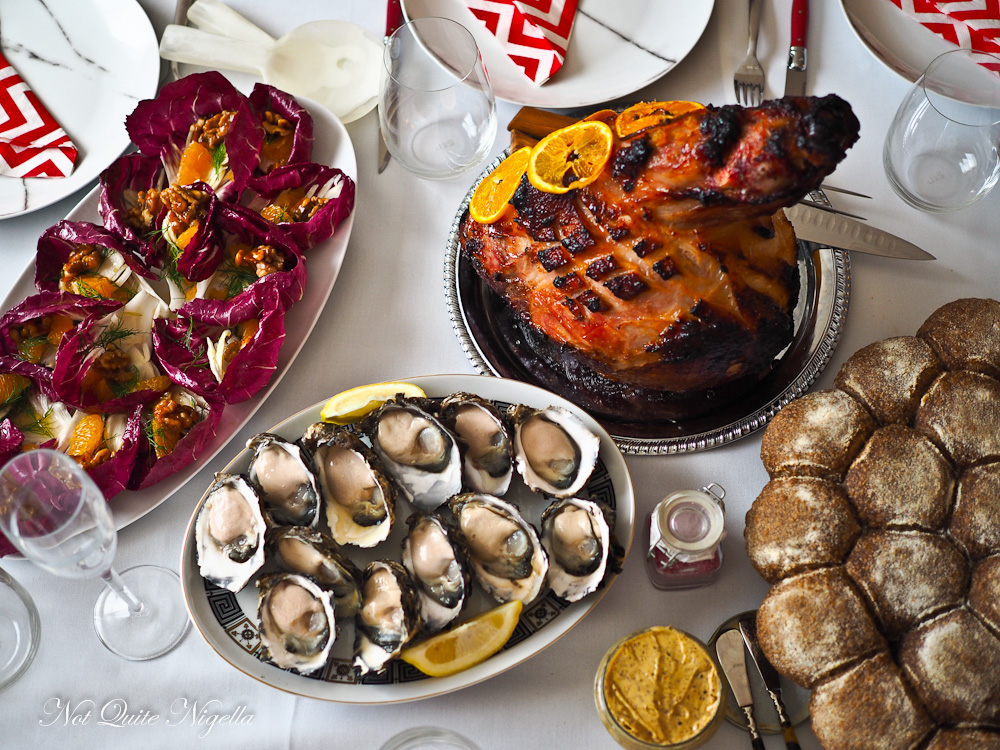 Christmas is usually quite warm so I decided to recreate three of the salads that we had and make some roasted spatchcocks. It was ten people in total and I'm all for bigger crowds at Christmas having grown up in a relatively small family. We ran out of room especially when my parents brought a kilo of prawns and some of the plumpest, freshest Pacific oysters so we served each person's spatchcock on their plate.
Spiced Rubbed Spatchcocks Stuffed With Freekah, Golden Raisins and Peas
Dessert was going to be something else altogether but I was flicking through a copy of a new cookbook. I know, I know, loyal readers will know that I have sworn off cookbooks because they are generally so unreliable but have you ever seen something and known that it was what you wanted before knowing what you wanted? Okay yes I sound drunk on cocktails but I'm not.
Giant Portuguese Custard Tart with Fresh Berries, Pistachios and Rose Petals
Anyway, I made it the day before Christmas and you know what? It was really terrible. Like GHASTLY and there was nothing I could do to fix the taste. Mr NQN tasted one bite and screwed up his face. So gnashing my teeth the night before I decided to do something that I knew would work but in a different form: a large custard tart with fresh raspberries based on the Pastel de nata or Portuguese custard tarts. And phew! Thankfully that worked because I was on the brink of sending Mr NQN out to buy dessert.
I also knew that we could always rely on my Dear Reader Matilda's cookies. Every year for the past few years she has generously sent me a box of her divine Italian cookies and every year I watch the postbox eagerly, never presuming she will but secretly hoping that she will send some! Her delicious biscotti and ciambelle are always looked upon eagerly by my friends and family and she is part of our family Christmas.
A miche pullapart from Sonoma Bakery served with seaweed butter
So enough about the dramas that always seem to befall Christmas, onto the recipes! And Dear Reader I really do wish all of you a very Merry Christmas and I must thank you so much for reading my little blog. I hope that Christmas is truly one in which you feel loved and appreciated and one where you find yourself smiling from ear to ear!
Lots of Love,
Lorraine xxx
So my lovely Dear Readers, what food do you look forward to most during Christmas? And what divine presents did you get? Do you eat yourself silly during Christmas? Or is that just me? ;) And do you always run out of room on the table (or is that just us?).
DID YOU MAKE THIS RECIPE? Share your creations by tagging @notquitenigella on Instagram with the hashtag #notquitenigella
Orange, Clove & Ginger Leg of Ham
There is a lot of ham confusion around. I guess it's because each country has a different way of preparing ham. In Australia, most hams come fully cooked and cured and all they need is a bit of glazing and heating up (that is, if you want to eat it hot, you can of course eat it cold). Some other countries recommend boiling a ham and I'm not quite sure why (if you know, please enlighten us -thank you :)).
The keys to a beautiful, glistening ham are firstly in the glaze that you use-it can be as easy as a slightly watered down marmalade or you can make your own which isn't that much more effort really. Below is a super easy but delicious one involving orange juice, cloves, ginger and a touch of marmalade. Also use a quality ham which is pretty obvious to say. I used a Woolworths Gold ham that was triple smoked - although more expensive and almost double the price it produced such a beautiful ham and Alistair carved it expertly.
The other important thing that I learned through trial and error is the way you remove the rind. I started by slicing off the rind with a knife figuring that the extra fat that I would remove could only be a good thing (I know, what was I thinking? So not me ;) ). I cut half the ham this way and then I turned it around and realised that I could just rip the rind off leaving a fluffy looking uneven layer of fat. The side where the rind was ripped off really took to the glaze beautifully whereas when it was cut, it barely caramelised.
But given those three things, a ham is the easiest thing you can serve for Christmas dinner. Plus it looks rather special!
5.5kg/12lb. cooked and cured leg of ham (we will just be heating it as they are fully cooked)
3/4 cup orange juice (juice of about 3 oranges)
1/4 cup honey
2 teaspoons finely grated ginger
2 teaspoons marmalade
1 teaspoon mustard
1 orange, thinly sliced
2 cloves, ground plus more for studding
Step 1 - Preheat oven to 240C/474F. In a saucepan mix the orange juice, honey, ginger, marmalade, mustard and ground cloves. Heat for a couple of minutes, you don't want it too thick and certainly not jam-like. Remove rind from the ham by using a sharp knife just to start the cut and then pull back the rind. It will result in a "fluffy" uneven looking fat rather than smooth fat layer and this allows the glaze to stick beautifully. Cut a diamond shaped pattern and place over a pan of water.
Step 2 - Brush with half of the glaze and roast for 20 minutes. Remove from oven and reduce the heat to 200C/400F and paint the remaining glaze and bake for another 20 minutes for a 5.5 kilo ham.
Spiced Rubbed Spatchcocks Stuffed With Freekah, Golden Raisins and Peas
I originally wanted to do one quail per person but quails are a bit more fiddly to eat and when serving a whole one, it's easier to serve a slightly larger bird. These spatchcock are infused with Middle Eastern spices and stuffing and the stuffing is a mild but comforting filling to the seasoned bird.
10 spatchcocks (1 per person)
Salt for dry brining
6 tablespoons sumac
4 teaspoons salt
2 teaspoons paprika
2 teaspoons allspice
1 teaspoon cinnamon
1 teaspoon ground ginger
1 teaspoon ground coriander
6 tablespoons oil
1 cup freekah
2.5 cups water
1 teaspoon salt
1 teaspoon oil
1/2 cup golden raisins or currants
1 cup frozen peas
Step 1 - Dry brine spatchcocks overnight - to do this simply wash the spatchcocks and pat dry with paper towels and then sprinkle with salt on the breast side. Make the freekah stuffing (this can be done the night before) by placing the freekah, water, salt and oil in a saucepan and heat until boiling. Simmer with the lid on for 30 minutes. Then add the raisins and cook for another 15 minutes. Add the cup of peas and stir and place the lid back on for a couple of minutes. Cool and refrigerate until needed.
Step 2 - Preheat oven to 200C/400F. Stuff spatchcocks with the freekah stuffing. Mix the sumac, salt, paprika, allspice, cinnamon, ground ginger, coriander and oil together and smother the spatchcocks with it. Roast for 50 minutes.
Roast Zucchini, Wild Rice and Cashew Cream Salad
5 zucchini, sliced into coins
Extra virgin olive oil to brush
1 teaspoon cayenne pepper
Pepper and salt
1/2 cup cashew cream*
1/4 cup wild rice, uncooked
1/4 cup tamari almonds, roughly chopped
1/4 cup puffed quinoa
Small handful dill
Sumac
*To make cashew cream: Soak 1 cup of raw cashew in water for 3 hours or overnight. Drain and then blend with 1/2 cup of water, 2 tablespoons extra virgin olive oil, 2 tablespoons of nutritional yeast (optional) and salt to taste. Puree until smooth.
Step 1 - Heat the oven to 240C/464F. Brush the zucchini slices with oil. Mix the cayenne, salt and pepper together and sprinkle over the zucchini and bake for 20 minutes, then turn over.
Step 2 - Cook the wild rice according to directions.
Step 3 - Mix the zucchini, wild rice, almonds and dill together. Dollop with cashew cream and dust with sumac. Sprinkle with tamari almonds and puffed quinoa.
Quinoa and Mango Salad With Lime Dressing
2 cups cooked quinoa
1 mango, flesh cut into cubes
2 limes, juiced
1 teaspoon caramelised balsamic vinegar
1/4 cup extra virgin olive oil
Step 1 - Chop up the mango into pieces and place on a serving plate. Juice the limes and whisk with the balsamic and oil. Mix with quinoa and toss with the mango.
Radicchio, Fennel, Orange & Candied Walnut Salad
You can make about 20 "cups" out of one head of radicchio
1 head radicchio
1 head fennel, core removed and very thinly sliced
1 orange, cut in half horizontally and sectioned
1 quantity caramelised walnuts* see recipe below
1/2 cup orange juice
3 tablespoon fresh dill, chopped
1/4 cup extra virgin olive oil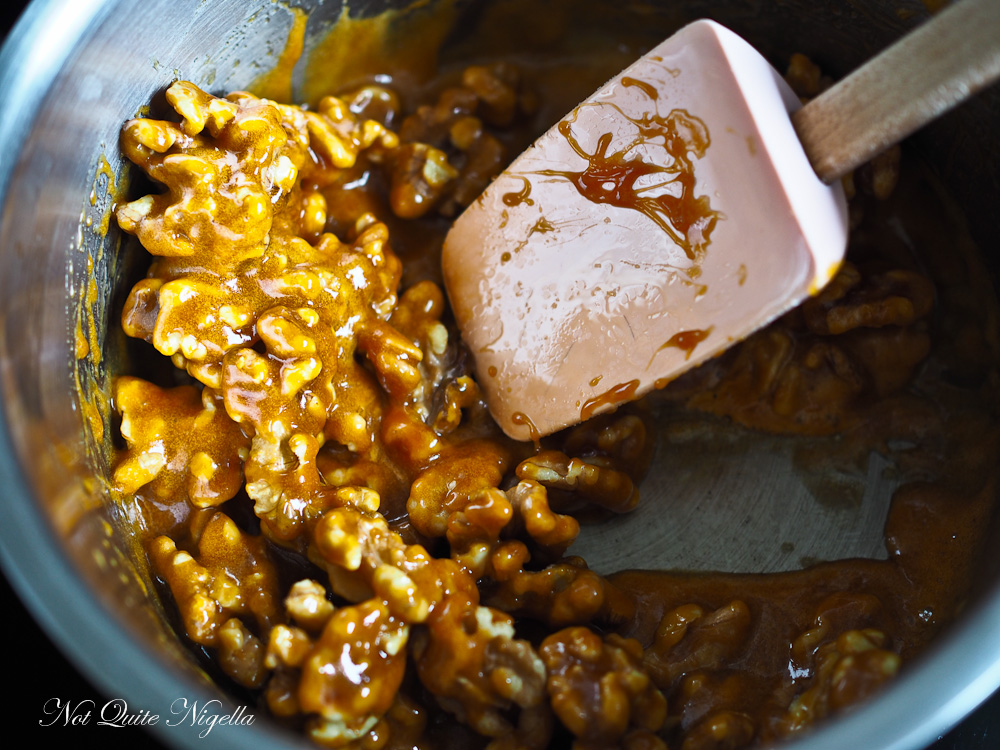 Step 1 - Remove the leaves of the radicchio and wash and pat dry. Lay out on a single layer on a large platter and place a section of orange and the fennel on each.
Step 2 - Whisk the orange juice, dill and olive oil together. Spoon over the leaves and add the caramelised walnuts and extra dill.
To make caramelised walnuts:
1/2 cup sugar
2 tablespoons honet
30g/1oz. butter
Pinch salt
1/8 teaspoon bicarb of soda
2.5 cups walnuts
Step 1 - Line a baking tray with parchment. Heat the sugar, honey, butter and salt in a saucepan and simmer for 5-7 minutes until thick and bubbly. When it starts to caramelise watch it closely (really watch it closely all the time) and remove from the heat once it turns a caramel shade. Add the bicarb and walnuts and stir. Pour out onto the prepared baking tray and allow to cool and set (it will be very, very hot so don't touch it for a while).
Giant Portuguese Custard Fruit Tart
300g/10.6ozs. puff pastry
5 egg yolks
3/4 cup caster sugar
3.5 tablespoons cornflour
500mls/17.7 fl ozs. cream
150mls/5ozs. milk
1 teaspoon vanilla bean paste
Fresh fruit, rose petals and chopped pistachios to decorate
Step 1 - Roll out the pastry to fit a 32x12cm/13x5inch tin until very thin. Press down into the corners and make sure that there aren't any holes. Refrigerate until needed.
Step 2 - Place the egg yolks, sugar and cornflour in a pan and whisk together. Gradually whisk in the cream and milk until smooth. Place the pan over a medium heat and cook, until the mixture thickens and comes to the boil - do stir it so that it doesn't catch at the bottom but not not overstir or the custard will separate and you will get a buttery layer. Remove from the heat and stir in the vanilla. Transfer the custard to a bowl, cover the surface with cling film to prevent a skin forming and leave to cool. You can do this a day ahead of time and store it in the fridge.
Step 3 - Preheat oven to 200C/400F. Spoon the custard onto the pastry. Bake for 30 minutes until the custard is golden. Cool and decorate with fruit.
*Oliva Elite Carving Knife Set by Messermeister. Marble plates and stemless glasses by Salt&Pepper. *