Welcome to our 2018 Christmas celebration! This year for Christmas we feasted on a menu of ham glazed in mead, prawn, mango and avocado cocktail salad, a thousand layered smoked salmon crepe cake, crispy prosciutto potatoes and a fennel and sweet potato gratin and a black forest cake. And there was no shortage of Christmas cheer!
Of course no Christmas is complete without drama and our most pressing drama this year was whether my father would make it home for Christmas after his recent stroke. Thankfully, his progress has been good and he was allowed to come home for good.
Thousand layer crepe cake
I had my whole menu planned weeks in advance and decided to do a really Australian Christmas. What does that mean? For me an Australian Christmas means seafood and ham. We would be having 12 people over so I needed something large to serve everyone but I wanted it to be easy so ham it was.
So a month before Christmas I had chosen a ham. I didn't want to wait until the last minute and I also wanted to choose the perfect looking ham. So I asked my mother if she had room in her fridge to store it and we brought the 6 kilo beast to her house. But the day before Christmas Eve dinner she messaged me. Did she want us to defrost the ham? You see her instinct is to freeze everything and she had put it in the freezer!
Christmas tree bread, sweet potato & fennel bake, prosciutto wrapped potatoes and caper and cabbage salad
"What do I do?" she cried. We talked her through the cold water method for defrosting and after battling the huge queues to buy prawns and seafood we went to pick up the ham (crossing our fingers that it wasn't frozen inside, nightmares of food poisoning our guests foremost in mind).
Mead glazed ham
First to arrive was my Uncle Sam and his partner Lien who only arrived 5 minutes early (they're working on arriving on time and used to arrive 30 minutes early which is alarming for a busy hostess). Then my cousin Richard arrived and then my other cousin Roger with his partner Catherine and their kids Natalie and Jason.
Inside the crepe cake
Last to arrive was my mother, father and sister. I looked at my dad and asked, "Where is your rice?" because he usually turns up at all dinners with a bowl full of steamed rice. He shrugged his shoulders with newfound nonchalance. Could this be a new father that can go for a meal without his beloved rice?
Prosciutto wrapped baby potatoes
Of course there were the distinctly Chinese touches to Christmas. Lien told Catherine (who has always been an extra small size) that she had put on weight. Uncle Sam asked father, "How much you pay for your hospital visit?".
Individual Prawn Salads
There was of course way too much food. I packed up lots of it for everyone to take home as there was way too much for just us (although Mochi would disagree, she was eyeing off the ham all night).
Uncle Sam asking my father, "How much you pay for the hospital visit?"
My father had to leave after 2 hours on the dot as he gets tired although we all suspect that this rule also suits his personality perfectly as he never wants to linger after a meal. 1 hour and 55 minutes after we started he started kicking my sister under the table to signal that he wanted to go home. Then at two hours exactly he turned to Mr NQN who was giving them a lift home. "I go now?" he said.
Sweet potato and fennel smoked mozzarella gratin
Everyone else stayed for much longer. We ate black forest cake as nibbled on my Dear Reader Matilda's delicious ciamballette and biscottini which are so delicious that by the evening of Christmas Day there were only 4 cookies left!
"I can haz ham?" says Mochi
Afterwards we opened up presents. My main present was a karaoke machine which delighted me so much (I'm sure my neighbours will have the opposite reaction). While we unwrapped Mr NQN and I were watching a tv ad for Christmas from a supermarket and Mr NQN turned to me and said, "Do they know that nobody's Christmas is like that?".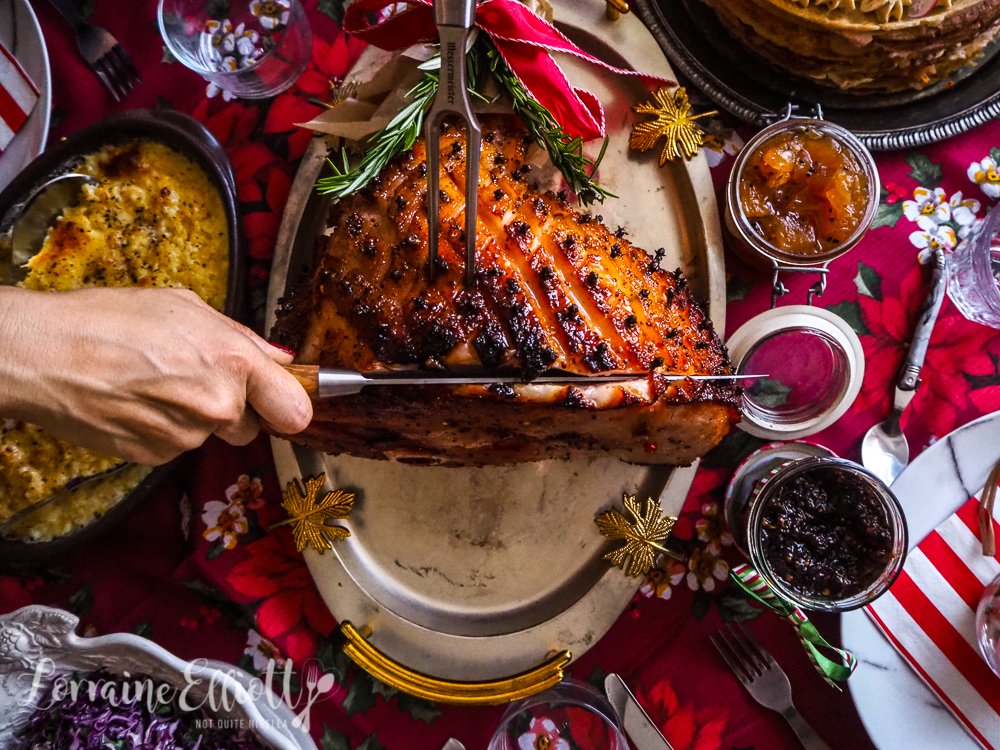 So tell me Dear Reader, how was your Christmas? What did you eat? Do you make something different each year for Christmas or do you prefer to stick to the same menu?
Black Forest Cake
DID YOU MAKE THIS RECIPE? Share your creations by tagging @notquitenigella on Instagram with the hashtag #notquitenigella
Thousand Layered Seafood Crepe cake
All Original Recipes by Lorraine Elliott
Preparation time: 30 minutes
Cooking time: 60 minutes
Serves 16-20
Sparkling with jewels and with each layer spread with a delicious filling, this crepe cake is a show stopper. Don't feel intimidated by this though. If you do have a crepe pan, that makes things easier but it's fine without too. And yes a dozen eggs really go into it but I promise this will be a beautiful cake to remember and feeds many, many people!
For crepes
1 cup flour
1 cup buckwheat flour
12 eggs, at room temperature
1/2 teaspoon fine salt
1.2 litres milk
For filling
400g/14ozs. taramasalata
200g/7ozs. sour cream (full fat)
200g/7ozs. cream cheese, softened
40g/1.42ozs. French onion soup packet mix
75g/2.7ozs. tobiko or caviar
600g/21.2ozs. smoked salmon
pomegranate arils, cherry tomatoes, radishes, dill and chives to decorate
Step 1 - Blend the ingredients together in a large food processor (split in two or three if you need to). Allow to rest for 30 minutes. Then heat a crepe pan and add oil or butter.
Using the springform tin collar to shape the crepes so that they are even
The crepe after collar is removed and the edges trimmed
Step 2 - Place a 22cm/9inch spring cake collar on the pan and pour the batter in (about 200ml/7flozs. or so). Trim the edges with a butter knife, remove the collar and then flip over once one side is done. Repeat many times until all the batter is used. You can stack these on top of each other while you are making them and then cool them completely.
Step 3 - Blend the sour cream and cream cheese together with the soup mix. Set aside (make sure it's of a spreadable consistency).
Layering with smoked salmon
Step 4 - Place one crepe on a serving plate and then spread with the French onion dip and then alternate with the taramasalata and then add smoked salmon on some layers. Place a layer of the tobiko in the middle layer of the crepe and then keep doing until you've used up all the crepes and you have about 1/2 cup of the French onion dip left.
Step 5 - Place the French onion dip into a piping bag fitted with a large star tip. Pipe around the crepe cake and then decorate with pomegranate arils, cherry tomatoes, thinly sliced radishes, dill and chives. This cake is best made a day ahead and then refrigerated so that the dip is firm. Serve cut into slices like a cake.
Ham Glazed with Honey Mead and served with Ham Jam
Preparation time: 40 minutes
Cooking time: 90 minutes
1 large ham (around 6kilos)
Cloves
2/3 cup brown sugar
2/3 cup mead
1 tablespoon seeded mustard
1 chilli, sliced (optional)
Step 1 - Preheat oven to 170C/340F and line a large baking tray with parchment (one large enough to fit your ham). Remove rind from ham - you should be able to get it off in one piece and try to lift it off carefully leaving an even layer of fat underneath it. Stud with cloves lining them up so that they're in evenly spaced lines. Then score the fat.
Stud with cloves first
Then score using cloves as a guide
Step 2 - Mix the brown sugar, mead, mustard and chilli. Baste the ham all over with some of this mixture and then bake in the oven for 2 hours basting the ham with rest of the brown sugar mead mixture every 30 minutes.
Prawn, Avocado and Mango Cocktail
Christmas without prawns in Australia would just seem weird. Rather than have everyone's hands getting dirty peeling the prawns, I served a prawn, mango and avocado cocktail in a glass on everyone's place setting. The cocktail sauce was a big hit - if you've got some Old Bay seasoning please give this a go!
2kgs/4.4lbs prawns, shelled
1-2 avocadoes, cubed
1/2 large mango, cut into cubes
1/2 cup mayonnaise
2 tablespoons chilli sauce
2 tablespoons ketchup
2 teaspoons Old Bay seasoning
1 teaspoon lemon juice
Chives to sprinkle
Step 1 - Mix the mayonnaise, chilli sauce, ketchup, Old Bay and lemon juice together. Place the avocadoes, mango, pomegranate seeds, spicy mayonnaise in individual glasses.
Cabbage and Caper Mother In Law Salad
Inspired by a visit to Barzaari in Chippendale, this salad was just so delicious that I had to eat it again. Best of all, it was super easy too!
1/2 cup mayonnaise
3 tablespoons maple syrup
1 teaspoon sesame oil
5 cups thinly sliced purple cabbage
3 tablespoons capers, rinsed well and patted dry
1/4 cup toasted sesame seeds
Fresh parsley to garnish
Salt and pepper to taste
Step 1 - Firstly mix the mayonnaise, maple syrup and sesame oil together. Then mix all ingredients together to ensure that there is an even distribution. Season with salt and pepper.
Crispy Prosciutto Potatoes
There's nothing better than a roast potato, I'm quite convinced. But then you wrap it in prosciutto and glaze it with maple syrup and you've got a super potato!
1.5kgs baby potatoes
2 tablespoons butter, cubed
2 tablespoons oil
15 slices (or as many as there are potatoes) prosciutto
1 tablespoon maple syrup
Step 1 - Par boil the potatoes until they are tender and then top with butter and oil bake them in a 230C/446F oven until crispy (around 25 minutes). This tastes great dipped in sour cream or aioli too.
Step 2 - Wait til the potatoes are cool so that they are easier to handle (you can do this ahead of time) and then wrap the potatoes in prosciutto and bake at 200C/400F for another 10 minutes or until prosciutto is crispy. Brush with maple syrup and place in the warm oven for 5 minutes. I added the maple when I warmed the potatoes up.
Fennel and Sweet Potato Gratin
Inspired by Sarah from Sarah Cooks, this fennel and sweet potato uses smoked mozzarella to give the dish a wonderful flavour.
1 large fennel bulb, trimmed
1.5 large sweet potatoes
300ml/10.6flozs. cream
1 onion, peeled and diced
4 cloves garlic, peeled and diced
150g/5ozs. smoked mozzarella, grated
50g/1.7ozs. butter, cubed
Step 1 - Preheat oven to 210C/420F. Thinly mandolin the fennel and sweet potatoes and then place in a baking dish with the cream, onion, garlic and grated smoked mozzarella and dot with butter cubes. Bake for 40 minutes.