So that is a picture of me with a scarf on my head heading towards the Great Ocean Road in a convertible. That is how I remained until five minutes later when the rain started falling and we had to put the roof back up. The sunglasses were whipped off and the scarf removed and I became me again. Ah well, it was fun to play fantasy while it lasted!
Mr NQN and I have just flow into Melbourne Airport and were making the journey to South Australia for a six car pilgrimage to picturesque Kangaroo Island starting the journey by driving down the legendary Great Ocean Road, a first for me.
We were rendezvousing with the other journalists three hours away at Apollo Bay stopping for may of the scenic lookouts. The view on the way is incredible with waves crashing and the road offers views at sea level and also cliff top vistas. It reminds us of the beauty of the Kaikoura drive with every turn the scenery threatening to steal your attention from the road. Lucky Mr NQN is driving because I got lost in the blue of the ocean.
We were driving the new Audi A5 S5 cabriolet convertible in diesel. I won't ever profess to know what happens under an engine but I can talk you to death about the in car features-the most exciting for me was the seatbelt holder that brought forward the seatbelt to the passenger, cream leather upholstery, gold pearl seat belts, excellent lumbar support, one button soft top roof and some wonderful Bang & Olufsen speakers that played the music crystal clear even when we were driving top down once the sky cleared. By the end of the day we did 400kms on half a tank of diesel. The only thing I didn't love was the Audi dial navigation which always seems to take me a long time to find a destination.
About three hours into the drive we suddenly see the sign we were looking for which points us up a winding road to Chris's restaurant. We weren't quite sure what to expect and when we get there it is stunning with panoramic views every which way you turn.The restaurant itself was completely burnt down and rebuilt from scratch in 2003 and according to the menu, the chef Chris is 73 years old and still goes in to work in the kitchen every day at 7am. Inside ,it is elegant with floor to ceiling windows and the menu offers a la carte entrees, mains and desserts with mains topping out at $40 so it's above your average rest stop. We are joined shortly after by our lovely travelling companions Philip, Beth, Sue and Dick.
Mezze $21
As we are in a slight hurry and wanted to get something quick but in nice surroundings we opt to share a lot of entrees. The dishes come out in a timely manner and we dig in not realising how hungry we are as we had neglected our tummies on the way here in lieu of the view. The mezze had four types of dips including a spicy chickpea, pine nut and currant dip which was highlighted with cinnamon and was my absolute favourite (I'm hoping to recreate this at home). There was also a smoked eggplant with feta and walnuts on top of it which reminded me of baba ghanoush with a twist; a lovely lemon accented ocean trout with ketta caviar and dill and lastly a cheese dip which I'm afraid I didn't get to try.
Imam Biyaldi $17
I absolutely love eggplant when it is cooked soft and slow and imam biyaldi is always a favourite. This is half an eggplant split lengthways and grilled until creamy, soft and smooth and then topped with caramelised onions, tomato and feta on a tomato fondue sauce and a parsley herb salad on the side. It's instantly comforting.
Confit duck leg $22
Surprisingly large for an entree, the confit duck leg is soft and delicious with a salty kick to it. It sat on fried potatoes with an orange segment and a sweet cranberry based sauce and was served with potatoes.
Kalamari kefetethe $21
A favourite at the table, the calamari was so tender it barely resembles any chewy calamari you might have ever had. It comes on a be of spinach, parsley, onion, tomato and olive salad and a chickpea kefethe which is like a felafel as well as an taramosalata. It's a fresh and light dish.
Gravlax $22
Beautifully plated, the delicious gravlax salmon finishes off our meal. The slices of salmon are topped onions, capers and a perfectly poached dukkah topped egg and the whole dish is edged with saffron sauce. The sunny orange soft egg yolk breaks over the vivid smoked salmon and I could have eaten the whole thing.
Serendipitously, this elegant little pit stop has cost us just 45 minutes!
We keep driving to the next stop, the twelve apostles and we reach it at about 4pm which perhaps wasn't the best time to photograph them as the sun was right in view but they are a breathtaking sight indeed. They were originally called the piglet and the sows but were renamed the Twelve Apostles (although there are only nine of them-poetic license indeed!).
Plenty of tourists from all over the world are here to visit the apostles which are limestone stacks and there are walkways set up to view them from various points. But before we can stay longer, the chill of the weather urges us to hustle back to the car and make our way to Port Fairy, our final destination for the evening.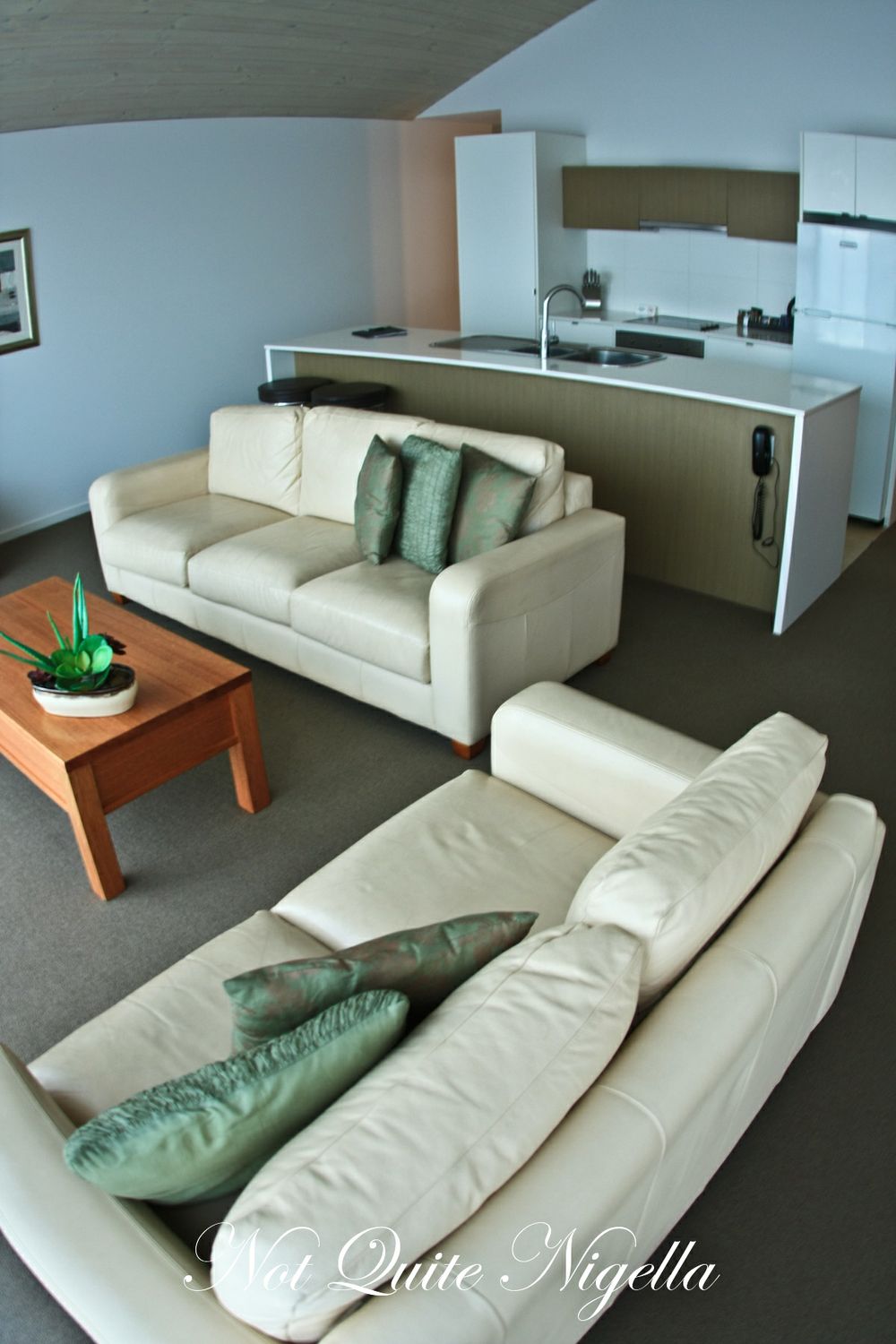 We check into our accommodation for the evening at the Victoria Apartments in Port Fairy. Driving in we weren't quite sure of what the rooms would be like but are pleasantly surprised. The cars have lock up garages (shared between two apartments) and the apartments themselves are large with modern furnishings, a large kitchen, comfortable cream leather couches and two bedrooms. There's a large shower big enough to fit two and generous storage space and we call this home tonight.
Daylight savings makes the rise the next day easier than we thought and we do some work before our hungry tummies get the better of us. We make our way outside to Rebecca's cafe on one of the main streets in Port Fairy. It's a bustling busy cafe, quirkily and prettily decorated and we take a seat in the bar area at the front which affords us a view of the street traffic outside and the outdoor diners.
We are in a bit of a rush and alas our order takes a bit longer than expected and we wait for 25 minutes for our breakfasts to arrive so it wasn't the most relaxing of breakfasts.
Wild rice pudding $11.50
The wild rice pudding is almost worth being late for with just the right amount of sweetness and spice. The wild rice is not a black wild rice that we were expecting but more of a lightly polished rice between brown and white. There are sultanas, blueberries, almonds, stewed rhubarb and sesame seeds on top and goodness from cream and maple syrup. And even though I'm more of an egg person for breakfast, I can't help but go back for more. Even writing about this makes me crave it now!
Corned beef hash brown $15
Alas the corned beef hash was a bit of a surprise. It was a potato cake, mostly potato with tiny flecks of corned beef in a pool of baked beans and wilted spinach and two large triangles of golden bread. It needed a lot of seasoning and the spinach was a bit gritty and to be honest I was quite disappointed at the amount of corned beef in it as I had ordered it for that.
Not to worry, the wild rice porridge has held us both in good stead for the next part of the journey. And where will we go? Aha! I hope you will join me to see where our next scenic stop is ;)
So tell me Dear Reader, do you enjoy road trips and when is the last time you did a road trip and where did you go?
NQN and Mr NQN travelled with the South Australian Tourism Commission and Audi. All meals in Victoria were independently paid for.
Chris's Restaurant
280 Skenes Creek Road Apollo Bay VIC 3233
Tel: +61 (03)5237 6411
The Victoria Apartments
48-50 Bank Street Port Fairy VIC 3284
Tel: +61 (03)5568 1160
Rebecca's Cafe
72 Sackville Street Port Fairy VIC 3284
Tel: +61(03) 5568 2533