"Are we there yet? Are we there yet? Are we there yet?" says the man from the SES who is on the plane across the row from me on the small aircraft. He's just waiting to get home to nearby Broken Hill but Mr NQN and I are excited for another reason. For our anniversary weekend, we'll be meeting celebrity chef Stefano de Pieri and cruising the Murray River in a Houseboat and seeing what else the Mildura and Murray River region offers.
We alight at Mildura and take the drive to where our houseboat is moored. Our home for the next two nights is the luxurious "Sweet Indulgence" a three bedroom, ten berth luxury houseboat from All Seasons Houseboats. There are three rooms with queen beds and two ensuites, a fully operational kitchen just like one on land, a dining room table and a large sun-drenched dining suite upstairs alongside a spa bath that could fit several in it. There is tea and instant coffee provided and filtered water although sugar and milk need to be brought in and in the bathrooms, there are soap, shampoo and conditioner.
Mr NQN is the captain here as he has sailing experience and he undergoes the necessary lessons on how to maneuver the boat and park it. Most people that take the houseboats out drive them themselves (it's fairly easy) but there is the option of having a driver should you need one.
There's just a quick moment to freshen up before it's time to head across the road to the Friday night Sunraysia markets. They're usually held on a Sunday but the late sunshine means that they are also held some Friday nights. There are approximately thirty to forty stalls selling a range of produce.
Much of it is made up of fresh fruit and vegetables as Mildura is part of the Riverina fruit bowl region. Table grapes, citrus, figs and a wide range of vegetables including some as interesting as an apple cucumber are sold. To eat these, you peel them and slice them much like a cucumber in a salad or sandwich although I found them very bitter.
A popular stand is the Mettwurst stand -the recipe is from the 1960s and Mettwurst is really one of those popular German items via South Australian that doesn't really see its way around the rest of Australia. It's a fermented meat sausage and comes in varieties like garlic, pistachio and several variations of chilli. Their store is about 160kms away and regular customers make a beeline for a whole link or half link and know exactly what they want.
Plump figs steeped with honey and nuts are wrapped up and sold individually at the Mourquong Ridge Fine Foods stall. Trays of fat figs bursting at the seams are sold for $4 a tray. Spaghetti squash are harvested and organic fruit is also sold here. Large nets of oranges are hauled by burly customers while even larger nets of butternut squash anchor tent poles.
We mustn't delay though because we are expected in the town centre, about five minute's walk away from the houseboat and markets. Tonight is the start of the Arts Festival and the town of 60,000 people buzzing. We're headed to Stefano de Pieri's newest venture, the Mildura Brewery. Stefano's face beams down from posters around town and he is akin to a town mayor. He helped put Mildura on the map with his "A Gondola on the Murray" television series. He is warm and welcoming and surprisingly hands on. He is busy running around bringing dishes to tables and making sure that all guests are looked after.
The Mildura Brewery Pub is the former Astor Theatre and the bones of the structure are still there with a modern refurbishment. Stefano and his wife Donna opened it up as their own a few months ago. Stefano was born in Treviso near Venice in Italy and emigrated to Australia in 1974. He first landed in Melbourne where he took the unlikely turn of editor of Nuovo Paese, an Italian newspaper. After this he tried a stint working for the Department of Ethnic Affairs working on immigration policy and almost running for a Labor party seat but it was disillusionment with the political system that saw him leave. Marrying Donna and moving to Mildura saw another change in his life when his father in law Don Carrazza_ _who owned the Grand Hotel asked for them to help.
He is still involved in politics from a cultural perspective and particularly how it affects his community in Mildura, especially from an environmental perspective. "This is a marginal area and we are very exposed to climate change. Half a degree is enough to unbalance the whole thing here." He wrote an opinion piece for The Age newspaper which advocated a compromise, not a popular for the greens but one which he felt was the only alternative to move forward.
And what does he think of Julia Gillard? He says that he finds it difficult to separate his friendship with her from the political side but says that "90% of the vitriol about her is because she is a woman. You always hear people 'I hate that woman' but you never hear them say the same about the men." He also praises the town's involvement with the arts that started when Senator Robert Dunlop Elliott owned a substantial collection of art and left it to the city. "The arts centre was built before the roads were paved" he adds.
His status as outspoken chef with a strong intellectual side especially in regards to politics means that he has definite opinions. "They're (city chefs are) all silly talking about produce but still living in the city. Why don't they come to where it is grown? Victoria is well punctuated with reasonable restaurants but it took 100 years and it has only happened in the last 10-15 years. By right, we should have more. We should have a body of food practices-we have wheat and lamb so our dishes should be pasta and lamb and cake."
He still keeps a house in Treviso which he visits several times a year, both on tours to Italy and for personal sabbaticals. It was growing up on a farm that taught him about using produce and he tells us "my heart is with simplicity" when I ask him about his cooking style. And this is shown in his latest venture at Mildura Brewery.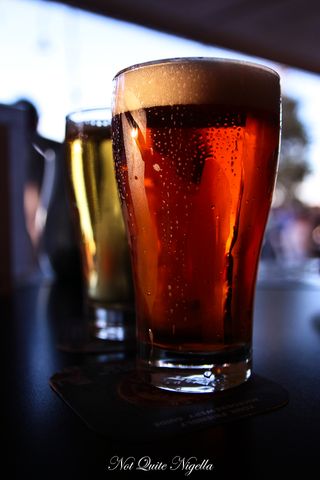 Stefano is also a microbrewer specialising in craft beers. There are seven on offer here and we choose two: a mallee bull, a strong ale and I choose a honey wheat beer, the sweetest of the lot which has the distinct flavour of honey followed by wheat and is really very refreshingly crisp and good.
The menu is a crowd pleasing mix of fresh Italian items, roasts to share and pub classics like fish and chips and chicken parmigiana. Stefano offers to bring us a mix of his favourite dishes. It starts with a dish that we had seen come out to many tables. Beautiful, plump white figs are quartered and served with their magenta seeds facing upwards alongside house made capicola (cured pork shoulder or neck) and house made bread drizzled with divine olive oil and baked in their wood fired oven.
The second dish is soft duck cooked with carrots, celery and herbs, the juices making a delectable sauce for the casarecce pasta. The pasta is by Barilla who have an association with Stefano from his stint on Masterchef Professionals. With this, we have a glass of his 2011 Sangiovese.
The lamb shoulder was next and Stefano mentioned that this was younger lamb. A lot of lamb served in Australia is technically hogget in age and as a result, it can have a muttony flavour. This is without that mutton flavour and he buys the lamb younger from Poon Boon where he still pays the same price as that for a larger lamb, all in favour of serving a better tasting meat.
He saves on preparation as it is simply prepared and stuffed with garlic and herbs and cooked in a 100C oven for 6-7 hours. The serve is enormous and well priced at $30 and it also easily feeds two. It comes with glossy whole French shallots which are heaven and it is finished with a generous squeeze of juicy Meyer lemon. The serve of roasted vegetables including zucchini, capsicum and eggplant are full of flavour with plenty of cheese and garlic and the perfect hearty accompaniment to the lamb.
There's always room for tiramisu. This one is actually flavoured with his Choc Hops chocolate beer, which he made as a special order for Woolworths and once it is sold out, it won't be made for another few years as part of a seasonal collection. Made with chocolate from Vanuatu, it is finely ground up and the fat separated from the rest to make the beer. It has a distinct coffee flavour to it although it doesn't contain any coffee and this is used to flavour the tiramisu which it does perfectly giving a coffee and alcohol hit to the light-as-air tiramisu.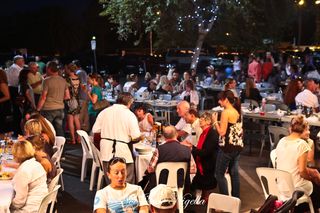 We return to the houseboat where we sleep well-although we are woken in the early hours by the generator starting! The sheets are very comfortable and apart from the early morning generator call, I quickly learn to love the whole concept of being on a houseboat.
The next morning, we chat to Stefano over coffee and breakfast at Stefano's cafe and bakery which bakes a range of breads, pastries and cakes (the former selling out very quickly so get in around 9am if you want a loaf). Customers are given hearty welcomes and many come out with brown paper bags full of crispy baked goods and large loaves.
I chose the vegetarian breakfast while Mr NQN goes for the classic bacon and eggs. My vegetarian breakfast comes with a clever crispy eggplant slice called eggplant "toast", a sweetcorn fritter, scrambled eggs and half a sweet, roasted tomato. It's the kind of dish where you wouldn't miss eating meat at all.
Mr NQN's classic breakfast is two perfectly poached eggs and a generous serve of crispy bacon on wood fired bread.
Plus a coffee for Mr NQN, always a coffee.
We wander around Mildura stopping in and out of shops before browsing the Art Vault. Formerly a bank, it houses exhibitions for artists in residence as well as local and nearby artists in three gallery spaces.
In residence at the moment is Melbourne based artist Geoffrey Ricardo who specialises in sculpture and prints. He shows us how he has printed from an unstuffed teddy bear onto canvas to get a perfect imprint and there's a pile of unstuffed toys to the side all with light coats of paint on them. Two vaults also hang a varied range of art and staff members here are enthusiastic about showing the premises.
Have you ever had quixotic dreams of making wine? From picking and crushing your own grapes to the final sip tasting it, you can test out your dreams at Stonnington Estate. The homestead is a beautiful 100 year old house and sisters Kim and Tennille Chalmers and Kim's Dutch born winemaker husband Bart van Olphen have turned an interest in alternative grape varieties into a wine making business.
They focus on alternative varieties of grapes, mostly from Italy chosen for their hardiness and ability to withstand drought and extended periods of sun. They have one of the largest private collections of alternative grapes with varieties and 70 clones. They choose varietals based on tough grapes that have good acidity in hot climates.
Initially, they started making the wine to show winemakers the wines that could be produced using these alternative varieties. Bart Van Olphen's background in agriculture and as a winemaker all over the world would prove to be a suitable match for the family and family business. Mr NQN and I take the red rover trip out to the vines at the Stonnington property to select the grapes for the wine which we'll make.
I choose to make a white made out of Greco di Tufo and Garganega. From each 11 kilo bucket we'll extract about 50% of juice (about 71% is extracted by machine but we'll be doing it by hand). And the key to snipping off the grape bunches? Make sure you can see your other hand before snipping! Some bunches are tighter bunched that others, others looser and each grape tastes quite different.
Bart and Kim are experimenting with early, medium and late picking and he tells us that he uses the seed and the taste of the grape to know whether it is good to pick. The seed within the grape when young is green and when you chew the whole grape, seed and all, imparts a bitter taste. Once it matures more, the seed takes on a not unpleasant woody taste to it.
We go to the red grape area where Mr NQN picks some Negroamaro for his red wine as he prefers Merlot. We put the red grapes through the manual crusher, turning the wheel to crush the grapes. Then we pick out the stems and some of these will be fermented.  After picking your grapes and crushing them by hand, we will feast on Tenille's home made lunch, much of which is from the vegetable garden and then a few weeks later, after Bart has aged the wine, our bottles of wine will be sent to us.
It's now time for lunch and Tenille has been busy cooking. The two sisters left their jobs, Tenille in hospitality and Kim in music to look after the family business. The lunch spread starts with a hummus and bread, a tomato salad made with sweet, juicy tomatoes from their vegetable garden, a ribbon eggplant salad with capers, a watermelon salad with red onion and feta and juicy lamb chops with fresh lemon.
_Plum and almond cake _
And for dessert, a seasonal moist almond and plum cake with extra stewed plums and thick cream. Their vegetable garden is impressive and provided the feast for Bart and Kim's recent wedding where Stefano, along time family friend cooked while guests ate in front of the vines. And before you know it, several hours have passed and you haven't even noticed...
Across the road from Chalmers Estate, racks of sultana grapes hang drying in the traditional way.
Arguably, the most photogenic way to see Mildura and the surrounding areas is by houseboat. While driving can get you there quicker, the drive isn't as scenic as a slow cruise up the Murray River, a water source that the community relies heavily on for the local farmers. The next morning we set off around 10am that after stopping at Stefano's cafe for coffee and tea and a vanilla slice and Easter bun for breakfast. A herd of swans swims past to say goodbye (or really to ask for some breakfast).
Mr NQN takes the wheel of the houseboat and we cruise up the river which is wide and easy to navigate with a map and the lessons given. We are headed towards Trentham Estate where people can dock in front of and stop to taste wines or eat at the restaurant. We pass Gol Gol pub where houseboats can also moor and there is another stopping opportunity at the golf club.
It's an easy two hours by boat and we pass waterskiers, other houseboats and gum trees and the breeze from the open windows on both sides is lovely. We arrive and moor the boat using the ropes and walk up the stairs to the restaurant which is busy this Sunday afternoon.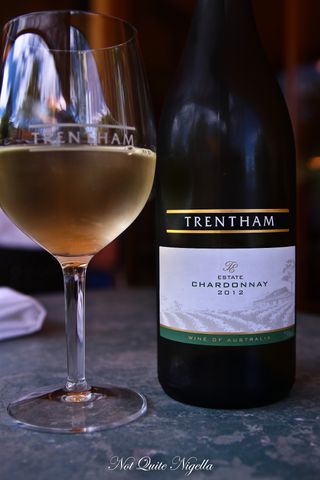 Trentham Estate is known for wines that perform well above their price range. They're in the middle of vintage at the moment and the smell wafts over-it's the smell of fermentation and it's a busy time for the winery. One of their wines, a 2005 Heathcote Shiraz won the Trophy for Shiraz at the International Wine & Spirit Competition. We take a seat outside and take a look at the menu.
Trentham's restaurant is known for its tasting platters and we go for the starter tasting platter as we want to try a bit of everything. Alas, we should have asked if the platter included the yabby salad as that was what we both really wanted to try and it didn't. They're generous sizes and prices are excellent with entrees around $16 and mains $28.
The prawns have a light, crisp batter. The paella that it sits on is a little unusual-there's avocado and fresh tomato with sour cream on top of it. The beetroot and goat's cheese tart is good, with colour from the beetroot but the flavour of the cheese coming in at the end of the mouthful and it has a good pastry. The pork belly was a generous serve of soft, jellied pork belly and a thin layer of crackling placed on top. It came with an excellent rhubarb and fennel seed chutney which was sweet and a perfect partner to the soft, sweet pork.
The serving of kangaroo was generous with three enormous fillets. It came with a beetroot mash and snow peas and a quandong and port jus. The kangaroo was cooked medium rare and it is gamey and strong, particularly against the other flavours. And you'd have to have a mammoth appetite to be able to finish the serve.
Chermoula Chicken served on a bed of cheddar encrusted potatoes with asparagus spears and a seeded hollandaise sauce $28
Out of the two mains we both preferred the chicken chermoula which while moist, didn't have much of a chermoula flavour to it. It was blanketed with a mustard hollandaise sauce, three asparagus spears and cheddar coated roasted potato wedges.
It was a hot day (Mildura recently had a long stretch of 40 plus days) and each sorbet flavour had some of the Trentham Estate wines added to them. There was an orange with Moscato, a passionfruit & Noble Taminga and a blood plum & Frizzanti Maestri sorbet. This serving was double what it normally is because we were sharing. I liked the passionfruit and orange best although all three had the distinct flavour of their respective alcohol well represented in it.
I saved my moon eyes for this vanilla and almond fig frangipane tart, all soft, buttery texture with sliced local figs on top. There's also a mixed berry coulis and a dollop of thick cream which is perfect for the tart. In fact, I can't wait to go home and bake something similar!
A few weeks later we receive five bottles of fantastic wine from Chalmers Estate. The white is ready but the red wine will take longer and we look forward to tasting the fruits of our labour. But that's not the last of Mildura that we'll see. Coming up soon, a visit to Stefano's special cellar restaurant!
So tell me Dear Reader, have you ever stayed on a houseboat? And
All Seasons Houseboats
www.allseasonshouseboats.com.au/
Sunraysia Farmers Markets
Hugh King Drive, Mildura Ornamental Lakes
Mildura Brewery Pub
20 Langtree Ave, Mildura VIC 3500
Tel: +61 (03) 5022 2988
Stefano's Cafe and Bakery
27 Deakin Ave, Mildura VIC 3500
Tel: +61 (03) 5021 3627
The Art Vault
43 Deakin Ave, Mildura VIC 3500
Tel: +61 (03) 5022 0013
Chalmers Wines
http://www.chalmerswine.com.au/
Trentham Estate
LOT 2 Sturt Hwy, Trentham Cliffs NSW 2738
Tel: +61 (03) 5024 8888