It was there all along, peeking at us across the road from our hotel suite. We knew that our visit was coming up and we wondered about the enormous architect designed building that contained nothing but chocolate. Added to this were the hushed tones of reverence from people talking about their "help yourself" chocolate tastings.
If you or your children have ever wondered if Willy Wonka land exists, you could safely tell them that he has a shop in the Yarra Valley, a little over an hour away from Melbourne. This enormous purpose built building has been opened since just mid December 2012. The partnership of Leanne and Ian Neeland (she formerly of the Margaret River Chocolate company), they scouted locations around the world before settling on grassy acreage in the Yarra Valley.
The first thing that greets you are the three enormous bowls of chocolate that customers simply help themselves to. Mention this to someone that has visited and they will recount tales of helping themselves to the free, unbridled Belgian coverture chocolate in white, milk and dark.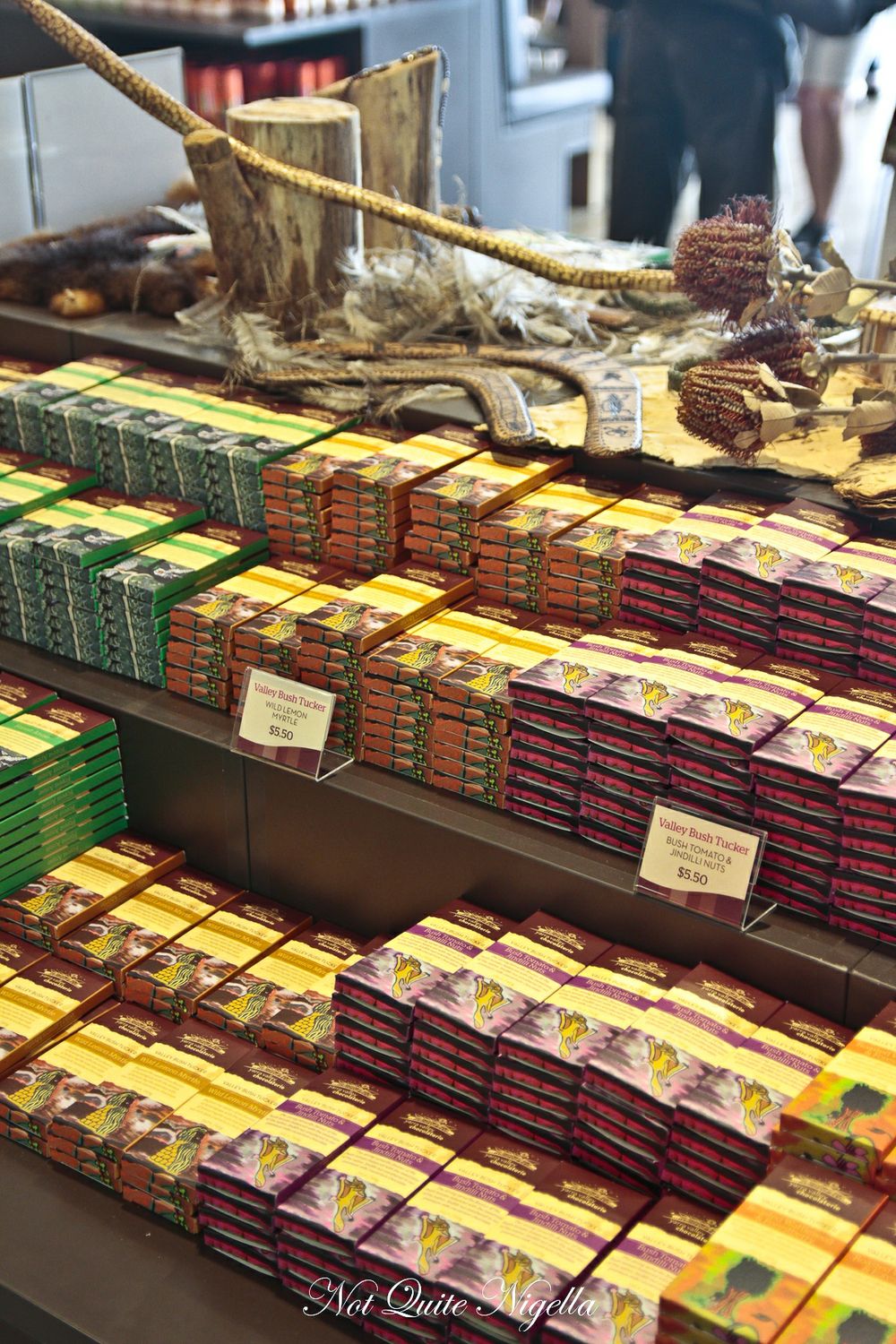 Native Australian chocolate range
To one side is a live theatre of chocolatiers. Six chocolatiers from Europe (four from Belgium and two from France) have been flown over to work in their chocolate factory. There is a helpful list of who is in the kitchen and what task they are doing so that observers can watch and follow their activity. Here they use as much local produce as possible in their chocolate.
Then there are the displays-Easter chocolates in myriad shapes and colours, chocolate truffles in a colourful display under glass. Lollies, a children's section and beautiful bars wrapped in paintings of the Yarra that look like a display of books are my personal favourite. There are 150 items in total and everything is just sold here on the premises. As yet there is no internet ordering and no stockists apart from this store.
Chocolate tastings with a chocolatier can be booked for $8 a person, minimum 8 people and today we are having a tasting with Remco, a Belgian chocolatier. He goes through the process of how to make chocolate from beginning to end explaining the process in a good amount of understandable detail and you certainly learn something new every day. For instance did you know that cocoa trees cannot be exposed to direct strong sunlight or they will die? Which is obviously a problem because many cocoa producing countries have sunny, tropical weather. To counteract this, they grow them under coconut and banana trees which are large and offer shade.
The tasting concludes with samples of several of their chocolate truffles. We try ginger, Earl Grey (with small tendrils of Earl Grey tea), Baileys (a bestseller) hazelnut crunch (their bestseller along with Baileys with a praline centre) and a hot cross bun which is punctuated by a rum soaked raisin in the centre. There's also a raspberry heart which Remco created just for Valentines Day. The dark chocolate is a 50% cocoa blend which keeps it very accessible as it isn't a particularly bitter dark chocolate so connoisseurs of dark chocolate might have to look elsewhere for a super dark fix.
Sometimes, on busy days, the queues for their home made ice cream stretch out the door and I talk to another customer who waited one and a half hours. The texture of the ice cream is smooth and the serves generous and top heavy-the cones look as if ready to unbalance at every turn, the only thing to do is to lick away. I particularly liked the wild berry.
Chocolate tart $8.50
The cakes are also made on site by the chocolatiers, some of whom are pastry chefs. The chocolate ganache tart is all rich chocolatey goodness. All desserts are served with whipped cream and a shot of their liquid chocolate and as we learn, everything comes in mammoth serves, enough to share for two.
Easter Delight $8.50
The Easter Delight is a sweet confection with a large chewy macaron base and top. It is sandwiched together with a rich, sweet pistachio filling which tastes of real roasted pistachios and on top there are three solid Easter eggs in white and dark chocolate. It too comes with a shot of liquid chocolate and cream and it's for sweet lovers.
Hot chocolate $5.50
Another favourite is the hot chocolate made with either white, milk or dark chocolate. This one comes with their couverture pellets at the bottom and a shot of liquid chocolate and a whisk so that you can make it as chocolatey as you like.
Image taken on a Sigma 15mm F2.8 DG Fisheye lens
Once we're sugared up on chocolate, the outdoor area beckons. There is a kitchen garden out the back and a large space for kids to play. Mr NQN can't resist kicking the red ball around the grass spiral while another group plays football. Kids holding ice cream chase each other while I take a peek at the kitchen garden.
So tell me Dear Reader, what are you doing this Easter weekend? And given a choice, would it be chocolate, cake or ice cream?
Mr NQN having fun
NQN travelled to the Yarra Valley as guests of Tourism Victoria and lastminute.com.au
Yarra Valley Chocolaterie & Ice Creamery
35 Old Healesville Road, Cnr Melba Highway, Yarra Glen, Victoria 3775
Tel: +61 (03) 9730 2777
http://www.yvci.com.au/
Open every day but Christmas Day