As the proverbial carrot dangling at the end of a very long and arduous leash or week, a weekend in the Hunter Valley was an incentive to hand in the book's final edit on time. I dislike having obligations and I knew I wouldn't fully be able to enjoy going away unless I did. So I handed in my final draft, breathed a sigh of relief and Mr NQN and I headed off to the Hunter Valley one Friday afternoon. Leaving at 3pm we thought that we'd beat the rush. Which, of course is what everyone else headed this way thought as we slowly made our way up the Pacific Highway ;)
Three hours later we had arrived for a preview of Hunter Valley Wine and Food Month. Most people know about the Lovedale Long Lunch event but even I had to admit that I had no idea that it was part of a larger food month starting the 1st of  June with more than 70 events to choose from. They have also launched a new app at http://www.winecountry.com.au/plan/apps and apart from a listing directory, there is a fun little feature that lets you choose which personality you are out of The Food Fanatic, The Trusted Fried, The City Slicker or The Educated Palate, and tailors an itinerary accordingly (although it is large so best to download it before you leave). Settle in, because this story is a long one as we explore the best that the Hunter Valley has to offer in one weekend! ;)
Peppers Guest House
As we were late, we had just enough time to put our bags down at Peppers Guest House, get changed and be downstairs. We had a quick look at our room  (# 212),  and it is clean and simply decorated. There are nice touches like robes, an iPod dock, plenty of teas and a mini bar and the bathroom amenity set is good.  I would say that the grounds are more the attraction than the rooms though.
Bed
The bathroom was very small with awkwardly placed sink taps. There were also odd things like the television only outputting black and white, powerplugs that were only on the floor so the only place was to put the kettle on the floor (or on the very small sink vanity) and there was a piercing sound when we walked in which was the hot water system in a neighbouring room which we asked them to fix because that would have definitely interfered with sleep. By the time we got back, the hot water noise disappeared but the television remained black and white.
Margan
That evening we were headed to Margan winery, about 25 minutes away from Pokolbin at Broke Fordwich. Lauded for their sustainable and environmental initiatives they are proud of their work and the menu outlines what they do. They serve filtered and free rainwater, harvest an extensive range of vegetables from their one acre garden, keep their own beehives and an olive grove and are proponents of not the 100 mile diet but the 100 metre diet. There is a flock of black faced Suffolk lambs, the females for breeding and the males destined for the menus and there is also five breeds of egg laying chickens that provide them with free range eggs.
Some of the menu items that are made from scratch include gelati, pasta, butter, yogurt, some soft cheeses, olives, smallgoods and pastries and anything not used in the kitchen is then fed back to the chickens for the eggs. Chef Josh Davidson and Millie Marsh are the chefs in the kitchen and would have prepared a little preview of what is on offer for Hunter Valley Wine and Food Month in June which is a estate reared Black Suffolk slow roasted lamb, creamy potato mash, heirloom vegetables - all from the kitchen garden. However, since it is all coming from their kitchen garden the produce isn't quite ready as we are about six weeks away! Ahh yes, this is very much seasonal eating from the garden.
Karl Stockhausen
We are seated on the same table as the inimitable Karl Stockhausen who is fascinating to talk to and full of great stories of his winemaking days at Lindemans. He is regarded as one of Australia's greatest winemakers but he is charmingly modest and easy to talk to. He and his wife now own Cracked Pepper, a restaurant in the Hunter Valley which we wish we had more time to visit.
Seared tuna with piccalilli, capers and white balsamic dressing
After speeches, the food comes out. The entree is a simple but oh so effective combination and a pretty one at that, the tuna is lightly seared on the outside and is paired with a piccalilli which gives it a slightly curry flavour, tiny capers and a white balsamic dressing and tiny, crunchy crouton crumbs.
Roasted free range quail with pancetta, fig chutney, cavolo nero and fregola
The free range quail was cooked perfectly so that each little morsel was juicy and flavoursome. The leg was wrapped in pancetta and sat on top of some spicy fig chutney and there was also fregola with cavolo nero. It was delicious although a little on the small side  (I'm not sure what size the Wine and Food Month meals will be). Silly me didn't save any bread to mop up that very moppable sauce.
4 artisan cheeses
The four cheeses: Quickes cheddar, Gorgonzola piccanta, Old telegraph Rd Brie, Ossau-iraty were served with some quince pasta, crackers and grissini. The gorgonzola was divine and my favourite along with the crackers and the quince paste.
Vanilla bean panna cotta, poached rhubarb, quince jelly and fairy floss
A very generous serving, the vanilla panna cotta was served in a glass and was aromatic with vanilla. It was topped with poached rhubarb and quince jelly at a nice level of sweetness and a fuzzy top of pashmak fairy floss. It was served with Margan moscato which was lovely and smooth - a perfect way to end the evening.
The Margan offering for June's Hunter Valley Wine and Food Month is a "lamb estate reared Black Suffolk slow roasted lamb, creamy potato mash, heirloom vegetables - all from the kitchen garden." It is available from lunch to dinner Friday to Sunday and is $45 per person.
Whispering Brook
Waking up the next morning, we have a packed schedule ahead of us with lots of visits - no rest for the wicked! ;) We start at Whispering Brook where they have grown and harvested olives since 2001 as a companion business to their wine which is their main business. They have 500 olive trees and they grow table olive varieties such as Kalamata and olive oil varieties such as Frantoio and Corregiola. They pick when the olive tree has olives that are one third green, one third turn and one third black which is said to be the best time. To pick for the oils, they use a tree shaker that collects about 50-60% of the olives.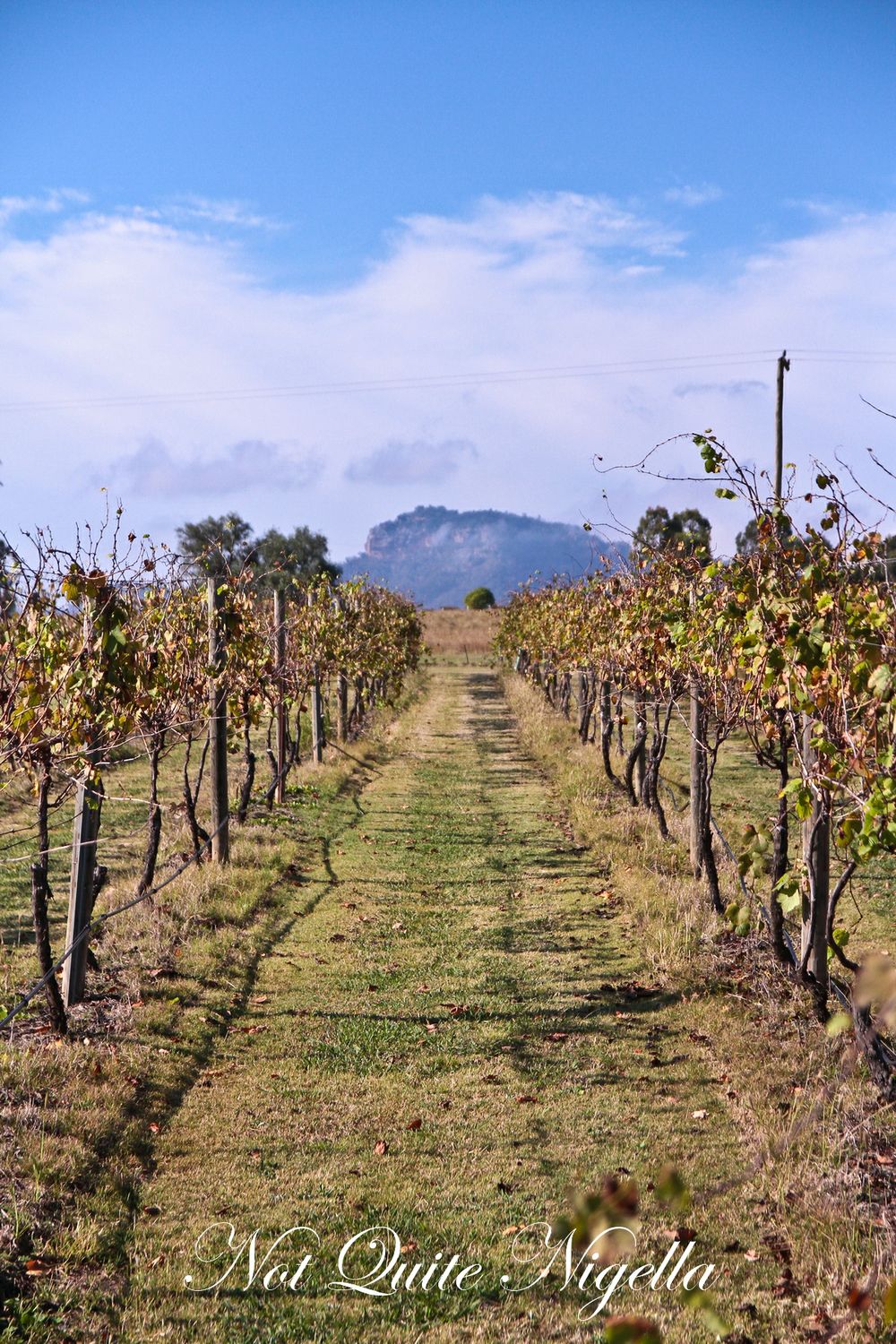 In terms of wine, the Hunter region is known for Semillon, Chardonnay and Shiraz and is the oldest wine region in Australia with the first vines planted in the 1820s. The climate here is similar to that of the Iberian peninsula. They have experimented with using the traditional methods of pressing grapes which is said to produce less astringent wine but this takes much longer to do. The pressing is gentle so that means that the seeds aren't crushed which can create bitterness.
We try some of their olive oils - the chilli and garlic is a best seller and is a great balance between the two strong flavours. The lemon and lime are also strong and are made using extracts rather than agrumato methods (pressing with actual fruit) but the biggest difference is with the recently harvested 2012 and 2011 olive oils. The 2012 sings with freshness and flavour whilst the 2011 has a much more muted and settled flavour.
For the upcoming Hunter Valley Wine and Food Month, Whispering Brook will be hosting an annual olive table luncheon out among the olive grove. On Saturday the 2nd of June, diners will dine on a long table with four courses and matching wines for $95 a person.
Tyrrell's Vineyard
Just a few medals!  ;)
Our next stop is at Tyrrell's Vineyard where founder Edward Tyrrell's great, great grandson Chris Tyrrell is one of the assistant winemakers. Today, he is showing us some behind the scenes action. We first get to try their flagship wine, the 2005 semillon and he tells us that the reason why they are so highly regarded is because of their ability to age. "The less we do to the wine the better" he tells us.
Chris Tyrrell
Tyrrell's is large enough to be able to do the premium wines as well as "commercial" wines which is the term used for wines that retail for around $20 a bottle. They even have a series of wines called the Stevens Single Vineyard series named after the fruit grower Neil Stevens whose fruit is so good that they take all of his fruit and pay triple the average price for it.
He shows us a machine that presses the grapes and they take the first run off and that is used in their premium wines. This is bright green in colour. The subsequent pressings which are used in the commercial wines are a dark brown colour similar to a beer and it is up to the winemaker to add things in to the wine to make it resemble the first run juice.
He tells us that in Australia, you are legally permitted to add acids into a wine but not sugar whereas in France you can legally add sugar but not acid. The way that some wine makers get around this is to use grape juice concentrate which is similar to sugar to balance the tannins.
Tyrrell's offering for the Hunter Valley Wine and Food Month is a Sacred Site vineyard experience and tutorial for just 40 people and is on the 23rd of June at $150 per person.
Brokenwood Wines
Simon Steele
We also visit Brokenwood where winemaker Simon Steele gives us a taste of some of the wines from the barrels. They have several vineyards in addition to the Hunter ones including McLaren Vale for Shiraz and Beechworth for the Pinot Gris. Their emphasis is on food friendly wines and their Hunter Valley Wine and Food Month offering is a Japanese Semillon and Sushi masterclass lunch matched with wines on the 9th and 16th of June at $80 per person.
Il Cacciatore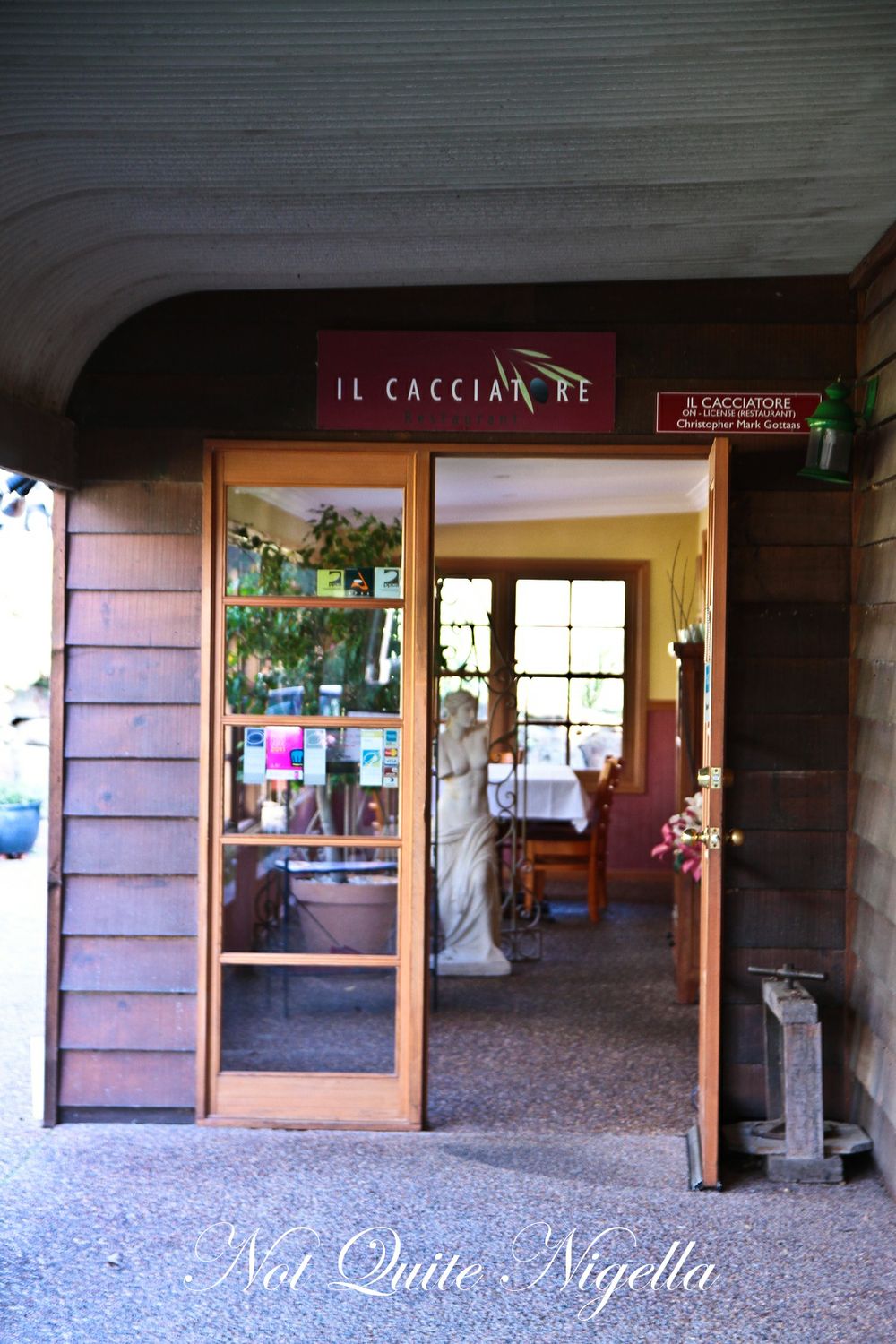 By now we are hungry and we are all dying to get to our next destination, Il Cacciatore, the Italian restaurant at the Hermitage Lodge where we will be trying our hand at making gnocchi from scratch. It is actually much easier than one would think and once you have the potatoes cooked, it is a very quick and simple process as chef Nicole shows us!
We work in pairs and mash up the potatoes. Then we add two fat pinches of salt, an egg yolk and three quarters of the flour leaving the rest for dusting. Mixing all of this together with our hands, we create a dough and roll it out into four logs.
Cutting these logs into little 2 cm pieces, we roll them on the ridged gnocchi paddle and there you go! Home made gnocchi from scratch! The keys to making non gluggy gnocchi is to not overwork the dough and to remove the moisture from the potato as much as possible.
Nicole then shows us how to make some very quick sauces for the gnocchi which she places in boiling water until it floats to the top and she then drains these and adds these to a bowl of iced water to stop them cooking. There is a tomato, rocket and chorizo sauce which has a nice kick from the garlicky chorizo and a seafood sauce which is full of plump prawns and capers with a creamy sauce.
Tomato, rocket and chorizo gnocchi
Seafood gnocchi
We sit down to our lunch which also includes a rocket, fig, feta and walnut salad; a tomato, bocconcini & basil salad and the two gnocchi dishes all served share style. The gnocchi is quite good although I do prefer it lighter (and hey we were the chefs anyway! ;) ) and I particularly like the prawns in the dish as they have an excellent texture to them and the chorizo from the other dish is also delicious.
Tiramisu
We finish with a glass full of tiramisu which has a nice coffee flavour to it although not much alcohol. Il Cacciatore's Hunter Valley Wine and Food Month offering is a gnocchi  making class with a five course dinner and matching wines from June 13-18 for lunch or dinner. The cost is $125 per person.
And then we're off to our next destination!
The Potters Hotel Brewery
The Potters Hotel Brewery is for your long suffering spouse or beer fanatic that has been traipsing around wineries with you but just wants a cold beer. And with over 140 cellar doors in the lower Hunter region and only one beer company, they've got a pretty captive market. The Hunter Beer Co. within Potters is a boutique beer maker and head beer maker Keith takes us through the basics of beer. He tells us that there are four ingredients to beer: malted barley (made when you toast barley), water, hops and yeast.
He tells us that the darker the malted barley, the darker the beer. Hops, a flower which is dried and made into pellet form, can also display a lot of different flavours depending on where it is from - hops from Europe is spicy where hops from America is fruity and there are hundred of varieties.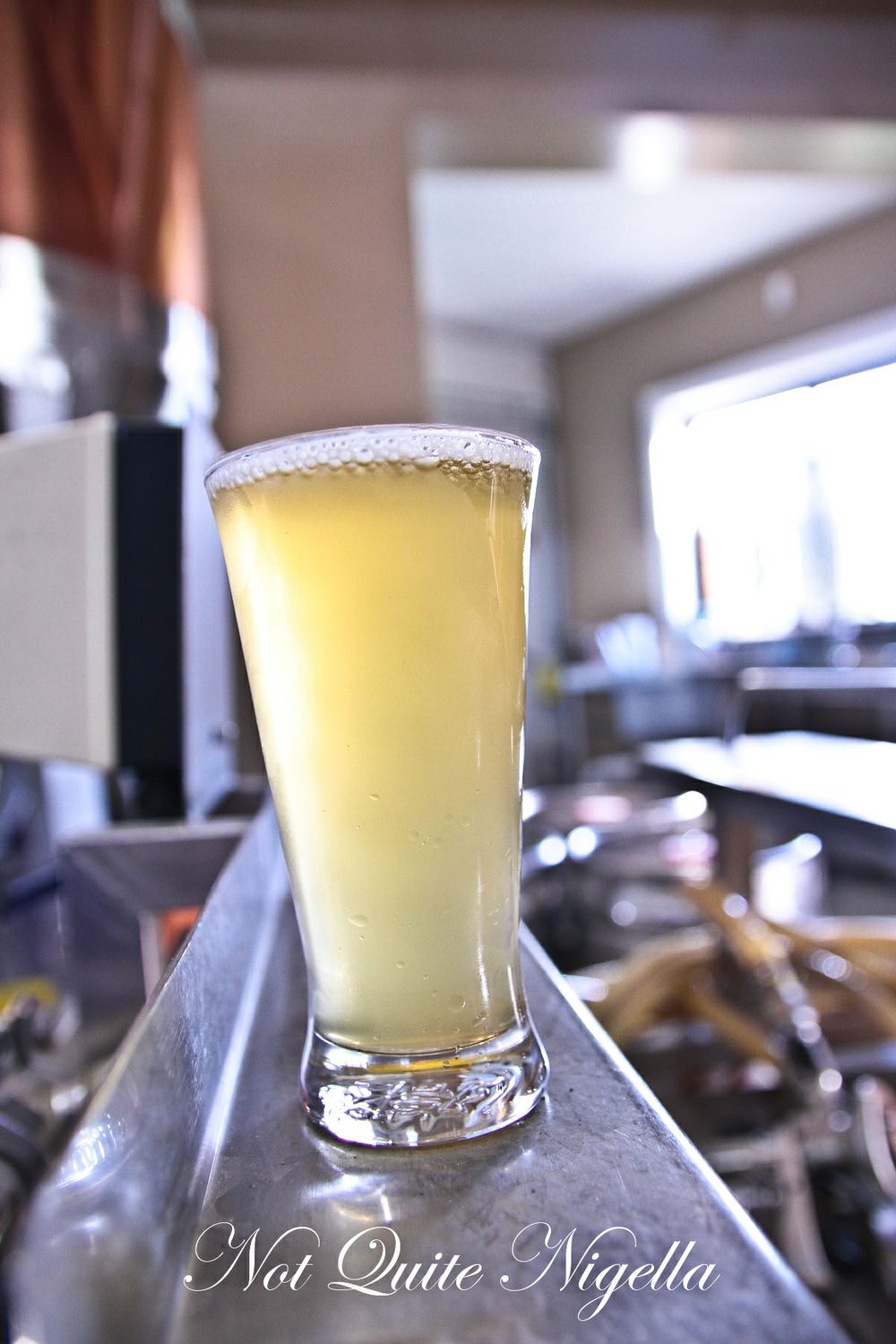 We try some of the Kölsch beer as well as their Vit beer or white beer where they leave some yeast in the beer so that it takes on a slightly cloudy appearance. There are also seasonal beers likes an ambrosial sounding plum pudding beer. We also try their chocolate beer which was produced for Easter which has more of a sweet coffee flavour.
Chocolate beer
And it sounds like they have fun here as they like experimenting with beer and have made several interesting flavours including rhubarb beer and a salty beer based on a historical recipe which was salty and sour and uses salt, coriander and lemon. And a very popular beer was the bacon beer which Keith tells us was like drinking liquid bacon. And the secret ingredient? Smoked malt instead of regular roasted malt which gave it that distinctive taste!
The Verandah
After a quick refresh in our rooms, we go out for dinner which is a little taste of the food festival at The Verandah restaurant. For the festival they will hold a Duck Sensation dinner each Saturday night during June. And what exactly does that entail for the menu? Well duck, duck and more duck - literally! Although you can breathe safely that duck doesn't feature on the dessert choice (although a part of me thinks that it would be interesting...).
Nulkaba duck liver parfait with champagne jelly, cornichons, onion jam and charred Morpeth sourdough.
Chef owner Matt Dillow introduces the dinner and tells us that the ducks are from local Nulkaba Hatchery. At The Verandah, they break down the whole duck and use all of the parts. The livers are used for the parfait, the necks for sauce, the breast for the second course and the marylands for the third course. The livers here are mixed with chicken livers which have a milder flavour and they are combined with a champagne jelly, Szechuan peppercorns, halved cornichons and onion jam (which I would have loved a bit sweeter) and a slice of nicely charred Morpeth sourdough.
Nulkaba duck breast, roasted king brown mushroom and watercress salad with raspberry vinaigrette
With a lovely texture and perfect seasoning this was a simple dish made with quality ingredients and a nice contrast of textures between the duck and the spongy king brown mushroom. It is finished off with raspberry vinaigrette which has crushed raspberries in it.
Nulkaba duck confit on chestnut potato puree with red wine glazed pears
The duck confit falls off the bone easily and is nicely matched with a rich potato puree with small chunks of potato and a slice of red wine glazed pear.
Watermelon and pomegranate sorbet
This was divine and I immediately asked for the recipe as it was just the right level of sweetness and it also had a refreshing quality.
Three region cheese plate
To finish off is a generously portioned cheese plate with Brie from the Hunter Valley, triple cream blue from King Island topped with honeycomb and Pyengana Cheddar from Tasmania with rippled crackers and water crackers.
We wake up the next day and go downstairs to have breakfast. Everything is served buffet style and I help myself to mini pancakes, bacon, sausage, scrambled eggs, tomato and mushrooms.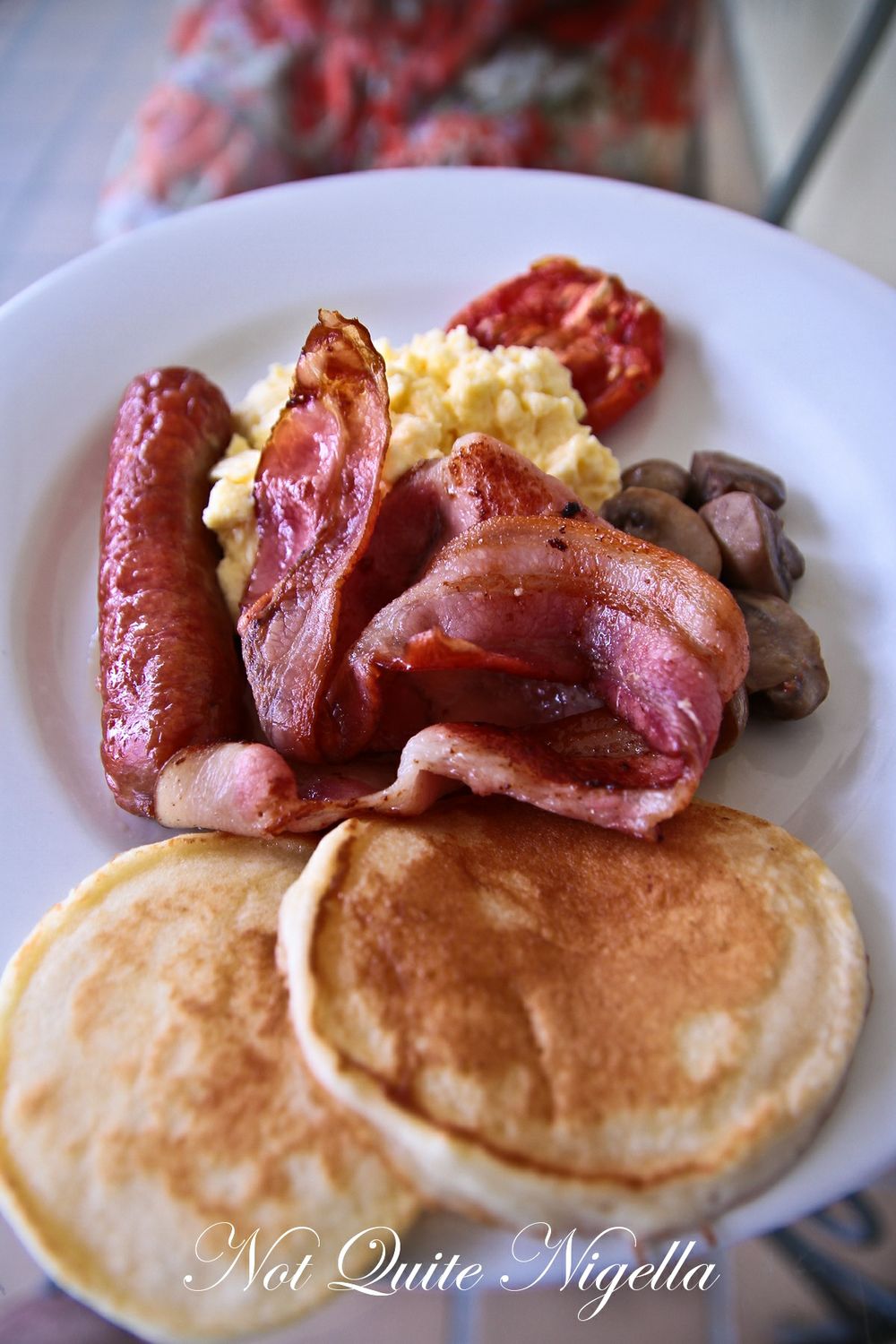 I also try some malted toast with some of their home made preserves including lemon and passionfruit butters, strawberry, blueberry, raspberry and grape jam and marmalade. The grape jam with large chunks of sweet, soft grapes is particularly good as is the passionfruit butter and berry jam.
Hunter Valley Gardens
We check out and make our way to the Hunter Valley Gardens, one of the most popular attractions in the area. The Hunter Valley Gardens were established in 2003 and have over 8 kilometres of walking paths. There is also a train that can take your around the gardens on a guided tour which is $7 a ride per person. Entry is $24 a person but you can come and go during the day as they offer passes out.
As a lover of fairytales and children's stories I have one destination in mind within the gardens: the Storybook Garden where larger than life size statues play out scenes from a range of nursery rhymes, fairytales and children's stories. Fabulous twisted topiary trees also feature and music plays as you wander through the storybook gardens.
Oh my, how I've shrunken! (a tip: climb up from the back unless you are tall like Mr NQN!)
We pass Humpty Dumpty who threatens to jump off the wall...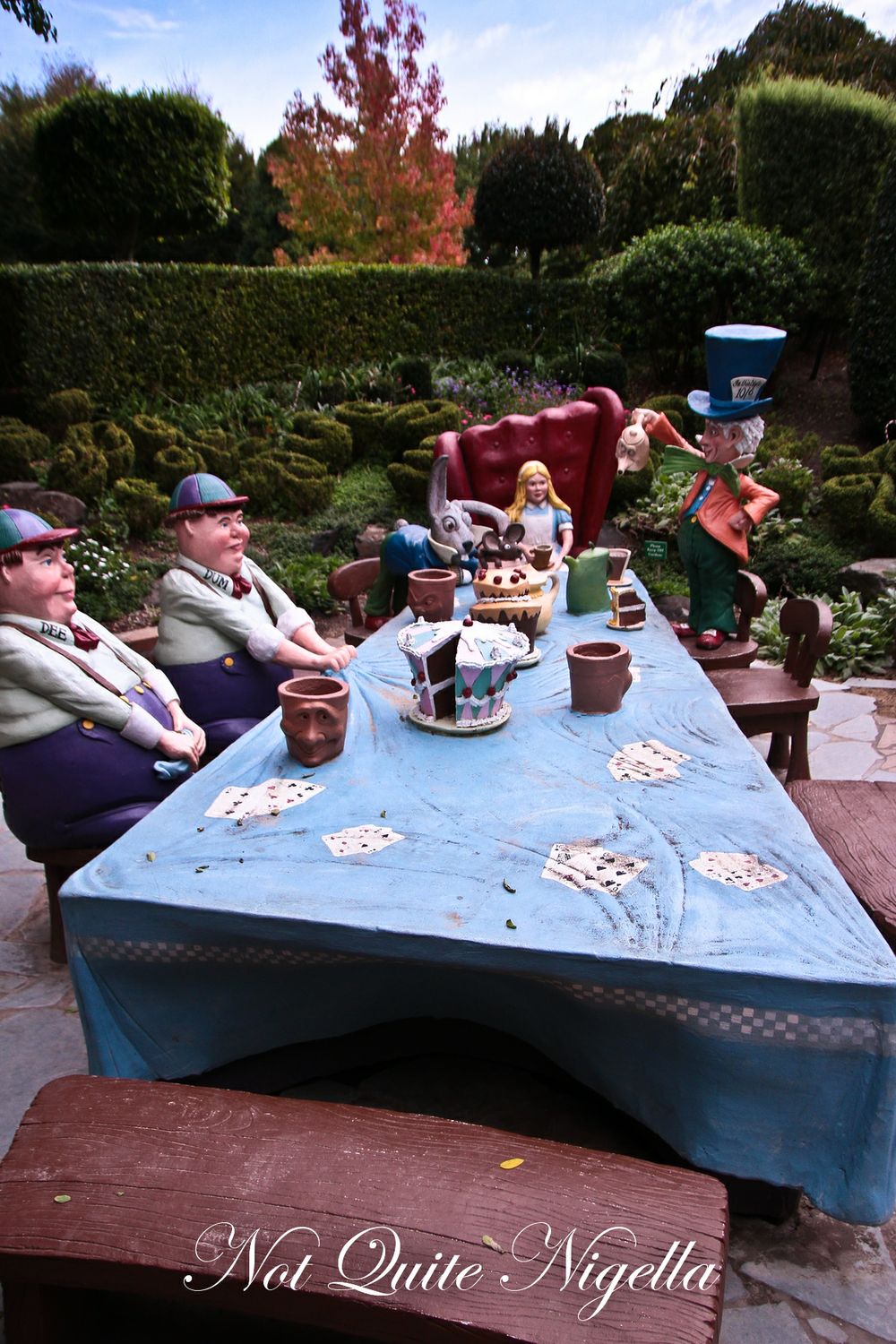 But the scene that I've been looking for is a place at Alice's table where the Mad Hatter pours tea and we can eat cake...
Indian Mosaic Garden entrance
The gardens are split into ten individual gardens. They recommend between 1.5 hours and 3 hours although we spent an hour there (expect to wait a few minutes to get photos at certain spots at the Storybook Garden, especially on crowded days).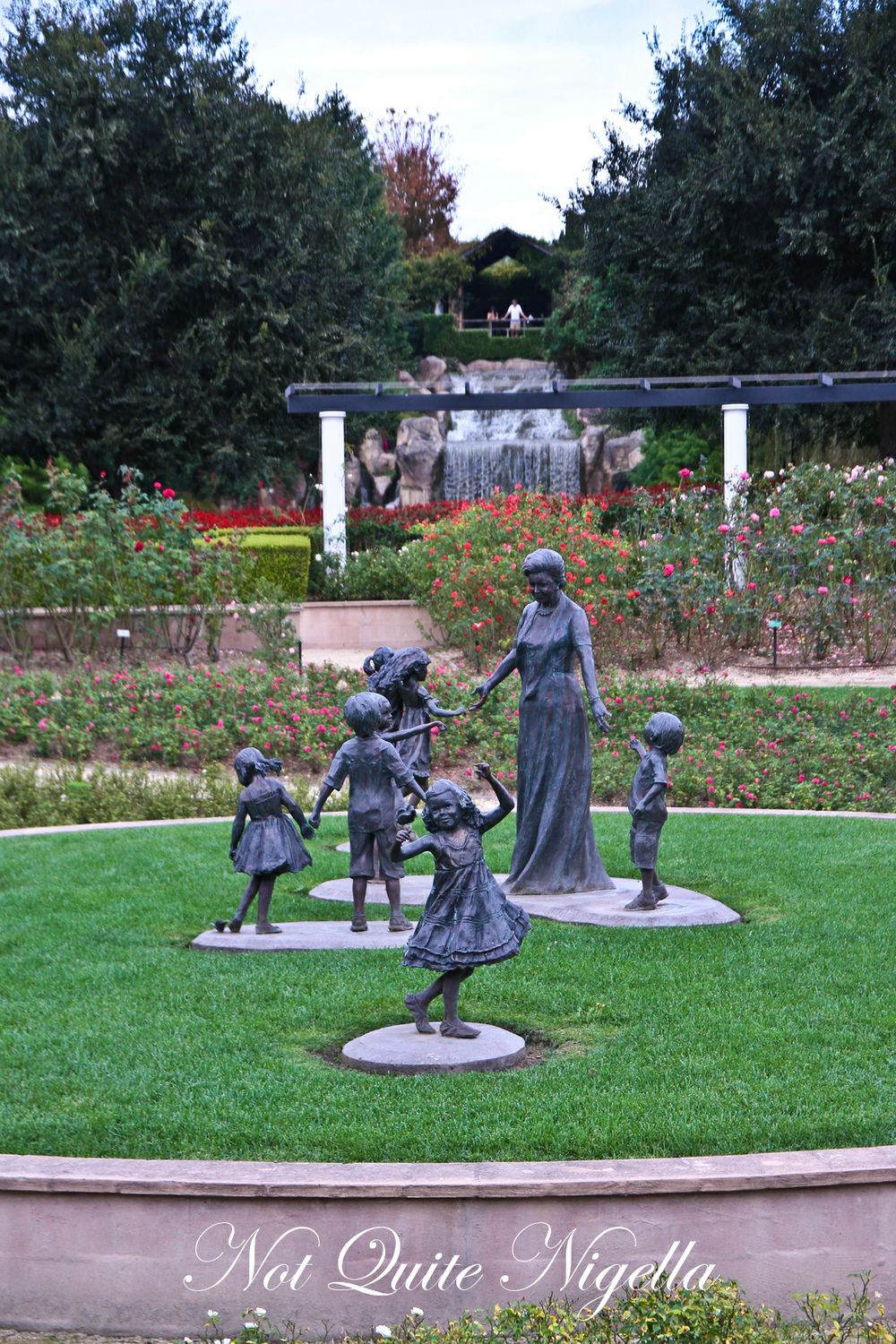 Grandmother's garden
Gemelli Estate
All of this wandering makes us a bit hungry so we are off to our next stop, high tea at Gemelli Estate. The high teas started in September 2011 and are held once a month on a Sunday although bookings can be made for them for parties of 10 or more. They sell out quickly too and we are eager to see why. For starters, everything is home made on the premises by food technologist turned winery owner Rebecca Boyd and at a cost of $30 per person including a choice of Gemelli Estate moscato, their unoaked chardonnay, their sparkling wine or one of their reds, it represents fantastic value.
The atmosphere is soothing and when you look out over the vineyard and the green hills, there's scarcely a noise apart from the sounds of nature or happy chatter of ladies lunching and clinking glasses. The table is set with vintage china - Rebecca tells us that she raided the family china cupboard for the teacups and saucers and that the set we have is from her mother's engagement set (alas, it was so covetable I was hoping that she would point me in the direction of the shop that sold it!). The moscato is sweet and very drinkable while Mr NQN goes for the unoaked chardonnay which he likes.
We start off with a little bite of a crisp bread round topped with tomato, basil and some balsamic dressing which is nice although I think a little bocconcini would go well too.
Now the high tea comes in a few parts and it is really best done if you have a couple of hours to do it as sometimes there is a wait between each course as Rebecca prepares everything herself and looks after guests and sometimes you have to get your own water and things like that. Our first course arrives on the three tier stand and it has the hot items on it including grape and goat's cheese tarts, Swiss cheese stuffed mushrooms, a really good and fresh pumpkin frittata and bocconcini, prosciutto and basil mouthfuls which are also delicious.
A little palate cleanser arrives in the form of tangy lemon gelato served in cute ceramic cups.
Before our last course we order our teas and there are three varieties: English Breakfast, raspberry and lime and peppermint and we opt for the first two. They are loose leaf teas and both are very nice indeed, the raspberry and lime aromatic and a swoonful shade of pink and as pretty as a cheek flush.
Aha our last course! And it is more a traditional course although Rebecca did let us know that they don't so scones with their tea. The top tier holds two crisp lemon curd tarts, the middle layer holds ribbon sandwiches in a delicious smoked salmon and dill sandwich and chicken, almond and celery flavours.
The bottom tier has a light and fluffy chocolate mousse with blueberries and a raspberry cupcake with a generous amount of raspberries baked through it. In fact the whole high tea was generously portioned and the only thing we could suggest is perhaps putting the hot items on the first course on the same stand as the traditional items so that the stands looked more colourful and bountiful.
For Hunter Valley Wine and Food Month, Gemelli Estate will hold a high tea on the 17th of June between 1-5pm at a cost of $30 per person. Don't you wish every day came with an afternoon tea?
Chateau Elan
The Hunter Valley isn't quite done with us and we have one last stop. We arrive at nearby Chateau Elan a luxury spa and golf retreat where I will attempt to undo the six week's worth of book editing on my shoulders, neck and back at their renowned spa. Mr NQN goes off to try the Hydrolounge while I get ready for my treatment. I get dressed in the changeroom and am pleased to see that there is a range of skincare for pre or post treatment.
The view from the reflections room
I relax in the reflections lounge where I am offered a cup of tea and I choose one of four scents that I like which will be used in the massage. I am shown to the treatment room, one of seventeen, and my therapist Bianca discusses my treatment with me.
I had originally had my eye on two of the more unusual massages: the Balinese Palming massage or the Parisian Organic massage but the Balinese Palming therapist wasn't available and my back really required a firmer more tailored massage so she gives me one similar to remedial crossed with a Swedish massage. "Your back is like concrete" she tells me not unkindly and I know it  is, but by the end it feels markedly better and before I know it, she is slathering on a generous amount of cream on my hands and feet and then slipping on my slippers on my feet. I get up and feel no pain at all. Bianca bring a glass of  tea with a house made vanilla cookie and I sit back and wonder where on earth my husband could be...
Aha! I found him!
And where is that naughty Mr NQN? He is in the hydrolounge where he has been dipping into the hot and cold pools like a snow monkey. Afterwards he takes a place on one of the lounges in front of the fireplace. There is also an intriguing detox box which I must come back to try. Everyone that books in for a treatment can use the hydrolounge and they also have a mother's day offer for $179 where people get the use of the hydrolounge, a foot scrub, 30 minute massage and a 60 minute Thalgo spa facial and Indian scalp massage and a "mini spa platter" and a glass of Bimbadgen sparkling wine.
I take a shower and use the fragrant Grown products that they stock here and try out some of the Kerstin Florian skincare which smells lovely. It's a sad and slow trip back to Sydney this Sunday night but it doesn't feel like goodbye as we know we can easily come back.
So tell me Dear reader, where do you escape to on weekends? And what is your favourite smart phone or tablet app? Mine is Zite!
NQN and Mr NQN visited the Hunter Valley as a guest of Hunter Valley Wine Tourism
Thanks also to Toyota who loaned us the new Camry Hybrid for our trip!
Peppers Guest House
Ekerts Road Pokolbin NSW 2320
Tel: +61 (02)4993 8999
Website: http://www.peppers.com.au/guest-house/
Margan Wines
Location: 1238 Milbrodale Road
Tel: +61 02 6579 1372
Website: www.margan.com.au
Whispering Brook
Location: 165 Hill Street BROKE NSW 2330
Phone: (02) 9818 4126
Website: www.whispering-brook.com
Tyrrells Vineyards
Location: 1838 Broke Road, POKOLBIN NSW 2320
Tel: +61 (02) 4993 7000
Website: www.tyrrells.com.au
Brokenwood Wines
Location: 401-427 McDonalds Road, POKOLBIN NSW 2320
Tel: +61 (02) 4998 7559
Website: www.brokenwood.com.au
Hermitage Lodge
Location: 609 McDonalds Road, Pokolbin, NSW 2320,
Tel: +61 (02) 4998 7639
Website: www.hermitagelodge.com.au
Potters Hotel and Brewery
Location: Wine Country Drive
Tel: +61 (02) 4991 7922
Website: www.pottershbr.com.au
Verandah Restaurant
Location: Palmers Lane Pokolbin NSW
Tel: +61 02 4998 7231
Website: www.verandahrestaurant.com.au/
Hunter Valley Gardens
Broke Road Pokolbin NSW 2320
Tel: +61 (02) 4998 4000
Website: www.hvg.com.au
Gemelli Estate
Palmers Lane Pokolbin, NSW 2320
Tel: +61 02 49 987910
Website: http://www.gemelliestate.com.au/
Chateau Elan
Vintage Dr Rothbury NSW 2320
Tel: +61 (02)4998 2500
Website: http://www.chateauelan.com.au/