Unique is such a pejorative term. Sometimes Mr NQN uses it as a way of getting me to calm down. "You're very unique," he will say with a slight note of terror in his voice. To me, unique is a great compliment, it means that there isn't anything quite like it out there. And dining at the Hunter Valley's EXP. restaurant is definitely unique.
Chef Frank Fawkner (left)
The restaurant open since March 2015 has already attracted much praise. It is the baby of Chef Frank Fawkner (ex Muse head chef and Tom's Kitchen, London) and wife Emma who runs the floor. He stands behind the pass which is really where the best seats are, especially if you like a bit of chef watching as Mr NQN does. In fact he is positively wide eyed and fascinated by the politics of a restaurant kitchen, like a condensed live television show in front of your eyes.
"Should we look?" Mr NQN asks the waitress, Emma's sister. "Oh sure, and if they do something interesting feel free to clap!" she says good naturedly. On Saturday nights at EXP. (which stands for experiment, experience, expression, expertise, exposure, expectation etc or whatever you want to pick), there is a choice of a 5 or 8 course tasting menu at an extraordinarily reasonable price of $80 or $100 respectively.
Wine can be matched for an additional $40 for the 5 courses of $50 for 8 courses. This is a small restaurant connected to Oakvale Winery and seats just 39 people. The dining room is mimimalist with a sculpture of ceramic pegs on the wall by a local artist. Service is wonderfully friendly, warm and deferential.
Frank slides over a mortar and pestle of locally grown herbs and asks us to grind them down which Mr NQN does happily. He holds it up and Frank deposits some house churned butter made by a local Jersey cow farmer and we are told to mix it up. It comes with a fluffy, fresh and sponge soft square of focaccia bread. I tear it apart into three layers so that I can have more of this butter.
House-made haloumi, carrot, olive, tarragon, cider
The comes the first course of house made halloumi also made with the jersey milk, carrot puree, crushed black olives, tarragon and cider. It's a sweet and creamy start to the meal, the halloumi more creamy than salty.
Black garlic risotto, cauliflower, pyengana cheddar
They make their own black garlic here by cooking it in the oven for two and a half weeks at 75°C/167°F. The result is a rich risotto that reminds me of mushrooms and Vegemite. it's lightened by paper thin slices of pickled cauliflower and Pyengana cheddar. We watch as batches of this risotto are made by flipping the rice in the pan.
Poached cod, lemon, butter, raisin, capers
They explain that they usually use skate with this dish but it wasn't available so in its place they use poached cod. The fillet of tender cod is blanketed in a lemon butter emulsion similar to a hollandaise with golden raisins, fried baby capers and thin radish slices. This is one of my favourite dishes with the cod cooked simply to bring out the flavours of each element.
Courses are very well paced and there's no lag, and even with time between courses we're bus watching the kitchen. There is intense concentration etched on their faces and should anyone become distracted, they face a sharp rebuke.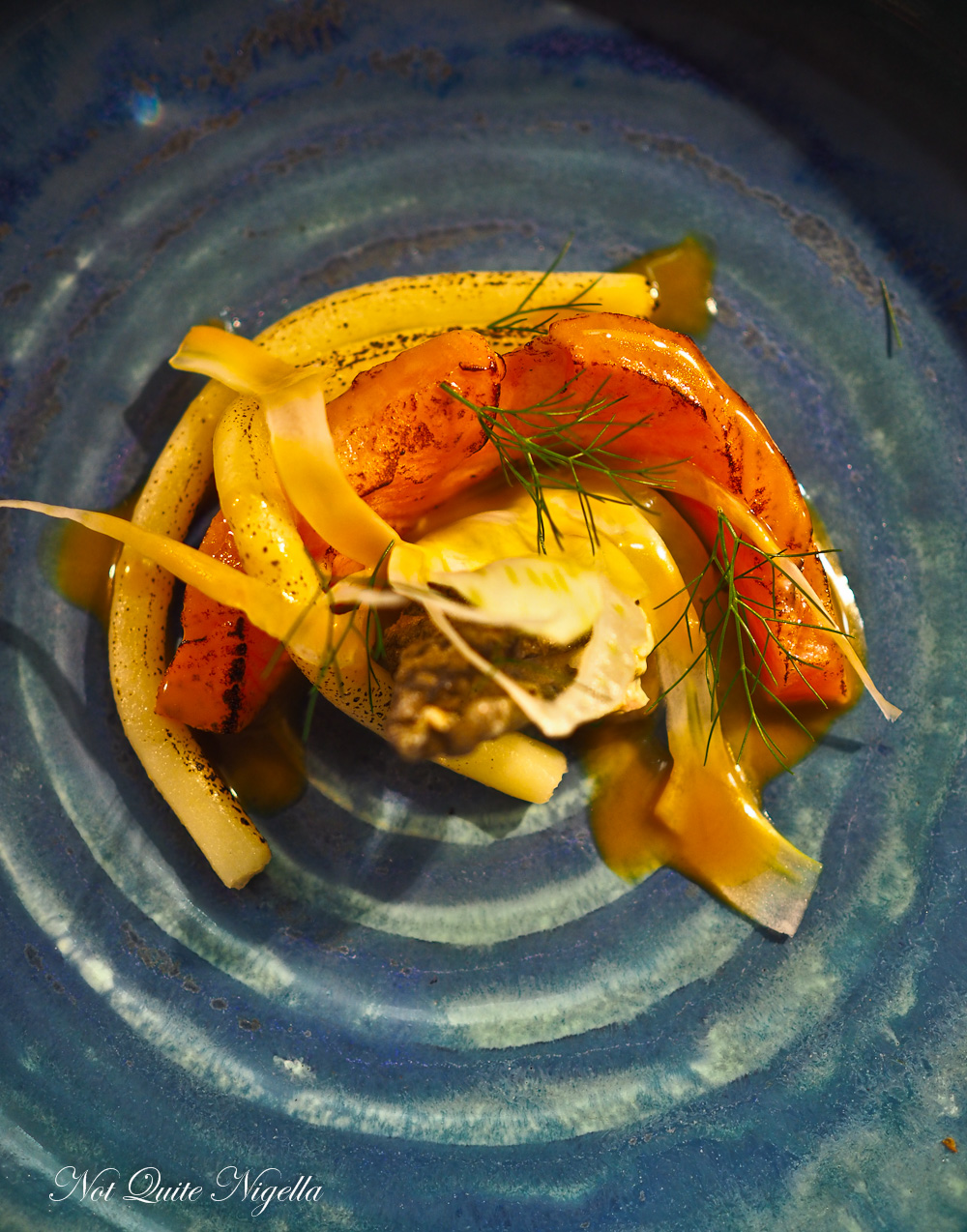 Planning your next trip? Ensure you have the right coverage with HeyMondo travel insurance that includes COVID-19 protection. Plus, if you use our link, you'll receive 5% off the price. Find the best deals on flights from all airlines in various currencies with SkyScanner and set up alerts to get notified when prices drop. For reliable transportation options, look no further than 12Go Asia, offering train, bus, ferry, and flight transfers worldwide. Book your transportation now and enjoy a stress-free journey.
When you purchase through these links I will get a small commission at no cost to you. Thank you for supporting me! :)
Petuna ocean trout, potato gnocchi, citrus, fennel
This is a pretty dish and comprises of slices of lightly torched and cured Petuna ocean trout, burnished potato gnocchi tubes, citrus and thinly sliced fennel. Again the accompaniments support the trout well. All of the plates are matched to the various dishes for example, sea=green, earth=brown.
Golden plains pork, jerusalem artichoke, cumquat
We are getting to the heavier end of the meal and Frank explains that the pork is cooked for 36 hours. They put it in the oven on a Sunday afternoon and leave it to cook while they are closed for Monday and Tuesday. Come Wednesday when they are open again it is ready. It is soft, juicy and almost milky creamy. It is served with poached and fried Jerusalem artichoke and cumquats to give it a tart sweetness.
Milly hill lamb rump, beetroot, goats cheese, chard
I'm a big fan of Milly Hill lamb as it doesn't have that strong muttony flavour to it. It's a luscious main, one of my favourite dishes and is served with sliced beetroot, chard and some goats cheese stuffed into a folded over beetroot slice. Although this could be overly rich with the goats cheese and lamb it isn't, even at this late juncture in the meal.
Warm blue cheese, brioche and honey $10 surcharge
Emma had suggested that we get the extra dish of brioche as it is one of Frank's signature dishes. I'm glad that we did because this is sublime. It is a small flowerpot of warmed brioche filled with a liquid blue cheese custard and topped with honey and a borage flower. You take off the lid and dig into it and the brioche releases the river of custard. A river of blue cheese custard...just thinking about that makes me happy.
Lime sponge cake, ginger, milk, caramel
The lime sponge cake is a light, fluffy rectangle of sponge served with a milk sorbet on top as well as crystallised and slices of ginger. It comes with a swirl of dulce de leche but it doesn't really even need it. The sweet ginger hit is fantastic with the lime.
Malt custard, dark chocolate, meringue
But it's the malt custard that is our favourite dessert though (and Frank mentions it is his too). There are layers of meringue and molten whisky tuile on top of a malt custard with dark chocolate soil crumbs. And you know what it tastes like right? Milo!
So tell me Dear Reader, would you sit at the pass if given the chance? Would you go for the 5 or 8 course menu and which dishes caught your eye?
NQN and Mr NQN dined as guests of EXP.
EXP.
596 Broke Rd, Pokolbin NSW 2320
Tel: +61 (02) 4998 7264
Open Wednesday to Sunday 12:00 – 3:00 pm, 6:00 – 9:00 pm
Closed Monday and Tuesday