Looking for a quiet but romantic weekend away? The Hunter Valley holds many romantic secrets and one is Peppers Convent, recently refurbished in a French baroque style. While there you can dine at Circa 1876, the fine dining restaurant, or have a picnic on the stunning grounds. Or just make the most of your time in one of the new suites, converted from the building's former life as a convent to the Brigidine order of nuns.
"So what have you got planned for Valentine's Day this year?" I ask Mr NQN. I know him so well by now and I can barely contain a giggle when his eyes widen with a slight terror in them as he scrambles to remember that dastardly day that often trips him up. There's no shortage of reminders including all of the Valentines Day food that I make for recipes but often the planning thing eludes him.
Thankfully I am a planner from way back. I subject him to about 10 seconds of torture before I smile. "Just kidding! I planned something a while back. It involves a convent and wine," I tell him mysteriously.
The plan was to drive up to the Hunter Valley on Sunday and take Monday and Tuesday off and make our own long weekend. We take the 2.5 hour drive and arrive at 2:30pm. The sun is hot and the weather forecast is for 38C. Peppers Convent is situated on Halls Road and is part of Roscrea Estate with Pepper Tree Wines, Circa 1876 and Eighty Eight down a beautiful tree lined driveway.
This is not to be confused with Peppers Guesthouse, also in the Hunter Valley which is quite different. The building was originally a convent that was moved into its current position in the 1990's. It has recently undergone an upgrade and rooms are now luxurious and well appointed. This is a boutique hotel with just 17 rooms. The only thing missing is a spa facility.
The building is an example of early Australian architecture and it was formerly the home to the Brigidine order of nuns in Coonamble. It as divided into four sections and moved the 600kms east to The Hunter Valley on seven low loaders. It was then rebuilt using new timber made in the same Coonamble timber mill. Some of the pressed metal interiors remain although rooms have been expanded to create the rooms and suites. The original nuns have visited Peppers Convent and have gifted the building with the original foundation stone, stained glass windows and etched wooden doors that they originally reserved.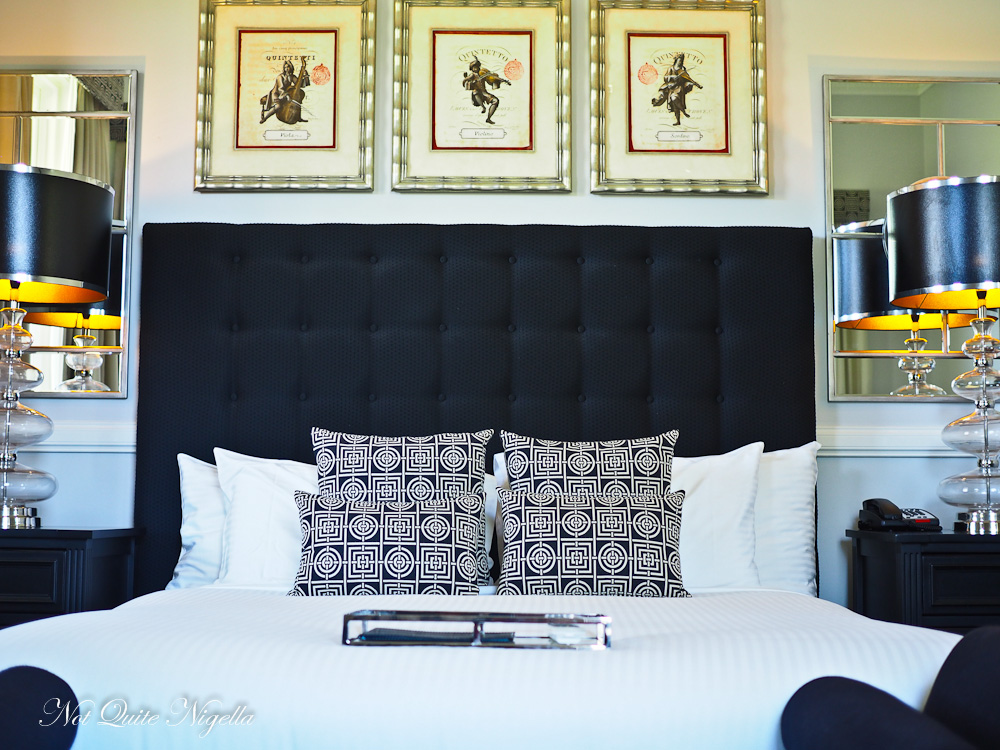 It is very busy this afternoon as people sit in the drawing room sipping cups of tea and feasting on sandwiches and scones. Others are checking in alongside us and the staff are busy. They show us to our room, a Premier suite located right behind the reception desk. These suites have the added advantage of being able to access a side veranda although this is a public veranda.
Our room #4 was originally the library. Room #1 was originally the convent chapel and rooms 6 and 7 were the music room and kindergarten. Boarders used to reside in a section including rooms 14 to 16 while the reminder of the top floor is where the nuns used to live.
Despite its proximity to the reception area and drawing room it is quiet. All we can hear is the sound of cicadas in the distance and there are occasionally the footsteps from the room above. We cool down and look around. It's not a suite in the sense that there is a separate lounge and bedroom but it's beautifully decorated. There is a king sized bed, a large three seater lounge, flatscreen television and art deco style soft furnishings and Venetian style glass tables.
The bathroom is a decent size with a shower bath combo and a spacious sink with Appelles apothecary toiletries in native Australlia scents. Internet is free and unlimited for devices although my Mac has some issues connecting while my iPhone is fine.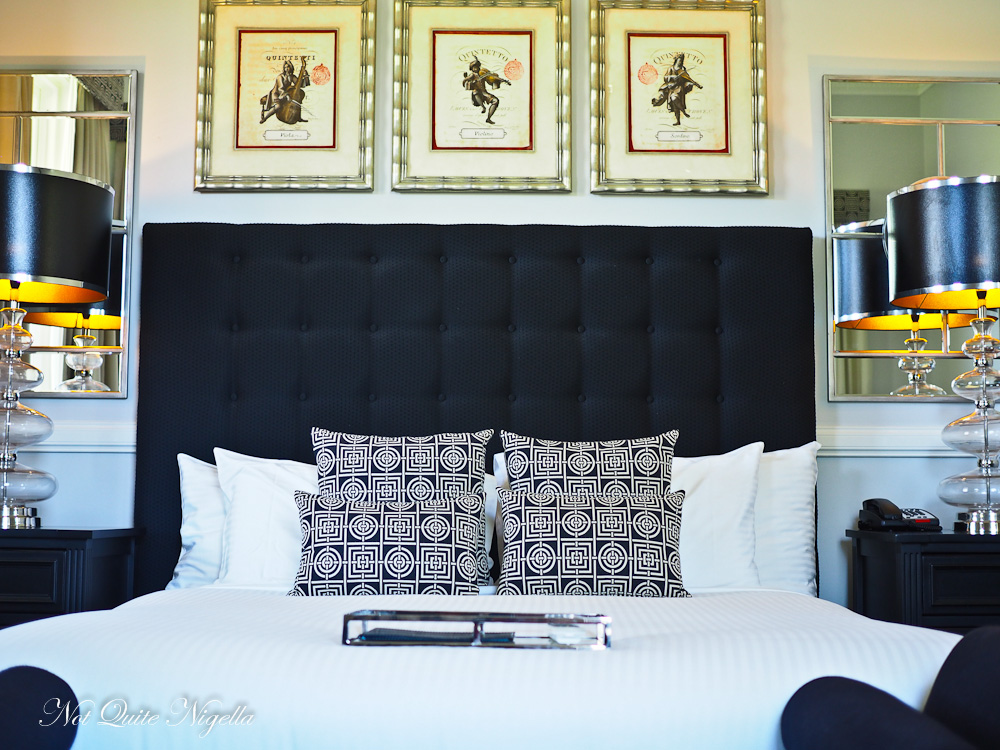 We slap on some sunscreen and they golf buggy us to Circa 1876 the nearby restaurant where we will be getting a garden tour from the executive Chef Trent Barrett. He and his team look after both Circa 1876 and Eighty Eight. He gives us a tour of the garden that helps to supply the restaurant. There is a pen of chickens nearby as well as a beehive. The chickens supply the restaurant with free range eggs while the bees work hard to provide them with honey and help pollinate the crops-in the time that they've had bees, the yield has tripled and their hive of 4,000 wild bees collected from a swarm has gown to 32,000.
Trent also holds private garden tours and there are matching garden to plate dinners to coincide with seasonal produce harvests. Every day before lunch and dinner service the chefs come into the garden to pick produce. At the moment all of the carrots, beetroot and radishes are from the garden and the plan is to have the garden become certified organic and then biodynamic. There is also a greenhouse for sprouting and plans for a worm farm. Kitchen scraps are either composted or fed to the chickens to minimise waste. And almost all produce but the truffles and foie gras come from within 50kms with all of the meat coming from the Hunter Valley region.
It's 6:30pm and dressed up for Valentines Day (is it a cliche to wear red? Probably) and they drive us via golf buggy back to Circa 1876. It is housed in Pepper Tree Cottage which was built in 1876 and was transformed into Roberts restaurant by Robert Molines in 1991. He has now moved on to Bistro Molines.
There is a choice of a 2 course $75,3 course $95 or 5 course $125 menu as well as a 4 course vegetarian menu and the menu is the regular menu without a Valentines Day premium attached to it. They explain that the restaurant is a bit more crowded than it usually is but it isn't crowded by any means. They only do one service each night and patrons tend to prefer to eat early.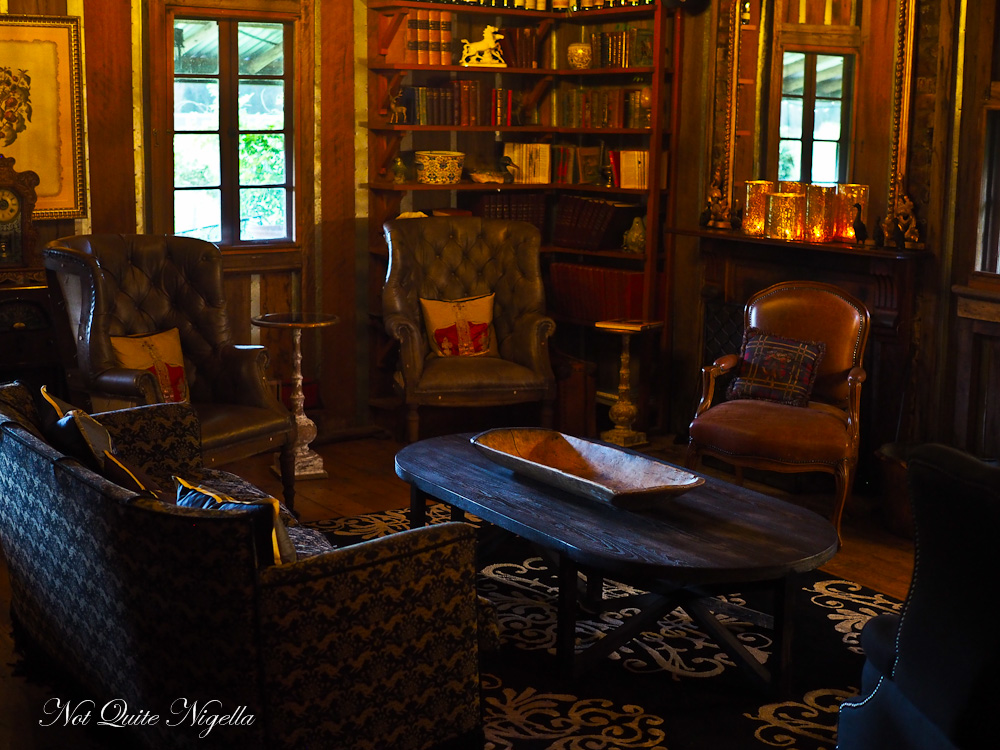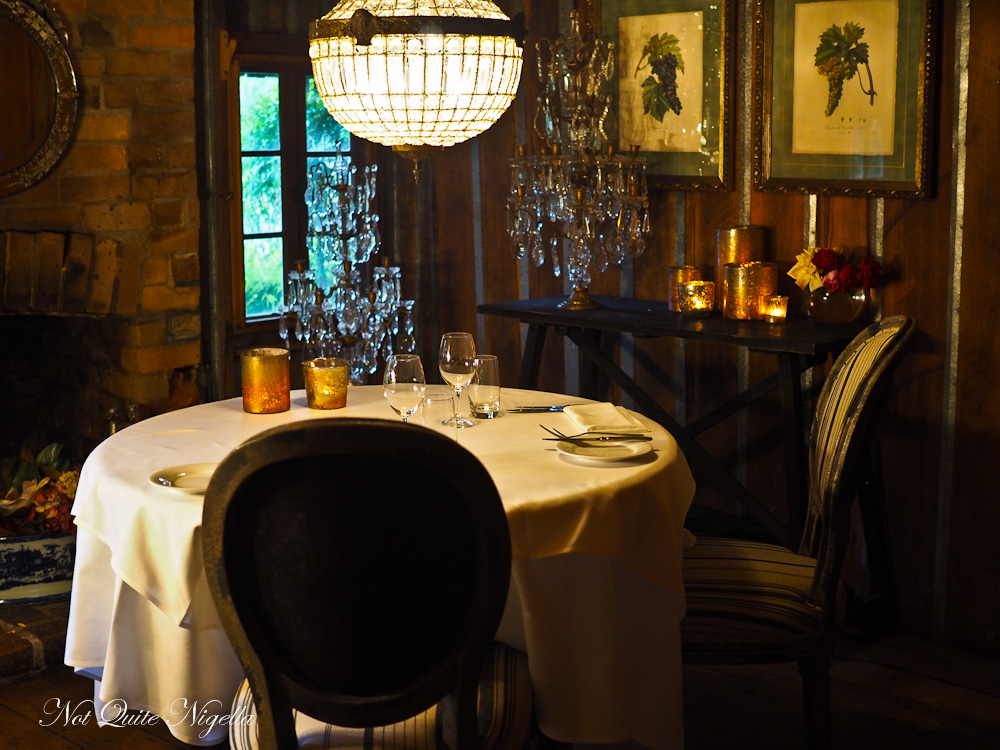 There are two private dining rooms: one set for 6 people that can accommodate 10 and a gorgeous little room set for a couple. We are dining in the main dining room and there's a table next to ours with a vase of roses and a red envelope on it. We are told that the gentleman from the couple dropped by this afternoon with specific instructions.
Service is very friendly and personable. They bring us our amuse bouche: ocean trout, wasabi roe, blueberry gel and a hint of Szechuan peppercorn. The bread accompanies this and it is a red wine butter and is so delicious I want to make this at home. The breads are warm and fresh and have a nice crispy crust on the outside.
Lobster and black garlic
They tell us that the most popular entree are the zucchini flowers and at times they use the ones from the garden. These are filled with minced lobster and black garlic and served with a herb emulsion, lobster foam and chilli jam. The batter on this is thin and crispy and it's a good dish although if you were expecting a lobster flavour, the black garlic does dominate.
Crispy skin Jumbo quail
I liked the jumbo quail that is meatier than quail that you can get so that it is easy to get the meat off. The skin is not that crispy but it is succulent and served with smoked beetroot, goats cheese, beetroot puree, a tiny sprinkle of garam masala, beetroot chips and fresh garden greens. I actually missed the garam masala but it would have been nice. Ahh the perils of sharing and only eating one half of the dish!
Planning your next trip? Ensure you have the right coverage with HeyMondo travel insurance that includes COVID-19 protection. Plus, if you use our link, you'll receive 5% off the price. Find the best deals on flights from all airlines in various currencies with SkyScanner and set up alerts to get notified when prices drop. For reliable transportation options, look no further than 12Go Asia, offering train, bus, ferry, and flight transfers worldwide. Book your transportation now and enjoy a stress-free journey.
When you purchase through these links I will get a small commission at no cost to you. Thank you for supporting me! :)
Two Parts Duck
One of the signature dishes is the two parts duck which they warn diners is served pink. It is a seared duck breast with salt bush, slow cooked duck's egg, a silver of black truffles, truffle potato foam, asparagus and jamon. The duck breast is a little hard to cut with the edge of fat but the truffle potato foam is a welcome element. Duck egg yolks are enormous too and this can dominate the dish.
Grilled Hunter Valley Grass Fed Beef Tenderloin
The beef tenderloin is a classic that they have had to keep on the menu even through the transition. It is made with local beef with cauliflower puree, king brown mushrooms, summer beans, a timbale of potato puree, jus and a recent addition of a thin shaving of foie gras. It's a satisfying dish with plenty of bold, meaty, umami flavours.
Although they want the pre dessert to be a bit of a surprise, it's a little difficult when it attracts attention. They bring over some dry ice and pour it over a strawberry and vanilla juice. It's a little bit of theatre at the table.
Oops I dropped my ice cream
The story behind this dessert comes from discussions within the chef fraternity. Apparently there was a well known Australian chef who was known for a lemon tart dessert. He only had a certain number of tarts left and was almost selling out. He dropped one tart on the ground and scooped it up and served it because he thought that it looked better that way! Their dessert is a play on that with the ice cream sitting at the bottom while a vanilla tuile or the cone is upended on top. The ice cream is made up of nitrogen poached mango mousse, lemon curd and biscuit crumble.
Truffle Creme Brûlée Foam
My favourite dessert however is the truffle creme brûlée foam. We choose this for two reasons: the honey is from the bees in the garden and I adore honey and honey desserts. There are thin shards of crunchy honeycomb, poached rhubarb, creme fraiche ice cream and a hit of aromatic truffle honey. This was a dessert that I didn't want to share...
It's relatively early when we make our way back to our room. The footsteps from upstairs are a tad noisy-something to keep in mind when booking your room is that the building does creak and groan but come 10pm the noises are silent and we drift off to sleep with only the sound of the ever present cicadas.
The next morning sun streams in through the gaps in the blinds and we wake up for breakfast served at Eighty Eight. We pad across the drawing room and out into the gorgeous outdoor area among the Wisteria Garden. We start with drinks. A Garden tonic for me which is made up daily-today's is beetroot, watermelon, celery, fennel and pear. There is also freshly squeezed orange juice for Mr NQN.
Sesame fried eggs and Asian salad
I love savoury things for breakfast and the sesame fried eggs sounded intriguing to me. They are two fried eggs with sweet soy sauce and a bean sprout, chilli, fried quinoa, puffed wheat and mirin pickled cucumber salad on the side as well as two slices of toast. It's crunchy and fresh and I love this take on fried eggs.
Pancakes
The pancakes come three to a stack and are served with caramelised salted walnuts, strawberries, cinnamon and maple butter. The canny staff also offer to bring us some maple syrup as they need that little bit extra moisture or can be dry otherwise. And it has to be noted that all of the staff are really lovely and make sure that you have everything that you need.
It's just after 10am and we have the whole day free to ourselves with nothing more to do except pick up a picnic basket and find a place for a picnic. I do some work in bed with Mr NQN by my side. Around noon I finish and we relax and read.
Around 1pm we emerge to the warm sunshine armed with a picnic lunch made for us by the Eighty Eight and we stroll the grounds looking for a good spot. "Mon cheri, there is even a swing for you!" says Mr NQN pointing out to a wooden swing in the distance near a white wooden chapel. We make a beeline for it and unpack our goodies. There's a chicken and feta salad with kasundi and a tomato chutney, Binnorie brie with seeded crackers, muscatels, apple compote as well as green and black olives. There's also a plate of fresh fruit, some slices of bread and some crackers. The only thing missing are plates so we walk over to Circa 1876 who kindly loan us some.
We spend a few hours there reading and snacking and there's a cool breeze blowing through. It's all rather charmed as butterflies flutter past and dragonflies do their helicopter dance. Then Mr NQN stiffens and looks out to the bushes. "What is it?" I ask him. "Oh I thought it was a snake," he says nonchalantly. I'm packed up and walking back to the hotel muttering "snakes!!" before he can finish his sentence, the spell effectively broken.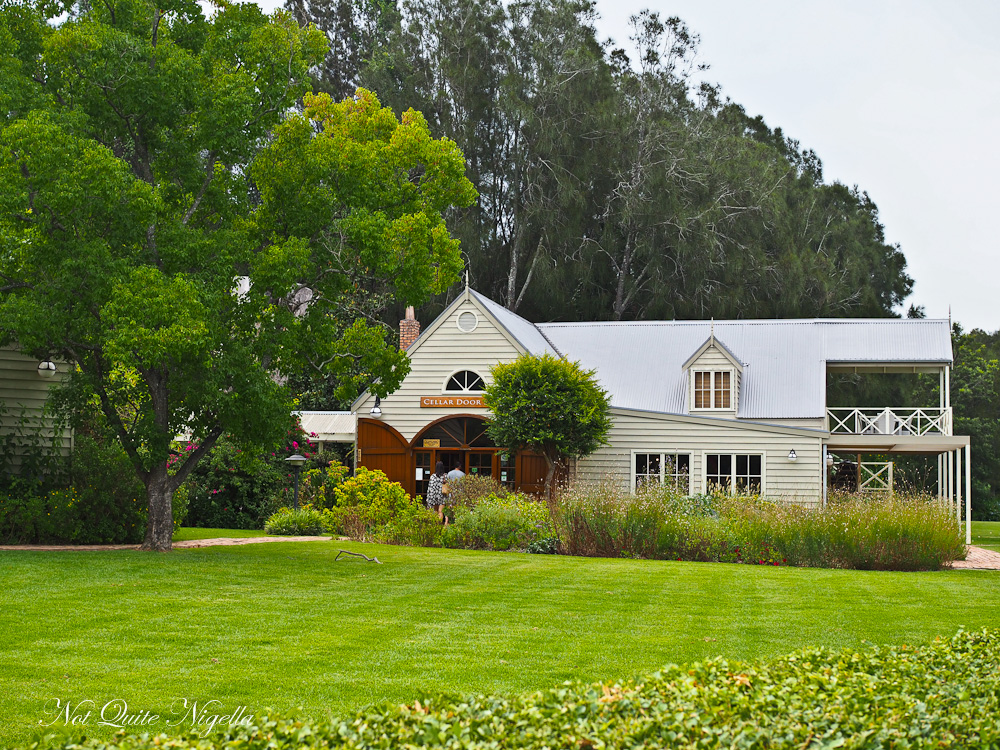 We pass by Pepper Tree Wines and decide to go back there for a tasting once we drop everything back. It's almost closing time but they give us a quick tasting. The 2015 Limited Release Verdelho is a good one and they do a mixture of Hunter valley wines as well as using grapes grown in Orange, Wrattonbully and Coonawarra. The reds are good but a little young and ideal for cellaring so in the end we buy a Vin de Vie, a liqueur muscat with the distinct flavour of Turkish delight.
Mr NQN goes for a quick dip before the rumble of thunderstorms call him back. Stuffed full from the picnic during the day we graze on the cheese plate and fruit and raid the mini bar before nodding off to sleep early. "Will you swap pillows with me?" I ask Mr NQN. "Sure," he says as easy going as ever. "That's true love," I murmur before falling asleep.
So tell me Dear Reader, what would your ideal romantic weekend consist of? What did you end up doing for Valentines Day? Do you plan it or does your other half do it?
NQN and Mr NQN stayed at Peppers Convent as their guest but all opinions remain their own.
Peppers Convent
88 Halls Rd, Pokolbin NSW 2320
Phone: 1300 987 600
http://www.peppers.com.au/convent/