This hotel is now closed
I've never been one of those people that has only thought that hotels and places to stay are a place to simply lay their head. To me, a hotel is a home away from home and I like to bury myself in the hotel room, just me and the bath, room service, mini bar and the internet connection and tv and I'm happy as a clam. It's probably why I am so fussy about the rooms that I stay in-just call me Adrian Monk ;). And if we are assigning blame it should probably go to my parents who are similarly finicky. And although I know it is a rite of passage for many I have never backpacked. In fact my sister tried backpacking once and after a night fled to a hotel. You see it's simply not in our gene pool as silly as that sounds...
Lobby
Guest library
So when Mr NQN and I were invited to visit the Hunter Valley on the first weekend of the Hunter Valley Food & Wine Festival in June and visit the exclusive adults only Tower Lodge we were very excited. For only last year did it win the "Global Luxury Lodge" award at the World Luxury Hotel Awards.  A member of the prestigious Relais & Châteaux group, they proudly display the golden fleur de lys emblem at every turn. And our agenda for our time there was perfect. It would start with a high tea, plenty of time in the room itself and then finish off with dinner at Nine the intriguing restaurant set 9 feet under the ground. And we wouldn't have to step off the grounds if we didn't want to.
I'm a nervous driver all the way up the Pacific Highway but once I hit the freeway things are good. We arrive at Tower Lodge 2.5 hours after departing Sydney (2 hours for most but I'm on my Ps and 90kms/hour is my limit ;)). Established in 2000 it is decorated in a Spanish mission style and features turrets and imposing towers.
Entranceway to room #6
Each of the twelve rooms is decorated uniquely although all of them have antique doors, unique bedheads and double baths with each room having a different personality. There is a heated outdoor pool, sauna and a gym on the premises and we walk through the stunning guest lounge and bypass the library and baronial dining room.
Dried fruit plate
We're shown to our room, number 6  and it is a beauty. It is replete with whimsical touches, antiques, painting and the pair of wooden boot lasts to greet us. The bathroom is enormous with a bath and there are two antique shower heads (pretty but they do splash every-which-way), Molton Brown toiletries, robes and slippers and a stunning bed which I immediately fall upon messing it up. A plate of dried fruit and sweets greets us and there are several places for curling up and lounging and stretching upon as if you were Goldilocks trying to find a place to rest.
Guest lounge
The baronial dining room
Our high tea is scheduled for 3pm but having had a small breakfast and no lunch we're very peckish so we ask if we can have it at 2pm instead and it is no problem at all. The high tea here is $42 per person or $56 for the champagne high tea. And there is also afternoon tea which is offered complimentary to all guests between the hours of 3.30pm-5pm. Civilised! As it is only available on Saturdays and Sundays it books up quickly and is only available for 15 or so diners and we witness a large group experiencing disappointment at not having a booking for this.
We're not silly, we go for  the champagne high tea. After all there is no driving needed this evening as we are dining in house. Andreas the maître de maison or the host lives on the premises and greets us and explains the high tea to us. He is from a three generation hospitality family and aims to bring a old world European touch to the lodge. Speaking of finding places to perch we have a beauty of a spot. Right in front of the crackling fireplace it is exactly where we want to be and the swaying crackling flames lull us into relaxing (and there's no internet in the rooms so work simply cannot be done). We start with some Taittinger champagne bubbles.
Andreas hands us the menu telling us that the most pressing decision we will have to make is to choose a type of tea. I go for the Tower Blend which is an Earl Grey with vanilla and rose petals which is lovely and vanilley with the bergamot and we also choose the strawberries and champagne herbal tea which is a green tea and smells divine and is mild in flavour.
The three tier stand arrives and we start from the bottom. There are three types of sandwiches, a ham cheese and chutney triangle which is delicious with a lovely sweet and slightly tangy chutney; a smoked salmon and cream cheese which is my favourite and the chicken and mint which comes on a soft black bread.
We try the scone layer next. Now the scones aren't warmed whereas I always like them warm  so I will deduct one point for that but they are very moist. Usually Mr NQN won't eat scones as they're too dry but the moistness makes them moreish along with the house made raspberry jam and whipped cream (no clotted cream). In fact I wished there were more scones because they were moreish. The melting moment on the tier was beautifully short and sweet. Our third tier which is when I usually hit my sugar wall holds much promise.
There is a chocolate brownie sandwich cookie which has a moreish two layer of soft, squidgy brownie wedged together with some chocolate ganache, a lemon meringue tart which Mr NQN likes but I prefer my lemon curd more tangy to contrast with the sweet meringue top; a macaron which was unfortunately not very good as it was a plain almond one and had a large air pocket which prevented it from absorbing the moisture from the filling and a shot glass of panna cotta. The panna cotta was a vanilla one topped with balls of poached apple suspended in apple jelly and caused some rapturous moaning.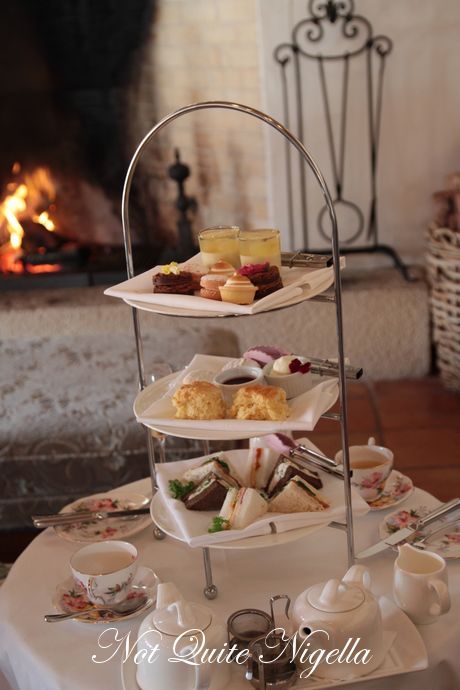 We sit back and enjoy our tea and get ready to take a nap back in our room such is the relaxing and lulling effect of the fire and then who should pop their head around the corner but my journo friend Heather and her daughter  Kelly and their wombat mascot. They're here for high tea too and interestingly they get a slightly different high tea-no macaron but fresh marshmallows and instead of raspberry jam they get marmalade. Heather asks for her scones to be heated and the raspberry jam.
We slowly make our way back to the room but not before wandering around the grounds. If we were so inclined we could play golf on their 18 hole golf course called "The Dinks" but who are we kidding? In our room I curl up on the day bed while Mr NQN reclines and reads his book before drifting off to sleep while the brightness falls and descends into dark. It's an afternoon of relaxing and crucial napping and before we know it it's time to get ready for dinner. Doing his duty as a Finn, he goes to switch on the sauna for some of his favourite Finnish ritual but unfortunately power is out to that whole side of the building. I run the bath and switch on the spa bubbles instead.
We get ready for the 7pm sabrage. What is sabrage? It is somewhat of a lost art form here in Australia but in Europe it is a tradition in some restaurants. Sabrage involves opening a champagne bottle with a sword in a very dramatic fashion. In some restaurants the first bottle of champagne in the evening is opened by sabrage and every evening at 7pm either a bottle of champagne is opened or another interesting tid bit occurs here at the lodge to make it more of an experience for guests.
Ready, steady...
Go!
Andreas fastens a length of string to the cork as a safety precaution (as the cork can fly out) and then takes the African blonde buffalo horn handled sword which is actually blunt on both sides. He loosens the metal collar and positions it just above the cork. He finds  the seam, which is key and then with one swift motion slides the sword against the bottle and clips it just under the fat piece of glass around the rim and voila! The whole top comes off with cork, metal collar, and a smooth edged piece of glass.
Ta da!
Andreas has sabraged approximately 250 bottles and out of that number has only had a fail rate of 20 and that is mostly due to manufacturing defects or particularly old bottles that have suffered a knock. And what happens when a bottle goes wrong? Well one is left holding the round base of the bottle while champagne goes everywhere. And yes it has happened to him and a bottle of 1919 Krug champagne!
And would you ever shake the bottle before sabraging it? Only if you want a missile! Shaken champagne corks can travel up to 50 metres (164 feet) and if you're after a little bit of an effect, Dom Perignon bottles always release some champagne due to the narrow neck of the bottle. And yes you can do this with sparkling wine and it is said to be easier with it as they have larger bubbles which means less volatility in the bottle. Our lesson for the day learnt, we take our drinks in the library with the soothing aqua colour scheme before we adjourn downstairs for dinner at Nine.
Formerly the legendary Len Evans's cellar  who helped the Australian wine industry immeasurably, it was used as a storage place before it was restored to become Nine the restaurant. The theme Nine is echoed throughout the whole concept. The restaurant is nine feet under, there are nine courses in the degustation menu, they have nine menus throughout the year (two for each of the four seasons plus a vegetarian menu) and it was open on the 9th of December 2009. The only divergence from the nine concept is that it only seats a maximum of twelve guests and is only open on Friday and Saturday nights! The Nine logo with the dot of the "I" underneath the I symbolises the underground position of the restaurant.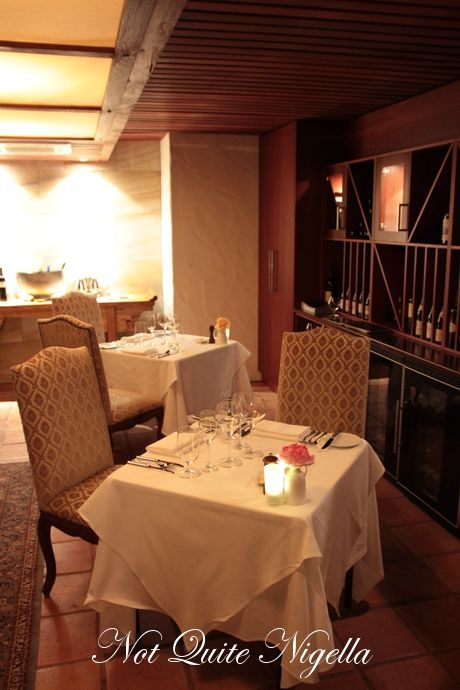 Literally half of the restaurant
We're shown tonight's menu which will feature for six weeks. This is the "deep Winter" menu  and looks tantalising and even though there are nine courses, they do include amuse bouches and petit fours so we don't feel like we will be overloaded with food. Our wonderfully deferential waiter is Stephane, formerly the manager and sommelier at The Rock which has sadly closed down.
_Amuse Bouche served with Taittinger Champagne
_
Our amuse is a perfectly cooked wild yabbie tail with two discs of gelatinous bone marrow topped with cabbage shoots with a tube of foie gras mousse on the side. It is a delicious start to the meal with the marrow giving it a juicy, unctuous quality and the foie gras mousse being light and soft. Stephane explains that it is given in a tube so that people can use how much they like. I save some of the mousse to have on the excellent sourdough bread which is baked here and served warm.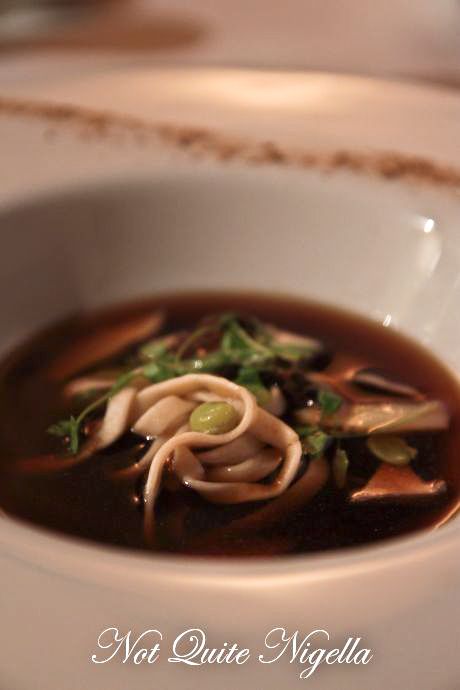 _Mushroom consomme, truffle pasta, parsley leaves served with Bellwether Chardonnay, Tamar Valley
_
_ _I have to be honest, this wasn't my favourite dish. It was a mushroom consomme which was quite mild and the consomme itself reminds me of when I soak porcinis and it was also served lukewarm. It wasn't bad but it didn't have the depth that I wanted and I couldn't really taste the truffle in the pasta. At the bottom of the dish were white asparagus tips, morels and king brown mushrooms.   I did like the porcini salt that came with it and used quite a bit of it to add to the soup. However I did love the chardonnay that was served with it though and I'm so glad to hear that chardonnay is enjoying a resurgence.
_Steamed fillet of farmed, saltwater barramundi, sweet carrot mousse, sturgeon caviar, radish shoots served with Tulloch Verdelho, 2010 Hunter Valley
_
The fillet of North Queensland barramundi is lightly steamed so that it is soft in the centre and comes with a carrot mousse that is so soft and light and buttery that we wonder how they managed to place it on the plate in one piece (a guess, frozen and then it thaws? Are we over thinking it?). Both halves go wonderfully together with the buttery light sweet mousse and the soft barramundi and crunch is given with the croutons and dried carrot baton. And I have to make note of this Verdelho, even though I am a lightweight and not much of a wine drinker, this Verdelho is spectacular and the wines this evening are wonderful.
_Ballotine of pigeon, bacon and crushed potato tian, port wine jus served with Louis Tete Moulin A Vent 2007 Beaujolais
_
The pigeon dish smells absolutely beautifully savoury when it is brought to the table. The pigeon is cooked pink and is wrapped in bacon and is paired with a crushed potato tian and a dab of port wine jus which is good but I don't really feel I need it as I enjoy the intense savouriness of the bacon wrapped pigeon and potatoes. Some pieces of tangy sweet dehydrated apple and apple balls finish off the dish.
Before our last savoury dish of the evening, Andreas brings out one of the more mysterious residents of the Nine restaurant. He shows us a cobra like decanter called "Eve" which is made out of hand blown lead crystal. Eve was designed by Maxmilian Riedel and named after the matriarch of the Riedel family and once you fill it up then you turn it sideways holding it by by the coil and neck you spin it around to aerate the wine. Once you turn it and there is wine in the small receptacle it measures six perfect 120ml glasses of wine. For every "Eve" decanter made there are 16 discarded as it must measure the wine perfectly.
_The goliath decanter that holds 1.5 litres _
The Eve was sent to Andreas from George Riedel and was the very first Eve produced. It is insured for $6,000 (arrgh I must keep away, these are the kinds of things that I break!). Eve is used for younger wines but for older wines there is another decanter naturally called the Adam which features a completely dripless pouring spout. For magnums, there is Goliath who holds 1.5 litres of liquid. Goliath isn't hand blown and is made out of thicker lead crystal. And Andreas tells us that they decant white wines too and not just reds.
The Adam decanter
To clean these decanters they use tiny stainless steel decanter beads which look just like those silver cachou balls that you decorate cakes with. Although the glass may look clean it often isn't and they swish the decanter beads back and forth with warm water and the water slowly turns pink and the decanter is then air dried. Only three people are allowed to touch the Eve decanter and one of them isn't me so I'm steering clear! ;)
A Riedel Chardonnay glass
Another feature that we had noticed all evening was that there was a different glass shape for each type of wine. The chardonnay was served in an unusual glass shape and the steep curve was designed by Riedel so that the wine would be deposited on the front on your palate where chardonnay is said to be tasted.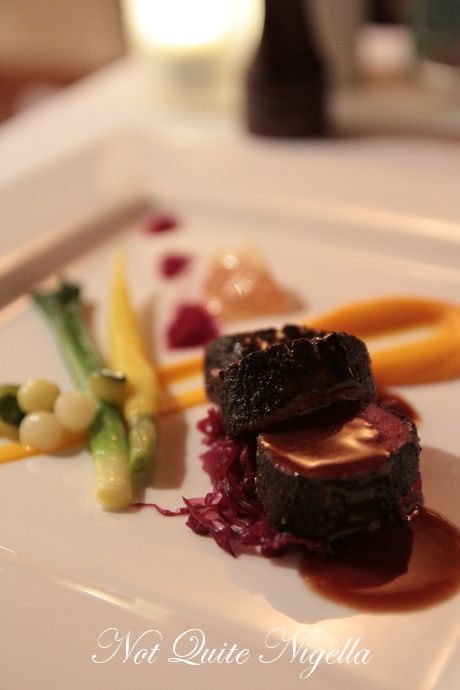 _Spiced infused medium rare loin of organic red deer, pickled red cabbage, pumpkin puree, baby onions served with Geoff Merrill GSM (Grenache, Shiraz and Mourvedre) 2006 Barossa Valley
_
The thing is about eating in a small restaurant like this is that you hear what everyone says to the waiter and this dish is clearly everyone's favourite. It is three pieces of rare organic red deer loin atop a bed of pickled red cabbage with a swirl of pumpkin puree, an extremely sweet candied onion cooked until glossy and translucent, beetroot dust (which tastes just like beetroot) and carrot, leek and zucchini balls. Although the spicing is mild on the venison (I just taste a little cumin) the tender venison is perfect against the backdrop of vegetables and I find myself agreeing with the other guests.
Sorbet
Now the sorbet course is usually a little scoop to cleanse the palate but here it is more of an elaborate affair. Calamansi sorbet which is gorgeously tangy citrus fruit is served with dehydrated strawberry and raspberry and a trio of orange, mandarin and poached apple.
_Roy des Vallees Cheese served with Mt Langhi Ghiran Pinot Gris 2008 Grampions
_
The cheese course, always a winner for me, is another standout. It is a Roy des Vallees (which means King of the Valley) cheese from France and it is a mixture of sheep's and goat's cheese and is one of the most expensive cheeses brought here. It has a wonderful texture and flavour and is creamy without being cloying and is one of those cheeses that you could eat and eat and eat. The sesame crackers are a little odd, they're very crunchy but I prefer the cheese by itself along with the sweet hazelnuts and cleansing celery herb.
_Chocolate chiboust, chestnut ice cream served with Mas Amiel 2006, Maury, France
_
The chocolate chiboust which is like an airy mousse comes as a triangle and is divine and light as air which contrasts well with the crispy chocolate tuile biscuits which comes shaped as a circle. The chestnut ice cream is good with chunks of chestnut although I find myself overextending and can't finish the ice cream.
Petit fours
Petit fours are served out in the lounge and whilst it's late we have one last little bite. They are a fruit jelly (oh so fabulous) and a buttered pecan which has a heavenly crunch and a smooth cocoa dusting on the outside. We're full but not burstingly so, comfortably so and we return to our room to see that turndown service was performed (always a nice touch). There is a wrapped heart shaped chocolate by each side of the bed (I was secretly hoping for a truffle from Nine ;)) and the toiletries are replenished. As it's past 11pm by the time we get back to our room we fall to sleep but one thing to do before you sleep is put on the mosquito repellent plug in because those little pests kept us up for much of the night buzzing and I didn't actually see the plug in until the next morning.
The next morning we wake up and make our way to breakfast. It's 10am and breakfast finishes at 10:30am but that's no problem with the staff. We catch up with Heather and Kelly who are enjoying a sunny breakfast outside and join them for some bright Winter sun. There is a spread inside of pastries, breads, juices, four types of fruit as well as an excellent house made granola cereal which is replete with golden toasted macadamias and dried strawberry.
House made granola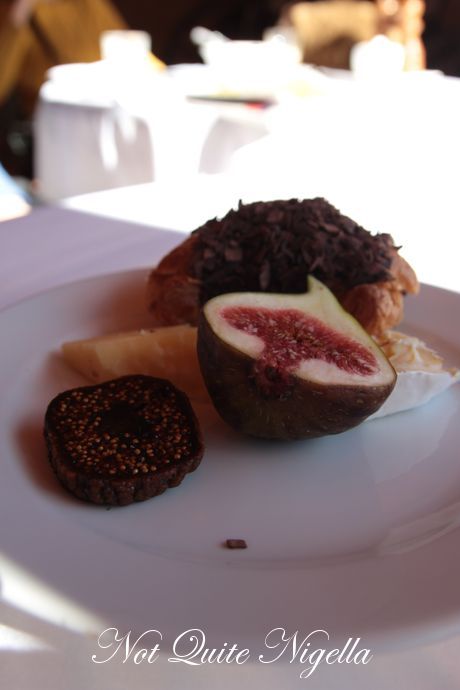 I can't help but pinch a ripe fig half and with celluloid memories of the cheese last night I cut off a bit of cheese too. And for good measure I get a chocolate croissant. I usually choose almond if it looks like a good double baked almond croissant. I'm not a huge pain au chocolat fan (sacrilege!) but these chocolate croissants are something else. Filled to the brim with a soft chocolate ganache and topped with ganache as well as a thick coating of chocolate flakes these were eagerly devoured by us.
Tower breakfast
We end up ordering from the a la carte menu as I'm not much of a continental breakfast person (I like eggs and hot things). There are pancakes, omelettes and the like and Mr NQN chooses the Tower breakfast which has a bit of everything and then some. It's good and it is also huge and I taste a little bit of everything (I especially like the mushrooms) before getting onto my hot breakfast.
Feta and potato cakes
These were fantastically tasty although a bit oily on the plate which a paper towel would fix. The outside was lovely and crispy and browned and the inside cooked with the salt from the feta seasoning the potato well.
Eggs Benedict
Our last stop here is Tower Estates which is just across the way from the lodge. We get a little tour where we see how the wine is made. Here at Tower estate, they grow some of the grapes themselves but they also buy in a lot of grapes from the Barossa, Adelaide Hills and Tasmania to make the wine here themselves.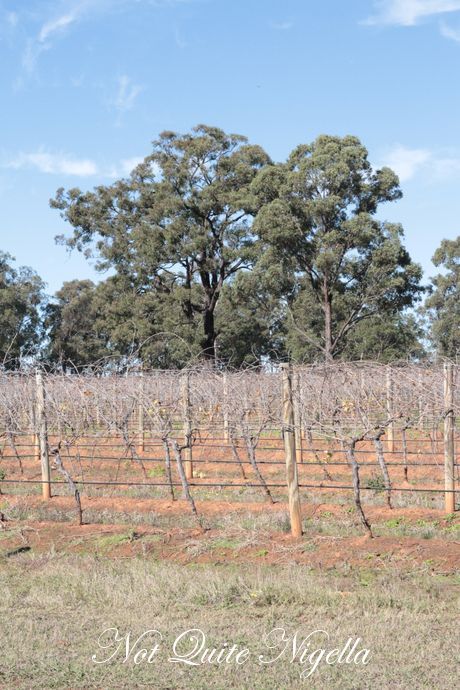 _French oak barrels
_
A large photo of Len Evans stands over the room and we go through their tasting trying 10 of the wines. They are known for their Semillon and in fact their Semillon sells out which is no mean feat in the Semillon rich Hunter Valley. We want to buy several of them but given our burgeoning wine collection we settle on the Tower Estate Coonawarra Cabernet Sauvignon 2009.
But we aren't quite done with the Hunter Valley yet, after all there is lunch to be had...stayed tuned Dear Reader! ;)
So tell me Dear Reader, do you prefer camping or backpacking holidays or do you prefer this type of place?
A wooden "Privacy" sign
_NQN and Mr NQN stayed at Tower Lodge as guests of Tower Lodge
_
_
_
Tower Lodge & Nine Restaurant
Halls Road, Pokolbin, Hunter Valley,NSW
Telephone: +61 (0)2 4998 7022
www.towerlodge.com.au