When I was primary school, our school went on a trip to Sydney's Centennial Park. There are two things that I remember vividly from the trip. The school teacher that had brought a net to try and catch one of the eels while the whole class stood there horrified as she wrestled with a metre long, thick, wriggly beast only for it to wriggle out of her reach and back into the water.
The other thing that I remember was that I locked myself in a toilet cubicle. I slid that latch across to lock the door and when I finished, I went to open it but it would budge. I started to panic. I didn't want to sound like a "baby" so I didn't call out to anyone and just kept trying to push it in the opposite direction.
As my school mate's voices drifted out of the bathroom I realised that I would be left behind so I realised that there was only one thing that I could do. I couldn't stay there because I had no idea how to get home as I had never caught a bus and I had no idea where Centennial Park was in relation to where I lived. Nor did I have a mobile phone or any paraphernalia that kids nowadays tend to carry. I looked at my only escape under the door, and the putrid floor which was wet and slid out underneath there. I ran outside to the sunshine and joined my school friends.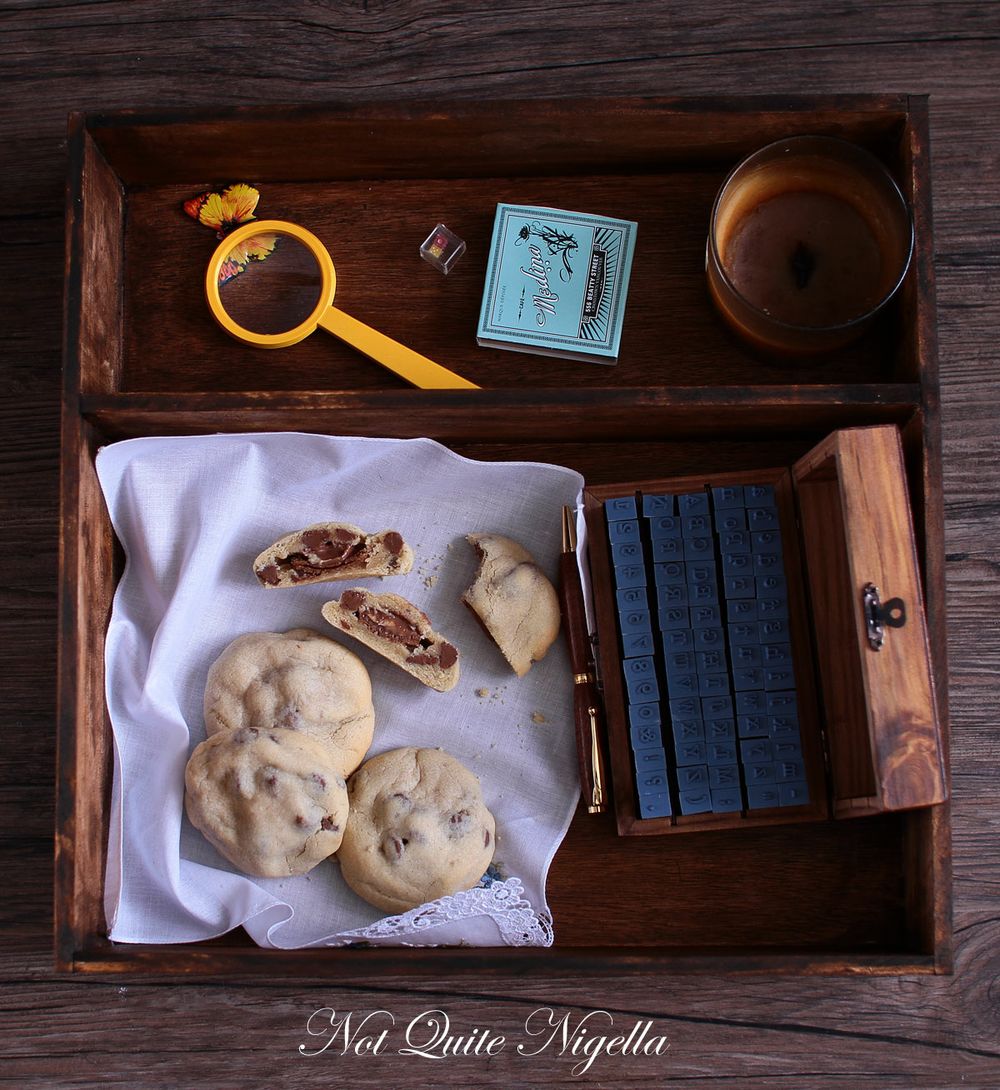 I don't know why that day scared me so much but for the next few years I had nightmares about being trapped there at night by myself. Sometimes during the day, I occasionally pinched myself and asked friends "Am I really here?" as I thought that my real life was a dream and that I was still stuck in that toilet cubicle. Crazy, I realise and highly unlikely that it was a dream, but it wasn't until I was older and knew how to get home that the nightmares stopped!
So what does this have to do with these cookies? Well these are an inception cookie in that they are a cookie within a cookie, much like I believed I was living a dream inside another dream. These are much less crazy a concept that what I was experiencing and they involve wrapping a cookie dough around a Pod and then baking it so that the pod inside provides an extra layer of texture and flavour. They are the original idea from Jenny from Picky Palate and you can use all sorts of cookies like Oreos (even the double stuffed one works or use your favourite chocolate bars or leftover Easter eggs!).
The outer recipe is just like a Mrs Fields/Bill Granger soft chocolate chip cookie which is delicious in itself and adding the additional filling just makes it that much better, especially if the chocolate is in an appealingly melty state as these were. No mind games necessary!
So tell me Dear Reader, what scared you as a child? And what scares you as an adult?
Oh in some rather fun news, I was featured in the fabulous Grazia magazine! I talk diet tips (ironic, I know! ;) ). The shoot was so much fun and I thoroughly enjoyed myself!
Click to enlarge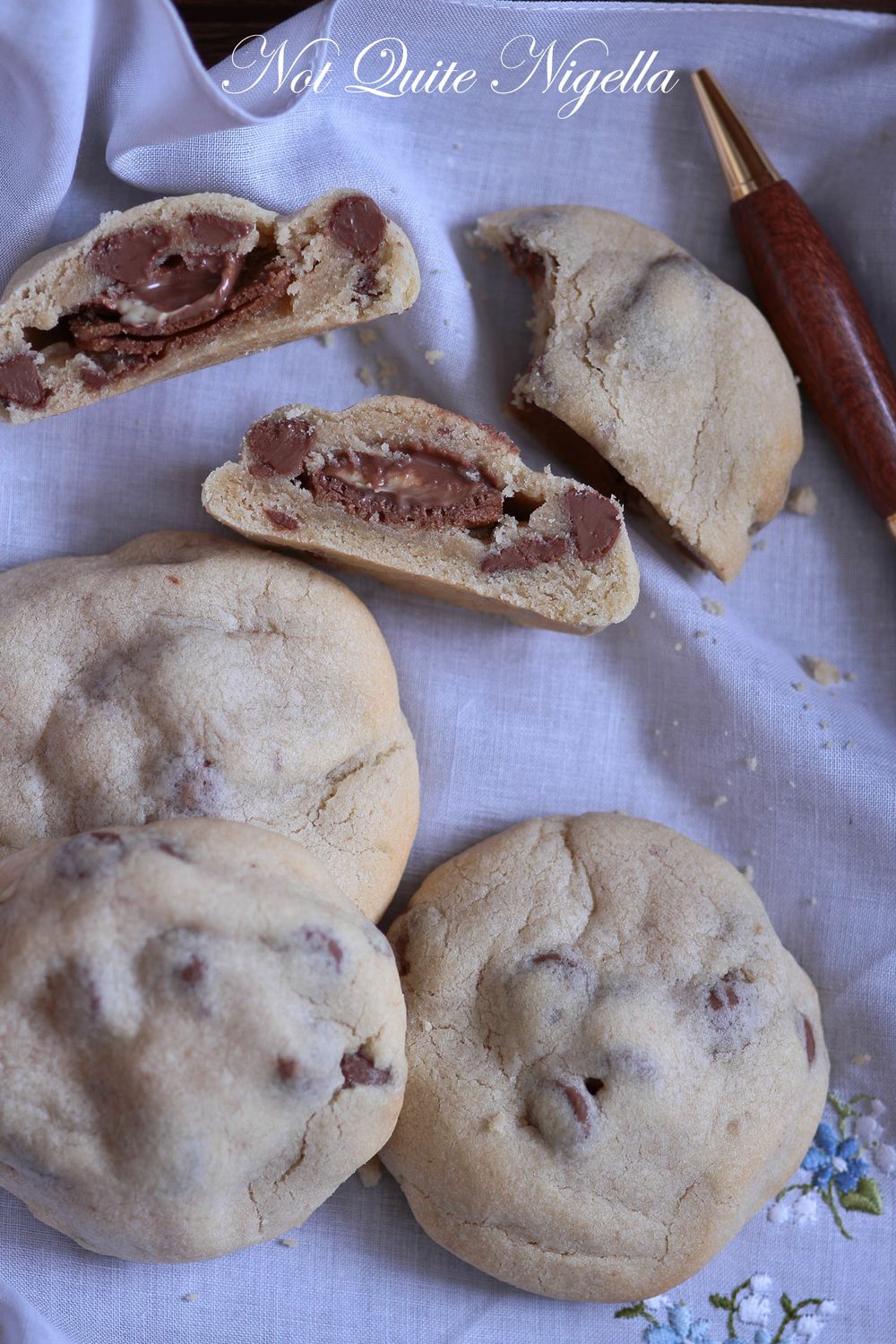 Pod Cookies
Makes about nine cookies (depending on size)
125g unsalted butter, softened
1 cups firmly packed brown sugar
1 teaspoon vanilla paste or vanilla extract
1/2 cup dark chocolate chips
half a bag of Pods or whatever other cookie you like
Step 1 - Preheat oven to 180C/350F and line two cookie sheets with baking parchment paper. Beat the butter and sugar with an electric mixer until pale and fluffy.  Add vanilla and egg and beat until just combined. Add the flour, baking powder, salt and chocolate chips and mix until a dough forms.
Ice cream scoop with cookie dough
Flattening out dough and putting the pod in the centre
Step 2 - Using an ice cream scoop, measure out one scoop of the cookie batter and press out into a circle. In the centre, add the Pod cookie and then bring up the sides of the circle to seal the cookie in. Place an inch apart on the baking sheet as they do expand. Repeat until all of the dough is used. Bake for 15-20 minutes.