Sometimes, because I feel like I will never fit into this crazy Elliott family, I seek solace in the non Elliott members of the family. That is, the partners of Mr NQN's siblings. Sometimes you need someone else to confirm "yes that was strange" when something slightly odd or freaky happens. However, this doesn't always work. We were having a picnic with my family and Mr NQN's and his sister's partner The Banksia Man. As you might have guessed, he is a botanical loving guy and as father to 21 month old Aura Lily, he takes her out for a bush walk every second day to get her in touch with nature. Apparently she loves it and barrels ahead as fast as her little feet will take her.
"It's great but I wish she could walk for more than two hours..." he said wistfully.
I had to drop my fork which I was using to spoon salad into my mouth.
"Aura, who is 21 months old, bushwalks for two hours every second day?" I said thinking to myself "oh lordy be help me, will they expect adults to do four hours a day?"
During conversations like these, being the Halloween loving black sheep in this family of in laws ("they're outlaws really" Queen Viv says) means that I feel like the person standing outside the door. Food is another topic in which we don't really see eye to eye. Being vegetarians and vegans means that if I have them over, I have to make sure that Tuulikki doesn't sit near any meat products and that they have enough food to eat. She also once told me that if she could go out for dinner and not have to eat, that was ideal. Clearly, a sentiment that is contrary to anything that I may think.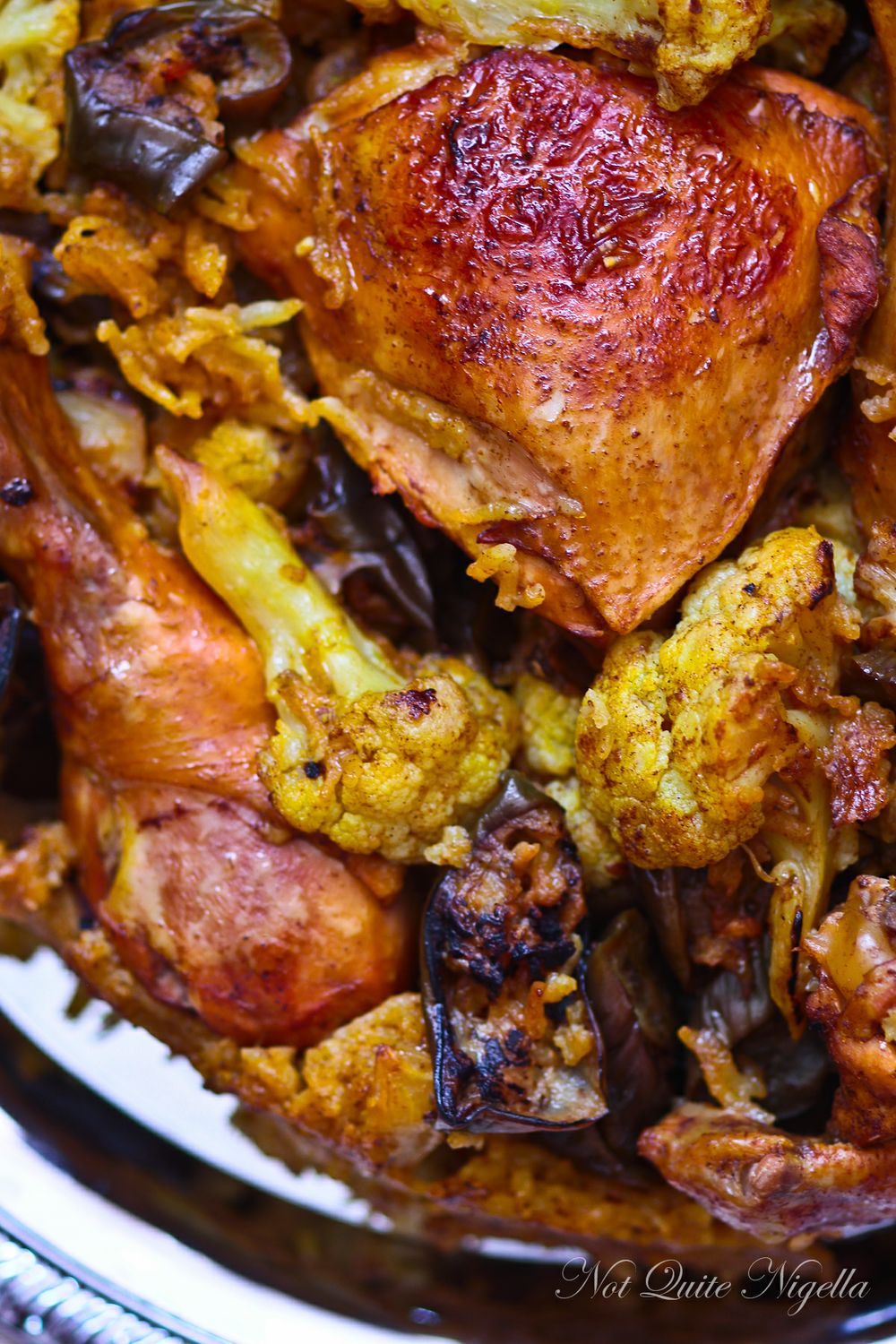 This is a dish you could make vegetarian or omnivore but I chose to make a chicken version of this dish. It's a Palestinian dish called makloubeh (or maklouba, maklube or maqluba) with fragrantly spiced chicken, soft cauliflower, creamy eggplant and aromatic rice all stacked in layers. Cooked upside down so that the rice steams on top of the layers of chicken and vegetables, you simply flip it upside down when ready so that the chicken sits on top and it looks like a rice cake. It is surprisingly easy and designed to impress. Traditionally it is meant to be eaten with the hands with some flat bread. I first tried it in Oman as a prawn makloubeh and it was fantastic with some yogurt dip.
After you flip it, cross your fingers ;)
Anyway, back to the outlaw conversation. To my enormous relief, Mr NQN leaned around us and echoed my sentiments to The Banksia Man. "She's not even two years old!" he said laughing. The Banksia Man smiled and said "do you think two hours is a long time?" Mr NQN answered back "bloody oath it is mate!" with absolute certainty.
OK, perhaps I could be a part of this outlaw family...I'll just hide behind Mr NQN.
So tell me Dear Reader, if you didn't have to eat, would you not eat? Or is eating a pleasure for you?
Upside Down Rice Cake
An Original Recipe by Not Quite Nigella
Serves 6
Preparation time: 30 minutes
Cooking time: 60 minutes (45 of which are unattended)
Resting time: 20 minutes
4 long, thin Japanese eggplants
800g/28.2ozs chicken pieces on the bone, skin on
1/2 cup currants or sultanas
1/2 cup toasted pine nuts
Chicken spices:
3-4 green cardamom seeds, crushed
1 teaspoons coriander seeds, crushed
1 teaspoon seven spices mix or Baharat
1/2 teaspoon ground cinnamon
Rice spices:
1/2 teaspoon black pepper
Step 1 - Cut cauliflower into small florets and slice eggplants on the diagonal. Chop onions and garlic cloves finely and set aside. Prepare the first spice mix and put a kettle full of water on the boil. Heat a large saucepan with some oil and fry the cauliflower, browning it and remove from the pan. Add more oil and fry the eggplant and remove from pan.
Step 2 - Add some more oil and fry the onion and garlic. Then brown the chicken skin side down and then turn over. Add the chicken spice mixture lot to the chicken turning well, it will smell fantastic. Add enough water to just cover the chicken and simmer this for 15 minutes.
Spice mix and the rice
Step 3 - While it is simmering, soak the rice in water and measure out the rice spice mix. After 15 minutes, drain the rice and mix in the second spice mix and the currants coating the rice well with the colourful spices and distributing the currants.
Layer the chicken on top of a light layer of the uncooked rice
Layer the vegetables on top of the chicken (when you flip it over, they will end up under the chicken)
Step 4 -  Heat the pot in which you're going to make the dish in, it needs to have high edges as it is quite a high "cake." Add some more oil onto the bottom and sprinkle a thin layer of the rice on the bottom. Remove the chicken from the other saucepan and place skin down on the rice and then layer with cauliflower and eggplant pieces (everything gets tipped upside down so just keep that in mind). Place the rest of the rice on top flattening it gently but firmly-the firmer packed it is, the better. Add the chicken simmering liquid and all of the spices in it on top and pat down again. Secure the lid tightly and cook on low for 45-60 minutes - do not boil.
Flattening the rice and layers to pack firmly
Step 5 - After it has been cooked (the rice on the bottom cooks faster than the one at the top) then remove from the heat and allow to rest for about 20 minutes. Run a knife around the edge of the pot to loosen any bits. Clamp a large platter to the pot with your hands and gently upend the pot-pray a little that it works and gently lift the pot. There will be some rice that sticks to the pot but that was just so the chicken doesn't stick and that's your cook's treat. Sprinkle with the toasted pine nuts (don't forget them like I did! ;) ). Serve with bread and a yogurt dip or salad.