Umhlanga Beach. South Africa. Taken on a Sigma 17-50mm F2.8 EX DC OS lens, focal length 20 mm, ISO 100, 1/25s.
There's a reason why people often consider travelling with someone as the ultimate test to get to know someone. We're on day seven of travelling around South Africa with chef Neil Perry and I feel like I have a somewhat good idea of what he's like. Three things you may not have known about him.
He has an astounding memory for names and facts

He gets recognised in South Africa by fans

His chant during this trip was "bunny chow, bunny chow, bunny chow!" (along with mine, I must admit)
What is bunny chow? Well, it's a particularly South African item that originated in Durban which is our current location. Indian in origin, Indian men used to bring a container of rice and one of curry to work. Legend has it that a canny housewife thought of instead of bringing two containers, she would hollow out a loaf of bread and stuff the curry inside it. They could use the hollowed out bread pieces to eat the curry inside. Other stories tell us that bunny chow started as a fast means of serving Indian customers who were excluded from certain eateries during the apartheid regime.
Sold in quarter, half or whole loaves, they're considered a fast food. The name comes from the fact that the word bunny sounds like the word snack rather than any actual bunnies being involved. There are several other theories about bunny chow, all quite different within themselves and all provide a reasonable explanation for the dish and the name.
We are driving down Florida street in Durban ready to try bunny chow and roti at House of Curries on Florida. Here they're sold as quarters or halves and they range in price from 25R/$2.89AUD to 48R /$5.55AUD. We order several to share as there is such a big group of us and for good measure, also order roti wraps and curry and rice.
Clockwise from top left: condiments and pickles that come with bunny chow; vegetable bunny chow; chicken bunny chow and beef & potato bunny chow
The first thing to come out is a tray of tomato and onion salad, pickled carrot and a spicy sambal which are the key to spicing up the bunny chows. The bunny chows then arrive and they're rather curious looking with a piece of the bread on top. You are supposed to use your hands to eat them but as we are sharing we use a fork and knife. The fillings are good but I must admit that I preferred the fillings to the bread which was a bit too stodgy and soft and ended up soaking up a lot of the sauce. My favourite out of the five bunny chows we tried was the chicken one which had soft, seasoned chicken inside as well as the tender lamb.
Roti wrap beef bean R38/$4.46AUD
The roti wraps had the same sorts of filling as the bunny chows but the large roti wrapped around them which was an Indian roti rather than a Malaysian roti was a much better pairing for the curry than the bread.
Mushroom and potato curry and rice 45R/$5.28AUD
The mushroom and potato curry had us all huffing and puffing. Most of us adore spicy food and can handle it but the spice levels in this curry were long and lingering and no matter what you did, the spice lingered on the tongue and lips.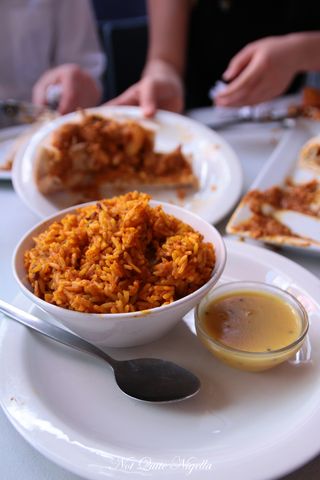 And we never heard Neil chant bunny chow again ;)
Other things to do in Durban apart from eat the Indian food are more sight seeing related. Durban's cable car cleverly stretches across Moses Mabhida sports stadium which was built for the soccer World Cup. You can either take the cable car up one side or walk up the other until you reach the top from which you get a bird's eye view of Durban and see exactly how large and sprawling it is.
Durban, a city of 3 million people is said to be the spice capital with a considerable amount of Indian and muslim population. Our hotel for the evening is the Oyster Box which sits on the sparkling beachfront of Umhlanga which means "the reed."
The colonial British Raj setting is one of the places to be seen. Indeed, we have arrived during an enormous society wedding which gives us a glimpse into Durban society. A woman wafts past in a costume out of the 18th century. Other outfits are like those out of Dancing with the Stars. The men look dapper but sober in comparison to the ladies with their rainbow of lace, diamantés and sparkles. It's all so entirely different from Phinda, I feel like I was just born again and am seeing a technicoloured world in a slightly muted version of District 1 of The Hunger Games.
We go up to our rooms. My room, 218 is a classic sea facing room and is one of the entry level rooms. It's small at 27 square metres and the room is white, startlingly so, with a beach house feel to it. There are white shutters and just outside the window is the lighthouse built in 1947. I walk out onto my balcony and see the fishermen down on the beach dotting the sand and line fishing. Service at check in is lackadaisical - no-one showed us to the rooms or showed us the features of the room and when we asked which elevator to take, they pointed us at the wrong one. I was lucky enough to get a room in the new wing which had internet but the other journalists were not so lucky and couldn't get any internet and were in the older rooms.
There is a king sized bed with what has to be the most comfortable pillows I've tried - they're like sinking into a cloud. A work desk sits opposite with a radio and alarm clock. The mini bar is in the left hand side and on the right hand side are the kettle and tea making facilities.
The marble bathroom features South African products in scents like lemongrass and lime and there is shampoo, conditioner, body lotion, milk bath, cotton pads and tips and a shower cap. There is a bath shower combo and a heated towel rack although alas I don't think that there is any time for a bath!
Going downstairs for something to eat we watch Neil filming with the hotel's chef in front of the lighthouse. We want something quick so we order some oysters given the name of the hotel. They arrive and unfortunately, they weren't quite as spectacular as we wanted them to be. They're quite flat in flavour and don't have the zing that oysters normally have.
That evening, we go out to the Little Havana which is on nearby Chartwell Drive just around the corner. Lots of people are out on this Saturday night and we walk past sports bars full of patrons. Inside, it looks quite nice, especially in comparison to its neighbours and although the name says Little Havana, there isn't a great deal of Cuban food.
Their specialties are meat and they bring out a large display of grass and grain fed beef. They are trying to educate people about grass fed beef and one of their menu items is a grass and grain fed combo so that people can taste the difference. However, as they wet age most of their beef I decide against ordering it. Wet ageing is when the beef is aged in cryovac usually and blood usually surrounds it. It's helpful because the restaurant doesn't lose weight in the beef as it does with dry ageing and it also can last for up to 9 months. However I find its flavour very livery because of the blood and I only tend to order dry aged steaks that have a lovely concentration of flavour.
Mozambican Baby Chicken 95R/$11AUD
Instead, inspired by our recent memories at Phinda and chef Sam, I order the baby chicken. It's marinated in coconut milk and spices and is wood roasted with peri peri butter. The chicken comes butterflied with a small bowl of shoe string fries (slightly cold). The chicken itself is excellent with a nice little tingle and a creamy delicious seasoning to it and I find myself abandoning the fork and knife and using my hands to get at it although I can't finish it as it's a sizeable dish.
Alas, it was a small taste of Durban but we finally got to try Bunny Chow!
So tell me Dear Reader, have you ever tried Bunny Chow?
NQN travelled to South Africa as a guest of South African Tourism
House of Curries on Florida
275 Florida Road Asherville 4001, South Africa
Tel: +27 031 303 6076
The Oyster Box Hotel
2 Lighthouse Road Umhlanga 4320, South Africa
Tel: +27 031 561 2233
Little Havana
16 Chartwell Drive Umhlanga 4319, South Africa
Tel: +27 031 561 7589