"I am one of 26 children. I was born in 1950. I have a grade zero education but with cooking I am grade 12. I want to be winning always, I don't want to lose...I have two wives, at the moment. I am looking for a third wife. I have a girlfriend too, she's my baby chicken...You must do things that you love with love. I think you are ready for my dinner. I love you all I kiss you for free..."
So says chef Sam Nguni, the chef at andBeyond's Phinda Forest Lodge in South Africa. The chef, dressed in traditional Zulu dress clapped with a rhythm until everyone was silent and then delivered a 15 minute introduction speech peppered with anecdotes about how he became a chef, his wives and his food philosophy. He may introduce his food while climbing a tree and he may also share how he helped his mother feed 63 family members while he was growing up.
Phinda's Forest Lodge is one of South Africa's destinations for safari or game drives. We've flown from Cape Town to Durban and driven four hours to reach Phinda. On the way, we pass women selling fruit carrying the baskets on their heads. They rub themselves with red or white dirt which softens their skin and protects it from the sun. We bought bunches of bananas and drove past the shops selling pineapples, rugs and other assorted items watching as the countryside gets more rugged by the hour.
We arrived at Phinda Forest lodge, one of the four lodges on the enormous property. Phinda, meaning "the return" in Zulu, is a series of eco lodges from the "andBeyond" group. The focus here is on preserving wildlife and they have worked to return the land to a thriving state after years of agricultural management and misuse. Phinda Forest which is one of the series of lodges, is an adults only lodge with 11 rooms and a maximum of 22 guests. It's in the bush so there is just one rule: no walking around the property by yourself at night. The reason? The wildlife, including lion, leopard, rhino, buffalo, snakes and scorpions can wander around the property as it is not fenced off. And you can bet that I almost chewed my nails off at that warning!
The rooms at Phinda Forest Lodge are all free standing villas with glass walls nestled among torchwood trees. Although we're arriving at night seeing them during the day is best. My villa, number 6 is said to have some of the best views of the plains during the day. A personal mini bar with alcohol sits locked away from monkey's hands on the deck.
The room is anchored with the king sized bed and opposite to this, is a couch and table. To the left is a writing desk and there is also a bathroom, with a glass wall (something slightly disconcerting if you don't want to get naked in front of wandering guests) and a large free standing bath. At the sink there is Phinda body lotion, liquid soap and detergent for washing clothes (although there is a laundry service available for guests).
At the bath is a bath oil and an enormous bowl of bath salts and a spoon. There is no wifi or internet as the location is remote although there are some computers that guests can use although the internet appears to not be working during our stay.
After checking in, I call 300 and ask for security to take me to the Verandah restaurant where we meet Sam and partake of dinner. I have to admit, even the idea of having a leopard in the bushes scares the sense out of me and I may have been a little irrational and skittish. The security guard arrives with a torch and this is supposed to scare them off.  It is a conservation reserve and I've just happily signed my life away on an indemnity form. And I never got a good answer to the question "what exactly is a torch going to do against a hungry lion?" ;)
Although it is dark, the shadows of elephants linger in the near distance. Everything is open here at Phinda and should wildlife want to come right up to you, they can. Cheetahs, lions, monkeys, giraffes, hippos, waterhogs and buffalo all live here. The rates at Phinda include all meals and drinks and mini bar as well as two game drives a day.
We start with our first course: a salad with papaya and avocado and leaves dressed with a thyme and coriander seed dressing. I've never had that combination before with papaya and avocado but the two similar textures with different flavours and levels of sweetness work well together.
The main, a kudu which is similar to an antelope, is served with sweet parsnip puree and grilled vegetables. The kuru has a lovely rich jus accompanying it and a lightly gamey flavour and is cooked through and sliced as medallions.
Dessert is a array of choice: Amarula, that delicious creamy liqueur made from the Marula tree is served as shots. There are also mini lemon meringue pies with a crispy shell, smooth lemon filling and a crunchy baked meringue top. Lastly, there is a sticky date pudding with Amarula sauce. Sam's generous words echo in my mind. "Finish everything. Eat...I have plenty more in the fridge."
Game drives, as they call them rather than safaris, are really a must when in South Africa. And these are best had early in the morning as the 5:30am wake up call rouses up and calls us to the main building at 6am for coffee, tea and rusks. Africa has the "big 5 game" which are the five most difficult creatures to find on foot. These are: lion, African elephant, Cape buffalo, leopard and rhinoceros.
Phinda apparently has no shortage of these beasts and they are noted for their black rhinos and leopards. Apart from game drives, there is a list of ten included activities including a Zulu village tour, black rhino tracking on foot, swimming with whale sharks and seasonal whale watching. There is one rule of game drives: never break the silhouette of the Land Rover which means not standing up in the vehicle. The animals see the vehicle as one large entity that is larger than them  so they do not take the vehicle on. Also, standing up makes it appear like you are towering over them with threatens them. Most animals won't attack a vehicle although the enormous African bull elephants have been known to "tusk" vehicles which is where they take their enormously strong tusks and hook them under a car and turn them over.
Rugged up in our thickest layers, we board the open Land Rover - and who else out there thought that the vehicles were enclosed like me? Apparently not! Our ranger Paul along with his spotter Daniel take a rifle and a knob kiri, a stick with a ball shape at the end. It's about a 15 minute drive where we spot various wildlife from all set against the world's only remaining sand forest. We start looking for fresh tracks and they spot some tracks for a lion and leopard. One of Phinda's cheetah spotters drives past and lets us know that there is a female cheetah spotted in a clearing. We drive towards her and she looks to be on alert for a surrounding predator. She looks in every direction, head swivelling constantly and moves guardedly, towards another clearing.
Nyala (pronounced en-yarla) run across the road and among the bush, the male of the species darkly coloured with huge antlers and the female are pretty, a light brown colour and slight, like a doe. Vultures sit inside dead trees and as we approach, take flight displaying their enormous wingspan.
There is a system at Phinda that when guides spot wildlife, they radio it to other guides that may be in the area. Two lions have been spotted in an area and Paul and Daniel taking the rifle and stick, venture off into the scrub to look for them. They return 15 minutes later unable to track them. We pass scores of baboons that are fast and camouflaged well. Timing is crucial and the staff report two lions about an hour later taking down a nyala in the same spot that the cheetah was sitting guardedly!
We return to Phinda Forest lodge where we are greeted with cups of hot chocolate and breakfast. And we have some company for our breakfast-the cheeky monkeys who are so naughty that they need people to work as security to guard the breakfast food.
I help myself to a mason jar of house made muesli, buttery and crispy sweet and some stewed fruit and yogurt. And true to their reputation, we see a monkey stealing a jar of sugar spraying the little crystals all over the chairs. Another monkey takes the opportunity during a zebra sighting near the lodge to open both the sliding doors and steal some bananas. It gets away with one banana before being chased outside.
We take the 40 minute drive from Phinda Forest Lodge to Phinda Mountain Lodge which ends up being a mini game drive in itself. Going from one end of the 23,000 hectare or 56,800 acre property to another takes about an hour and during this time the landscape changes from red dirt to rocky surfaces. A journey of six giraffes stand stock still in front of us. It's so surreal and they remain so still that it almost seems as though you were viewing a gigantic painting in 3D. We stop in front of a waterhole where there is a moving landscape of flocks of animals. Yellow beaked birds take flight just after smaller dark brown birds. A hippo moves leisurely and submerges itself in the water - they do this to prevent sunburn.
A lone bull giraffe stands at the closest edge of the water hole. Male giraffes are solitary creatures and Paul tells us that he is an old one due to the balding of the hair on his head. Gingerly, with long legs elegantly splayed, he manoeuvres them so that he is able to bend down and drinks. Thirst sated, he slowly walks off casting the occasional glance in our direction.
We arrive at Phinda Mountain Lodge which is the largest out of the lodges and the only one, apart from the private villas that takes children. The temperature is warmer already and we enter past the stone building and are greeted with wet, cool towels and a refreshing and sweet pineapple and soda drink. We walk through the main area, a U shaped building with the restaurant on the right, computer rooms and shop on the left and a lobby, waiting area and bar facing the Lebombo mountains.
The store, along with the rest of the Phinda stores is excellent and there is also a computer room with two computers guests can use. There is no wifi and internet is iffy at best and only accessed through some devices so I make my way to my room, number 20 which is near the main house (relief! I won't get lost ;) ) and I'm curious to see what it will look like.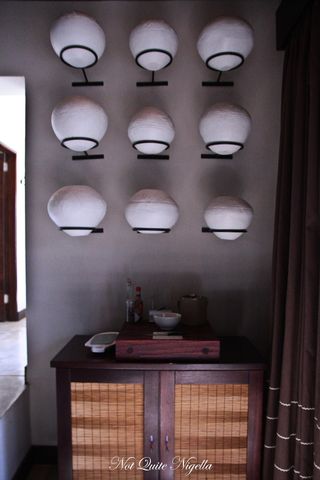 None of the Phinda lodges look the same even though they were designed by the same designer. This one has a brown and colour colour scheme and each room or villa is free standing with a thatched straw ceiling. It's elegantly African and a feature wall of white bowls is striking. There is a large king sized bed, small couch, coffee table and soft chair. A mini bar stocked with soft drinks, mini bottles of spirits as well as dried pineapple and sugary fudge is complimentary to all guests (although some spirits are charged extra). Laid out are all the accoutrements to make your own Bloody Mary.
To the left is the bathroom which is about as big as the main bedroom. A free standing tub holds bath salts and bath oil. A glass shower has body wash, shampoo, conditioner and body scrub all in their exclusive brand. Outside of this is piece de resistance, the private splash pool with a view out onto the bushland and your own private view, even should wildlife walk past. An al fresco shower facing the bush is perfect is this heat.
There is a knock at the door and Thuli, the lodge's massage therapist stands outside with her mobile massage table. Massages are done in the privacy of your room and she offers me a choice of aromatherapy oils, add exclusively blended for the Phinda lodges. A full body massage is 450ZAR/$52AUD for an hour. She starts the massage face up and administered firm strokes which I am told is very typical of massages here in Africa. It unkinks all of the usual aches from cramped seats and jostling about on the game drive and before I know it, she whispers gently "the massage is finished."
It's a quick break for afternoon tea which is served at around 2pm. It's more of a light lunch than an afternoon tea with salads served along with very rare roast beef, dip and sweets. I choose some lentil bobotjie which is an African dish either made with beef mince or lentils or a combination of both. Today is just lentils and it's a fabulously savoury mix with large chunks of mushroom inside it. On top is a baked savoury custard. It was so good that I just had to ask for the recipe from Jess Fourie, the chef at Phinda Mountain Lodge.
I also try African shortbread which is crumbly and dry with a date filling and lumberjack cake, My favourite had to be the milk tart with the cinnamon sprinkled on top, a cousin of the Portuguese custard tart but with a crunchy, crumbly tart shell.
The remains of an elephant
It's now around 3pm and time for our afternoon game drive. We also come across people during our drive that hire a ranger, spotter and a car from dawn until night fall.
Our first sighting is an exciting one. Tipped off that a cheetah mother had made a kill of an nyala for her four babies we head towards them. She is relaxed, lying back and two out of her four cubs are feasting on the carcass. Paul notes that she looks thin but she is letting the cubs eat first. She's a third time mother who originally had five in her little with one dying, and he tells us that she is a good mother. Indeed, when one cub has finished eating she licks their face clean.
He notes how she has taught them how to each around the stomach of the animal as piercing the stomach will release foul aromas that will alert other scavengers and predators. Once they've had their fill, she moves in for food all the while looking around her for other predators. She isn't the least bit bothered by our presence as she knows that we offer her no threat but behind her, she constantly looks around. We hear the bones crunch in her jaws as she bites into the carcass.
Another group has spotted some lions nearby and Paul employs some crack 4 by 4 driving manoeuvres through the bush to get to them while he is told by another driver that the female lions are above us watching us with curiosity. We decide to go around and take a look at them. There is a pack of five of them and they are most active at night and have been seen hunting for food. For now they are resting and the view is obscured so we adjourn to check out a hyena's den.
All images taken using Sigma Lenses
This hyena mother has a couple of cubs in her den and she had an encounter with a lion a few days before and is showing the signs from having come away slightly hurt. Part of her top lip is missing and she has some scratches on her back. Hyenas travel in packs and nearby there are other hyenas but she is sleepily watching over the cubs which are buried deep in an ousted aardvark cave.
There's some real danger for the mother cheetah as the five lions are in pursuit of her and her cubs. She is on the run and running very low with her four cubs running quickly alongside her. She keeps looking back, looking in the direction of the lions who we can see from our high vantage point but she can't as she is so low. Paul asks everyone not to use the flash so as not to draw attention to her and her cubs and it is with some quick manoeuvres and with a lot of relief all round that he tells us that she and her little family escaped the lions. The lions go in pursuit of water at the watering hole before disappearing into thick scrub. By now, it is getting very late and dark so we head back to the lodge.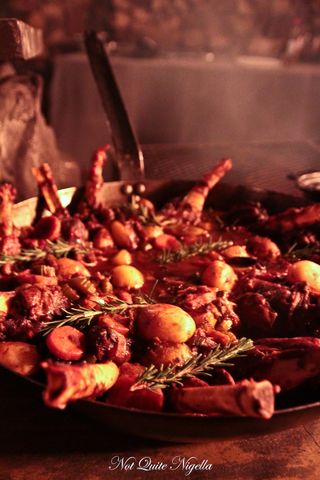 We're led to the Boma where Rockpool's Neil Perry and Spice Temple's Andy Evans and Phinda's Jess Fourie are busy prepping the food for tonight. A boma describes the round enclosed area in which people eat and every night or so, weather permitting, they hold a meal at the Boma. The atmosphere around the fire is warming and Potjie stew using impala shanks is on the menu tonight. Warthog also features on the menu.
Everyone crowds around the fire which crackles and warms as we watch Neil, Andy and Jess prepare the dinner. When it is ready, there's some music and dancing from the staff choir who sing and dance. The men stamp one foot hard on the ground spraying sand up and they contort, twist and dance.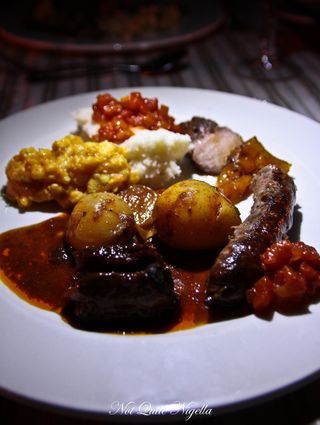 Dinner is served and it's a delicious combination of Neil's vegetable side dishes and Jess's African offerings. We start with warthog with pineapple salsa and potjie stew of soft impala shanks that are soft and yielding like slow cooked beef short ribs.
Dessert is a malva pudding, that very South African dessert which is moist and sweet, similar to sticky date pudding.
The next morning it's a 5am wake up call for the lions. Each day on a game drive is different and some days are quieter than others. As we drive around the enormous reserve the atmosphere is still. It's a little warmer than yesterday and Paul asks us what we would like to see. "A male lion" says someone and Paul gets on his radio. He tells us that a male lion has been spotted with two lionesses. It's mating season and although the male hasn't been seen for two months, the Kalahari lion is a good specimen.
The male lion has been pursuing the two lionesses for a short while already. Mating season lasts for about a week and during this time, they will mate once every 20 minutes. During this time, they don't actively hunt and we watch a group of impalas stiffen and nervously look towards the lions who amble through the bush with the ease that being top of the food chain affords them. However, the lions aren't interested in the impala, the male lion is pursuing the older lioness of the mother and daughter pair. There could be tension as the daughter competes with the mother for the male lion's affection. The younger lioness bears scars, perhaps from a battle with the mother.
The mother lioness isn't signalling that she is ready yet-when she does, there will be a flick of the tail. We watch the lions, who get so close particularly to Neil and Sam's car that they freeze in fear. It's understandable as the lioness has assumed the position pre-pounce and one swipe from an enormous paw could finish anyone off. Having ascertained that they aren't a threat, she moves on.
The lions walk past us easily and slowly. The youngest lioness, who is not quite ready for mating but is frisky, runs ahead. The older mother lioness lags behind and the male lion stops for her and looks back as if to say "come on love." They touch noses and they continue on. The trio disappear into bushland that is too thick for the car and so we head back to the lodge.
A few minutes later we arrive at a clearing where chef Jess and her staff have set up breakfast for us! She is busy frying some curry and eggs and there is also a selection of Continental breakfast items like banana bread, fruit and Chelsea buns. At the hot station are scrambled eggs, sausages, potato, mushrooms and those curried eggs. Knowing that we have a long transfer without lunch we eat the hearty breakfast. The curried eggs are spicy and aromatic and the poached eggs still contain a pocket of liquid gold yolk. The sausages and potatoes are another favourite and I go for a second helping of these. It's a 10 minute drive back to the lodge and I take the blanket and wrap it around me and dream of lions.
So tell me Dear Reader, have you ever been on safari or a game drive? And would you be wary or scared of an open game park where animals can roam? And what do you think of bathrooms that are all glass? Do you get self conscious?
NQN traveled to South Africa as a guest of South African Tourism
Phinda Forest Lodge & Phinda Mountain Lodge
www.phinda.com