About two years ago I turned to Mr NQN one day and whispered "honey, I think somehow I became a travel writer!" Although this sounds disingenuous, it was a real moment for me but it was only after I had written about a lot of trips that I realised that I had become what I had always dreamed of being.
However, one thing that I have learned over the years. Even though jetlag may have taken hold, you just need to try to  power through it because there are some truly spectacular sights and places to visit that you are privileged to visit. Touching down in Johannesburg and taking a transfer flight to stunning Cape Town, we are indeed in a jetlagged daze. We also make the mistake of checking the time in Sydney (4am-mistake!).
We are headed to Ellerman House, our home away from home for the next two nights. And over the following week we will follow Rockpool chef  and owner Neil Perry and his wife Samantha as Neil films webisodes of his tour of South Africa.
The drive towards Ellerman House is all curves and it sits on the slopes facing Lions Head Mountain above Bantry Bay which affords it some truly unforgettable views of the Atlantic seaboard. The Cape Edwardian mansion was named after the shipping magnate Sir John Ellerman. It was his family's summer residence and in 1992, it was converted into a 9 room, 2 suite and private villa hotel. It is part of the luxurious Relais & Chateaux family.
The main sitting room is opulent, elegant and luxurious. Without a formal lobby, it is designed so that you feel like you are staying in someone's house and the friendly, relaxed service from all members of staff also contribute to this. There are comfortable couches on which to sink sore bones into. Expansive flower arrangements perfume and beautify at every turn.
South African art plays a large role in the decor and they have several priceless originals including a beautiful Irma Stern painting. She is recognised as South Africa's most sellable artist with her paintings fetching up to $14 million ZAR or $1.6million AUD. The dining room has a John Meyer painting and other artists like Pierneef also feature.
I walk down to my room downstairs which is number 11, the East Wing suite and open the double doors. I take a sharp intake of breath. Even through the haze of jetlag and the need to sleep, what strikes me is how beautiful it is. The main room has an eight person dining table setting with a glass top and leopard print covered chairs. A welcome refreshment of fruit salad greets me along with some house made iced tea.
There are complimentary spirits with scotch, gin and house made lime cordial and if you prefer other spirits, just tell them and they will stock them. The top drawer holds all of the accoutrements for making your own gin and tonic and the second drawer holds a range of complimentary snacks from coconut dusted marshmallows, lollies, chocolates and potato crisps.
It is dark when we check in so I am excited to see what the view outside will look like tomorrow morning but taking a peek past the curtains, I see the faint twinkle of lights in the distance. The East Wing Suite also has garden access through one of its two balcony doors and there are sun lounges so that you can sit and soak up the sun like a cat at leisure. The 26m2 wraparound balcony extends around the room which is a total of 120m2.
I walk through to the bedroom and pause in front of the king sized bed. Each room is decorated differently with different colour schemes to each and this one is decorated in golden and metallic hues. Heated carpet warms my feet. There is a second sitting room adjacent to the bedroom and from there, two chaise lounges sit side by side with books in between them meant for leafing. And if the view gets too much, there are two televisions in each room.
The walk in wardrobe is sizeable and leads to the oversize bathroom, a cream marble beauty with a bath to the right and two sinks in front. In the far corner is a toilet and bidet decked out with magazines. Amenities are by South African brand Charlotte Rhys and include a vanity kit with cotton tips, pads, shower cap and sewing kit, soap, shampoo, conditioner, lotion, bath foam and bath salts. There are robes and slippers to envelop after a bubble filled bath.
The shower has an enormous, old fashioned shower head the size of a frying pan. International plugs mean no adaptors are necessary and there is also free wifi and a complimentary laundry service which picks up at 10:30am and returns it with turn down wrapped in tissue paper in a box.
Ellerman House's cellar has 7,500 bottles of wine and the personable Veronica Canha-Hibbert is the executive chef. The open kitchen means that guests can walk past and see them preparing the meals and often request certain dishes which they are happy to fulfil as part of their "guest centred catering" edict. The food served at Ellerman House could feature items such as brulée chicken liver parfait, fragrant pork belly confit, kalamansi lime cheesecake or banoffee millionaire and a new menu is created every day.
Turndown in the room has already been performed and they lay down a cloth and slippers. A Lindt chocolate is put on the pillow and there's also a three day forecast (that incidentally mirrors the weather that we have just left in Sydney). I place a wake up call and an order of a pot of tea for the morning as there isn't a kettle in the room. I can't resist and take a bath even though the hour is very late and I light the mini candle provided and soak away any soreness from the flight. I climb into bed and I squeal with delight. No, it wasn't Mr NQN, but it was a knitted hot water bottle slipped in under the doona that kept me warm the whole night instead.
The next day after a wonderful but brief snooze I have my tray of tea waiting for me and I do some work. I should mention that over the next two days, whenever I order tea, they deliver it anywhere on the grounds and I never have to specify how I like it or what tea I would like as they just remember. Excitedly, I open the curtains periodically while waiting for sunrise which doesn't happen until 7:40am. And it's worth the wait as the sun slowly casts a glow of light onto the Atlantic coast and the view of white houses lining the beach and light sand conspire to make the coastline of Cape Town one of the most eye catching views.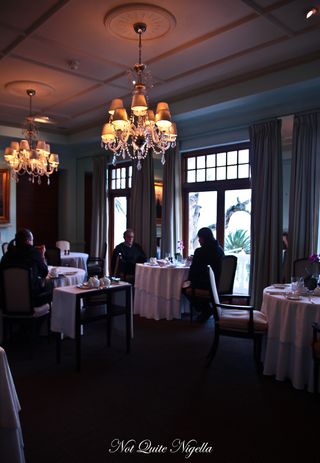 I go down for breakfast and join Neil and his wife Samantha at their table. They're both very down to earth and approachable and are as excited as we all are about being in South Africa. For many of us, it is our first time here and we had no idea what to expect.
The buffet sits ready and it's full of yogurts, pastries, fruit and cereal. There is also strawberry juice, smoothie and orange juice. I opt for a croissant, buttery and layered with some jam and a strawberry juice.
The a la carte menu offers more substantial offerings from hot food to Bircher muesli and as a new convert from hot breakfasts to Continental, I go for the Bircher which is quite good indeed with a nice crunch of almonds, soft raisins, a sprinkling of cinnamon and a drizzle of honey. There are also halved cape gooseberries which give it an occasional tart mouthful.
Chefs Neil Perry and Veronica Canha-Hibbert
Today is the first day of filming so we hit the streets of Cape Town in search of ingredients. Veronica tells me that the food here brings cultural influences from Italy, Portugal and Greece and you can also purchase a fairly wide range of pan Asian ingredients. Neil and Andy Evans, the chef from Spice Temple, pick up ingredients for the food that they'll be cooking using local ingredients.
Today on the menu is crayfish, yellowtail and kingklip fish all done on the braai or South African barbeque. Veronica already has some ingredients in her kitchen but there are some that he will need to pick up and before long, a basket is filled with ingredients and we head back to Ellerman House.
Neil takes menu notes; _whole yellowtail fish and Neil and Andy prepping the food_
Neil explains that the Yellowtail fish is a fish with a strong flavour and to balance this, he is using fermented yellow beans which will stand up to the taste of the fish. The kingklip however is a fish he is unfamiliar with. Veronica likens it to
ling or monk fish which is a fish that takes a longer time to cook. For this he marinates it in a mixture of ginger, garlic, chilli, lime, lemon and rosemary. The local crayfish will have a spice mixture much like garam masala.
He and Andy quickly prep the ingredients in the Ellerman House kitchen and then move to the private villa where they are filming the webisodes. The braai turns out to be a Weber barbecue, not unlike what we would get at home in Australia and he explains the ingredients while they film. As for all of us standing around, the smell claws at our hungry tummies and we anticipate the food eagerly. And when it hits the table with its expansive ocean views, we eagerly dig in.
A table with a view
The yellowtail is strong and pungent with yellow bean and the pickled thinly sliced, sweet cabbage salad is a delicious contrast to the rich bean marinade.
The king clip fish comes as large, thick fillets that are soft and full of aromatics and chilli. It is served with a roasted vegetable salad including purple yams, sweet potato, onion and fennel which has been caramelised until sweet.
The local crayfish is lovely and tender and with a quick flick of the fork, the tail meat is released.
Rainbow and Table Mountain
A quick city tour is arranged although there are the occasional bursts of rain.  Table Mountain commands attention from above and and from high up you can see the stretches of ocean that wind and bend for as far as the eye can see, the waters blue and foamy.
The Malay Quarter
In between patches of precipitation, we stop at The Malay Quarter. When the Dutch used to sail from Europe to India to trade spices on the spice route, they needed somewhere in between the two places to rest and this became the area in which they stayed. The buildings that they built were then later allocated to the slaves that they brought over from Malaysia and as a result, it is called the Malay Quarter. This area is signified with the bright coloured buildings.
Of course no discussion of South Africa can ignore its past. Our guide Owen tells us that under apartheid (which means segregation) there were three levels of race in South Africa. White, coloured (mixed race) and black. Under apartheid, each race was paid differently with the white being paid the most, then the coloured or mixed race and then the black race. "It is better but we have a long way to go" he says and we all nod soberly. There are reminders of both sentiments that we see continually.
Where Nelson Mandela addressed the nation after being released from prison
A quick change back at Ellerman House and we're off to dinner at The Twelve Apostles. No, not a structure (although there are twelve apostles which are rock formations as part of Table Mountain) it is a restaurant which is part of the Red Carnation chain of luxury hotels and part of the Leading Hotels of the World.
Chef Henrico Grobbelaar
The Azure restaurant on the first floor is a striking room with luxurious printed fabrics, a warm fireplace and gleaming surfaces with blue tones reflecting the view of the water below. It specialises in seafood and chef Henrico Grobbelaar has put together a list of what he describes as what he would serve to a chef. Dessert is chocolate mousse because he says that no woman can ever resist chocolate mousse.
Scallops ZAR 130/$14.99AUD
The scallops are three fine specimens that are enormous and perfectly cooked. They come with a truffled cauliflower puree, saffron sofritto, lemon tomato and Ras el Hanout praline (although I didn't really get a crunch from a praline). I enjoyed the scallops particularly when paired with the truffled cauliflower puree.
Kingclip ZAR 155/$17.87AUD
The kingklip, the same fish that Neil cooked that afternoon is a substantial piece of fish, and Neil murmurs about how perfectly cooked it is. It is pan roasted with a truffled cannellini puree, mushroom and mung beans and red miso veal jelly. Chef Grobbelaar explains that although the kingklip is considered moderately endangered, he buys it from a supplier that only catches hake and the kingclip is a by-catch of the hake and Neil congratulates him on doing this.
Sorbet in spoons with a dry ice effect
Springbok fillet ZAR165/$19AUD
I wish I had enough room for this but we did have enormous serves and this was our second main. The two springbok fillets (a type of gazelle)are cooked quite rare which makes them very tender and they are paired with a celeriac cream, roasted radish, orange tapioca squirts and sultana caper paste which gives it a tangy richness. Incidentally, the prices are very reasonable and about half what you would pay in Sydney.
Mocha mousse ZAR75/$8.54AUD
The mocha mousse comes as a slender rectangle that at first looks like pate. It's sweet coffee milk chocolate and comes with small pieces of moist hazelnut cake, a nut crumble dacquoise and a delectable Amarula custard. The Amarula is a cream liqueur much like Baileys.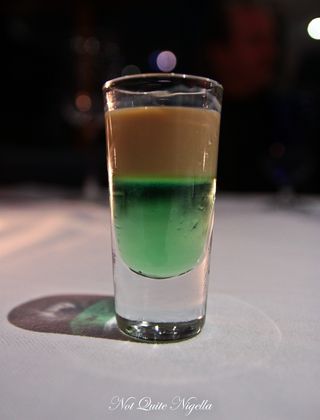 Springbok shot
When in South Africa, you must do shots of what the locals do. The Springbok is a rather alarming looking shot withDe Kuyper Crème De Menthe and Amarula cream on top. I have to pace myself, after all I get drunk very easily but I have to say that the shot is very, very drinkabe and dangerously so! ;)
It's quite a start to our South African adventure!
So tell me Dear Reader, what is one job you've always dreamed of having? And have you ever been to South Africa?
NQN was a guest of South African Tourism
Ellerman House
180 Kloof Street Cape Town 8001, South Africa
www.ellerman.co.za/
Escape to the Cape Tours
http://www.escapetothecape.co.za/
Azure
The Twelve Apostles
Victoria Road, Camps Bay, Cape Town, 8001, South Africa