Dear Reader, I once met a man who shocked me so much that I was rendered speechless.
Within five minutes of meeting him, he told me that his father ran an entire prominent European country. Within an hour he told me that he found the food in China "uncivilised." Within half a day, he told me that his favourite accent was NYLON. When I asked him what "NYLON" was he said that it was the transatlantic accent that people that fly from New York to London-hence NY - LON.
Within a day he told me that a certain country in South America had nothing to offer him in terms of shopping as he "only buys European leather." I didn't know at that point whether we had been Punk'd or not.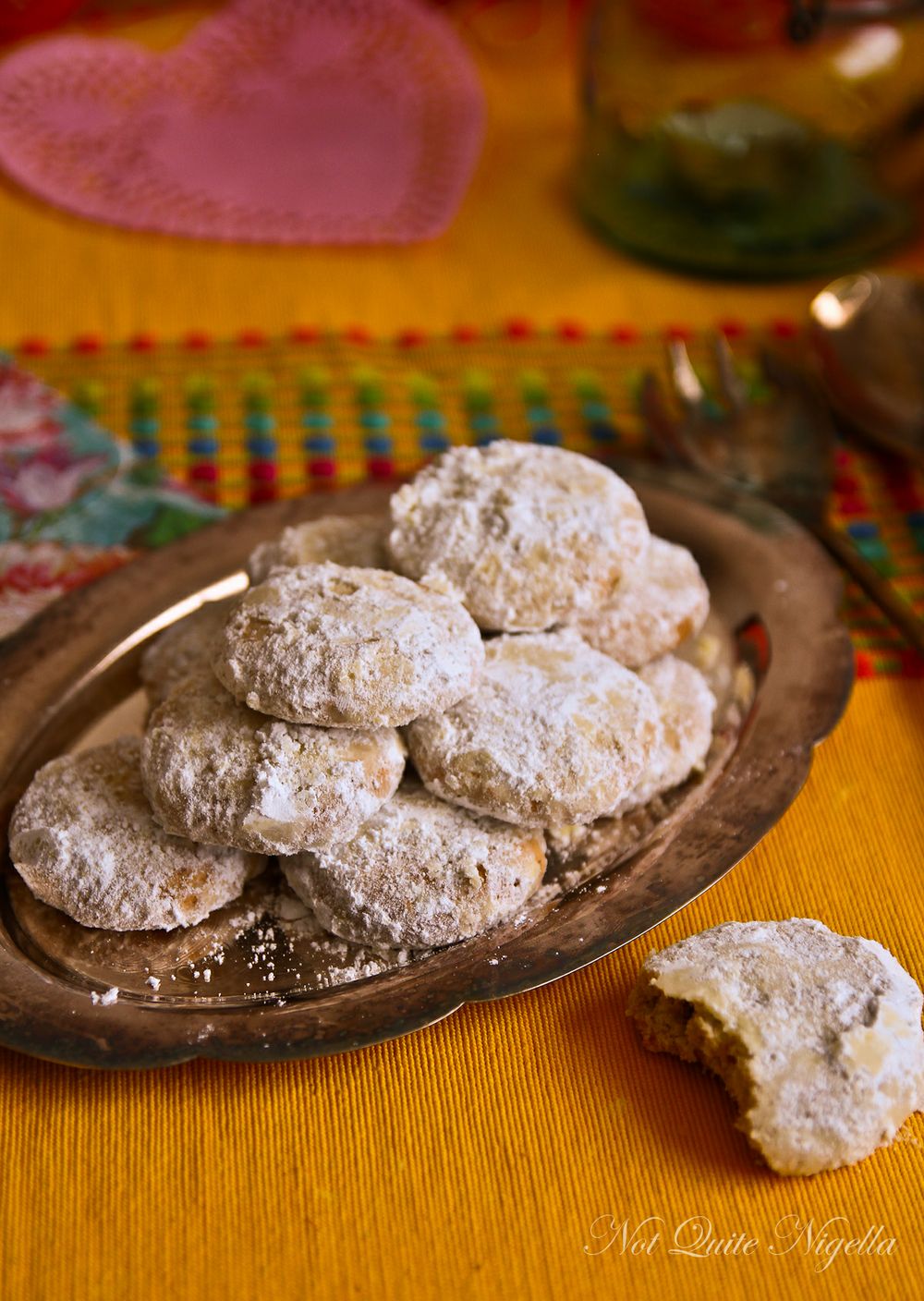 These biscuits are not for him. Mainly because I don't like jokes where I can't tell whether the person is joking or not :P Ever since I had heard of these Mexican wedding cookies or Polvorón I wanted to make them. They're a shortbread cousin of the Greek almond biscuit Kourabiethes which I grew up gladly eating as we had a Greek neighbour two doors down. Snagging one of those warm out of the bowl of downy icing sugar turned any day around and I'd lick off the extra icing sugar that had fallen on my hands while eating them.
They're simple to make, I like to toast the pecans first just to get the extra flavour and even with this, it's a simple cookie. I added some extra cinnamon and orange zest although I don't know if that is traditional or not but I thought that it gave the biscuits a little extra lift. These are served during Christmas time in Spain and during weddings or celebrations in Mexico. And in Russia, they're also known as Russian Tea Cakes and were served with tea during the 18th century.
So tell me Dear Reader, what is your favourite accent? And did you know what NYLON meant? Do you think he was joking? What's your favourite cookie?
Mexican Wedding Cookies
Preparation time: 20 minutes (including toasting of nuts)
Baking time: 20 minutes
Makes about 32 cookies
115g/1 stick butter, softened
1/2 cup caster or superfine sugar
2 teaspoons vanilla extract
120g/4 ozs toasted pecans, cooled and finely ground
1 cup / 150g/ 5ozs plain all purpose flour
1 cup pure icing or powdered sugar, sifted
Step 1 - Preheat oven to 180C/350F and line two trays with baking paper. In the bowl of an electric mixer, beat together the butter, sugar and vanilla extract until pale. Add in the ground pecans, flour, cinnamon and zest on low speed and mix to combine.
Step 2 - Shape into little balls and pat into a flattish disc.  Place on parchment an inch apart as they will spread slightly. Bake for 15-20 minutes. Meanwhile, sift the icing sugar or just put it through the food processor (sifting is one of my least favourite kitchen activities). Place in a bowl and when the cookies are ready and still hot, gently roll them in the icing sugar (be careful as they will be hot). Once cool, roll them again in the icing sugar.