This restaurant is now closed
All images taken on a Sigma 17-50mm F2.8 EX DC OS lens
Dear Reader, how do you choose your friends? Are they people that amuse and delight you? And are they ones that will look upon your ideas without a hint of worry and think nothing of taking a two hour drive for lunch? Do they pore over online menus beforehand deciding what they will order? I'd say yes to all of the above for me and when Belinda and I discussed making the two hour drive to the Central Coast's Avoca Beach for a meal at Rojo Rocket, I knew just who else to ask along. Along with Belinda, Mr NQN and I, we'd be having Freaky Flier and Girl Next Door on our little day trip.
On a very rainy Saturday morning, we pick up Girl Next Door who greets us with an unsure "I wasn't sure if this was going to be called off because of all the rain" to which we answer "Of course not! What's a little rain-that's all part of the adventure!". Our next stop is to pick up Freaky Flier who has passed the time by downing a scotch at the nearby pub. Before we know it, we arrive at Belinda's house where we switch cars as she will be driving.
We turn on the GPS and it tells us that we are running late for our 12:30pm booking. Rojo Rocket is part owned by the owner of Big Day Out and that is when Belinda and I first tried their food and vowed that we'd visit for more. Chef Alejandro Urbina is from Playa del Carmen in Mexico. Bookings at Rojo Rocket are made online and we had chosen lunch because dinner has two hour booking windows which seemed just too short. Also booking confirmations apparently need to be done by customers by hitting a button on the email confirmation the day before the booking (it's easy to forget to do this!). We call them to let them know that we'll be late and they're friendly and laid back about it assuring us that it isn't a problem.
In the car we discover that FreakyFlier comes with his own printed menu of his own. Literally, he takes out a black and white sheet of paper with Rojo Rocket's menu printed on it. "I've been busy looking at this so I know what we should order!" he says before telling us that he went out to dinner with his parents the other night. Before they arrived he showed them a printed copy of the restaurant menu to which his father replied "Son, I think they'll have some there...." and we fall about to much laughter.
It's a slow crawl until we get to the freeway and from then on we drive down Avoca Drive which is a long stretch. If you're looking for the address don't do like we did and stop at 366 Avoca Beach Drive in Green Point (366 is among the bushes) but go to Kincumber's Avoca Drive where a large red rocket pokes out from behind a fence and a pale blue hearst cum car with Rojo Rocket emblazoned on it sits out the front ready to pick up or drop off patrons. Miss Sabrina as she is dubbed is decked out with a royal blue velvet interior and flashing blue lights. She is at the disposal of guests within a five kilometre radius to and from the restaurant. A pick up to the restaurant is complimentary and drop offs are $5 per person.
Unlike the area of greater Sydney, today the Central Coast is sunny and bright. There is a parking lot and you make your way past the Mexican wrestler mural and past the decorated bull to the left. The entire grounds which was formerly a plantation takes up three acres and the restaurant is housed in a converted home with plenty of patio and outdoor areas. There is also an upstairs cash only Taqueria open for Wednesday and Thursday nights.
There are plenty of trinkets and Day of the Dead memorabilia to keep our eyes busy and the room is colourful with marionette dolls suspended from the ceiling and a wall of red hearts. Service is friendly and we are all hungry from the long drive so we order quickly. Belinda choose a Tijuana Donkey, Freaky Flier a margarita while the rest of us go for a jug of hibiscus soft drink.
Made with limes, vodka, passionfruit, rose and ginger beer the Tijuana Donkey is a two layered drink that is deliciously drinkable.
The hisbiscus drink is a non carbonated drink much like a hibiscus cordial.
All of the food comes out at once. Sure they're not the most inexpensive empanadas but these deep fried beauties are excellent and moist, with a crunchy coating and a soft flavoursome filling with chicken, shallots and capsicum. They are served with a herb and garlic sauce and a pickled cabbage salad.
The ceviche is made up of chopped up prawns and is a tangy, fresh lemon and lime soused number which is served with moreish corn chip rounds. I must admit that I added a little of the creamy walnut sauce to this when eating it and I liked it even better!
There are two types of tostadas on offer here: raw tuna and braised boneless veal shank. We've had the tuna one before and it's fantastic but we decided to go for the veal shank as it was more Wintry and suited the weather. The tostadas are crunchy corn chips topped with soft ancho marinated veal shank, red onion, green leaves and sour cream and they are crunchy and soft in the one bite.
These tacos were everyone's favourite and they were also an item that we tried at the Big Day Out. They are soft corn tortillas topped with two large prawns and pineapple and red onion salsa and a creamy chipotle sauce on top. The prawns were perfectly cooked and I could have eaten more and more of these.
Ahh the item that had us coming back-at the Big Day Out they were called the Red Hot Chilli Peppers. Considered medium hot, indeed they are a green chilli pepper stuffed with beef mince and sultanas and then battered and deep fried. They were lighter at the BDO with a different sort of batter but they are still good and I particularly like the creamy walnut and pomegranate sauce that it is served with which gives the hot chillies a creamy sweetness.
The salad with pickled cactus is filled with onion, tomato, coriander, avocado and feta cheese as well as small pieces of salty, fresh pickled cactus. It's served in a large deep fried golden tortilla bowl.
A couple of other dishes were ordered as we were still a little bit hungry and these were deep fried crab rolls which were crispy and filled with cream cheese and chipotle chilli. They were served with a soy, orange and lemon dipping sauce which was really strong, like a dark soy was used and I preferred these without the sauce while Mr NQN preferred them with the sauce. They were creamy, rich and very filling.
The quesadilla was quartered each piece filled with melted cheese and coins of chorizo with a delicious tomatillo salsa. It's good but it's not that different to what you could make at home although the melted cheese was undeniably gooey.
By now after the crab rolls, we were stuffed but of course dessert is a separate stomach. Belinda and I are drawn to the sweet corn pudding drizzled with raspberry compote and a very sweet vanilla bean ice cream. The pudding itself is served cold and tastes mostly of the strong raspberry compote on top while the bottom of the pudding has more of the corn kernels and sweet, mild, comforting corn flavour. We both thought that if this were served warm, it would perhaps bring out the sweetcorn flavour a bit more.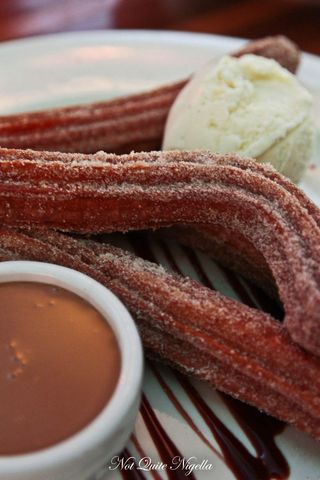 The churros are very long and crunchy and are served fresh and hot along with a pot of dulce de leche which appears to be a better partner than chocolate because sometimes the quality of the chocolate can vary. Interestingly, the price on their website shows these as $15 but the bill showed them as $12.
"Come out here and take a look" Freaky Flier says and we follow him up the stairs and look up onto the roof. It's an astronaut that got lost on their way home...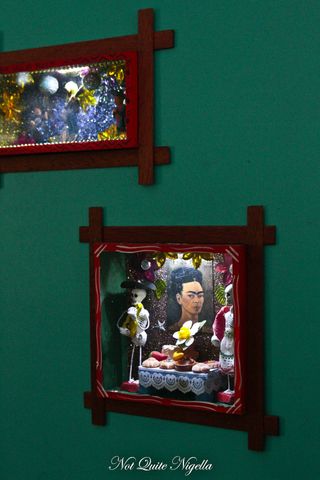 We notice the time-our lunch had started at 1pm and the relaxed atmosphere, cocktails and food had lulled our city sense of urgency and it was with surprise that we noticed the time as a quarter to four. Our bill comes in a Cuban cigar box and as we drive back to Sydney towards the rain we wish we had stayed the night.
So tell me Dear Reader, would you drive two hours for lunch? And do you ever print out copies of menus?
Rojo Rocket
366 Avoca Dr Avoca NSW 2577
Tel: +61 (02) 4382 2255