Although Mr NQN have been married for over seven years and together for fourteen, we could not have more disparate taste in food. I crave rich flavours while he goes for sweet and simple. One item that we both love is ramen but he isn't fond of tonkotsu ramen, that thick, collage rich soup where pork bones are boiled for hours to get a delectably rich broth. But it's after Buxom Wench suggests a last minute lunch trip to Manmaruya in Ashfield that I discover a ramen soup that I know that he will adore.
Located on busy Liverpool Street where there appears to be an endless number of Shanghai eateries, Manmaruya is one of three restaurants of the same name owned by the same Japanese owner in Hurstville, Campsie and Ashfield. I flick through the comprehensive menu with plenty of pictures. There is not only ramen but udon and the deal clincher for Mr NQN? Along with pork broth there is also a chicken soup ramen which Buxom Wench prefers.
Mini ramen $7
In order to try as much as possible, I order the mini chicken ramen which is small bowl-ful, but quite adequately sized for me. In the bottom is a tangle of golden ramen noodles and on top is a light broth that sings with flavour. There's a thin slice of roasted pork, some bean sprouts, mushroom, bamboo shoots, nori and half a boiled egg with a sunny, slightly soft centre.
Tartar Ebi Fry Roll $8.80
The tartar ebi fry is a surprise for two reasons: it's really quite large which we didn't expect for the price and it is topped with a creamy mayonnaise egg salad which wasn't really mentioned. The crumbed prawn inside is freshly cooked and the creamy diced egg and mayonnaise goes perfectly with the prawn.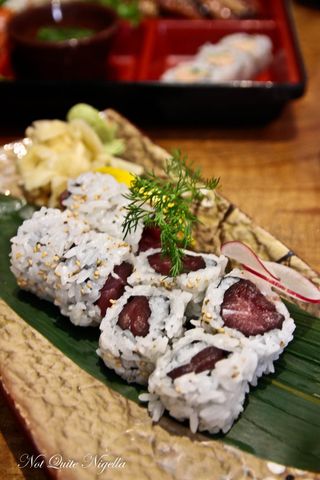 Mini tekka roll $5
"Your hubby will love this" Buxom Wench said and she was right. Not only would he love it because it's well made with a good amount of raw tuna inside but the size of it is a pleasant surprise. The price suggested some of those tiny rolls with just a smidgen of filling and not this well sized portion of sushi.
Kabayaki Eel Bento $13
Alas the bento wasn't quite as good as the rest. Buxom Wench is a regular so she has ordered this lunch special before of sweet sauced eel fillet. The texture today is soft and not springy like fresh eel and she says that it's often better than this. It comes with rice, seaweed salad and three small cooked tuna sushi pieces. But considering how much we liked the ramen and the sushi, we're calling this a win and a place to take the other (hungry) half.
So tell me Dear Reader, do you eat as much as your other half or other people? Or would you prefer smaller portions of things?
Manmaruya
217 Liverpool Road, Ashfield, NSW
Tel: +61 (02) 9799 6889
Closed Tuesdays
Lunch: 11:30am-2:30pm
Dinner: 5:30-9:30pm