It wasn't the most stellar start to a night. I had booked us into Bamiyan using an online service for 8pm knowing that we had a busy day of errands and lots of traffic to contend with from a nearby music festival. They then telephones and we were told that they were quite booked and would we mind coming in at 6:30pm instead. It wasn't ideal but after a flurry of emails and phone calls, our time was readjusted. However the music festival would impede us at every turn with barricades and police stopping us from getting to our home to dump our thawing groceries. I looked at the clock anxiously, technically we were still on time but Sydney's traffic is unpredictable and it ended up taking us twice as long to reach Five Dock as it should have.
During the drive, I rang the restaurant letting them know that we'd be about 15 minutes late. They told us that we had to vacate the table at 8pm which was a new rule that wasn't conveyed to us over the phone so we raced in, found Queen Viv sitting at the table quite happily and ordered as fast as we could. The interior of Bamiyan is really quite lovely indeed. It's warm and welcoming with all sorts of artefacts, rugs and maps on the wall as well as framed photographs of Afghani life. Our waiter is also very friendly and in the interests of speed, we order the second banquet meal at $38 a head not including dessert.
The kitchen is fast-our drinks arrive minutes before our food. The drinks must rate a mention. There's cherry lassi, a divine concoction made thick with yogurt and the sweetness of cherries. There's also pomegranate juice, bottled from overseas but it could be a cousin of cranberry juice with a slightly tart sweetness.
_Seekh Kabab _
The first two items hit the table and we're excited because the aromas are mouth watering. The charcoal grilled seekh kabab are made up of lamb mince shaped as footballs. They're perfectly spiced and soft to the bite and are everyone's favourite. It's served with a coriander and mint chutney and salad.
The marinated chicken pieces are also grilled on charcoal and are moist and juicy with the aromatic char from the grill.
_Mantu beef dumplings _
We're all huge dumpling lovers and are pleased to see that there's a generous portion of these. We assumed that there might be one dumpling per person but there are two per person in a serve of eight. A good thing too as it's hard to stop at just one of these juicy, light onion and beef dumplings topped with yogurt sauce, chickpea tomato sauce and ground mint.
I would swear that this bread smelled like pure butter. So much so that it was hard to wait while Mr NQN patiently photographed everything. The flat bread is stuffed with mashed potato and served with a yogurt sauce. Mr NQN's favourite bread is Afghan bread-he tears the giant sheets of it up and scoops dips up in it. Whilst it smelled like butter, it tasted like a regular soft, Afghani bread so the buttery aroma was a bit of a mystery.
The kabuli pallow was my favourite curry along with the beef and spinach curry. It's a perfect balance of sweet and creamy and reminds me of a butter chicken-it's that same crowd pleasing creamy flavour combined with tender chicken. This is flavoured with cumin and cardamom, caramelised carrots, sultana and thickened with almond nuts.
This is served with the Kabuli pallow rice which containers julienned caramelised carrots, sultanas and slivered almonds. Even Queen Viv who is not usually much of a rice eater adores this flavoursome rice.
All of the mains are really of a generous serving size and the lamb kurooti is filled with plenty of cubes of lamb and a sauce made up of yogurt, spices and cream. This comes with another serve of bread and the banquet really is very generous in portion.
This was my other favourite main dish because I loved the generous amount of soft, silky spinach and the tender beef cubes flavoured with garlic, ginger, spices and tomato. This was served with challow rice, a long white rice flavoured with cumin seeds.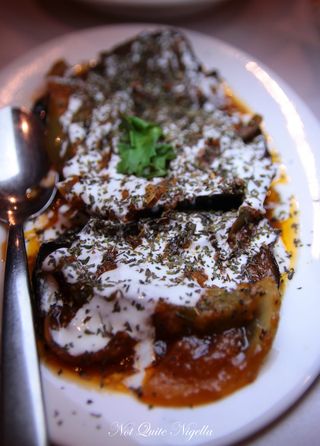 Our final main is the eggplant dish made with slices of fried eggplant smothered in a thick tomato and yogurt sauce with dried ground mint on top. It's good but it is very rich, especially since the rest of the serves were so generous and creamy.
There's more food than we could ever finish even though we've eaten our fill and we ask if there's enough time to have dessert. Our waiter tells us that it is 8pm and the customers are waiting outside the restaurant for our table already (it appears that there's no buffer in between seatings). As we pay our bill, we notice that the staff are frantically rushing around to prepare the restaurant for the 8pm seating which seems to be happening on most tables. One even runs past us at lightning speed and sets the tables. We have to give desserts a miss but we'll have to make sure that we come back with time to spare and linger.
So tell me Dear Reader, when you dine out, do you usually choose the banquet or do you go a la carte?
Bamiyan
175 First Ave Five Dock NSW 2046, Australia
Tel: +61 2 9712 7801
www.bamiyanrestaurant.com.au/