When we were recently in Bangkok on holiday, I had two aims. To have a massage every day to try and relieve my back issues and to eat street food. Mr NQN was more than happy to participate in those endeavors. However, one massage encounter was not your usual one....
We were tired and walking around the Sukhumvit area of Bangkok. Truth be told we've never stayed here so we weren't that familiar with it but I knew that it was home to nightclubs and bars where peddlers sell fakes. It's a very long street and also the home of expensive expat apartment and lots of overpasses. In any case, we had just eaten dinner and our feet were sore so we decided to have our daily massage here and end our day on a relaxing note.
I'm not sure what the etiquette is with massages but we stopped at a place that looked nice enough and advertised foot and Thai massages. I stayed downstairs while Mr NQN went upstairs for his Thai massage. Mine was great, she was thorough with a good, firm pressure and once our hour was up, we tipped and paid and were on our way. Mr NQN turned me excitedly.
"I was offered my first 'happy ending'!" he exclaimed.
"What? Why? How?" I asked him curiously.
He explained that as the masseur got to his upper thigh area, she asked him "Hand?" and gestured to his crotchal area. He shook his head no (or so he tells me ;)) and she asked "Why not?" He again said no and tried to relax again all the while thinking back to their earlier conversation where she told him about another Australian customer of hers that comes to see her every day when he is in Bangkok.
"So you didn't say yes?" I confirmed with him.
"Of course not! I'm too cheap for that" he said laughing.
"I'm somewhat relieved and yet slightly concerned I am to hear that it was cheapness that made you say no!" I said to him raising an eyebrow and then binned their brochure in the nearby bin. I don't want to limit anyone's earning potential but would have thought that if you walked in with your wife then that customer might be considered off limits. Or perhaps I'm just naive...
Anyway Dear Reader, allow me to show you a better way to end off your dinner. Do you remember those After Dinner Mints? They have mostly disappeared from supermarket shelves but they were de rigueur to serve at the end of a dinner party in the 70s and 80s. I used to love them because once the adults were done there were so many in the packet that there were plenty left for me!
To make your own after dinner mints is actually really very simple and that way, you get to make them with better quality chocolate and as strong or mild peppermint as you would like. You don't need a mold and you just melt the chocolate, spread it and then layer it with the simplest peppermint fondant filling. I brought these to a friend's place for dinner where they were warmly received. Unlike that offer of the masseurs! ;)
So tell me Dear Reader, would you be bothered if your other half had been offered a happy ending? And does anyone else remember After Dinner Mints?
After Dinner Mints
400g/14 ozs. dark chocolate (or a mix of milk and dark chocolate)
2 cups pure icing or powdered sugar
About 1/2 teaspoon Peppermint essence (or to taste)
Step 1 - Melt and temper half of the chocolate over a double boiler or in a microwave on 50% bursts for 60 seconds each.
Step 2 - Line a shallow baking tray with parchment and have two angled spatulas ready. Pour the chocolate and spread thinly as quickly as possible covering as much of the tray as you can. Allow to cool and set completely.
Stirring the oil, peppermint essence and water into the icing sugar
The fondant
Step 3 - When the chocolate has set, sift the icing sugar into a heatproof bowl and add the water and oil and stir. It should be spreadable but only just. Place over the double boiler to heat and soften or place in the microwave on 50% power for 30 seconds. It will become much more spreadable. Spread over the chocolate with the other angled spatula. Allow to cool and set completely in the fridge-about 15 minutes.
4. Melt and temper the other half of the chocolate over a double boiler or in a microwave on 50% bursts for 60 seconds each. Spread over the mint filling and cool and set hard.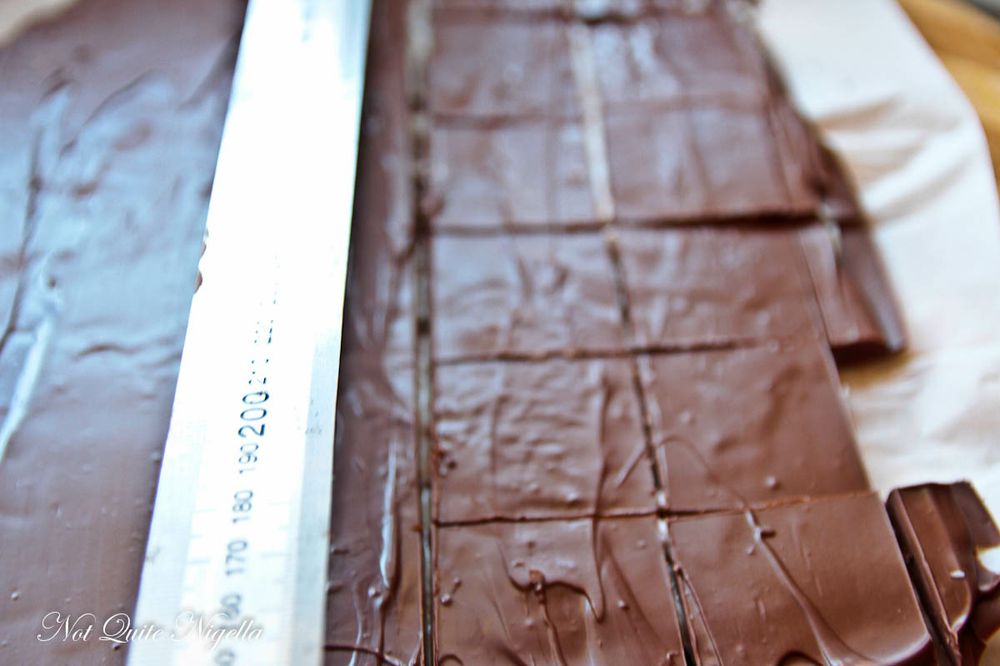 Step 5 - To cut, have a large glass of hot water, a ruler and a couple of paper towels ready. Remove the chocolate and parchment from the tray and place the chocolate on a chopping board. Dip a sharp knife into the water for a few seconds and then dry on the paper towels. Cut the chocolate into pieces using the ruler and keep cutting until the knife becomes cold (if it becomes cold, the chocolate may not cut properly). Place into a box for serving.