Dear Reader, this weekend will forever be known in the Elliott household as the weekend when I cut Mr NQN's hair. Allow me to explain. We were both frantic with activity this past rainsoaked weekend and my to do list spilled from one page onto two. On Saturday night Mr NQN and I had Girl Next Door's Office themed costume party. Mr NQN wanted to get dressed up as Bill Lumbergh, the condescending, annoying boss from my favourite movie ever Office Space. I was going as a generic character from the 80s film Working Girl mainly because I haven't worked in an office for years so I don't have many office clothes but I wore a dress, jacket and white socks and big sneakers that made me feel like Nurse Ratched from One Flew Over the Cuckoo's Nest instead of the Staten Island Ferry commuter. But at least my feet were insanely comfortable the whole night instead of being perched on spindly high heels.
In a rush we bought some suspenders and a pair of retro glasses to assemble Mr NQN's outfit. I drew a logo on a mug, handed it to Mr NQN and regarded him. "I think I'll have to cut your hair" I said while looking at a picture of Lumbergh on my phone comparing it to my splendidly dressed up husband. He's a trusting soul my husband so I was let loose on his hair without any reservations (I hear you Dear Reader yelling "Big mistake-huge!" ;) ).
Great haircut no? ;)
He sat on a closed toilet seat holding a bin trying to catch the clumps of wet hair while I went at his hair with a blunt pair of craft scissors. "I think you'll need to seek professional advice on this but you never know, perhaps I could do a good job!" Because he was playing Bill Lumbergh and it was raining so his hair never fully dried, it wasn't a terrible looking effort. We went to the party and of course everyone was decked out as sexy secretaries with high spike heels and there I was in completely unfashionable enormous white sneakers and white socks referencing a film that none of them had ever seen. Only one person (the birthday girl) recognised the movies that we were from. I asked Mr NQN whether he was dismayed about it but he shook his head. He was also pleased with the haircut until the next morning when we were about to leave on another errand and I turned around and looked at his hair.
Gulp...
You see there is a reason why hairdressing is considered a skill and wives hyped up on pastries and donuts should not be let loose on their husband's hair before they go out to a costume party. Mr NQN looked like Bruce Jenner. Not in the face of course. He hasn't had any plastic surgery but his natural curls had formed a smooth swept in large curl and all I thought of was one of the more feminine members of the Kardashian clan-the dad Bruce. Thankfully my beautiful hairdresser Elly came to the rescue and cut his hair on Sunday afternoon and we both collapsed in a heap at the end of the weekend thinking that an early night in would be best.
And part of the reason for the crazy weekend? The cronut business that has been taking the world by storm. If you hadn't heard of it by now, it's a croissant donut hybrid where butter layered croissant dough is rolled out and leavened, cut into circles with the inside cut out and then deep fried. An invention by New York pastry chef Dominique Ansel, it is a pastry that is hotly in demand with customers being limited to buying two each as only a certain number is made every day.
Chocolate Zonut
Early on Saturday morning Laura picked me up in her car and coddled in jackets and beanies we made our way to Adriano Zumbo in Rozelle who are making their own version of the cronut called the zonut. There isn't much of a queue and we're the only ones waiting along with a lovely NQN reader. Every weekend he makes 800 of these deep fried pastries in two new flavours and when we reached there around 8:30am they brought out a tray of freshly made "zonuts" topped with chocolate pearls and filled with chocolate custard. They are best served as Ansel recommends, that is with a knife so that you can see the layers. The cronut was sweet, buttery, layered and moreish albeit very sweet. "I think I just got diabetes" Laura quips before finishing off her half.
Pina Colada Zonut
About half an hour later the pina colada zonut arrived and we tried that. Less balanced with a very tangy curd and just a little bit of coconut flavour we both preferred the chocolate zonut. But with flavour combos bouncing around my head powered by the sugar, I decided that I would try my hand at making one at home. I rushed home and turned to a freeform croissant recipe where I tried to upp the yeast and butter. It was okay but I didn't get the telltale layers that you look for in a croissant or a cronut. I then tried deep frying butter puff pastry which didn't quite cook through although the striated layers were uniform.
I was determined to give it another go so the next day I turned to an adaption of a Julia Child recipe for croissants that I had used last year but using a method demonstrated by Michel Richard to give neater layers than I got on the first attempt. With barely enough time to spare to photograph them before the last of the weekend light, I I piped the vanilla creme patissiere into the centre at three points and dipped the donuts in the icing and sprinkles and cut one in half.
It had layers! Lovely layers and ones that had me crying out in relief! So allow me to share the final Cronut recipe with you. It's long and laborious and by all means you can buy one if it seems like too involved a process. But if you have the insatiable urge for a little culinary zeitgeist at least for the time being, then take the time to make these. The flavour combinations are endless. I made one lemon one which was filled with lemon curd. You could also make a Boston creme version which combines three things: the Boston creme bun, a donut and a croissant (although will that make one's head explode if not the arteries? :) ).
Even if you can't taste Ansel's original version or indeed Zumbo's version, you can try your own. Although given how much cronut I had consumed in the name of testing, I sent most of these to Elly along with Mr NQN when he got his haircut leaving one buttery, sweet half to myself. I turned to Mr NQN as I was eating it and I said "I'm thinking of making these again in more flavours. And also wearing those Nurse Ratched shoes until it stops raining...."
So tell me Dear Reader, have you tried a Cronut? And what do you think of the idea? And have you ever had a home made haircut?
DID YOU MAKE THIS RECIPE? Share your creations by tagging @notquitenigella on Instagram with the hashtag #notquitenigella
The Croissant Donut (or Cronut)
Degree of difficulty: hard (although it is mostly time consuming)
Preparation time: 6-8 hours
Cooking time: 1 hour
Ingredients for the croissant dough:
¼ oz (7 gm) of fresh yeast, or 1¼ teaspoon (6¼ ml/4 gm) of dry-active yeast (about ½ sachet)
3 tablespoons (45 ml) warm water (less than 100°F/38°C)
1 teaspoon (5 ml/4½ gm) sugar
1 3/4 cups (225 gm/½ lb) of strong plain flour (I used Polish all-purpose flour, which is 13% protein)
2 teaspoons (10 ml/9 gm) sugar
1½ teaspoon (7½ ml/9 gm) salt
½ cup (120 ml/¼ pint) milk (I am not sure if the fat content matters. I used 2%)
2 tablespoons (30 ml) tasteless oil (I used generic vegetable oil)
½ cup (120 ml/1 stick/115 gm/¼ lb) chilled, unsalted butter
Creme patissiere filling
1 teaspoon vanilla extract
Icing
2 cups icing sugar, sifted
Step 1 - Mix the yeast, warm water, and first teaspoon of sugar in a small bowl. Leave aside for the yeast and sugar to dissolve and the yeast to foam up a little. Measure out the other ingredients.
2 . Heat the milk until tepid (either in the microwave or a saucepan), and dissolve in the salt and remaining sugar. Place the flour in a large bowl. Add the oil, yeast mixture, and milk mixture to the flour. Mix all the ingredients together using the rubber spatula, just until all the flour is incorporated.
Step 3 - Turn the dough out onto a floured surface, and let it rest a minute while you wash out the bowl.Knead the dough eight to ten times only by smacking the dough on the counter (lots of fun if you are mad at someone) and removing it from the counter using the pastry scraper. Place the dough back in the bowl, and place the bowl in the plastic bag or under some cling wrap. Leave the bowl at approximately 75°F/24°C for three hours, or until the dough has tripled in size.
Step 4 - Meanwhile, place the butter between 2 sheets of plastic wrap and beat it with a rolling pin until it flattens into a square that's about half an inch thick. Take care that the butter remains cool and firm: if it has softened or become oily, chill it before continuing.
Step 5 - Make the creme Patissiere. Place milk in a saucepan. Heat gently until the milk almost boils. Remove from the heat, whisk the yolks, sugar and cornflour in a bowl until thick and pale. Gradually whisk in the warm milk. Return mixture to same saucepan and stir over medium heat until the custard boils.  Spread over a tray to cool rapidly. Cover the surface of the custard closely with plastic wrap to prevent a skin forming, at 55°C transfer to a bowl and stir through butter and refrigerate to cool completely. Spoon into a piping bag with a plain nozzle.
Step 6 -  After the dough has tripled in size, remove it gently from the bowl, pulling it away from the sides of the bowl with your fingertips. Unwrap the dough and place it on a work surface dusted with all-purpose flour (A cool piece of marble is the ideal surface for puff pastry) and with your rolling pin (preferably a French rolling pin without handles), press on the dough to flatten it and then roll it into a large circle. Keep the top and bottom of the dough well floured to prevent sticking and lift the dough and move it around frequently.
Step 7 - Place the cold square of butter in the middle of the circle of dough and fold the ears over the butter, stretching them as needed so that they overlap slightly and encase the butter completely. (If you have to stretch the dough, stretch it from all over; don't just pull the ends) you should now have a package that is 8? square.
Step 8 - Gently but firmly press the rolling pin against the top and bottom edges of the square (this will help keep it square). Then, keeping the work surface and the top of the dough well floured to prevent sticking, roll the dough into a rectangle that is three times as long as the square you started with, about 24? (don't worry about the width of the rectangle: if you get the 24?, everything else will work itself out.) With this first roll, it is particularly important that the butter be rolled evenly along the length and width of the rectangle; check when you start rolling that the butter is moving along well, and roll a bit harder or more evenly, if necessary, to get a smooth, even dough-butter sandwich (use your arm-strength!).
Step 9 - With a pastry brush, brush off the excess flour from the top of the dough, and fold the rectangle up from the bottom and down from the top in thirds, like a business letter, brushing off the excess flour. You have completed one turn.
The closed fold on left like a book spine
Step 10 - Rotate the dough so that the closed fold is to your left, like the spine of a book. Repeat the rolling and folding process, rolling the dough to a length of 24? and then folding it in thirds. This is the second turn.
Leaking butter
Step 11 - If the dough is still cool and no butter is oozing out, you can give the dough another two turns now. If the condition of the dough is iffy, wrap it in plastic wrap and refrigerate it for at least 30 minutes. Each time you refrigerate the dough, mark the number of turns you've completed by indenting the dough with your fingertips. It is best to refrigerate the dough for 30 to 60 minutes between each set of two turns.
After three turns
Step 12 - The total number of turns needed is six. If you prefer, you can give the dough just four turns now, chill it overnight, and do the last two turns the next day. Puff pastry is extremely flexible in this regard. However, no matter how you arrange your schedule, you should plan to chill the dough for at least an hour before cutting or shaping it.
Before rising, the double decker donuts
After rising
Step 13 - About an hour or two before you want to fry these, take the pastry out of the fridge and let it rest for 5 minutes. Roll out the pastry and using a large and a small round cutter, cut out donuts. Using a little water, adhere one on top of another and allow to rise for an hour or two. You can also fry the donut holes and I ended up filling them with the creme patissiere and rolled them in cinnamon sugar and they were absolutely delicious!!
Step 14 - Heat 2 litres of oil to 190C/374F. Carefully place the risen doughnuts in the oil being sure not to overcrowd them (I did two at a time) and cook on each side for about 3-4 minutes. Remove from oil carefully and place on a paper towel lined plate. Roll in cinnamon sugar immediately if you are doing cinnamon sugar donuts. Otherwise, allow to cool and then fill with the creme patissiere.
Step 15 - Cut three holes in the sides of the cronuts-I found it easiest in the centre where the two dough pieces were joined together with water before frying. Pipe custard into the cronut.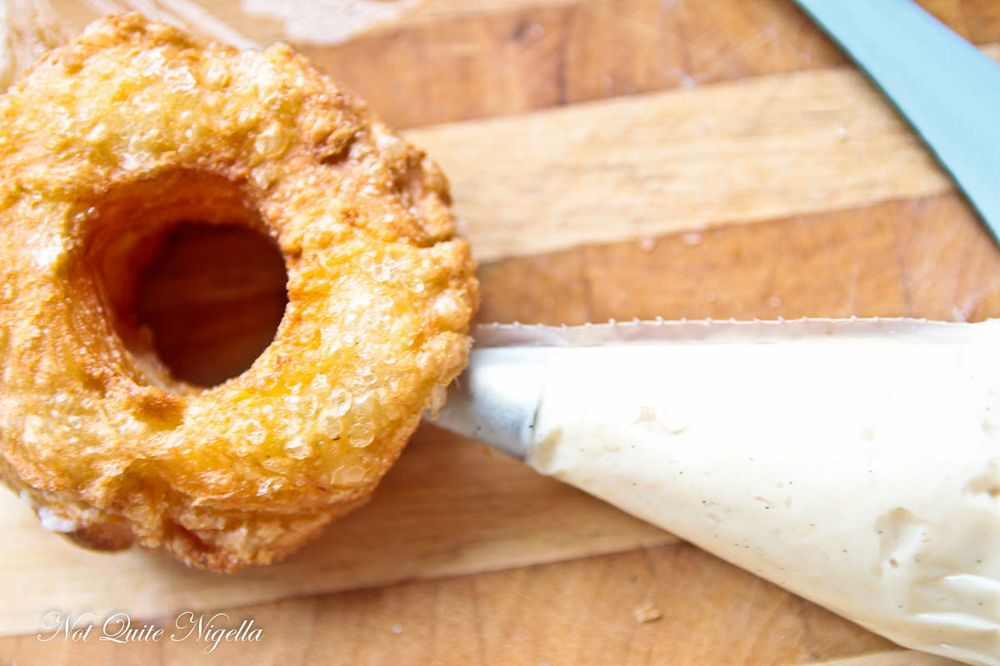 Step 16 - It is best to make the donut icing once the donuts are ready as it is quick to make but sets quickly. Sift the icing sugar into a small saucepan and add the milk and stir. If you're making lemon cronuts, dip them in as is and sprinkle with finely grated lemon zest on top. If you're making the pink donuts, add pink food colouring and then dip immediately into a bowl with the sprinkles. The icing sets quickly and if it starts to set, keep it on a low heat on the stove.