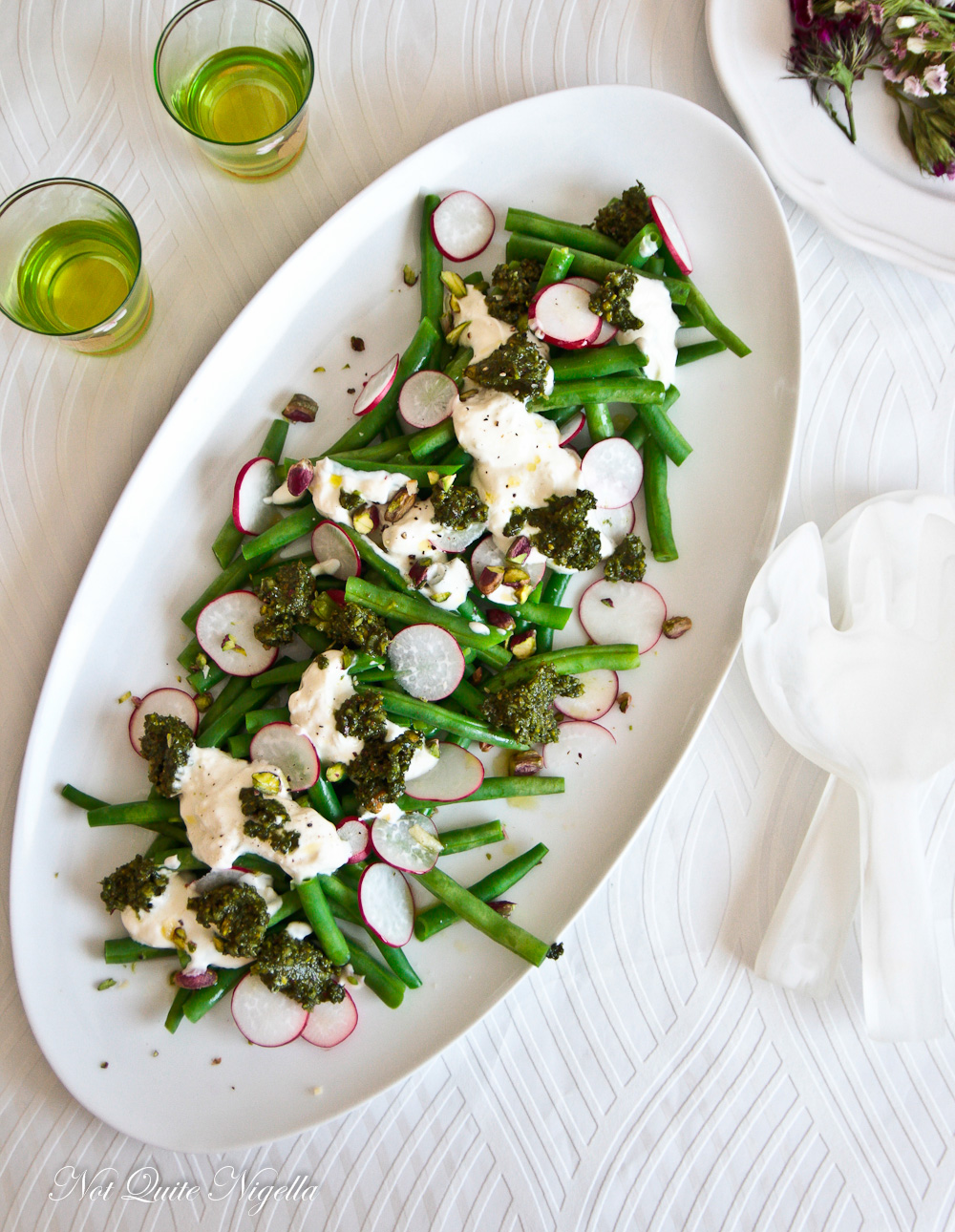 I think most husbands, partners, friends know not to make a big issue out of the amount of food that someone eats. I know that I'm a little obsessed with food but Mr NQN is similarly obsessed with cycling. And one night he climbed into bed early saying that he needed to get up at 5am for a bicycle ride. I moaned a little as that cuts my time with him short but he gently chided me.
"You know I love cycling as much as you like eating food," he said. "I'm not obsessed though, unlike you and food I can stop," he reasoned before mimicking me shovelling lots of food into my mouth before stopping mid-shovel and realising how much trouble he was in. His eyes widened and he stammered, "But look at me, I do it too!" with a forced tone of gaiety. All I could see in his eyes and body language was "ABORT ABORT!! ABANDON THIS MISSION IMMEDIATELY!!"
I found his attempt at backtracking funny although I did warn him not to "go there girl again or else". But let me offer you a salad that you can eat a lot of. I serve this for four as a side but it can also do well as a light lunch for four with some bread. It actually came together as it was mid week and I was scrounging about in the vegetable crisper. I came up with some beans and two lonely little radishes still attached to their greenery.
With just the remaining nub of a block of feta left and some Greek yogurt I made a simple dressing. I decided to add some pesto just for an additional kick of flavour but also because I had some left over from our pizza and spaghetti and meatball party. Well blow me over but this was actually a really deliciously crisp salad that can accompany any sort of meat main or be eaten by itself with some fresh, buttered bread for a simple lunch. You can use green apple as well to give it a sweet punch and dare I say that this feta and pesto combination can liven up many vegetables.
So tell me Dear Reader, do you often say things that you regret? And do you end up throwing things in the vegetable crisper out or do you try and use everything up?
DID YOU MAKE THIS RECIPE? Share your creations by tagging @notquitenigella on Instagram with the hashtag #notquitenigella
Green Bean & Feta Salad
An Original Recipe by Not Quite Nigella
Preparation time: 10 minutes
Cooking time: 2 minutes
Serves 4 as a side salad
500g/1lb green beans
75g/2.65ozs feta cheese
3 tablespoons natural yogurt
4 tablespoons pesto
2 radishes
2 tablespoons pistachios
Step 1 - Top and tail the beans and then cut the larger ones in half. Put a pot of water onto boil and blanch the beans in the water i.e. simmer them for a minute and then plunge them in an ice bath. This sounds much more dramatic than it actually is.
Step 2 - Drain the beans and place them on a serving plate. Thinly slice the radishes and place on top of the beans. Process the feta cheese and yogurt and dollop over the beans and then spoon the pesto on top of this. Sprinkle with pistachios and serve.