This bean salad is for when you have no time but want something delicious, healthy and full of goodness and fibre. Best of all the main ingredient is a tin of 3 or 4 bean mix!
Dear lovelies, I cannot understate how easy this recipe is. It is fast, vegan or vegetarian friendly but also high in protein. The basis for it is the simplest tin of beans and the whole thing is done is 5 minutes flat. This is perfect for a WFH or Working From Home lunch - add some bread or eat it by itself for a nutritious, quick lunch. I also recommend doubling up the recipe if there are more than 2 of you as this can last a few days.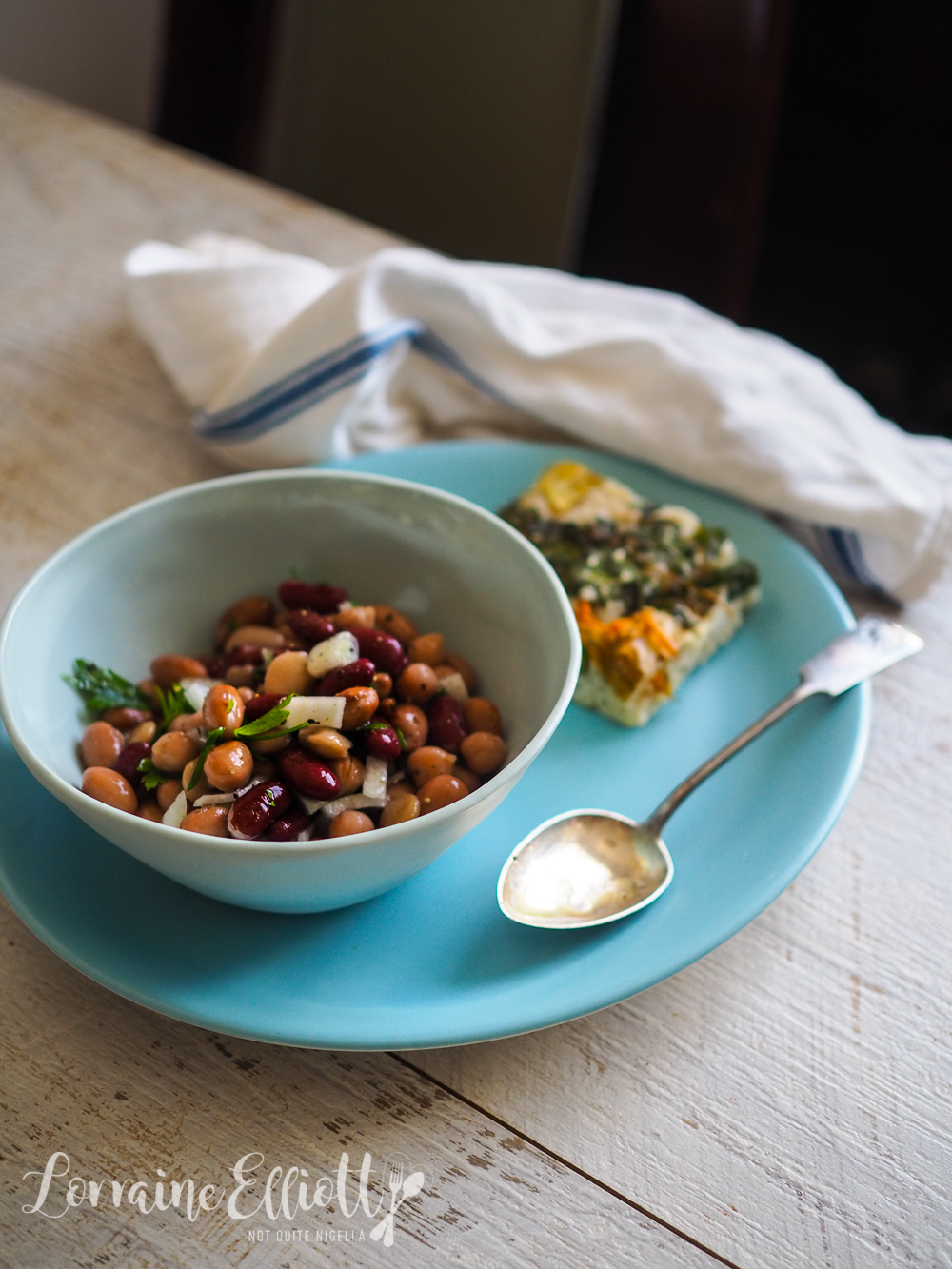 Does the mix of beans matter? No, any sort of tinned beans works really well. American bean mix often has green beans in it and it works well. Try lentils too!
Can I use other types of vinegar? Yes although because white vinegar is quite sharp in comparison with white wine, apple cider and balsamic vinegars which are sweeter, just adjust your sugar levels. I love this salad because it isn't overly sweet. But hey if you like sweeter food keep it as it is.
Which bread would I serve with this? I served this with focaccia and it was really good. You can also try this easy no knead tomato and cheese bread or this no knead bread boule.
Apart from some tinned food I have a few other things in my kitchen that I thought I'd share with you as part of the IMK series hosted by Sherry from Sherry's Pickings. I've been limiting the amount of shopping that I've been doing and trips out and this last week I got a couple of deliveries and food swaps.
The first thing was a delivery from the Blue Mountains with all sorts of wonderful produce. Over Easter I was supposed to go to the Blue Mountains (this was planned way ahead of time post-bushfires) but of course we cancelled the trip so this was sent by the lovely team at DNSW as a way for me to experience a bit of the mountains instead.
Not only was the produce super fresh, there was also nice variety with a few special items like heirloom eggplant, finger limes and saffron milk cap mushrooms! If you're interested in ordering your own box it was from https://www.lyttletonstores.com.au/, a not-for-profit community enterprise in Lawson in the Blue Mountains.
The next lot is a selection of Girl Scout Cookies! I grew up watching a lot of American TV and they always mentioned Girl Scout Cookies but I had never tried them before. Did you know that Girl Scout Cookies are only sold over a 6-8 week period during the year? These were a gift from my American born but Sydney based friend Ivy who got a big order shipped over. I got a box of Do Si Dos, Samoas, Lemon Ups and Tagalongs. My favourites were the peanut butter based ones like the Di Si Dos (I LOVE oatmeal cookies) and Tagalongs. The lemon ups were super cute with their empowering prints on them while the coconut based Samoas were also tasty. I'm going to try and recreate my favourite ones too!
The third haul is from my friend Monica. We both love to cook (she's a chef) and so we do food swaps. However in the age of COVID-19 our food swaps also include bottles of disinfectant and alcohol swabs! The smoked salmon by Mr Flax is divine-easily one of the best smoked salmons available while the croissants were divinely buttery and there's also a miso vinaigrette there too!
So tell me Dear Reader, do you have anything new in your kitchen? And how often do you shop? Are you changing the way that you shop?
Looking for other salads? Try this tomato and strawberry salad, Citrus & Halloumi Salad, Cauliflower & Chicken Salad, 5 Minute Cucumber & Pomegranate Salad or this Guacatzitzi salad!
DID YOU MAKE THIS RECIPE? Share your creations by tagging @notquitenigella on Instagram with the hashtag #notquitenigella
WFH Bean Salad
An Original Recipe by Lorraine Elliott
Preparation time: 5 minutes
Cooking time: 0 minutes
Serves 3-4 with bread
400g/14oz tin 4 bean mix, drained and rinsed
1 medium onion, peeled and diced
1/4 cup/60ml oil (I used rice bran oil)
1/4 cup/60ml white vinegar
1/8 cup/2 tablespoons sugar
Juice of 1 lemon
Salt and black pepper to season
A few sprigs of fresh parsley, chopped
Step 1 - Mix all ingredients together in a bowl. This bean salad develops a better flavour if you rest this overnight in the fridge as the flavours penetrate into the beans.