*This post is brought to you by L'OR EspressO *
It's funny how comfortable you can get with friends, particularly ones that you've known for a long time. They start to feel like family, except family that you choose to see more often than not and sometimes you lapse into familiar habits or let your guard down.
One of these friends is Gina's husband Hot Dog. Some might say that he gets too familiar at times. I've known Gina and Teena for a long time, ever since we were thrown together as assistants at our first advertising agency. We were bright eyed, rosy cheeked and often the target for the less palatable tasks. That sort of thing tends to make you bond.
Anyway, back to Gina's husband Hot Dog. When he comes over for dinner or a party and if he gets tired, he simply gets up off his chair and quietly finds a corner or a space and naps on the ground. People can carry on around him talking and sometimes he does it so subtly that we don't even notice but half an hour later he stretches and unfurls and then he is back.
Well this recipe would be for him. It also happens to be one of the best steak recipes I've tried in a very long time. I usually cook steak the Heston way, I mean it is the best steak method I've tried giving the outside of the steak a beautiful caramelised crust. However it does require prior ageing and if you don't have the time or will to do that, this is a really interesting alternative which gives you a similar caramelised crust.
A steak or kebabs (I've done both as I was so smitten) are simply rolled in a delicious crust of ground coffee, black pepper, brown sugar and cayenne pepper and cooked in a mixture of butter and oil. It requires no pre marinating or ageing.
I developed the recipe for L'OR EspressO coffee pods which are a new alternative to Nespresso coffee pods that are compatible with their machines. There are nine Espresso (short) and Lungo (long) blends to choose from and I decided to use the Superiore Espresso as it had the highest intensity to it which I thought would be good for the steak.
The coffee pods are also available at supermarkets and retail at $5.99 for 10 and they're all UTZ certified which means that the coffee is grown sustainably, plus each is sealed individually in a pouch for freshness. They were also giving away samples of these on their facebook page.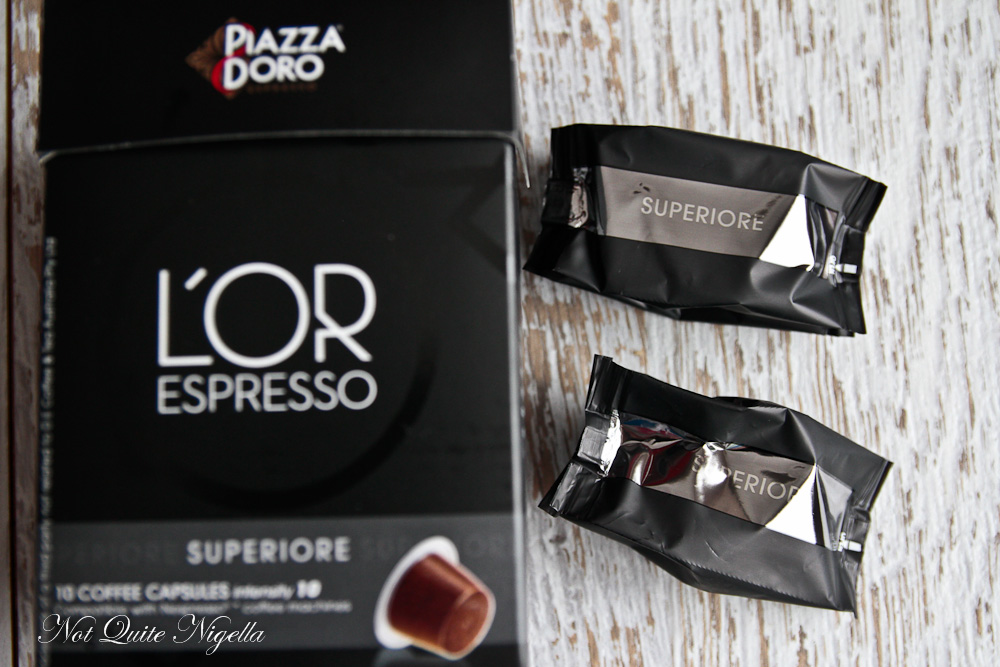 The result of rolling the steak or kebabs in this mix is a beautiful caramelised crust on the outside with a gorgeous spice rub to flavour it. Interestingly, it's not weird or odd nor does it taste like you're eating a steak and a cup of coffee. Of course you may want to use the decaffeinated version if you're sensitive to caffeine at night!
Thanks to the lovely people at L'Or EspressO, one winner will receive a $100 gift voucher at goodfoodgiftcard.com.au! For a chance to win all you have to do is tell me what your favourite type of coffee is and when you drink it! Simply add your answer as a comment to the story. The competition ends at midnight AEST on the 8th of December, 2013. You can enter this competition once daily and it is open to anyone within Australia.
DID YOU MAKE THIS RECIPE? Share your creations by tagging @notquitenigella on Instagram with the hashtag #notquitenigella
Coffee Crusted Steak
An Original Recipe by Not Quite Nigella
2 L'OR Espresso Pods (I used the Superiore pods)
1 tablespoon ground black pepper
1 tablespoon dark brown sugar
1/2 teaspoon cayenne pepper (use 1/4 teaspoon if you don't like it as spicy)
Salt to taste
500g/1lb steak of your choice or kebab pieces
50g/1.7 ozs butter, cut into cubes
Oil for frying
Step 1 - Slice the top of the coffee pod and empty the ground coffee into a large, shallow bowl. Add the black pepper, dark brown sugar and cayenne pepper and mix well. Roll the beef in the spice mix.
Spice mix
Step 2 - Heat a frypan or grill on high heat and add some oil and a cube butter. Cook the steak or kebabs to your liking. The outside will look overly cooked because the coffee darkens it so just be aware that it looks more cooked than it is and use a steak thermometer to test the temperature or press against the steak to feel the texture. I like to top off the steak with a small cube of butter to make it glisten. Rest for 10 minutes under some loosely tented foil and then serve with salad.
Rolling the steak in the coffee and spice mix before cooking