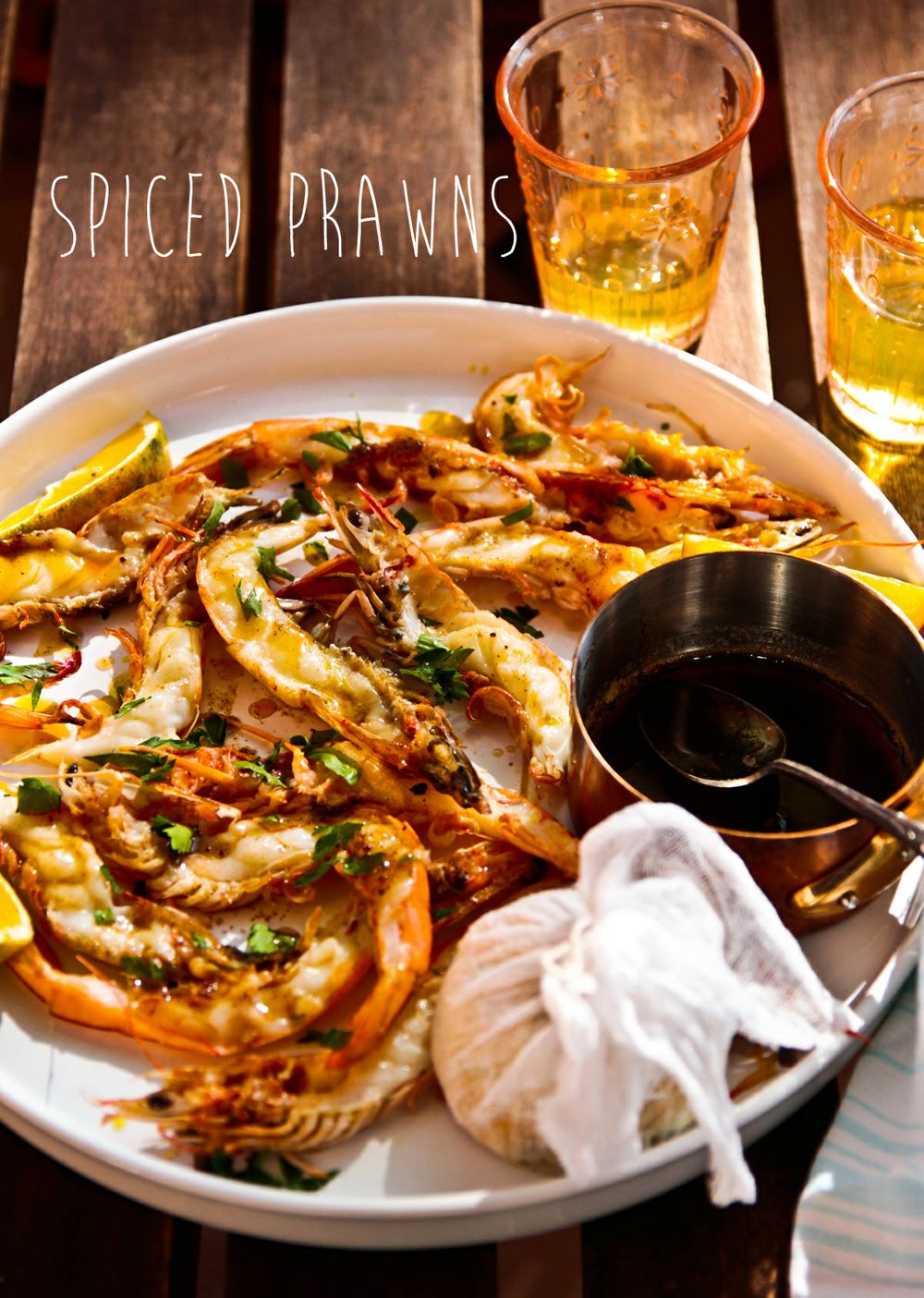 I was watching him bug eyed as he lifted a forkful of food to his mouth. He looked at me sideways.
"Do you mind if I watch you eat that?" I asked him.
"Errm no, but I'm going to turn that way" he says, shifting his body about 45 degrees.
"Are you creeped out by me?" I asked him.
He looks at me from the corner of his eye and pauses before answering, "Not now that I've moved."
For the most part I don't think that husbands are generally creeped out by their wives but there are circumstances when I do creep out Mr NQN like when I ate the pastry from around a sausage roll and handed him back the naked sausage. Or when I put prawn heads on the ends of my fingers and then stroked his arm giggling...
I digress now that we're on the subject of prawns. They're not usually the prettiest of things admittedly and I find that shelling prawns will often yield a little prick in the finger like that of a sharp needle. However today I'm sharing a super simple recipe for them that you could use with any sort of seafood. They're simply cooked, in fact because the prawns are butterflied, they grill in about four minutes but what's magical is the spiced browned butter topping. Yes, my old friend browned butter is back but in a savoury dish.
The butter is a recipe adapted from our favourite dish at The Bourbon, the Alaskan crab legs by chef James Metcalfe. While the prawns are grilling, you brown the already made butter (which I make in large lots and stash in the freezer). It's the sort of dish that has you mopping up the last traces of the nutty browned butter as if you were about to perish off the surface of the earth so make sure you have bread (or hey you could use your tongue! ;) ). You could also use this butter on chicken, fish, scallops and any other seafood that takes your fancy. And call me crazy but the butter also makes a fantastic present for friends!
So tell me Dear Reader, do you ever watch other people eat or is that just me? And would you ever give a log of spiced butter to a friend or is that crazy too?
DID YOU MAKE THIS RECIPE? Share your creations by tagging @notquitenigella on Instagram with the hashtag #notquitenigella
Spiced Butter Prawns
Spiced butter recipe adapted from James Metcalfe, The Bourbon
For spiced butter
1/2 teaspoon coriander seeds
1/4 teaspoon ground star anise
1/4 teaspoon white pepper
1/4 teaspoon smoked paprika
1/4 teaspoon cayenne pepper
200g/7 ozs butter, softened
For prawns
Olive oil (I used a lime olive oil)
Parsley and lemon or lime wedges to serve
Step 1 - Grind the salt, coriander seeds, star anise, white pepper, smoked paprika and cayenne pepper together in a food processor, mortar and pestle or coffee grinder. Transfer to a food processor and add the butter and process until combined. Roll up in a piece of baking parchment paper securing the ends. You can place this in the fridge or freezer.
Step 2 - When you want to cook the prawns, preheat the grill and line a large baking with foil. Butterfly the prawns lengthways. You need a really sharp knife to do this. Clean the prawns until gently running water removing the digestive tract and the vein.
Step 3 - Place the prawns cut side up and drizzle with the olive oil and grill for four minutes until cooked but still juicy.
Step 4 - Meanwhile, heat 50g/1.7ozs of the spice butter in a small saucepan on medium to high heat until browned - it should smell like nuts. Skim the white bubbles from the top of the butter and spoon the browned butter on top of the prawns. Top with finely chopped parsley.