Garlic butter prawns are such a classic bistro dish but they're also delicious and take almost no time to cook! Pair it with some spaghetti or long pasta for a wonderful, quick meal that is delicious enough to serve guests! My secret? Brown butter to add some nuttiness!
A prawn pasta like this is the ultimate fast food. Takeaway is great but takes longer to arrive and if you plan ahead and have some prawns in the freezer, a lemon and some pasta, you'll have the tastiest, quickest pasta dish ever in 1-15 minutes!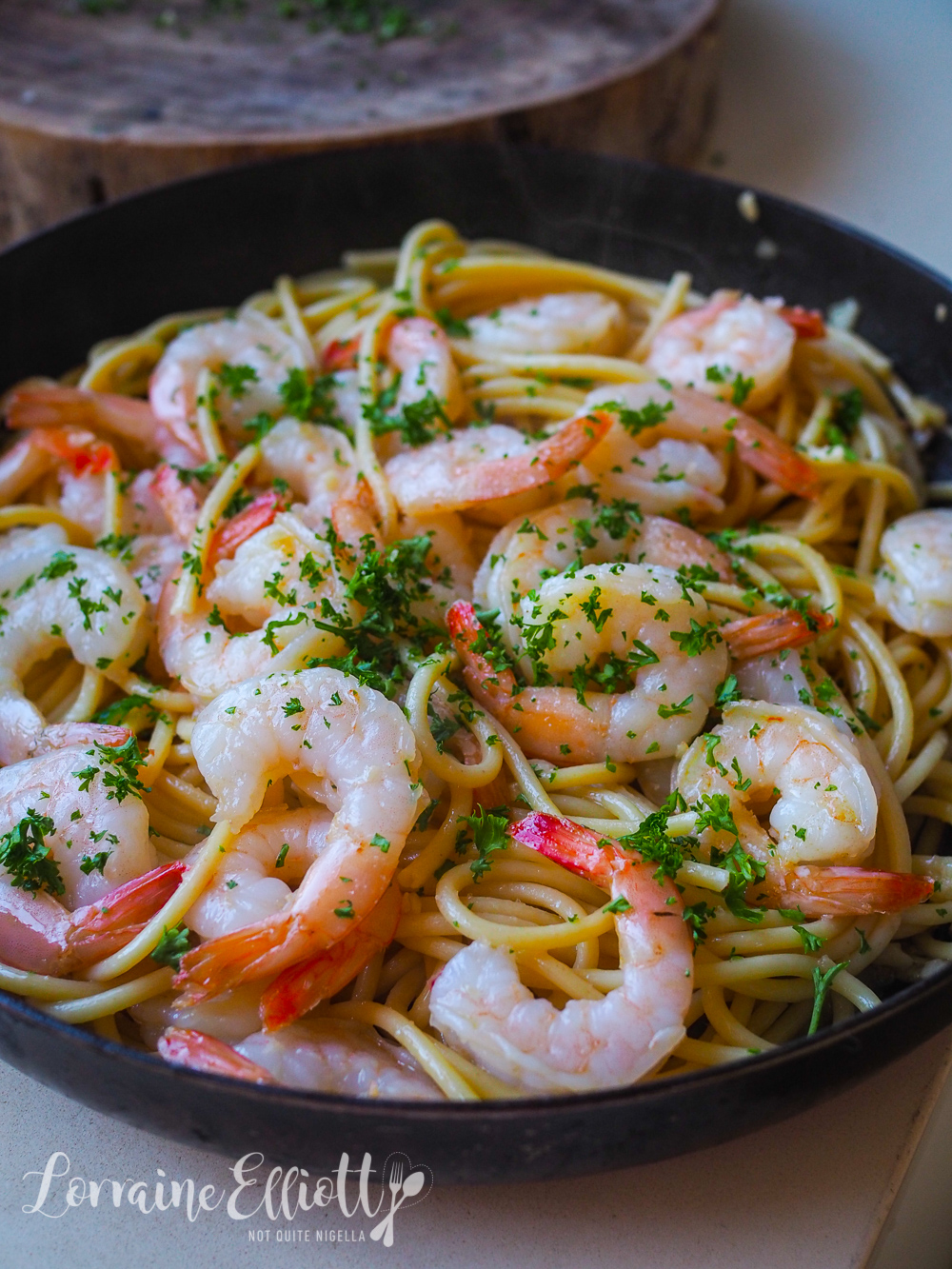 Brown butter is a wonderful ingredient and you can practically use it anywhere that you use butter. Here we also use the milk solids or the brown bits that separate from the butter (and you usually strain off) and this helps to season the pasta even further! The browned milk solid are intensely nutty and salty and give the pasta a lovely seasoning. Here is a step by step recipe on how to make brown butter. I keep a log of brown butter in my fridge all the time and it lasts for months.
Which prawns? Try to get larger raw prawns for this dish (cooked prawns won't work well for this). Frozen prawns are also handy and come already shelled minimising your prep time. I always have some in my freezer for this easy chee cheong fun dish.
Prawns are super quick to cook! Cook prawns just until they turn pink which only takes a couple of minutes. Do not overcook; prawns get tough quickly.
Don't over cook the garlic too: overcooking or burning garlic brings out the bitterness. If you've burnt the garlic, it's best to throw the burn garlic out and start again.
How much pasta per person? Recipes usually give a weight of 125g/4ozs. of pasta per person. One 500g/1.1lb packet of pasta should feed 4 people.
Options: add some chilli, either fresh chilli or chilli flakes
We recently learnt that Teddy is a big fan of prawns but not necessarily to eat. I will confess that I am that dog mother that finds everything that her puppy does charming or funny. The other day in the park Teddy picked up a baby dummy from the ground and ran around the park with it correctly positioned in his mouth. This delighted everyone including strangers who pointed at Teddy prancing with his pink pacifier. Later that day I left a roti outside the door of Mr NQN's office for his lunch and he stole it quietly. His new job title is "roti thief".
Just this past weekend we found out how much Teddy loves prawns. Not eating them (well we haven't offered him any). But instead using them for something else entirely!
We took him to a beach for a run around and on the sand there was a raw prawn (Discarded BBQ food? Washed up? No idea) that was getting rather stinky in the sun. Teddy decided that it would give him the perfect aroma so he rolled around in it for a good few minutes before we realised that it was a prawn he was so smitten with and pulled him off.
The drive home with a dog covered in prawn guts and juice was aromatic to say the least. But Teddy slept soundly perhaps proud at his new perfume scent. He looked up at me, his face the picture of perfect sleepy bliss. It was as if he was saying, "Aren't prawns the best mummy?"
So tell me Dear Reader, what do you always have in your freezer on standby? Do you like browned butter?
DID YOU MAKE THIS RECIPE? Share your creations by tagging @notquitenigella on Instagram with the hashtag #notquitenigella
Garlic Butter Prawns Spaghetti
Rated 5.0 out of 5 by 4 readers
An Original Recipe by Lorraine Elliott
Preparation time: 5 minutes
Cooking time: 15 minutes
Serves 4
500g/1.1lbs spaghetti or long pasta (I used bucatini)
125g/4ozs. butter, cubed
6 cloves garlic, peeled and finely chopped
500g/1.1lbs peeled large raw prawns/shrimp (frozen is fine)
1/2 - 1 cup pasta cooking water
1 teaspoon chicken stock powder
2 lemons, halved
1/4 cup finely chopped parsley
Salt and pepper
Step 1 - First start cooking the pasta in one large pot with lots of salted water. It should take around 8-9 minutes.
Step 2 - While the pasta is cooking, start browning the butter. Add the butter to a large frypan or skillet and cook on medium high heat until it starts to smell nutty. Turn the heat down to medium and add the garlic and fry for around 30 seconds (you don't want the garlic to burn). Then add the prawns and cook for a minute or two or until they start to turn pink.
Step 3 - By now the pasta should be ready (if not take the prawn pan off the heat). Scoop out a cup of pasta cooking water (you'll only need 1/2 cup but take more just in case) and drain the pasta. Add 1/2 cup of pasta water, 1 teaspoon chicken stock powder and then squeeze the juice of 1 lemon to the pan to make a sauce and add salt and pepper and taste for seasoning. Add the pasta to the pan and swirl with tongs to coat the pasta and prawns. Taste again for seasoning and then sprinkle with parsley.
Step 4 - Cut up the remaining lemon and serve each plate with a quarter of a lemon.