Let's not beat around the bush. The QT Hotel is naughty. She's the girl (and yes I've pretty much decided that QT Hotel is a she) you see through peepholes. She wears red lipstick, stockings, suspenders and high heels. She's a constant surprise and she's quirky. And to keep things mysterious, the name QT was chosen to evoke different things to people and inspire creativity.
The invitation to try out QT Sydney, the latest hotel launch within Sydney's CBD in the last ten years, came at the perfect time. I needed to do some pre-Christmas shopping and the QT had always intrigued me.
I had attended events at the QT, it's presence subtly popping out at you when you stroll down Market Street. The first glimpse is usually a red haired woman in black. She has a bright red bob and a ready smile and doesn't look "like she comes from around here."
The lobby entrance is upstairs (downstairs is Parlour Lane, the QT's cafe) and the much talked about elevator is a personality in itself. Through sensor technology, it calculates how many people are in the elevator and play music accordingly. When Mr NQN and I ride up it plays "The Two of Us."
The lobby is a colourful mix of textures and images drawing influences from its two most immediate neighbours, the iconic and dramatic State Theatre and the former Gowings department store. The reception desk features photos of red lips, curved backs, suspenders and red velvet while another area has mannequins, fabrics and vintage suitcases.
We go upstairs to our room, #1015 on the top floor of the hotel. Rooms are either on the Gowings side of the hotel or the State Theatre side and ours was on the latter. The walls are all black and we walk past a wall of white and gold televisions.
The room numbers are held by hands - you almost expect them to come to life as you walk past. Our room is right next to a mirror where an apparition appears. "This place is like you in a hotel form" Mr NQN says to me.
Room #1015 is a King Deluxe room. At 32 square metres, it's compact but well appointed and beautifully furnished. The king bed sits to the left with a fluffy throw. The bed itself is a little bouncy and quite high and the pillows are fluffy and high too. The sheets are nice and smooth.
I particularly like the reading lights above the bed on each side that are activated by pulling out. There is a large flat screen television, iPod dock, the desk is a good size for work and I do a silent hooray for complimentary internet. Next to the desk is a closet and mini bar (surprisingly well priced with nice boutique snacks and old skool games like pick up sticks). To the right are the makings for an in room martini.
I'm pleasantly surprised to see a bath in the bathroom as well as an open plan duo shower heads (although these could have more pressure). The view from the bath is that of the Queen Victoria Building. There are also twin sinks with a shaving and makeup mirror.
The amenities are by USpa and include shampoo, conditioner, body wash and body lotion and there is also a shower cap, sanitary bag and sewing kit. Two shaggy black robes hang by the door. The price of this room is $360 per night which seems reasonable given the plum location and atmosphere.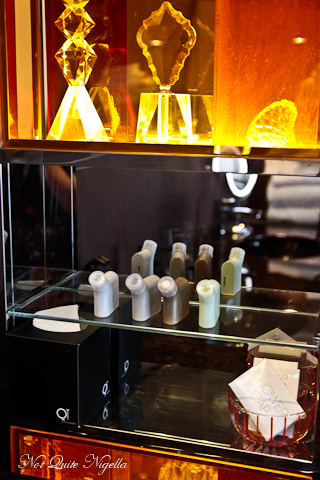 While Mr NQN naps in the room I make my way down to the Mezzanine level (the cheeky song playing in the elevator is Billy Idol's "Dancing with myself") where I have an appointment at spaQ for a "freshly picked" treatment. The idea behind Freshly Picked is that it is a completely customisable treatment based on your needs, likes and dislikes.
You don't need to decide on your treatment when you book as they acknowledge that life and people's needs change on a daily basis. The idea is to arrive 15 minutes before your treatment and you can discuss your treatment with your therapist - and for those that like a menu there are also menu options available. The Hammamm steam room is also available to all guests on a complimentary basis and clients can have a straight edge razor shave, haircut or facial at the Barber Shop.
My therapist is the delightful Emma. She leads me into the treatment room which is part of the original Barber shop with much of the original tiling still in place. She discusses my likes and dislikes and I lay down on the bed. She is using Uspa products on my skin that incorporate a lot of aromatherapy and I settle in under the snug covers.
I particularly like what feels like an orange mousse foam on my skin. As promise, she tailors a facial and massage to my exact needs. I'm almost in denial of the impending end and shut my eyes tight down to the last spritz of rosewater after which she uses a hot towel on my feet and slides my slippers on.
After a little work it is time for dinner downstairs at the Gowings Bar & Grill. It's busy this Sunday evening and we're shown to our table near the window with views of Pitt and Market Street below. Even the chefs are wearing something a little different, in this case it is white berets.
We're given a large steak house menu with the house specialities from Italian Chef Robert Marchetti in breakout boxes. It's a bit of umming and ahhing before we decide on what to order. Service is deferential and friendly and the food comes out very quickly.
When we ask what the difference is between French onion soup and this Italian, we are told that this has a small amount of liquid and a lot of onion and crunchy cheese bread. I'm sold. As a complete onion freak I delve into the pot of soup and fish up plenty of thinly sliced soft sweet onion and gruyere and pecorino topped garlic and chive baguette, some pieces still crunchy.
I have a slight food fetish for salads and chicken salads. This is a luxurious take on a chicken salad with soft boiled halved quail eggs, shreds of chicken breast, chervil, kipfler potato slices, spears of asparagus and then dill and truffle mayo on the side which gives it even more flavour and aroma.
We ordered the steak medium rare to medium and it came just as ordered. The 9+ full blood wagyu is juicy and marbled and we pair it with two sides, a rich buttery Paris mash and a garlicky side of mushrooms cooked in the bag which are the perfect accompaniments to it.
The quail comes as two whole partially deboned quail stuffed with a sweet malt, barley bread, sage, parmesan & double smoked ham stuffing. It sits on a bed of Brussels sprout leaves, peas and lemon thyme and they pour a quail stock reduction over it at the table. The only boning needed is with the wings and legs which are still succulent and come off the bone easily. The sweet stuffing and the Paris mash and mushrooms is excellent to balance this meaty dish.
After trying the beignets at Cafe Du Monde in new Orleans, I had very high hopes. These are good although denser than the ones at Cafe Du Monde. I would have loved a pot of liquid chocolate sauce as they're quite large and the inside of the donuts themselves aren't very sweet.
The peach melba features soused and grilled peaches in Grand Marnier on a round ice cream parfait studded with hazelnuts with fresh raspberries, raspberry sauce and a chiffonade of baby basil. A wafer perches on top although this gets a bit soggy with the sauce but it's a refreshing and perfect end to a rich meal.
And the cheeky elevator? As we go upstairs to our room, it plays "Let's Get It On"!
In the room, we struggle a bit with the air conditioner -I always turn it off but after hot baths we need to turn it back on. We are unable to but don't want to call the manager on duty again (we had to to ask how to turn out one of the bathroom lights earlier).
The next morning I go back to Gowings Bar & Grill for breakfast. Mr NQN had already been earlier this morning on his way to work. All of the breakfast selections are a la carte and the menu is full of really tempting options. All of the eggs and meat served are free range and the fish is sustainable and line caught. I'm still quite full from the night before so I go with a carrot, apple and beetroot with a hint of organic ginger (sans the celery) which is gorgeously sweet and refreshing and the sashimi ocean trout tortillas.
Interestingly, after I ordered the fish tortillas I overheard them asking other people if they wanted green chilli on theirs but I wasn't asked nor was I given chilli. They arrive as corn tortillas filled with ocean trout sashimi slices, avocado mousse, coriander and Egyptian mint with half a lime. They're refreshing and light and perfectly sustaining for another day of Christmas shopping and battling the hordes of shopper!
As I catch the elevator down stairs a dramatic tune plays. Apparently life's a theatre and no more is it so that here at the QT.
So tell me Dear Reader, how is your Christmas shopping going? And do you usually keep the air conditioning on or off when staying in a hotel?
QT Hotel
49 Market St, Sydney NSW 2000
Phone:(02) 8262 0000
http://www.qtsydney.com.au/