Sydney comes alive in Spring and Summer and if you're looking for a romantic or family getaway in Sydney take a look at this 48 hour guide. Staycation in style and be a tourist in your own city. I also give you some tips on how to save on hotels and attractions!
Day 1: 1pm Sydney Eye Tower
Start off orienting yourself in the city because the Sydney skyline has changed a lot over the years. On a clear day at the Sydney Eye Tower you can see far and we've been blessed with a bright, sunny day.
Walking around Sydney Eye can take as short as 15 minutes or up to 2 hours particularly if you're game enough to do the SKYWALK (I'm not!). This is where you step out onto the glass bottomed fenced ledge while being tethered to a harness.
Tip: Book with the trip.com app and you can get up to 20% off attractions. I got 8% off my tickets to the Sydney Eye Tower.
Day 1: 3pm Check into the Ovolo Woolloomooloo
The wharf-side hotel all about modern interiors within a heritage listed wharf building (it was formerly a 100-year-old wool wharf among other things). It is also a great place to situate yourself if you want to stay close to the city but not within the CBD itself and is a 10-15 minute walk into the city.
The Ovolo Woolloomooloo is also a Small Luxury Hotel (SLH) and its rich maritime and social history has been kept as part of the hotel's redevelopment. The Woolloomooloo Finger Wharf that it sits on is the longest timbered-piled wharf in the world.
The hotel has 5 levels and our room #509 is a CityVoo loft which is a split level 58 square metre room. The bottom level is the lounge area with tv and modular lounge with a window you can open for fresh air.
There's a tv and a speaker to play music and a tablet for guest use. There's also plenty of space to place luggage and a downstairs powder room.
Upstairs is a king sized bed and a bathroom with a bath and shower combo. Full sized toiletries include the hotel's own brand of amenities, punnily named after songs like "Ain't No Scrubs", "Smooth Operator" and "Right Hair Right Now" and if you need anything else you just need to call. There are robes and slippers hanging in the open closet.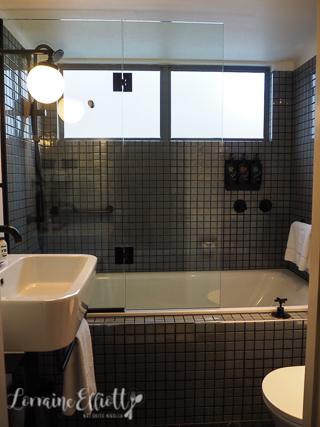 The room is well thought out and appointed with plenty of handily placed plugs and USB ports, adequate lighting and hooks. Rooms are surprisingly quiet and peaceful.
The common areas are where you'll find some photogenic spots for Instagram. The Alibi restaurant and bar is a popular space for events and has rooms with cosy nooks and lots of places to sit and work or eat.
Tip: Until the 27th of October you can get $50 off every hotel stay if you book through trip.com! Use the code "NSW50" at checkout and this is for stays within NSW with a minimum spend of $150 for stays until February 2021.
Also, while the hotel is dog friendly, make sure to plan ahead to see which restaurants in the area are dog friendly as dogs cannot be left unattended in rooms. The restaurants along the Finger Wharf are unfortunately not dog friendly.
Day 1: 6pm Dinner at China Doll
The Finger Wharf along the side of the hotel has a range of restaurants from Italian, Indian and Modern Australian to pan Asian favourite China Doll which has been operating here since 2004. Book early to try and secure one of the outside tables closest to the water.
Clockwise from top: Cured Hiramasa Kingfish with Avocado & Jicama $26, Ginger Scallops $4.50 each and Prawn & Garlic Chive Crispy Parcels with Nuoc Cham $22
Start off with a signature cocktail-the Lemongrass and Chamomile Collins is refreshing and lightly sweetened with flavours of chamomile, Lillet blanc, gin, lemongrass with a soda fizz. Then segue into lighter bites like a delightful cured Hiramasa kingfish with avocado & jicama or steamed scallops with ginger and shallots. If you're looking for something crunchy the prawn & garlic chive crispy parcels with nuoc cham are like plump, fancy spring rolls with lots of prawns inside them (warning: they're moreish!).
The lobster egg noodles (a special) are fantastic. I could have happily devoured these toothsome noodles by myself. The chilli oil dressing and green beans give it flavour and crunch.
The most popular main is the Masterstock braised pork belly cubes with a chilli caramel sauce and nam pla phrik with plenty of ginger. The pork belly melts in the mouth in one delicious mouthful.
If you're after something richer the Penang Curry made with a slow braised wagyu beef shin. This curry is rich and sweet and best shared.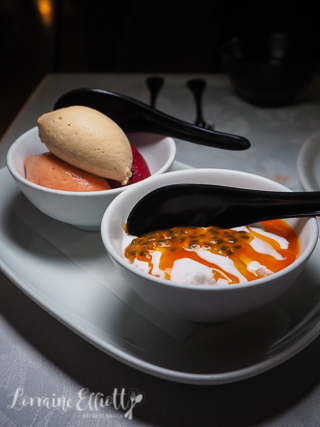 In warmer weather the sorbet and ice cream or the sago pudding with vanilla coconut cream with passion fruit syrup are great choices.
Tip: Some dishes here can be ordered as half sizes (although it doesn't say it on the menu) like the Masterstock braised pork belly, prawns and the Penang curry which is very handy if you want to try more! Just ask the wait staff.
Day 2: 9am Breakfast at the Ovolo
Breakfast at the hotel is at the Alibi restaurant on level 2. There is an a la carte selection of pressed juices, lattes and barista coffee and breakfast items on the menu.
If you want a big breakfast the Ovoloaded breakfast has eggs cooked your way, chicken chipolata sausages, Moroccan baked beans, blistered cherry tomatoes and crispy hash browns.
My favourite is the smoked salmon, avocado and feta bagel is very tasty albeit very filling too!
Day 2: 11:30am Madame Tussaud's
Okay confession time: this was my first time to Madame Tussauds. To me it seemed like a strange idea and I wasn't sure what I would think or feel about it. But do you know what? We had so much fun and it's a great way to spend an hour (or two if you have kids). It's not just wax statues of famous people. It's also interactive picture opportunities and there are a whole lot of Australian identities featured. However with COVID-19, people are no longer allowed to touch the statues.
Celebrities are grouped by genre whether it be politics and entertainment with some done eerily well. For example the Meghan and Harry are amazing while the Katy Perry is more Bettie Paige than Katy. The exhibition finishes with Brad Pitt and Angelina Jolie and then a gift store where you can buy an Oscar statuette engraved with your name.
Tip: At the Spiderman stop, pose in the same way as Spiderman, take a portrait picture an then flip it upside down. In the photo you'll look like you're clinging to the ceiling! Also booking on trip.com gives you a 8% discount on tickets and you can skip the ticket buying queue by purchasing online
Day 2: 1pm Lunch at Born at Tapavino
A short 5 minutes walk away from Madame Tussaud's is the Barangaroo harbourside dining and office precinct. There's no shortage of restaurants to choose from with different cuisines and budgets. We're dining at Born by Tapavino, the third restaurant after Bar Tapavino in Circular Quay and Balcon by Tapavino.
The food is Spanish with shareable dishes. For starters there's Pan Con Tomate and Jamón Serrano with crusted burrata with vinegar pickled onions (the latter, a must order!).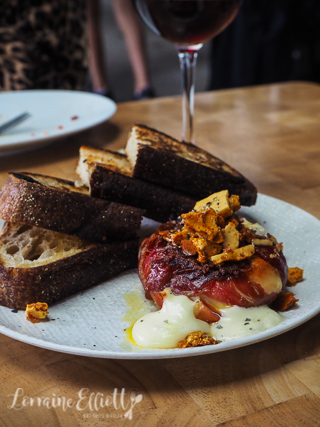 The warm cow's milk cheese wrapped in Jamón Serrano with truffled honeycomb is also delicious (although the honeycomb isn't the hive honeycomb but the candy honeycomb) and the truffle isn't very apparent.
Txistorra (Basque Chorizo), Buttered Zucchini, White Bean, Piquillo Pepper $28, Patatas and Smoked Tomato Mayo, Ajo $12
Mains wise the Txistorra or Basque Chorizo is one long curled sausage served with white beans, buttered zucchini shreds and piquillo pepper. This goes perfectly with the Patatas or potatoes with smoked tomato mayo and ajo or garlic and together they are a powerhouse of flavour.
Wash all of this down with a glass of their wine from their very extensive wine list (which is quite a tome!). Wait staff can also recommend wines to go with your food if you don't want to go through the entire list.
Dulce de Leche & Chocolate Ganache Sphere $15 ​ Born's signature dessert is the Dulce de Leche and Chocolate Ganache Sphere with a dulce de leche mousse inside a soft chocolate coating with chocolate soil and dulce de leche. But just a warning: it's very, very rich and best shared!
Tip: During October eat lunch on Tuesday, Wednesday and Thursday from 12pm - 3.30pm and get 25% off the bill. There is also Happy Hour from 3.30PM - 5.30PM.
Day 2: 7pm Dinner at Alibi
After a busy day out, one of the best low key delights is having dinner at the hotel. Over the last few years the food at Alibi has gotten progressively better to the point where it is now fantastic. Alibi does creative vegan cuisine that is also healthy but not punishing and just full of natural flavours and delicious virtuosity.
Start with a cocktail-the bar selection is full of their own creations from the lovely English Summer Rain to the Walking on Sunshine. Make sure to try the bread which is a high hydration sourdough made in-house. Made with black garlic and rosemary and served as enormous doorstop slices with coconut butter enriched with nutritional yeast it's so good I had to ask if it is available for purchase.
The kimchi dumplings have been on the menu since day 1 for good reason. These are light as a feather and grounded with flavour. Other dishes include pan fried marinated tempeh with a pea and coriander pesto with samphire that takes on an almost steak-like texture. Charred leeks are caramelised sweet and paired with macadamia yogurt, kale and popped sorghum for crunch.
Baby Wombok is done two ways: charred with a Gochujang glaze or raw with Szechuan peppercorns, peas and sprouts while my favourite course is the Ancient Grains salad with a mix of wild forest mushrooms, pomegranate, dukkah, coconut labneh and a divine mushroom pate.
For dessert, there's a rich, chocolatey dessert with chocolate ganache, chocolate crumb and vanilla bean coconut ice cream and caramel sauce. A lighter dessert is the ice cream sandwich made of raspberry chocolate, raspberry cashew semifreddo, coconut quinoa, cashew tuile and their version of honeycomb called maplecomb.
All of this with a quick trip home upstairs to sleep!
Tip: The 8 course tasting experience is remarkable value at $70 per person (available with matching wines for $60 more or $45 for non alcoholic drinks). Although it is 8 courses, it is paced well with two courses arriving at each time so it takes around 2 hours total.
So tell me Dear Reader, have you ever been to Madame Tussaud's? Do you eat at the hotel often? What is your pick of activity in this itinerary?
NQN and Mr NQN were guests of trip.com but all opinions remain her own. Don't forget you can get $50 off all hotels in NSW until the 27th of October, 2020 by using the code NSW50 at checkout on the trip.com app. Minimum spend $150.