Sometimes, the best Christmas present a gal or a guy needs is not an expensive pair of shoes, a giant gift hamper or a piece of must wanted sporting equipment. It's a card up the sleeve.
The card up the sleeve that I'm talking about can be a recipe to get someone out of a sticky situation. Sometimes, you have guests pop by, especially during the holidays when people suddenly realise that they've had enough time with loved ones and need to branch out to see others. The shops are too bustling and busy to visit so people drop in and see others.
Or sometimes you need a card up your sleeve for when you're asked to bring something to someone's house but have no time in which to prepare it. Allow me to offer you this 10 minute solution in the form of Brazilian peanut candy. You can buy these deliciously moreish Brazilian treats in a variety of shapes from cylinders to rounds to squares. Best of all, they're also ridiculously easy to make and just require a blitz in the food processor and then rolling into balls.
I must be on a mini roll with Brazilian food having made Pão de queijo cheese bread and Padarias coconut pullapart rolls and what I've found with my experience so far with Brazilian recipes is that they're all easy and incredibly tasty.
Pacoquinhas are for those that love peanut butter and sweet and salty treats. I wasn't sure if these were fancy enough to take to my friend's New Year's Eve party hence why I went a bit overboard with the floral patterns. I must admit that I watched to see peoples' reactions. One person told me how much he enjoyed them while another remained silent but took about 4 or 5 of them. The hardest part is probably just in learning how to spell it!
So tell me Dear Reader, what was the best Christmas present you got this past Christmas? And are you a peanut butter lover?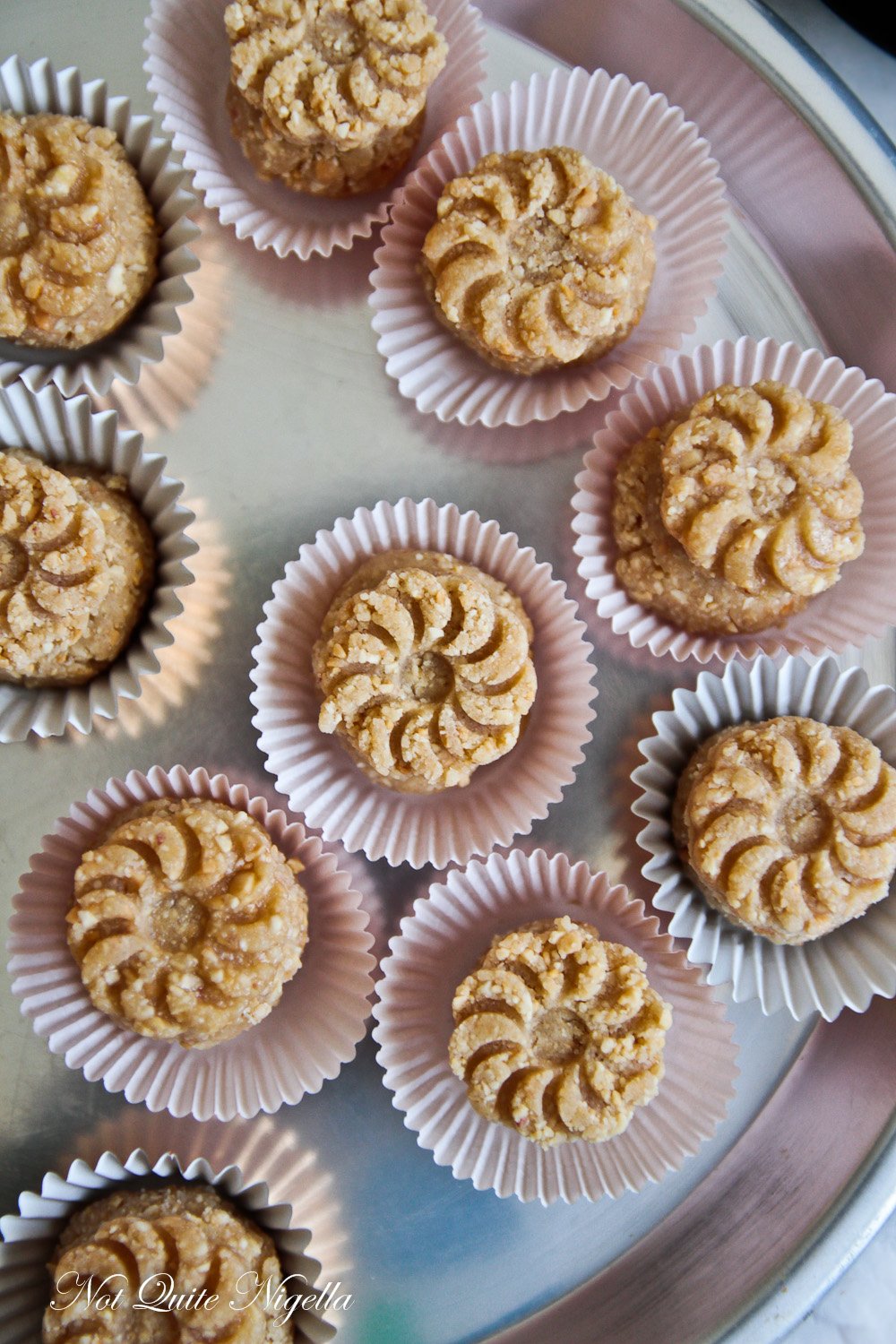 DID YOU MAKE THIS RECIPE? Share your creations by tagging @notquitenigella on Instagram with the hashtag #notquitenigella
Pacoquinha (Brazilian Peanut Candy)
Makes about 25
Preparation time: 10 minutes
Cooking time: 0 minutes
1.5 cups peanuts, toasted and salted
1 cup white or caster sugar
1/4 cup brown sugar
3/4 cup tapioca flour (can use cornstarch or cornflour too)
Fat pinch of salt
1/2 cup dulce le leche
Buyer's tip: tapioca flour can be found at Asian grocery stores
Step 1 - Line a tray with small patty pans. Process peanuts, sugars, tapioca flour and salt together until it resembles sand. Add in dulce le leche and mix to combine.
Step 2 - Roll into balls. To make the patterned tops press into a mold and push out the other end and place on top.