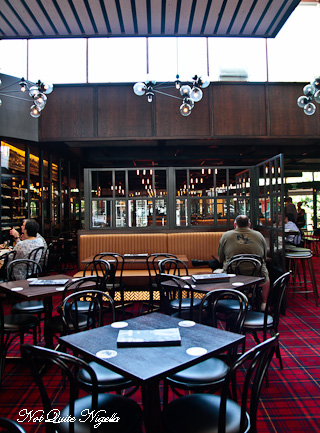 The last time I was at The Oaks was when I was living North-side which was a good ten years or so ago. We were attending Mr NQN's friend's engagement party and I was meeting them for the first time. Normally that's fine but all Mr NQN had told me about them was one rather interesting fact: that his friend once divulged to him over a few beers that he and his fiancee liked to "swing"!
So all I could think of when I was meeting them was of course "Swinger!!!". I don't remember the food (that's either a bad or good thing) and when I walk in some years later after its refurbishment, I can't help but think that it looks different although I don't exactly know how. I was clearly focused on the swingers at hand.
The Oaks has been open since 1855. The giant oak tree planted in 1938 is still there and there are elements to ensure that the loyal patrons aren't disconcerted by the new changes. Designed by Paul Kelly, the new version of The Oaks has a dark wood panelled feel to it with banquettes against one wall, glass and the Oaks butchery. It is a pub after all and pubs are a popular place to have a steak meal. The garden pavilion is set to open any day now and promises to be a light, airy place and the beer garden looks like it has escaped the renovations.
I am being photographed here for a design and lifestyle magazine and I thought that since I was crossing the bridge (I know, that big mental barrier) that I might have lunch with Celia, Pete and Charlie afterwards. I ended up getting on so well with the lovely photographer Chris Chen that we invited her to stay for lunch. The more mouths, the merrier!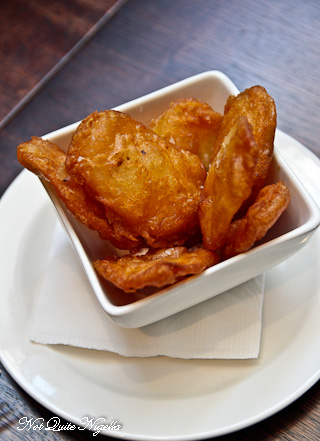 Ordering is done at the counter and you pay there and the food is brought to the table. We found that some of the slices of the potato scallops were good whereas some of us had such a paper thin slice of potato it felt like we were eating a batter scallop. I did think that they were a bit pricey for potato and batter.
The mixed wild mushroom pizza was light on topping which was fine but dominated by the taste of strong raw garlic.
All came good after this. The slow roasted pork belly was delicious perfection. With a jiggly jelly soft base, a crispy crunchy crackling top, apple relish and an apple and fennel slaw, it was gobbled up quickly.
In the vein of trying a bit of everything from the menu, we went with the classic cheese burger which was a beef patty cooked to your liking - we ordered medium rare and it came as that. It had tomato, lettuce, beetroot, American Jack cheese, a lovely apple wood smoked streaky bacon and a spiced tomato ketchup for grownups which just means that it has added spice and mustard.
The bun is soft the ratios of filling to bun are good but even a fifth of this burger was filling especially as it came with chips.
Flathead is one of my favourite fish to have in fish and chips as it retains moisture so well. These fillets do not disappoint and any reservations about ordering something like fish and chips in lieu of some of the more interesting dishes disappears once we sink our teeth into the puffy, golden crumbed batter with succulent fish. It comes with lemon, tartare sauce and a nice surprise side of mushy peas.
The meat section or the "Meatorium" as they call it is a selection of cuts chosen by owner David Thomas who still works at The Oaks every day after purchasing the hotel 40 years ago. David's image features in the black and white image on the menu cover. The rib eye was a recommendation to us and I'm glad that we ordered it because it was fantastic.
We had a choice of sauces and we went with the waiter's recommendation of green peppercorn and roasted pepper but it didn't really need a sauce, just a spread of that gorgeous, unctuous bone marrow. We also liked the seasoned roasted potatoes which had an ever so slightly crispy outer and the green beans were buttered with a slight crunch to them still.
There was barely enough room for dessert but we had to try a couple. The bannoffee pie had a crumbly, buttery fairly thick crust with slices of banana, caramel and swirls of whipped cream. It came with a lovely caramel gelato and I only wish that I could have taken what I didn't eat home.
The creme brulee was silky textured underneath a layer of toffee and wasn't particularly sweet so it didn't really taste that much like a white chocolate creme brulee.
By the way that engaged couple had the world's longest engagement and after many years Mr NQN lost touch with him so we never found out if they got married. Perhaps swinging was too much fun?!
So tell me Dear Reader, do you more often eat at pubs, cafes or restaurants?
This meal was independently paid for.
The Oaks
118 Military Rd, Neutral Bay NSW 2089
Phone:(02) 9953 5515
Sunday 12:00 pm - 12:00 am
Monday to Thursday 10:00 am - 12:00 am
Friday 10:00 am - 1:30 am
Saturday 10:00 am - 1:30 am