Ivy is my go to person for American food. She always has her ear to the ground looking out for new eats through her expat groups and friends. And when she suggested Smoky Sue's American style barbecue on Rangers Road in Neutral Bay we quickly made a date to visit. They do American style barbecue meats but with a twist: they sous vide and smoke the brisket, ribs and pork instead of the just smoking them.
"I've circled what I want to try-you let me know what you think," says Ivy pushing the paper menu and a sharp pink pencil across the table. We pretty much want similar things so between the two of us we decide what to order quickly.
Now Smoky Sue's isn't really that American, more American inspired. It's like they took bits of American BBQ and adapted it to suit Australian tastes. There are meat platters, bowls, baos, fries and burgers. Also as Ivy points out if it were really American there would be table service and a range of complimentary condiments.
Neutral Bay is quite a hub for American expats and when we join the queue there's a range of American accents mixed in with Australian. Ivy strikes up a conversation with a guy from Alabama and before long we are at the front of the queue. We order, pay and take a number to the table.
The first thing to arrive are the milkshakes. Honestly, I think we were both expecting them to arrive in those scalloped tall glasses with a cherry on top and I'm not going to lie we were all disappointed when we saw the plastic cups. Ivy scrunches up her face when she tries them. "They're just flavoured milk and ice," she says confused. It's true, they're not like any other milkshake, they're like a thin textured milk flavoured drink with ice in it without any ice cream at all and it's very disappointing. I bite my lip wondering if the $150 worth of food that we've ordered is going to be similarly lacklustre.
Given there were 14 people in front of us in the queue we expect the food to take a while to come out but it doesn't take too long at all. The food comes out in rapid succession covering every inch of the table. First is a barbecue bowl with Texan style smoked beef brisket, slaw, onions and jalapenos with brisket black beans. It's fresh and crunchy and you do really need some fresh salad to go with the onslaught of meat.
The main event is the double platter that comes with a choice of 3 meats, 2 sides, 2 sauces, pickles, onions and jalapenos. Our first meat choice is the smoked beef brisket rubbed with Sue's signature salt and pepper rub. The meat is soft and there's a good mix of fat and lean but the smokiness is very light to the point where it doesn't really penetrate the meat perhaps because some of the time cooking is spent in the sous vide rather than the smoker. Our second choice is the fried chicken. Although I prefer chicken on the bone (for moistness!) the buttermilk fried chicken is excellent. The serve is two fat tenders covered in a flavoursome coating.
The Carolina style pulled pork starts a discussion with Ivy and Ryan about the two types of pulled pork-Northern Carolina pork is more vinegary while Southern is mustard based and this one which is mixed with Sue's barbecue sauce isn't much of either really. The pickles are also good with these and we chose the mac bombs which are macaroni coated balls that are nice but need a bit of seasoning. The beans are nice enough although I always compare brisket beans to the insanely good brisket beans I had in Texas and recreated and they aren't as full flavoured. The biggest disappointment are the sauces; the blue cheese doesn't have nearly enough blue cheese so that it is barely discernible while the barbecues sauce lacks punch and is thin in texture.
Ivy's tells us that her thing is tacos (mine is fried chicken, Mr NQN's is dumplings and Ryan's is onion rings). So whenever she sees tacos on a menu she wants to try them. Since we've tried most of the meats the only one that we haven't tried is the pulled lamb. Mr NQN isn't a big lamb fan but they tell us that they make it sweet and pair it with the Franks hot sauce to take away that lamb aroma. The tacos are fine, with plenty of slaw and the pulled lamb but I think I'd go for other things over these.
There are two flavours of wings that you can order-either with Frank's Red Hot sauce or Sue's barbecue sauce and you can have these in either half kilo or kilo total quantities. You usually have to choose one type but I think they let us try both because we had to wait behind the long queue (and TBH it didn't take that long as Ivy and I amuse ourselves to no end).
The Frank's hot sauce wings are spicy and tangy although they aren't as intensely flavoured and have a different texture to the ones at nearby WingMill. The barbecue sauce ones are nice and sweet although wings at wing specialist WingMill are better.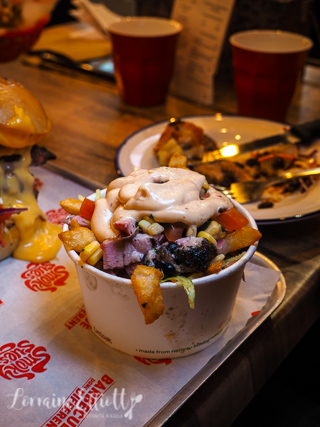 I have a weakness for loaded fries especially if they're still crispy underneath the topping. This is a smaller size with a choice of meat, salsa and your choice of sauce. We go for the pork belly which comes in slices with corn salsa and we choose the chipotle mayonnaise to go with it. It's got pretty much my favourite things in life: pork belly, corn and sauce and I think I ate most of it. "I don't think this even made it on this side of the table," says Ryan.
The Ribby Mc Ribface is quite an arresting sight with a whole beef short rib with bone in a burger bun with salad. "How do we even tackle this?" Ivy says and the burger is left while we all nibble on the easier to ingest items. Then I take a closer look planning to remove the bone and then put it back together. Turns out the bone slips out easily and I guess it's kept in for visual effect more than anything else. It is a smoked beef short rib with slaw, pickles and lots of oozy cheese. It's virtually impossible to eat and the bun sort of falls apart while you eat it but it's gratifyingly luscious and fatty and I know that I'm going to have to tear myself away.
There's no room for dessert after a meaty feast like this. That isn't really an issue as there aren't really any desserts apart from a display of ice cream sandwiches!
So tell me Dear Reader, what is your food thing that you always have to order if you see it on a menu? Do you sous vide at home? Would you expect a milkshake to have ice cream in it?
This meal was independently paid for.
Smoky Sue's Barbecue
3/4 Rangers Rd, Neutral Bay NSW 2089
Monday closed
Tuesday 5:30–9pm
Wednesday to Sunday 12–9pm
smokysues.com.au