The Australian Youth Hotel has rebranded and renovated to become the Glebe Hotel. The historical pub was originally established in 1862 and in April this year they opened with a new chef and a new menu, a dog friendly courtyard along with what some were saying was a cut above pub food.
The building itself has an interesting history. There is of course the pub itself but also within the hotel is the main dining room called "The Stables Bar & Grill" and the courtyard. In the dining room the curved staircase leads to the loft which were the original stables. And further upstairs is "Nude", now a private dining space that was once a brothel in the sixties. If only these walls could talk.
I sent Ivy the menu for Glebe Hotel and excitedly told her that it was dog friendly and the conversation went back and forth about whether she would bring her sausage dog Thor along. We decided against it as the dining room looked the pick over the dog friendly courtyard with its centenary fig tree.
When we arrive on the Thursday evening before the long weekend we're glad that we have booked in the dining room because the courtyard is packed with people and poor little legged Thortie would not have enjoyed it but I'd imagine on a lazy weekend day it would be perfectly nice to sit there with your dog.
We are shown to a table near one wall has a pretty painted jacaranda wall and there are restored archways and exposed bricks. Service is friendly and easy going.
The menu is large-there's snacks, small plates, mains, sides, steaks, salads and burgers as well as a "counter meals" section with more classic pub fare like schnitzels and pies. The chef is Brit Ben Allcock who puts a few British touches on the mostly Mod Australian menu. Diners can choose from the same menu and sit either in the courtyard or the dining room. We choose random things from each section based on what we feel like eating and Ivy is a big fan of the wine at $8.50 a glass.
Poached chicken, hummus, roast cauliflower salad $18
Confession: we're all a bit in love with this salad. It's a layer of hummus at the bottom but the hummus is creamy almost like a baba ghanoush. On top of this is roast cauliflower, poached chicken, pine nuts, currants and a roast garlic and lemon dressing. It's fresh, wholesome and very tasty and it's also a surprisingly substantial serve. It's the sort of salad where you feel like you've eaten well but not sparingly.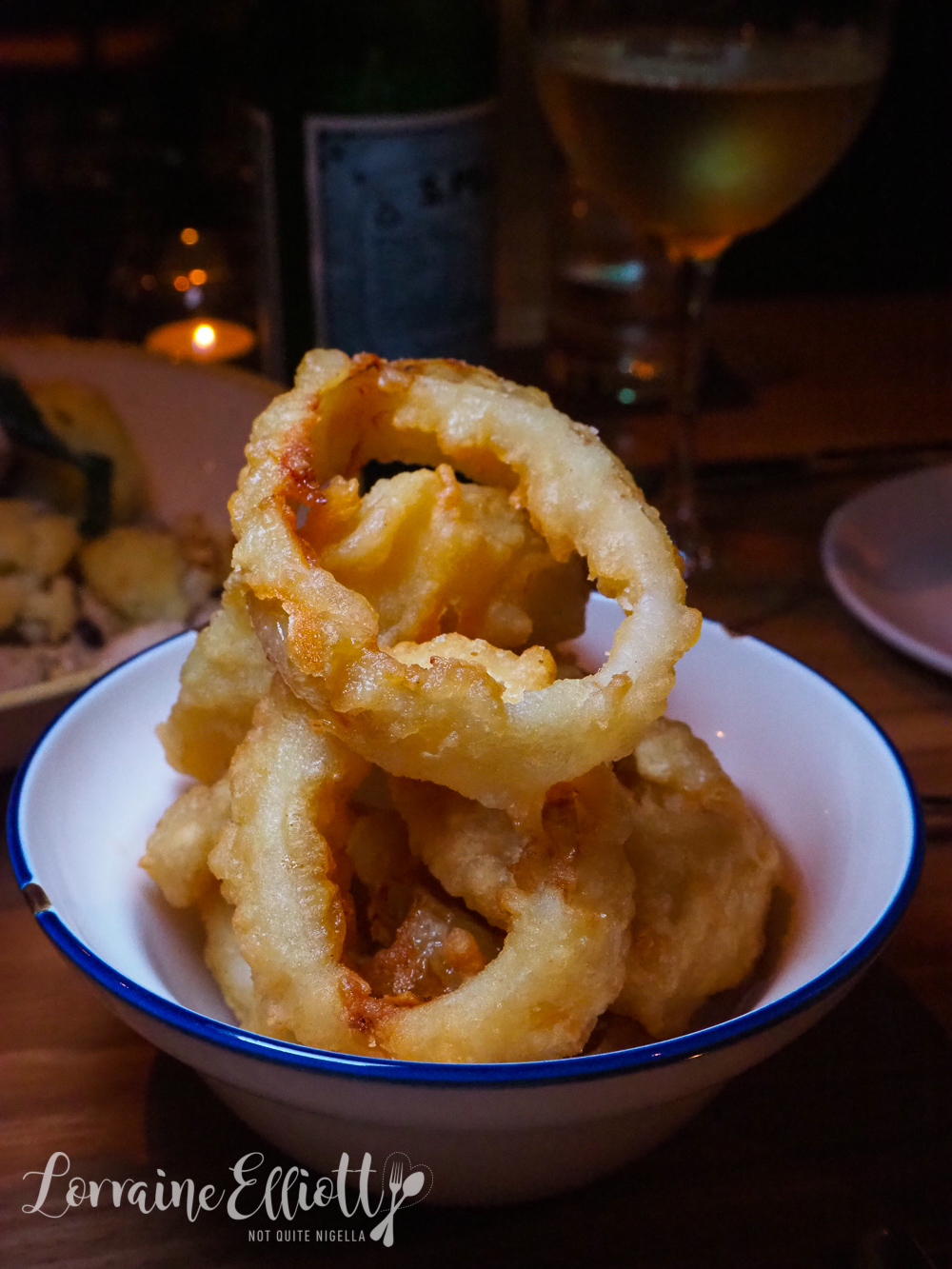 Onion rings, sea salt and malt vinegar $8
At many stages, Ivy and I have discussed our love of onion rings and we both set our eyes on them at the same time and agreed that we had to order them. They're fat onion rings with a crunchy batter. They are seasoned lightly with salt and malt vinegar although we also ask for tomato sauce, aioli and mustard to dip them in too.
Pork and veal sausage roll with HP gravy $8
I am a bit fan of sausage rolls and I love this rich version with pork and veal filling and a buttery puff pastry. It's served warm with a little pot of onion and HP gravy which gives it a nice change from tomato sauce. It's rich and perfect for the cooler weather.
Chargrilled octopus with salsa verde and aioli $18
My favourite dish apart from the salad is the chargrilled octopus. It's simple: one curled tentacle of octopus and a dab of aioli and salsa verde. The char on the octopus is delightfully smoky and the salsa verde is so herby fresh that it requires multiple samplings. I also add some of the salsa verde onto the cauliflower salad and it really makes it pop.
Ale battered fish burger $18
Mr NQN was very hungry so he asked to order a burger as well and they recommend the ale battered fish burger. It's quite good, the fillet and the batter crunchy on the outside and moist within. It has tartare sauce, baby gem lettuce and French fries but the bun is a bit thick for the fillet and the tartare could perhaps use a bit more zing to it (although admittedly, I prefer a tartare heavy with pickle).
Slow Cooked Pork shoulder ragu rigatoni $28
Our last dish to arrive is the pasta dish and this too is sizeable. There's plenty of slow cooked pork shoulder in a tomato based ragu with rigatoni, fermented chilli and Grana Padano cheese on top. We love the generous amount of sauce and it doesn't get absorbed into the pasta so it remains saucy and delicious.
Chocolate and peanut butter parfait $12
The chocolate and peanut butter parfait is a slice of chocolate and peanut butter ice cream parfait with cubes of fudge brownie and salted caramel popcorn on top. As a big fan of peanut butter and popcorn I thought I'd really love this but the popcorn isn't really needed on it because it isn't caramel coated so the pieces go soft quite quickly and it just tastes like salted popcorn rather than salted caramel as described on the menu. Otherwise the brownie pieces are nicely fudgey, like small chocolate ganache cubes. And the bill is a nice surprise too-perhaps I'll try more pubs!
So tell me Dear Reader, how often do you eat out at a pub? Is there a pub that you like that serves great food that you can recommend?
This meal was independently paid for.
Glebe Hotel
63 Bay St, Glebe NSW 2037
Open 7 days 12–10pm
australianyouthhotel.com.au
Phone: (02) 9692 0414