Being a virgin at certain things as an adult brings a certain amount of simultaneous awkwardness and excitement. When said virginity pertains to travel, it can lend an aura of desire and wide eyed anticipation.
Yes Dear Reader, I was a cruise virgin up until recently.
To be completely upfront, my reservations about cruising included the following:
A fear of open water and being seasick
A dread of buffets. I used to love them as a child and teenager but the older I get the fussier I get. I'm sure that by the time I'm 80 years old, I'll be drinking virgin's blood.
A fear of being away from the internet. This is sad but true. I am one of those humans that always needs to be connected. I can't hand over the blog to anyone else and I am also a control freak.
But then an invitation came through to try the Queen Mary 2. Her reputation surpasses her and I figured that because of her enormous size (four football fields in length) and weight, her passage would be graceful through the waters of Fremantle to Melbourne. The idea of hugging the coast of Australia did sound like a gently-gently way to start cruising.
The capacity of the Queen Mary 2 is astounding. Built at a cost of US$800 million and weighing 151,400 tonnes, she is the largest ship to ever visit Australia. Crowds welcome her arrival and wave at her departure wherever she docks and she is a magnificent specimen. Watchers and the curious come out to see her and she is as conspicuous as royalty.
Rooms on the Queen Mary 2 are called staterooms and there are 1,310 on board to house up to 2,620 guests. Add to this are the 1,253 crew that tend to each guest. The Queen Mary 2 has the largest library at sea, the largest ballroom at sea and over 10 restaurants, cafes and eateries. There is even a planetarium and numerous bars, clubs and designer boutiques.
The first class cabins are called "Grills" and these are broken down into Queens and Princess Grill cabins. These are larger and have their own concierge service and waiting lounges. GUests of the grills class of ship are allowed in every area on the boat whereas only Queens and Princess Grills guests are allowed in their areas.
I must admit that I was expecting Downton Abbey on board but it's not quite that. The crowd depends on the leg and our crowd differs from the trans Atlantic one. Some like the buffet and the trivia pub nights while others like the formal nights and afternoon tea. The average age skews older because cruising does and the higher price point means that older affluent people can afford it.
The clientele is mostly Caucasian and most are friendly and eager to chat. There's an= noticeable absence of children on board, not that this is part of the rules but I wouldn't really call it a family cruise ship.
After checking in we board and make our way to our room, #11027 a balcony state room. Prices vary for the 10 room types and the balcony rooms are extremely popular. Our room is large for a cruise room at 248 square feet or 23 square metres and features a king bed with fantastic soft sheets and enormous European style and regular pillows.
I slept like a baby every single night on this bed, the ship's movement rocking me gently to sleep. On top of the bed is a luggage sheet as there isn't a lot of space to put large bags. Smaller luggage can be stowed in the cupboard but larger luggage needs to be stored under the bed.
There's a flat screen television in the corner, a reasonably priced mini bar fridge with drinks within and a two seater lounge and a small desk. The room has been given a fresh coat of paint in a couple of areas that very afternoon. They don't recommend drinking the water although it is fine to brush your teeth with. 1.5 litre bottles of water are available for purchase for $3.95USD.
The balcony is sun drenched with two seats and a small table outside. A bottle of French sparkling wine sits chilling with two glasses. One of my favourite things is not having to worry about people looking into our room from the balcony as you might in a city hotel room. There's no-one out at sea and the view of the water never gets old.
The bathroom is small but tidy. There is a shower and a single sink and plenty of toiletries from the brand Gilchrist and Soames including shampoo, conditioner, body lotion, shower gel, soap, cotton tips and balls. It would also have been handy if there was an exhaust fan especially after showers. The toilet is like an airplane one where the contents are sucked away. Perhaps that is too much information.
Monogrammed slippers are kept in the cupboard and robes are delivered by our steward Ferdinand who introduces himself and tells us that if we need anything to call for him. Your steward is on call and if you press a button, the system pages them and they call you back or knock on your door to offer assistance.
Which brings us to tipping. There is a discretionary tip that works out to be about $10 a day per cabin and this is shared among all of the crew. You can also tip your steward separately by leaving the cash on the nightstand at the end of your trip. Each steward looks after sixteen staterooms and they works very hard cleaning them twice a day and a tip is definitely deserved.
I potter about the cabin rearranging things in my bag before realising that I don't actually need to bring my bag anywhere. I just need my state room key which acts as my I.D. and credit card on board. Oh joy! No heavy bag to lug around. I look around and Mr NQN is standing on the balcony grinning like a monkey that has just discovered bananas.
The very multicultural staff are friendly and if you ever look lost there's a smiling person to gently guide you. Because health and safety are paramount on a ship, which is like a close knit small city, all guests must use their hand sanitiser before entering eating areas. And if you use the bathroom, you take a paper towel and use it to open the door handle.
We roam around the boat - the Queen Mary 2's size means that you can get a decent workout walking around but it isn't insurmountable. The main boutique is excellent and well priced with a well curated selection of mostly British designer items and reasonably priced but pretty souvenirs. There's a whole range of "Keep Calm and Sail On" mementos as well as their very own Queen Mary 2 items.
For someone that gets lost easily, I find the boat easy to navigate. There are 13 floors and within each floor are four elevators or staircases and there are plenty of maps at each point so that you can find your way easily.
Before long several loud horns signal that we are departing Fremantle. Those that have been on the ship before don't budge from their pool chairs while us newbies are tinged pink with the excitement of being on water. There are four outdoor swimming pools and eight whirlpool spas - and no shortage of men wearing speedos and gold chains! Sometimes you don't know where to look...
On the 12th floor at the front of the boat is a little lookout where you can see into the bridge of the ship. The captain Kevin Oprey who hails from Southampton also shows VIPs into the bridge where guests must dress conservatively. George W Bush senior and his wife Barbara were guests on the bridge and the Duke of Edinburgh is scheduled to cruise on the Queen Mary 2 in May this year.
The captain can also marry couples and he has married 60 couples on this and other Cunard ships. And if you've watched The Love Boat, you'll know about the captain's table. Captain Oprey invites VIPs to dine at his table. Three years ago his wife started cruising along with him.
We have Australian internet for an hour or two before the ship's internet needs to be purchased. There's no nice way to put this except to say that the internet is on the slow side and it is expensive. It is $0.75USD a minute and you can buy packages for 8 hours for $167USD. Needless to say that it's a prudent idea to log out after each session.
I start to unpack my bag. Although we're just here for five nights, my bag is enormous and partly to account for this is the Queen Mary 2's strict dress code where dressing for dinner is required. It's not just any dress but floor length formal dress for formal nights. I must admit that I love any excuse to dress up and during the 5 nights on board we will have 2 formal nights and 3 informal. Informal also doesn't mean thongs and shorts but cocktail dress. The evening's dress code starts at 6pm.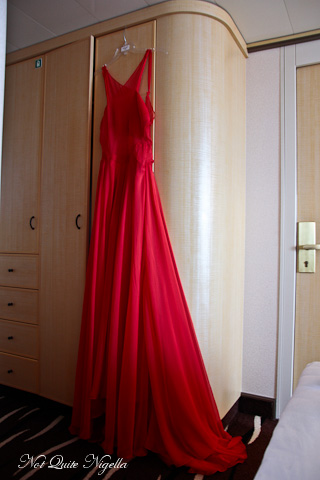 Pressing and dry cleaning is very reasonable and a ballgown or formal dress is a mere $11USD to press. There is also a do it yourself laundry on the ship and this is complimentary.
For dinner, each guest is reserved a table at one of the ship's many restaurants. The restaurant selected is based on the type of accommodation and for us, it's the Britannia restaurant on the second floor. It seats over 1,200 people with two seatings every evening - at 6pm and 8:30pm serving a massive 2,400 guests for lunch and dinner each day.
I'm pleasantly surprised that the movement on the boat is smooth. The Queen Mary 2 travels at a maximum speed of 30 knots or 55km/h and has four stabilisers to reduce movement. If you do get seasick easily, try to book a cabin in the middle of the ship as the front and back (stern) of the ship is where motion is felt the strongest. It is always handy to have seasickness medication ready just in case but it can make you drowsy.
Guests are said to take a day or two to find their sea legs and by the second day, my body gets used to the gentle swaying and accommodates the movement but for the first day I feel like Lucille Austero from Arrested Development. I also realise why the ship has so many curves - in case someone accidentally knocks into a corner!
But on the first evening of the voyage the ship's gentle rocking lulls me to a deep sleep and I sleep soundly and wake up naturally before my alarm.
Stay tuned Dear Reader for a run down of the food offerings on the Queen Mary 2!
So tell me Dear Reader, have you ever been on a cruise before? If yes which one and what did you think of it? And if no, what are your reservations or reasons why?
Queen Mary 2
http://www.cunardline.com.au/cruise-ships/queen-mary-2/