Cruise food is one of the makers or breakers for a lot of people cruising. And while the Celebrity Edge is a modern luxurious ship with all the latest technology, I was curious to see what the food was like on board. With 29 restaurants and bars, 7 speciality restaurants and 11 bars on board we take a look at just some of these options.
Most of the Celebrity Edge's restaurants and activities are accessed via their app which is handy when you're hungry or thirsty and want to find somewhere to eat. The restaurants are divided into included restaurants that are included in your tariff plus the surcharged restaurants that you pay extra for.
Also a tip: you really need to heed the hours because a lot of restaurants close at 2pm. Indeed by the time we had embarked everything but the buffet restaurant was closed.
Included Restaurants
Cafe Il Bacio
For coffee and tea, head to Cafe Il Bacio on Deck 4 which is open all day until midnight. Service is mixed here, on the first day it was great, on the second day it was not and it can be hard to get their attention. But hands down one of my favourite things I ate on this cruise was their German chocolate cake (although be warned, the selection changes daily but it's worth waiting around for that one).
The chocolate cake is fresh and soft while the filling is sweet and coconutty between each layer. Also worth trying is the Espresso Croccante with espresso, crushed granola, caramel syrup, whipped cream and biscuits-it may sound odd but it's delicious!
OceanView restaurant
I'm not a buffet person unless you're talking breakfast but the selection at OceanView restaurant is pretty diverse. I didn't get a chance to try it all as I only went here on embarkation day when everything else had closed but I can recommend the squid ink paella with aioli.
For dessert I went for a cheese plate with a selection of Comte cheese, goat's cheese, brie, blue cheese and cheddar and I added crackers and fruit. One thing though: I would recommend against ordering the soft drinks that are extra though as they taste like lolly water.
Room Service
There is one feature of cruising that I absolutely love and I feel like nobody really talks about it that much and that is the complimentary room service. When you stay in hotels and see the price of room service you appreciate it all the more. I cannot face the world unless I have had a cup of tea in the morning and one most cruises, kettles aren't allowed in rooms as they are a safety hazard.
Room service is complimentary on most cruises and so one morning we try in room dining with a pastry basket, juices, scrambled eggs, corned beef hash and a fruit plate. It was tasty and served on time and I didn't have to face the world without my beloved cup of tea!
Cosmopolitan
Our last meal on the ship was at Cosmopolitan for breakfast before we disembarked. There is an a la carte menu but for disembarkation they made it easier by having people walking around with trays of juices and coffee and tea ready to be poured.
We try some poached figs and peaches to start although I would have loved these served with yogurt or granola. Our mains are the hot cakes which are surprisingly crispy with a side of bacon. You can choose either British or American crispy bacon and we go for the latter. They pour the maple flavoured syrup at the table.
I preferred the eggs benedict with hollandaise and ham. I think I would however order it with smoked salmon instead of the round of thick ham.
Silent Disco
I have to admit that we didn't see a lot of the entertainment options, mainly because they didn't feel like they were our sort of thing or we were busy eating dinner while they were on. But we did catch the Silent Disco. This is a concept where people wear headphones playing one of three channels-you can choose the channel with the music you like and you dance along to the music. While it's not exactly silent-people are singing along everyone looked like they were having a fantastic time.
Surcharged restaurants and bars
Magic Carpet
During the cruise the "Magic Carpet" moves up and down depending on where it needs to be. It was originally designed to help with the tendering process (bringing goods and people on and off the ship while at sea) but evolved to becoming one of the Celebrity Edge's biggest drawcards. At times it is also a champagne and cocktail bar (and no it doesn't move while people are on it ;)).
Eden
The most photogenic restaurant on the Celebrity Edge is undoubtedly Eden designed by Patricia Urquiola and architect Scott Butler. The restaurant is shades of jade green and soft pinks.
You enter the restaurant through a mirrored room that looks a bit like an art gallery installation of Oscar statues.
The menu is a 5 course menu that attracts a $60USD surcharge. There's a list of cocktails as well including Garden and Fig, two intensely strong but lovely cocktails.
Garden cocktail
The cutlery is hidden in the table in a drawer in front of you.
During the evening there are performers that stop by and interact with the crowd.
Raindrops
Between the two of us we try all of the dishes and some standout courses were the "Raindrops" with poached lobster rolled in crumbs with tarragon, orange segments and a gribiche sauce.
Tidal Pool
And the "Tidal Pool" with black grouper, marcona almond sauce, white asparagus spears and yuzu with a deep fried kale cracker is my favourite main.
"Mangalitsa"
The "Mangalitsa" with pork loin and pork belly with creamy polenta, mushroom, peas and bonito is absolutely divine. It is comfort food with fantastic textures at play.
Life After Death
And even the beef titled "Life after Death" with striploin, potato, bearnaise sauce and watercress is perfectly cooked and luscious.
Forbidden Fruit
Our favourite dessert is the Forbidden Fruit that resembles an apple with a chocolate almond and cinnamon filling in the centre.
The only problem possibly is that there is a touch too much food in the five courses and I'd say four courses is actually enough (yes really!). Also if you want to watch the show in Eden you'll want to dine earlier so you don't miss it.
Tip: if you're headed to Eden for breakfast, they have a cinnamon roll baked to order!
Raw On Five
Raw on Five is as the name suggests on level 5 and specialises in seafood and sushi. It's a light, airy restaurant with a display of fresh seafood including fish, crab and lobster.
The menu also has a sake and wine list, the latter curated to match with oysters or sushi as well as their own private collection of wines blended especially for them. The prices at Raw on Five are similar to what you would find on land in the US.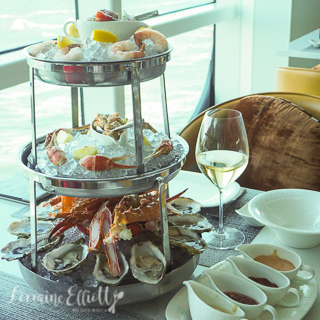 Imperial Tower $75USD
We can't resist the seafood towers and there are three to choose from. Our waiter encourages us to get the biggest one, the Imperial Tower, a three tier display with cold water lobster tail, lobster and crab salad, 6 chilled shrimp, a dozen oysters, 2 king crab legs, sea bass ceviche and 6 crab claws. They bring this out with four sauces: marie rose, cocktail, mignonette and horseradish. My favourite is the lobster which is tender and the prawns as well as the oysters that come with plenty of brine.
Shrimp Dragon $11USD
Also worth trying is the sushi and we tried the shrimp dragon sushi which has eel as well as tempura prawn, furikake and eel sauce
Lobster Roll $12USD
We also enjoyed the lobster roll with dill mayonnaise, chives with potato chips. This is especially good with the chips wedged inside the roll.
Le Petit Chef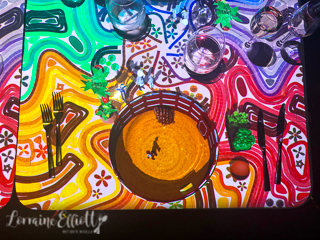 One of the more unique dining experiences is actually aimed at adults but I think it's actually ideal for children (the Celebrity Edge doesn't really market itself as a young family cruise and most kids tend to be teenage year children). Le Petit Chef at Le Grand Bistro is a special dinner where light projections are displayed on the plates and table from a projector above.
The concept is that there are four miniature cartoon chefs that pop up and show how they prepare the food. The storyline is that the four chefs are in competition to see which chef's food is the winner. The food then appears on your plate (for real) served by the waiter and there are four courses on offer at $55USD with an option to have matching 3oz/90ml wines for $15USD.
Marinated Tomato Salad served with Sancerre, Jacques Dumont
The food is actually very tasty (and I think that somehow having the cartoon chefs may actually put some people off thinking that it is a gimmick). We start with a tomato and pesto salad with the sweetest tomatoes.
Truffled Five Cheese Ravioli served with Vouvray Saget "Marie de Beauregard, Loire Valley"
There is also a delicious mushroom ravioli in a creamy cheese sauce that everyone adores (and I think it's definitely the favourite course). The dishes do need bread though (especially the ravioli) and the bread that they brought out was focaccia which wasn't as soft and pillowy as we would have liked.
Steak Frites served with Grenache "Shatter" by Joel Gott & Dave Phinney, Languedoc
Then there is a perfectly cooked steak frites with bearnaise sauce with crispy fries on the side. The steak is fantastic and well cooked to everyone's specific order.
Green Tea Cake served with Brachetto d'Acqui, Banfi "Risa Royale", Piedmont
And to finish, a matcha roulade which is feather light and served with white chocolate straws and togarashi for spice.
Tip: they take the audience's vote for the winning course at the end but the winner is always the same as it is pre-recorded ;) ).
It's a busy two nights on the Celebrity Edge and we feel like we have barely scratched the surface!
So tell me Dear Reader, what are your thoughts on the food offerings? Do you think you'd eat more at the included restaurants or the surcharged ones? Is there one place that stood out to you?
NQN and Mr NQN were guests of the Celebrity Edge but all opinions remain her own.
Celebrity Edge
celebritycruises.com/edge/