I think that by the second or third day, most first time cruisers settle into the rhythm of cruising. I'll be honest, my first day involved me fluttering about the cabin anxiously with my mental checklist of possible issues (food, space, internet and seasickness) and possibly making constant "meep meep" sounds.
By the second or third day many people, myself included find their comfort places on the ship. That is, the places where they are happiest. For me the comfort zone existed with the afternoon tea, the Todd English restaurant, the boutique, the Veuve Clicquot bar and the Commodore Club. And since we are cruising during Valentines Day, we make sure that we make the most of our time on the ocean liner.
9:00AM
The best start to Valentine's Day is breakfast in bed and next morning our breakfast arrives exactly on time. Complimentary room service is available at all hours which is a very pleasant surprise as often in hotels it is expensive and incurs an extra fee for delivery.
We ordered some basics for breakfast-a cup of tea, some cereal and a fruit platter. They're all decent offerings except for perhaps the bircher muesli which needs some reworking as it looks like milky soup topped with diced honeydew and apple.
11AM
The time on the ship changes according to the area in which we pass through. As we are going from Fremantle to Melbourne, we set our clocks back three hours on Perth time and then each day after as we approach Melbourne, we put the clocks forward one hour. It is a little disconcerting not having a clock in view and we find ourselves constantly checking our phones. The time change confounds us and we miss one important appointment during the voyage.
There is a daily announcement from the captain giving everyone the position of the boat and conditions outside and our travel itinerary. The captain's announcement is repeated in German and that is the only language it is translated into because of the ship's many voyages from Hamburg.
We decide that morning that we want to dine at Todd English as it is Valentines Day and it would be nice to do something special. We try calling - reservations are supposed to be taken between 10am-4pm but nobody is answering all morning.
12:00PM
We end up stopping by in person mid morning on our way to the gym to make our reservation. At 12pm we turn up and are shown to our table. Service is very deferential - while all of the service that we've received on the ship has been excellent, it's particularly good here.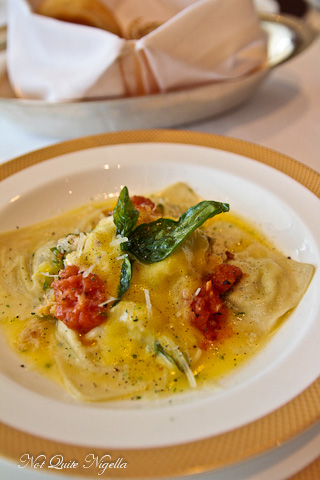 There are four silky textured ricotta ravioli topped with Alaskan crab, melted cheese and a cream sauce and morels. It's an incredibly rich dish but very good indeed and I only wish I had saved some of the onion bread to mop up the cream sauce.
The tuna dish is a bit of a surprise. We assumed that it might have Japanese overtones and there are some from the ginger but the rice is a fragrant Thai jasmine rice. Among the julienned ginger there is shredded carrot and mung bean sprouts. Out of the two entrees, we preferred the ravioli.
We both enjoy the brik chicken, the chicken crispy skinned on the outside but still good and moist inside. It's an incredibly generous portion with two fillets. Added to this is "fairytale eggplant" (really just a slice of regular eggplant), heirloom tomato and shaved parmesan cheese.
The lamb gyro arrives on two skewered soft grilled za'atar dusted pita rounds with the lamb soft and shredded and rich. There's a fresh olive, onion and tomato salad on top which gives the lamb a lift and the three sauces of capsicum, herb and tahini yogurt give the dish moisture.
Alas we can't manage dessert as the mains were so substantial but we reserve this for when we have a bit more stomach space at dinner.
3:00PM
So what to do now that we've had our fill of food? One of the best value items is the Canyon ranch spa hydrotherapy rooms. A five day pass is $105USD and allows you access to the Finnish and herbal saunas, the steam room, hot tub and hydrotherapy pool. There is also a relaxation room where guests can unwind and sip on juices.
We meet a man who is cruising to lose weight. So far he has lost 5 kilos and in the morning, he uses the gym facilities. He follows this with a large breakfast of watermelon before spending the whole day in the hydrotherapy area sweating things off before eating a regular dinner.
Because it is Valentine's Day and there is a ball and formal night this evening, I also have a facial in the spa. While most things are very reasonably priced on the Queen Mary 2, the spa is on the expensive side with a 50 minute facial starting at $169USD and going up to $239USD. I do find that 50 minutes isn't quite enough time to feel fully relaxed and disappointingly, my spa therapist doesn't extend it by offering a cup of herbal tea or time in the relaxation room like she does to other guests.
4:00PM
No afternoon at sea on the Queen Mary 2 should pass without visiting the Queen's Lounge at least once for afternoon tea. There are several afternoon teas available on the ship from a buffet one, a champagne one at $35 per person but the most popular one in the Queen's Room where white gloved waiters bring tea, sandwiches, scones and cakes to diners. This is included in the cruising price.
We take a seat in the middle section where a harpist is playing. The Queen's room is at the back of the ship and by now, we know our way around the ship as it is logically laid out. Waiters walk around and pour tea for guests. Pots of strawberry jams sit on the table awaiting a pairing with scones.
We start with the sandwiches. There's something naughty and fun about saying "One of everything please" and we do so with a giggle. Luckily I have a husband with a wolf like appetite who is happy to finish what I can't eat. There sandwiches are seafood, egg, cucumber, tuna and chicken and they're good although I'd love a little more filling.
It's a toss up between cakes or scones next and the beauteous selection of cakes catches my eye. And just for research purposes I do try one of everything. I wasn't sure what to expect but the cakes are really quite good indeed. There is a coffee eclair which is still crisp, a delectable Milionaire's shortbread slice, a fruit tart, a sponge biscuit and many more.
Our waiter comes around and offers us scones. "Ohh yes please!" we exclaim and he lifts one down onto our plate asking if we'd like another. We decline but only because we are full of cake and sandwiches. We spread creama nd jam onto the scone and take a bite. It's delightfully light and fluffy and absolutely moreish. If I could fit in another I would have.
6:00PM
One of the things that I liked best about the cruise were the formal nights. These can polarise opinion particularly as the Queen Mary 2 is one of the strictest with the formal dress code. In the words of another passenger the dress code "Keeps the riff-raff out." But for me, I just love having an occasion to dress up.
Formal dress for women is wearing a floor length gown. So many events for us involve cocktail dress but it was a good excuse to go shopping. For men, the dress is black tie so Mr NQN dusted off his formal suit and bought a bow tie and matching shirt.
7:00PM
Dinners at all of the restaurants (except for the Grill guests and at Todd English) are booked in two seatings at either 6pm or 8:30pm. This leaves plenty of time to explore the Veuve Clicquot bar on the third floor which is a stunning place to locate yourself as the sun goes down.
With black and white Hollywood portraits, the Veuve bar is decorated in signature orange. The menu features Veuve vintages and we order a couple of bottles of Veuve Clicquot vintage from 2004. At $92 a bottle, it's a reasonable price.
Complimentary canapes are brought to the table and they're delicious. There are a range of smoked salmon, chicken, roast beef with horseradish, prosciutto and prawn with cucumber.
7:45PM
Another bar at the front of the ship is the Commodore Club, a modern blue tinged room adjacent to the ship's cigar bar. A woman swans in wearing some diamond and sapphire jewelry borrowed from the ship's jewellery store. "I just have to show this to everyone!" she exclaims proudly displaying her necklace and earrings.
Cocktails at the Commodore Club range from the feminine "Appearance Martini" which is all fresh flavours with Grey Goose La Poire vodka, sour apple schnapps, mint leaves and lime and lemon. This award winning cocktail was devised by Larysa Shlyapina, the bartender at the sister ship, the Victoria.
The cocktails are generally under the $10 mark but there are a couple above that. The Remy XO Excellence Side car is popular with the men in the group and it features Remy XO Excellence cognac with Cointreau and fresh lemon juice.
During cocktail service, staff bring around silver trays of canapes that you can snack on before dinner. You can see that I've definitely found my comfort zone. At 8:30pm we adjourn to the Britannia Restaurant where I order the light dining option. Given how much we've eaten, it's a move of pure self preservation. After dinner we visit one of the main rooms for the Valentine's Day ball where a dance duo performs in one of the main rooms. Guests can also dance alongside them. Tired, we make our way back to our statesroom.
Every evening after we return from dinner, we got into the practice of filling in the room service menu and slipping it on the outside doorknob. We would also look out for the program delivered with the turndown service.
Canny cruisers scour this eagerly for the following day's activities. On the program there is an mix of activities from celebrity talks live on stage (during our cruise, it was Formula One racing driver Jackie Stewart), movies, ballroom dancing lessons, trivia and bridge. We note that the iPad lessons are sold out every day! Some incur a surcharge such a watercolour art classes and whisky appreciation classes. Many of the activities are skewed older, particularly the musical acts. Past celebrities that have participated in the on stage talks are John Cleese, David Frost and Sir Desmond Tutu.
And as we look at the program we realise that our time on the Queen Mary 2 is up. There won't be any more activities, afternoon teas or formal evenings. The morning brings a bittersweet new vista as we head into Melbourne.
So tell me Dear Reader, do you think that the cruising lifestyle is for you? What appeals and what doesn't appeal to you about cruising?
NQN and Mr NQN travelled on the Queen Mary 2 as a guest of Cunard Line. The meal at Todd English was independently paid for.
Queen Mary 2
http://www.cunardline.com.au/cruise-ships/queen-mary-2/
Queen Mary 2's 13-night roundtrip voyage around New Zealand departs Sydney on March 12, 2015 and is priced from AU$4049* per person twin share for a balcony cabin.