Cruises often involve one or more days at sea which means that you make the most of the facilities on board a ship. Azamara's Mediterranean cruise involved one day at sea where we explored many areas on the ship from the kitchens to the many food offerings from room service, a luxurious lunch, afternoon tea and a steak dinner. We also met the captain just after a last minute change of course and asked him all about what it is like to be in charge of the Azamara Journey and about the sudden change of course.
As much as I love the idea of waking up in a new port, there's also something escapist about having a day purely at sea. The weather has played a part in changing course. A couple of days ago Azamara Journey Captain Johannes Tysse let passengers know that they were watching a front and then a note was delivered to all passengers letting us know of the change of course.
This would move up our visit to Monaco and Nice by a day and we would go back to Corsica on our way to Livorno, Italy. It's a decision made to ensure the comfort of passengers and it's a fortuitous one as the seas on the day that we are meant to be in Corsica have reported 25-30 foot waves. Changing course involves using thousands of dollars more in fuel but Captain Tysse is pragmatic. Happy cruise customers are repeat customers and they also spend more in the spas, casino and shops too.
We start the day well - with breakfast in our stateroom of course. I must admit that as a room service addict where it can be cost prohibitive in hotels, I'm delighted that it is all free on board. Mr NQN the fruit monster orders two orders of fruit under the pretense that they're for both of us. They're all for him!
Smoked Salmon
The smoked salmon bagel is served with the lightly toasted bagels served separately and a generous amount of smoked salmon and capers. There is also cream cheese, sliced red onion and cherry tomtato and this is a very satisfying breakfast.
Rustic Hollandaise
The wellington hash is an English muffin split in two and topped with corned beef, two perfectly poached eggs and a half of tomato. It needs a little salt and the tomato waters down the flavour a little but it is filling.
We sit down in the Mosaic Cafe to chat with Captain Johannes Tysse who greets guests with a fist bump - this is a more sanitary way to greet someone as opposed to shaking hands that involves more skin contact and longer contact time. He tells us that the Gulf of Lion is known for windy systems and choppy seas.
His career on boats started at a young age when his grandfather after whom he is named would regale him with stories of travelling from his native Norway to America on the "America boat". His grandmother wouldn't allow his father to work on boats so Johannes seized the opportunity to do so. He doesn't get seasick often and counts just two incidents of seasickness back when he was working on tankers long before cruise ships. He started off as a deck hand painting and rust proofing the ship.
Each staff member on the ship works 7 days a week and there are no weekends for crew members but it's a trade off for a long stint on land once their tour finishes. For the captain, he works 10 weeks on and has 10 weeks at home and he rotates his duty with another captain. Captain Tysse's wife can also travel with him when she wants to - they are based in South Carolina as she is from North Carolina. While they have no children they have a dog and a cat.
Unlike on planes, the captain does not have to eat a separate meal from the rest of the crew. On board to back up the captain there are nine other navigators with two on at any one time. And the most fun for the crew? "It's docking and undocking and turning your ship round in the port being at the controls and in control," he says.
Thinking back to "The Love Boat", is there such a thing as a captain's table? The Captain nods yes. "Typically I have nine guests it's the big centre table in the main restaurant. I invite them to my cabin for canapes and champagne and from there we go and get dinner." He also hand picks his own table guests. "If I go pick up my coffee in the morning and I think they seem nice, in conversation I ask them about what cabin they are in and I go check them out." And how does one not get picked for the Captain's table? "I don't pick those who moan and complain. Sometimes you meet people walking up the gangway and they say 'My name is so and so and I look forward to having dinner with you'. Well I don't think so..." he says grimacing.
I ask him about the change in course. He says, "I see it as an opportunity to showcase what we an do and how flexible we are. It may cost $10,000 in fuel to escape it but in the end it's going to pay for itself. People are going to be up and about. They're going to go to the shops and the casino and they're going to go to the spa. If we were on bouncy seas we wouldn't have people doing that. What we don't gain in revenue we gain in goodwill."
As we are at sea, they've put on a special lunch at the Destination restaurant where a seven piece jazz band plays. There are five eateries on the Azamara Journey: Windows cafe for a buffet, Destinations for a la carte, Mosaic Cafe for coffee and snacks, Prime C for steak and Aqualina for Italian and seafood, the latter two entailing a $25USD premium per person. The Jazz lunch goes from 11:30 am until 1pm and the brunch selection is extensive from freshly made omelettes, pastas and hot cakes to more indulgent desserts like bananas foster and bread and butter pudding.
I try a waffle with thick caramel sauce, some stewed figs and smoked salmon-slightly odd combination but I still had a bagel knocking about in my tummy.
During the afternoon the seas get a little choppy and as someone that is very prone to seasickness I pop a Dramamine and park myself at the Mosaic Cafe on the 5th floor on advice from the Captain. When the seas are rough, you want to stay low and centered. There are a range of Nespresso coffees for an extra fee or their house blend is complimentary.
I choose a latte and start to feel better. I manage a browse in the small gift shop that has a nice range of Pucci bags and some designer clothing before the temptation of the pastry display lures me in. What seasickness?
Guests can help themselves to a range of sandwiches, rolls, cakes and pastries. I particularly like the chicken filled croissant and tuna sandwich. There are several types of cakes and cookies as well. All are baked on the ship.
At 4pm Mr NQN and I join a group that will be exploring the ship's galley with one of the chefs Lis. His black tie gives away his status and he explains that every chef wears a toque or hat but the colour of their tie matches their level. It starts with yellow for the most junior and goes up several colours until it reaches black for a senior chef.
He shows us each preparation area - chicken, beef and fish are all prepared on different, dedicated tables using separate equipment to avoid cross contamination. As we walk around, the aroma turns sweet and we find ourselves in the pastry kitchen where seven pastry chefs work - five during the day and two at night. Another chef's sole job is to produce all of the bread on the ship - and there is a lot of it from the generously portioned bread baskets that are offered at Prime C and Aqualina to the muffins, croissants and bagels for breakfast.
We pass by enormous vats that contain soups and stocks. Laminated photographs show the chefs what the finished items should look like for consistency of presentation.
On another day we were also lucky enough to have a Bridge tour and by the end of the cruise, all guests will have been invited onto the bridge. The Canadian first officer Aaron shows our small group around while Captain Tysse works in the background. Aaron explains that ships try and keep a one mile bubble from each other for safety.
While the navigators and first officers plan the route, it is the ship's quarter master that physically drives the ship and on this cruise he has not touched the wheel. He answers questions from guests and explains that it takes about half a mile for the ship to completely stop from going at full speed.
Another guest asks about the pilot boat. It is the small boat that carries a local pilot that knows the local channels and waters. They get on the ship close to when they are docking and advise on the course of action. At some ports, pilots are compulsory. However the pilot does not take responsibility for the ship, the captain does. The only exception for this is in the Panama Canal.
Come 5pm it is time for our afternoon savouries to arrive. There is of course no shortage of food on a cruise but I particularly like the hors d'oeuvres service that you can request between 4:30-5:30pm especially if you are having a late dinner.
The plate has crumbed arancini balls, prosciutto wrapped shrimp, prawns on a red capsicum and grilled eggplant timbale and a delicious fried wonton - my favourite morsel. I have a small nap (it's the Dramamine!) and before we know it, it is time for dinner. When I wake up the seas have stilled considerably and we are protected by land. We are nearing Monaco at which we will dock in the morning.
Prime C is the ship's steak restaurant, decorated in dark wood panelling where Aqualina was all Aegean whites and ocean blues. The restaurant is full even early in the evening and we take a seat by the window. The restaurant has a four course menu and the cost for this is the same as Aqualina, an extra $25USD per person but features lobster, steaks and jumbo shrimp and a good list of alcohol.
Bread basket
I have a newfound appreciation for the bread basket especially since I saw how the chefs have to get it just right. There are several types of rolls along with the breadsticks. There is a blue cheese focaccia, onion roll and caraway seed roll. They're all good and I make an effort to pull away from it because I know that we have four courses coming.
Amuse Bouche
Our waiter brings out the amuse bouche and it is two slices of perfect smoked duck with ratatouille and a citrus vinaigrette. It's a perfectly balanced and tasty morsel.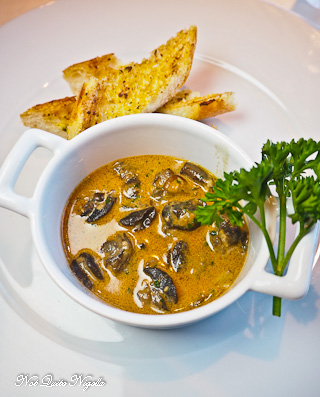 Escargot Ragout
The escargot ragout is a garlicky, rich pot of sauce with tender escargot. The texture is like a tender squid and we use the garlic butter croutons to dip into the sauce.
Seafood Sampler
Being a seafood fiend I really enjoyed the three part sampler starting with a mini crab cake with a lobster remoulade. This is followed by a honey glazed bacon wrapped scallop with a seeded mustard sauce and finally a coconut fried shrimp in Thai sweet chilli sauce.
Palate cleanser
Interestingly, the palate cleanser is brought out between the starters and the main course. It is a refreshing orange sorbet.
Filet mignon
The steak is grain fed and cooked just as ordered. It is tender without a hint of gristle or chewiness. It is served by itself but guests can choose from a range of eleven sides. Have I mentioned how much I love sides? I want to order them all but settle on four: steamed vegetables, twice baked potato with chives and bacon, goat cheese potato cake and my favourite a blue cheese bread souffle.
Beef short ribs
There's something about beef short ribs that always draws me in. Perhaps it is the richness and the intensity of flavour. These are fine but could do with a tad more cooking to become softer. They are served with a mashed potato.
No sugar added fresh fruit sabayon
The chocolate lava cake is one of the most popular desserts but after a meal as rich as this, we try to lighten it up by ordering the fruit dessert. Although the sabayon has no sugar added it is still sweet and it is layered over a divine mix of berries and pineapple.
Caramelised Apple cheesecake
I love caramel apples and cheesecake so I thought that I'd love this and I do indeed. The cheesecake is light which is judicious given that it is following three courses and comes on a thin toffee chocolate biscuit base. It comes with diced apples and apple balls and a caramel ice cream cigar.
And I have to say that another one of my favourite parts is not having to worry about driving home! We return to our stateroom where we are reminded that early tomorrow morning, we will be waking up to a Monaco sunrise!
So tell me Dear Reader, do you get sea sick? Some people like days at sea, while others enjoy the stops. Which do you think you would prefer? And have you ever eaten at a Captain's Table?
NQN travelled as a guest of Azamara Cruises. All meals outside of the ship were independently paid for.
Azamara Cruises
www.azamaraclubcruises.com
Fares start from $3,699 per person twin share for a 10-night Great Barrier Reef voyage onboard Azamara Quest. For further information or to make a booking, visit www.azamaraclubcruises.com, phone 1800 754 500 or contact your local travel agent.