If it weren't obvious, I do adore my husband from the tip of his floppy brown hair to the bottoms of his enormous bare feet. But one thing that he isn't is handy around the house. Cupboard doors fall off the bathroom cabinet and stay that way until I get to them with a screwdriver and bigger things are saved for when we call in a handyman. I'm not complaining at all, Mr NQN has a host of great attributes including intelligence, gentleness and patience and he can't be the only man that isn't handy if handymen exist.
A month ago, our shower drain was clogged and we would end up showering in a pool of water. This went on for weeks until Mr NQN finally relented and poured some caustic soda in the drain which did nothing. His advice was to use a barely running water stream which isn't quite practical. Looking in the cleaning cupboard I found the drain clean and used it - it took all of 30 seconds to pour it down and then 15 minutes to wait for it to work.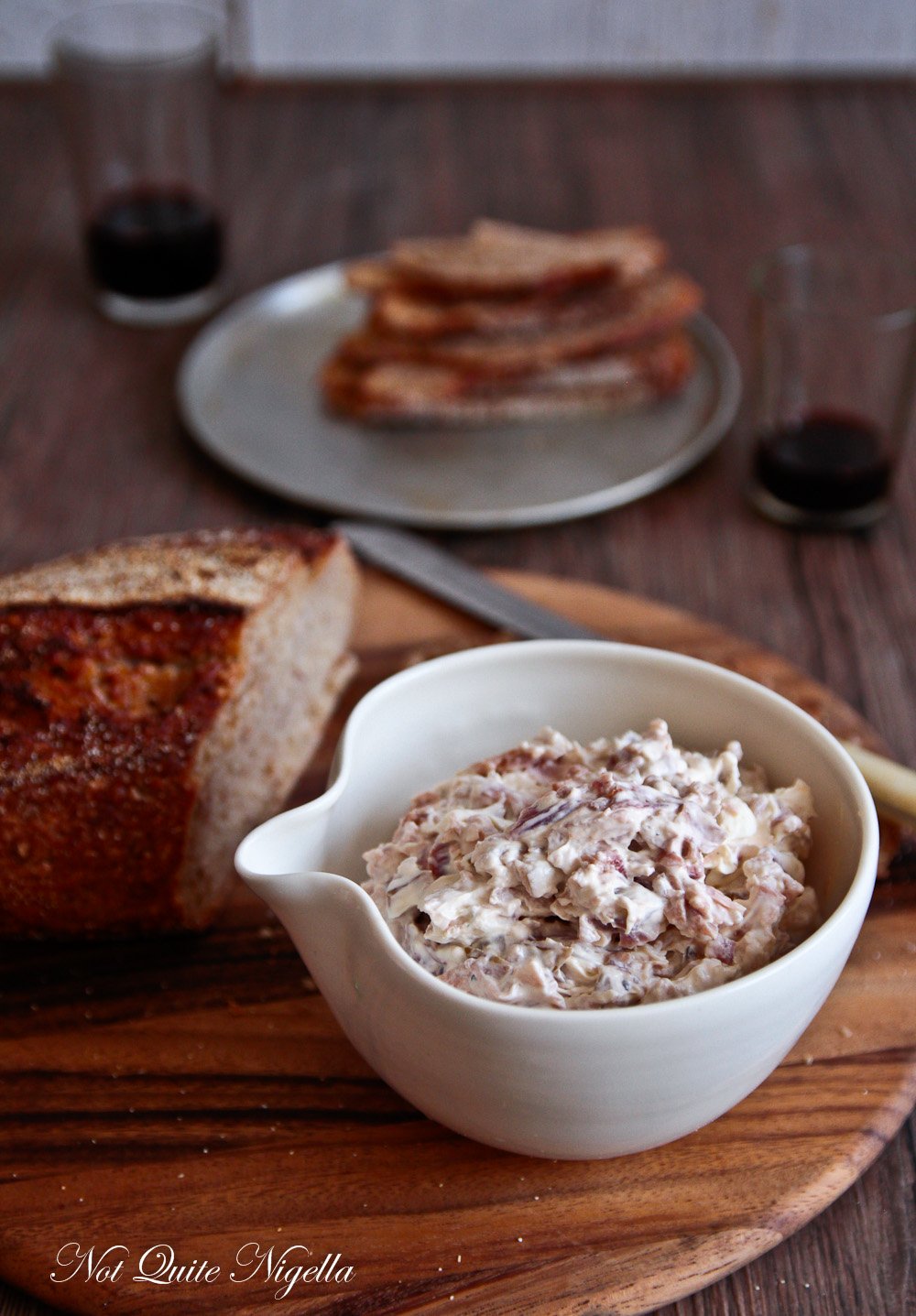 That evening Mr NQN marvelled. "You should be a plumber mon cheri!" he exclaimed happily towelling himself off. "What did you do?" he asked. I explained that it was a quick job and that it was just pouring drain cleaner in the hole. "This is wonderful!" he said delightedly and kissed me and went on his way happy that his wife could be a plumber (not really, although I'm sure that a lot of calls are for blocked drains).
This is a recipe that Mr NQN could have made because it is straightforward and requires nothing more than patience and gentle stirring - you can even be a little inattentive with it stirring the onion when you remember it. I first saw the idea of an apple and onion dip when I was L.A. at Joan's on Third.
I didn't try the dip at Joan's but I was intrigued by the flavour combination. I decided to experiment as I had no taste memory to compare it against. Thankfully it worked on the first go, the sweetness of the apple and soft onion going so well with the savoury onion soup mix. I will admit that I didn't want to add onion soup mix but it adds a lot of flavour to the dip. It is marvellously moreish and you can make it low fat by subbing in natural yogurt.
So tell me Dear Reader, how do you split the housework and repairs at home? Who does most of them?
DID YOU MAKE THIS RECIPE? Share your creations by tagging @notquitenigella on Instagram with the hashtag #notquitenigella
Easy Apple And Onion Dip
Rated 5.0 out of 5 by 1 readers
An Original Recipe by Not Quite Nigella
1-2 tablespoons olive oil
2 red onions, peeled and sliced
1 Granny Smith apple, finely diced
Salt and black pepper for seasoning
1 teaspoon French onion soup powder mix
300g/10.6ozs sour cream or half sour cream and half natural yogurt
Crackers or thinly sliced bread croutons to serve
Step 1 - Heat a frypan on medium heat and add the oil. Add the onions to the pan and cook on low to medium heat, sweating them down until they are soft. You don't have to stir them constantly, every 5 minutes or so just turn them over. It will take about 30 minutes to get them sweet and soft.
Step 2 - Add the chopped apple to the soft onion mixture and stir and soften this for about 5-8 minutes until the apple is cooked. Season with salt and pepper and allow to cool. You can make it up to this step up to 3 days ahead of time, storing it in an airtight container in the fridge once cool.
Step 3 - Mix the sour cream and/or yogurt if using with the apple and onion mixture. Add the French onion soup mixture to it and stir to taste. Serve with thinly sliced bread croutons or crackers.