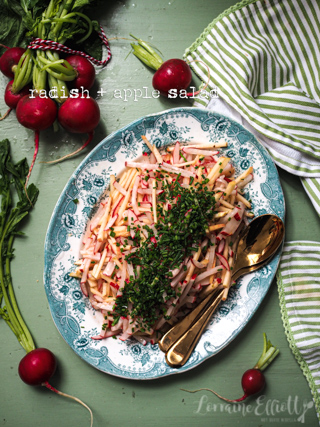 This radish and apple salad is the perfect accompaniment for a dinner. Refreshing, crisp and moreish it has a balance of peppery radishes and crisp apple. I promise if you make this one you'll make it again and again! This is a pushy recipe Dear Reader (yes really!).
I made this salad just based on what I had in my fridge that needed using and lo and behold this became one of the most popular dishes that I served at a dinner recently and one of the best impromptu things I've ever made. Who knew that this unassuming salad with just a few ingredients would be so popular? The lightly peppery radishes are balanced with sweet, crisp apples and a simple vinaigrette!
It's radish season now and although these peppery little vegetables grow all year round they are best picked in spring and autumn. Radishes contain lots of antioxidants (Vitamin C),minerals and are high in fibre. Truthfully up until I made this salad, I didn't really enjoy pink radishes that much and they always went to Mr NQN for lunch. But now he has to watch out because I'll make this salad up any time I get some! You can also eat radish greens but they were a bit too astringent and bitter for me (I'm taking baby steps with my radish love).
What to serve with this Radish and Apple Salad? Meats go really well with this. I served this radish salad with meatballs and I'd recommend it with any type of meat, particularly lamb or beef but also chicken and seafood. I know that's not really narrowing it down but that's just how versatile this salad is!
Make this radish salad a complete meal by: adding some crumbed Persian feta on top and some toasted nuts. It stays crunchy if you make and dress it ahead of time too!
Speaking of vegetables, we had a recent situation in our house that I had to share with you. It happened a few weeks ago but I was so traumatised that it took me a while to get over it. We were sitting in the lounge room and I noticed that a scarf that had fallen to the floor. We used to wrap Teddy or Milo in when they were cold and they would often sit on it.
When I looked down I saw this silvery trail all over it. "Oh my god, what is THAT?" I said to Mr NQN pointing down at the scarf. I had heard of snail trails but never seen one in real life before.
"Please let it be a snail, please let it be a snail," I murmured to myself. I think I may have crossed my heart, I have no memory of this but Dear Reader, I went straight into a panic zone. While I don't love snails, I absolutely loathe slugs. Any sort of long creature like slug or snake and the sight of one makes me nauseous and want to peel off my skin.
I departed the lounge room straight away and never entered that room again for the next few weeks. I ate all my meals at the kitchen bar and with his wife gone Mr NQN searched under the couch and on all surfaces with his phone light trying to find the creature to no avail. "I can't find it and I've looked everywhere," said Mr NQN. I resisted the urge to make a salt border around the room because I knew that Teddy and Milo would only lick it up and get sick.
Then one night we heard a noise downstairs. The dogs barked and Mr NQN and the dogs went downstairs to investigate the crashing noise. "What is it?" I said from the top of the stairs.
It was the fridge's ice maker doing its thing but as it was newly installed we had no idea what the noise was. "But I wouldn't come down if I were you," said Mr NQN. Because our friend Simon the slug was out and about and slugging around. Mr NQN caught him and promised to dispose of him immediately.
"I do NOT want to see any trace of him ever. I mean it!! I don't want to open the bin to see him!" I told him and he promised to discard him without a trace.
The next day I was cleaning up outside and there was an old takeaway container left on our hot tub cover. "Why don't you throw this away?" I said to Mr NQN exasperated going to grab it.
"Uhhhh!!!" he said but it was too late. The container held Simon the slug in it. "I wanted to make sure he was dead..." Mr NQN said weakly while I screamed at the top of my lungs. Our builder Peter and his son Charlie came out to see what had happened and I have to admit that day we came close to divorcing. Mr NQN is on thin ice and only now, a month on can I talk about it. As his punishment he must put away all of our vege box fruit and vegetables in the fridge and then discard the box immediately. And I now live permanently scarred with a vision of a dead slug in a takeaway container!
So tell me Dear Reader, what creature do you fear the most? Do you like radishes? How do you eat them?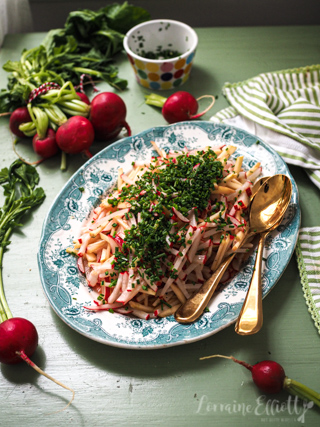 The UNEXPECTEDLY DELICIOUS Radish & Apple Salad